---
---
---
The Ultimate White Kitchen Countertop Material for Indian Cooking
If you're looking for the best material for white kitchen countertops, High-Grade Quartz is the best white kitchen countertop material for Indian cooking because it is much more non-porous, resistant to stains, scratching, and bacteria.
High-Grade Quartz from Petros® also has a Lifetime Guarantee* on their materials. Petrosstone High-Grade Quartz does not require occasional resealing of the surface as granite and marble do. It is also available in more than 50 colours and designs, hence ensuring you get the perfect colour for your design.
To cover all the domains, we will list out the best white kitchen countertops across several material categories, focusing on quality, cost, stain, scratch and heat resistance as well as style.
Here is the list of the Best White Kitchen Countertop Materials: :

High-Grade White Quartz
White Petros® Stone
White Granite
Nano White G7
White Marble
White Corian
White Solid Surfaces
---
1. White Granite Kitchen Countertops
White granite countertops have been an ideal choice for many households for decades because of their sophisticated look, style and elegance. They are entirely natural, luxurious and durable. White Granite kitchen countertops are one of a kind as they are cut from a single slab of a quarried stone.
Though they are not pure white, their flecks and veins make them completely unique. They are available in an array of colours and are usually more affordable than quartz. However, prices vary depending upon the type of granite you choose.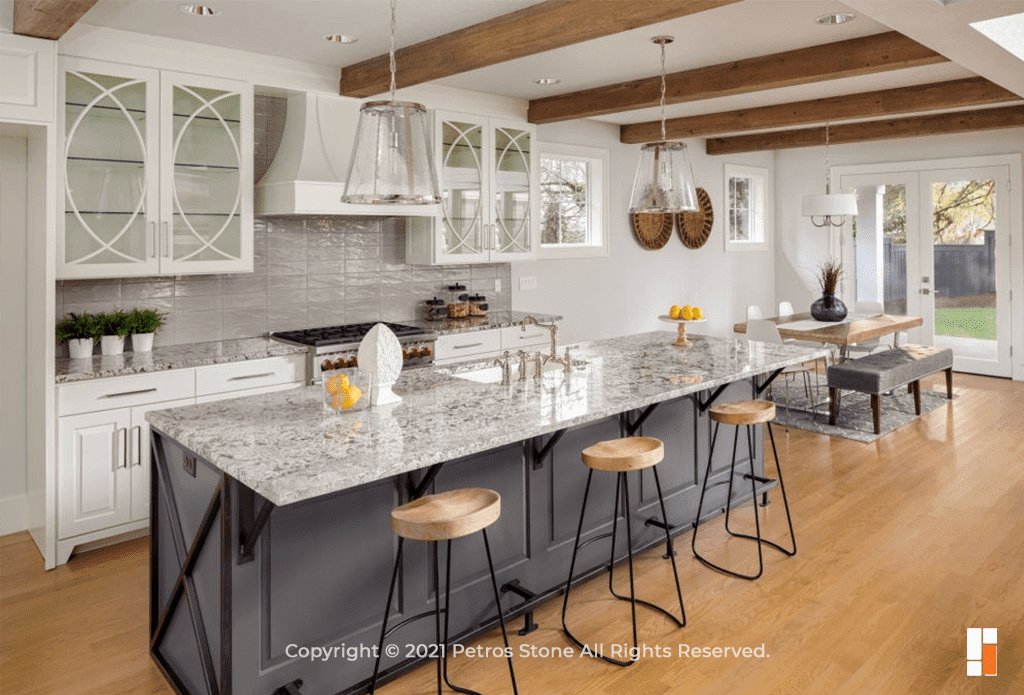 Price of White Granite For Kitchen Countertops
Price of White Granite: ₹55 per square foot to ₹275 per square foot

Thickness of granite slabs: 18 mm / 20 mm / 30 mm

Size of granite slabs: 10 feet x 3 feet / 10 feet x 6 feet
White Granite Kitchen Countertops: Pros and Cons
| Pros | Cons |
| --- | --- |
| Stunning beauty | Can be porous |
| Bright and spacious atmosphere | Requires regular sealing (Some do not require sealing) and have in mind that white granite is more difficult to seal than other types of granite |
| Great compatibility | Some white granites contain iron and can oxidize or rust easily when placed near wet areas leading to rusting |
| Strength and resistance to wear | Some stains can be difficult to get rid of on some types of white granites |
| Ideal food preparation surface, non-toxic and natural | |
| | |
Pros and Cons of White Granite Countertops
Best White Granite for White Kitchen Countertops
Here is the list of the most popular types of white granite kitchen platforms in India:
A. Kashmir White Granite:
This is the most popular type of white granite. It is an extremely beautiful granite with a unique salt and pepper appearance which originates from the presence of feldspar, quartz and mica.
Kashmir white granite also includes dark red coloured specks of garnet. If you're looking for a white stone with a bit of texturing this can be the ideal choice for you.
However, one aspect that you should keep in mind before buying it is that it tends to be more porous than other types of granite varieties available in the market which may cause it to stain more easily. As a result, it is also more likely for it to demand higher maintenance and more frequent sealing.
Price of Kashmir White Granite: Usually, you can find Kashmir White Granite at ₹120 -₹210 per square feet.
---
B. River White Granite: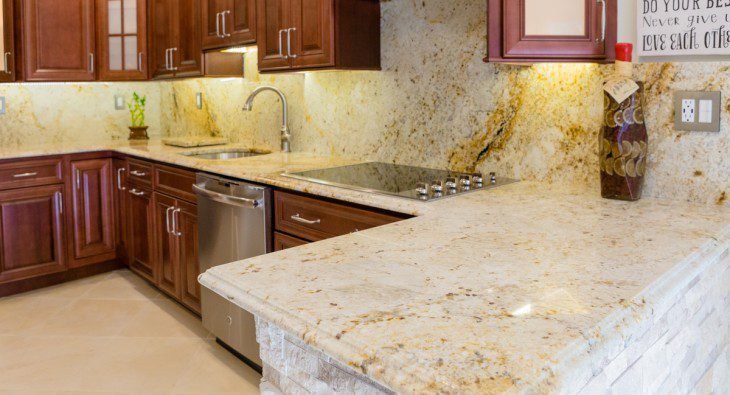 River white granite is another magnificent variety of granite that is quite famous and commonly used for kitchen countertops and other home applications.
Its delicate flecks and fluid patterns make it very charming and attractive to the eye.
River White Granite consists of alabaster bedrock with red flecks and rich silver veining. It has a huge appeal making it a dynamic addition to a living space.
The stone provides a crimson accent to it which makes it magnificent. Therefore, you could choose cabinets that highlight this quality to showcase the stone better.
You could also go with white cabinets or dark cabinets which also provide an appealing contrast.
Price of River White Granite: You can find this at ₹130 – ₹255 per square feet.
C. Alaska White Granite:
It combines icy white patches with browns and greys to create complex patterns and a very distinct look. The style of this countertop is appropriate for kitchens of all sizes, including small kitchens.
Alaska White Granite pair the best with cabinets that are white, off-white, black, espresso, coffee and grey or blue.
You could use it as a backsplash as it is light in colour, it can add an illusion of space while simultaneously adding to the design aesthetic.
This stone is among the higher priced granite options which makes it less affordable for some homeowners.
Price of Alaska White Granite: Usually, you can find this at ₹150 – ₹300 per square feet.
D. Moon White Granite: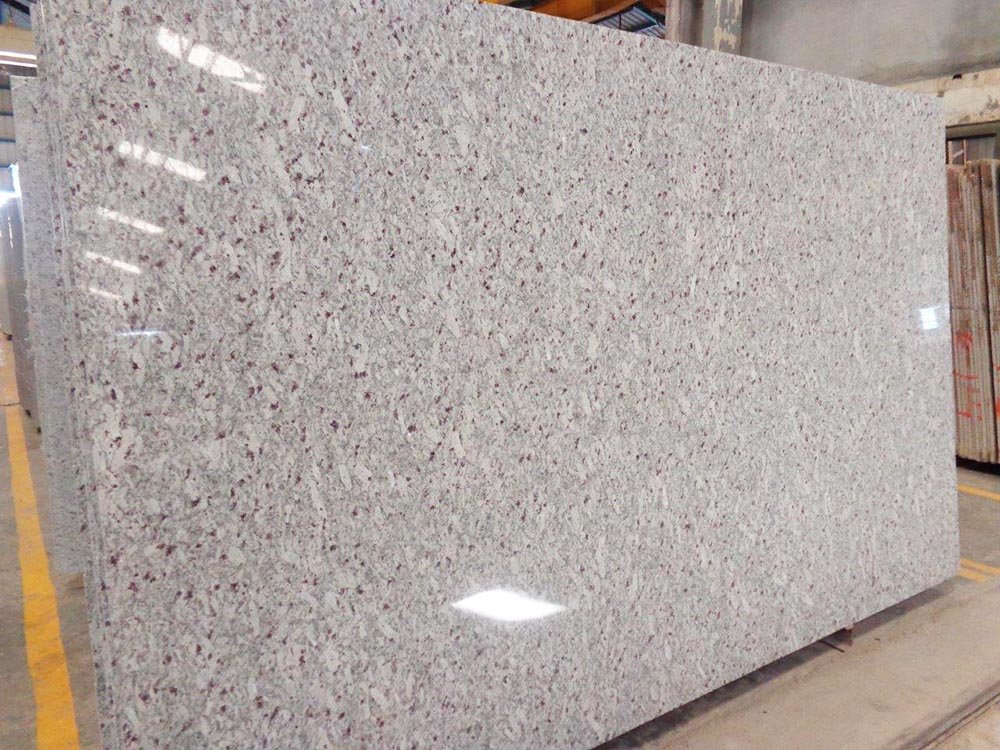 It embodies the exquisiteness implied by its name. Just to name a few, it is available in Bright ivory, silver-grey, and bold black mainly with a few other colours that speckle and swirl the fine and intricate light stone.
An important thing to remember is that this can also have a subtle yellow undertone.
It is relatively uniform in colour compared to other granite white countertops and looks mesmerising for its unique appearance
These have extreme versatility and go very well with white cabinets, white subway tile backsplash, and stainless steel appliances.
Price of Moon White Granite: THe price of this granite rages from ₹120-₹210 per sqaure feet.
---
2. White Quartz Kitchen Countertops
Quartz is an attractive, hard material that is engineered from crushed quartz, resin and pigments. It is available in a variety of colours and patterns to choose from. If you are planning an elegant look for your kitchen then you should think about quartz and white quartz can completely transform the look of your house.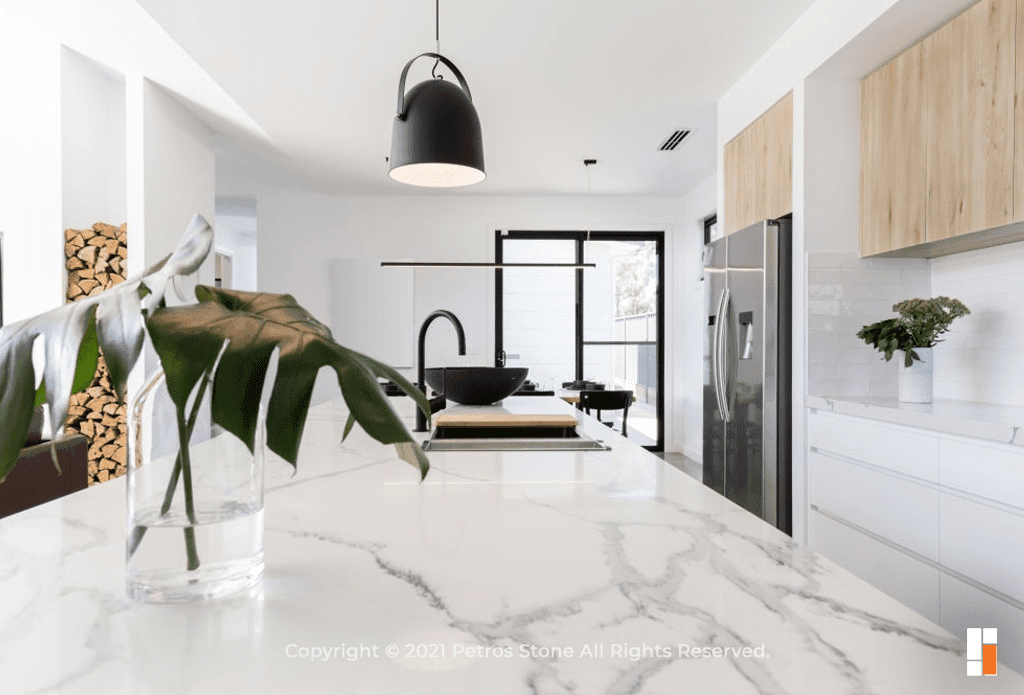 The biggest advantage of High-Grade Quartz is that it is almost stain-proof and does not require any sort of sealing, making it maintenance-free.
Price of White Quartz for Kitchen Countertops
Price of Quartz Stone Slabs: ₹195 per square foot to ₹4250 per square foot

Thickness of Quartz stone Slabs: 15 mm | 20 mm | 30 mm

Size of Quartz stone Slabs: 1630mm x 3230mm | 1430mm x 3130mm
---
White Quartz Kitchen Countertops: Pros and Cons
Here is a table summarizing the advantages and disadvantages of White Quartz as a White Kitchen Countertop
| | |
| --- | --- |
| Pros | Cons |
| Ø Beautiful and attractive designs | Ø Cannot withstand very high levels of heat. White countertops might also leave heat marks which might be difficult to tackle. |
| Ø Large variety to choose from in terms of design and colours. | Ø Expensive |
| Ø It is resistant to bacteria and staining since it is non-porous. | Ø Difficult to handle and fit compared to granite |
| Ø It has very high durability and is easy to maintain | Ø Its veins do not have a very natural look. |
| Ø They do not require sealing | |
Pros and Cons of White Quartz Kitchen Countertops
---
Caution: High-Grade Quartz must be used for White Kitchen Countertops as regular quartz surfaces may catch stains easily.

You can read more on this here
---
Best White Quartz for Kitchen Countertops
Here is the list of some of the best Quartz countertops that can be used for a White Quartz Kitchen Countertop:
A. Calacatta Venato Petrosstone: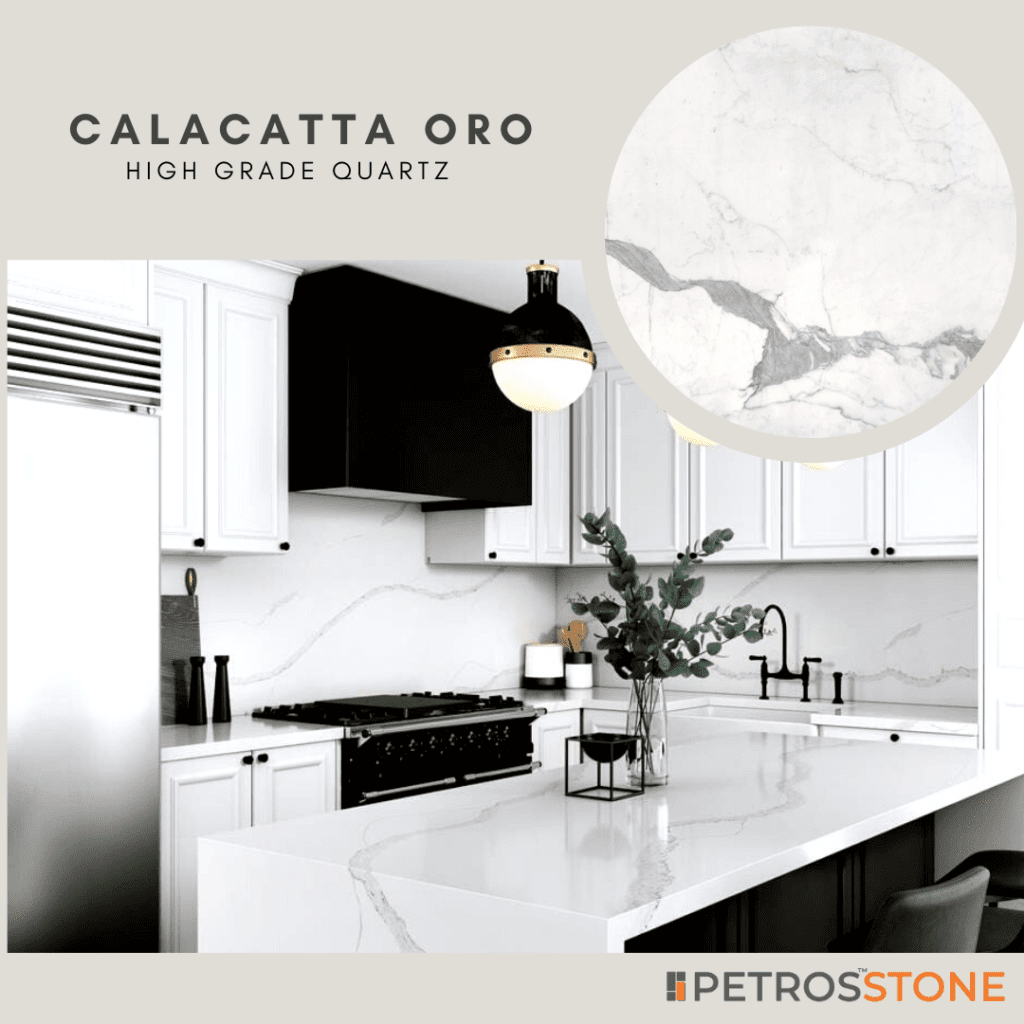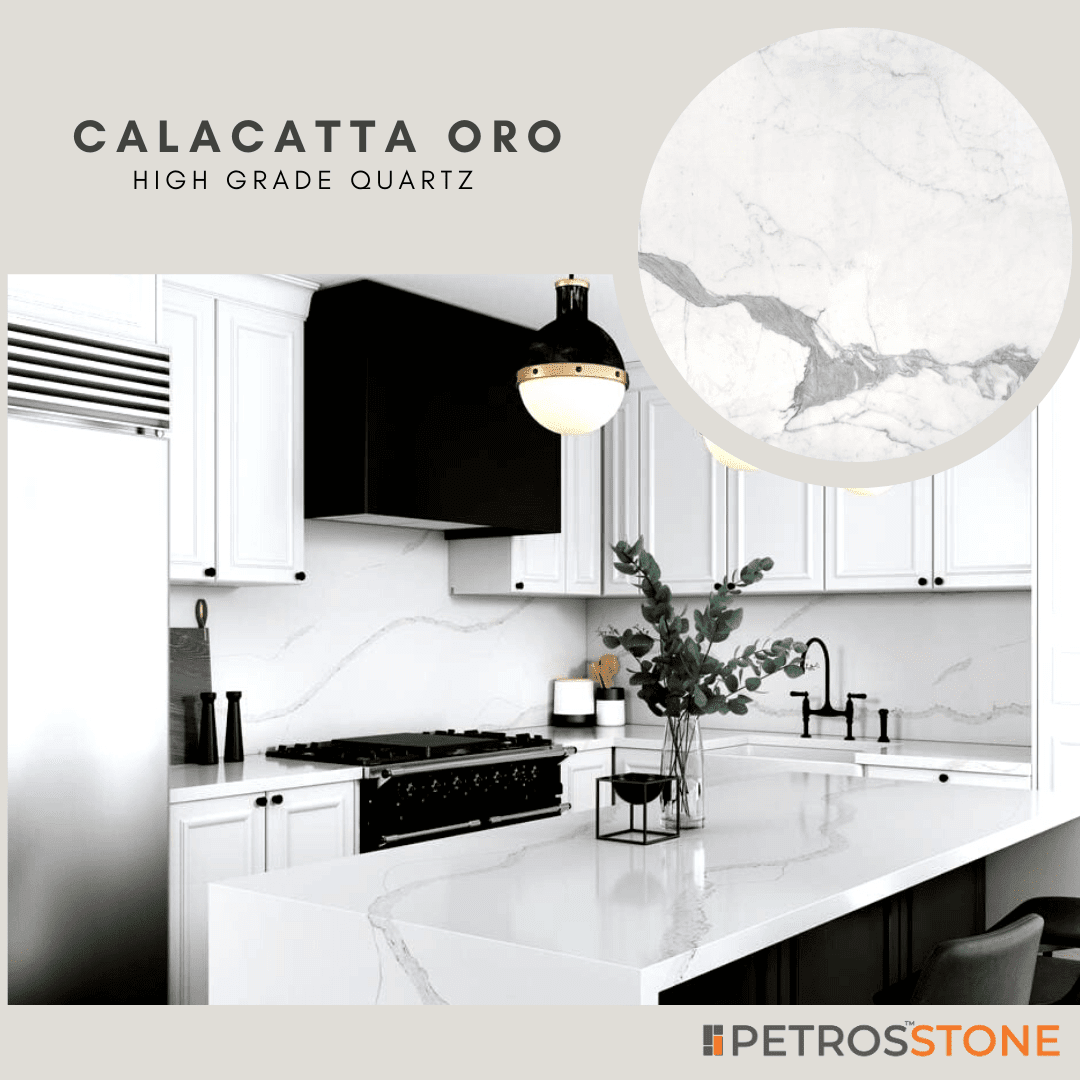 This type is one of the most luxurious high-grade quartz for kitchen countertops.
It has a white base with grey veins and flecks as design.
It has a polished finish, as all quartz does. However, people usually think of this as marble. It highly compliments wooden cabinets or white cabinets depending upon what kind of vibe one wishes to achieve for your kitchen.
Calacatta Venato Petrosstone Quartz is inspired by handpicked blocks of exotic natural Calacatta marble.
This stone features wide, elegant, cascading, grey veins on a white base.
Calacatta venato Petrosstone Quartz was created to leave an unforgettable impression, to enhance any interior with a touch of opulence and grandeur. It offers the look of luxurious natural stone with the strength, durability and ease of maintenance of high-grade quartz.
Price of Calacatta Venato Quartz: ₹365 to ₹1765 per square feet.

Thickness: 30mm, 20mm and 15mm

Size: 3200 x 1600 mm | 3100 x 1400 mm
B. Carrara Haze: Petrosstone
Carrara Haze is inspired by classic natural marbles. This gorgeous white quartz countertop surface features a clean white base with dense, dark grey interwoven veins.
As with any marble countertop surface, it will pair wonderfully with modern kitchen cabinets and designs, as well as with more traditional kitchen interiors.
Carrara Haze Quartz kitchen is a perfect neutral base to which you can add accent elements, like ornate hardware or a beautiful chandelier.
Carrara Haze Quartz reviews are overwhelmingly positive. The Carrara Haze quartz countertop will outperform marble. It is so easy to maintain and care for this surface.
Price of Carrara Haze Quartz: ₹195 to ₹285 per square feet.

Thickness: 30mm, 20mm and 15mm

Size: 3200 x 1600 mm | 3100 x 1400 mm
C. Petrosstone Glitz and Fine Quartz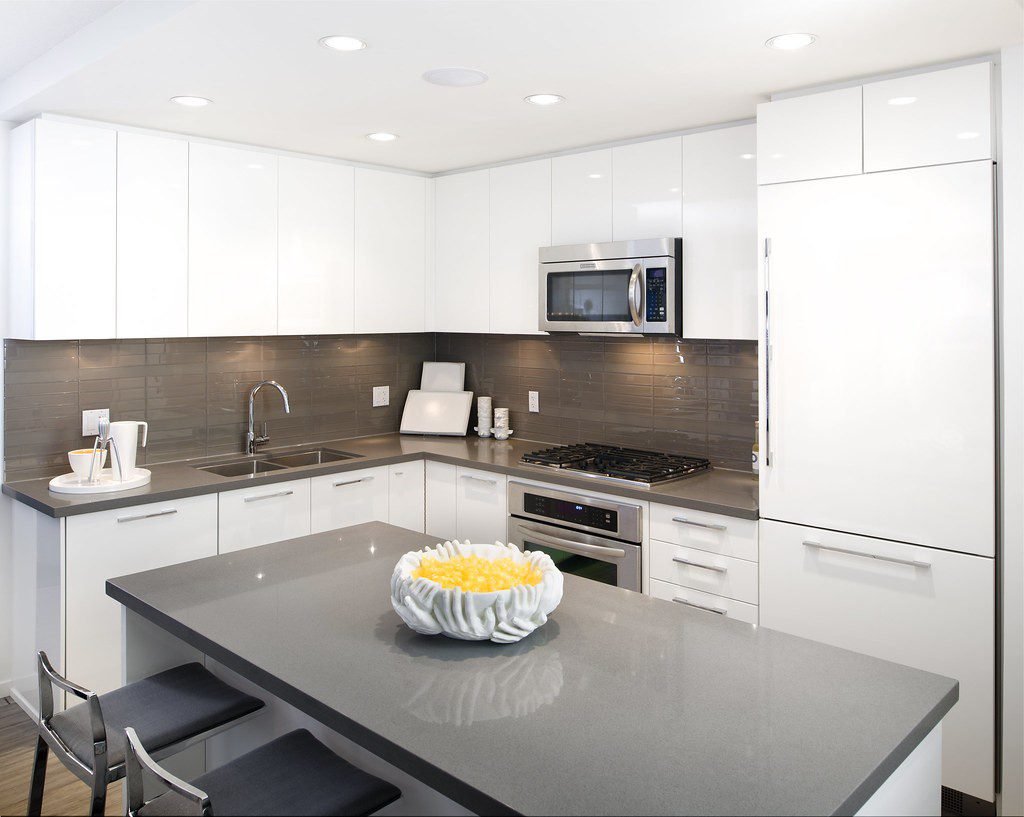 Glitz and fine series of Petros High-Grade quartz comprises elegantly designed solid colours. . The surface of this stone is low maintenance and ideal for high traffic areas like kitchen, bathrooms, flooring and staircases.
Fine Series render a modern look to any surface. It is scratch and stain-resistant and thus, a good countertop option for homeowners, architects and designers.
These are warrantied quartz surfaces and are considered to be the best for kitchen countertops since they are extremely durable, easy to clean and maintain. The colour you choose will completely rely on your taste, style and budget.
Price of Petrosstone Glitz and Fine Quartz: ₹195 to ₹285 per square feet.

Thickness: 30mm, 20mm and 15mm

Size: 3200 x 1600 mm | 3100 x 1400 mm
---
3. Nano White G5 / G7 Kitchen Countertops
Nano White is an artificial stone, more like glass, which is imported from China. It is usually known as G3, G4, G5 and so on. It is a shiny white stone that looks very reflective. There is a considerable difference in whiteness, strength, heat and stain resistance betweenG3, G5 and G7 Nano White.
Nano White is widely used for kitchen countertops becuase of its superior stain and heat resistance properties.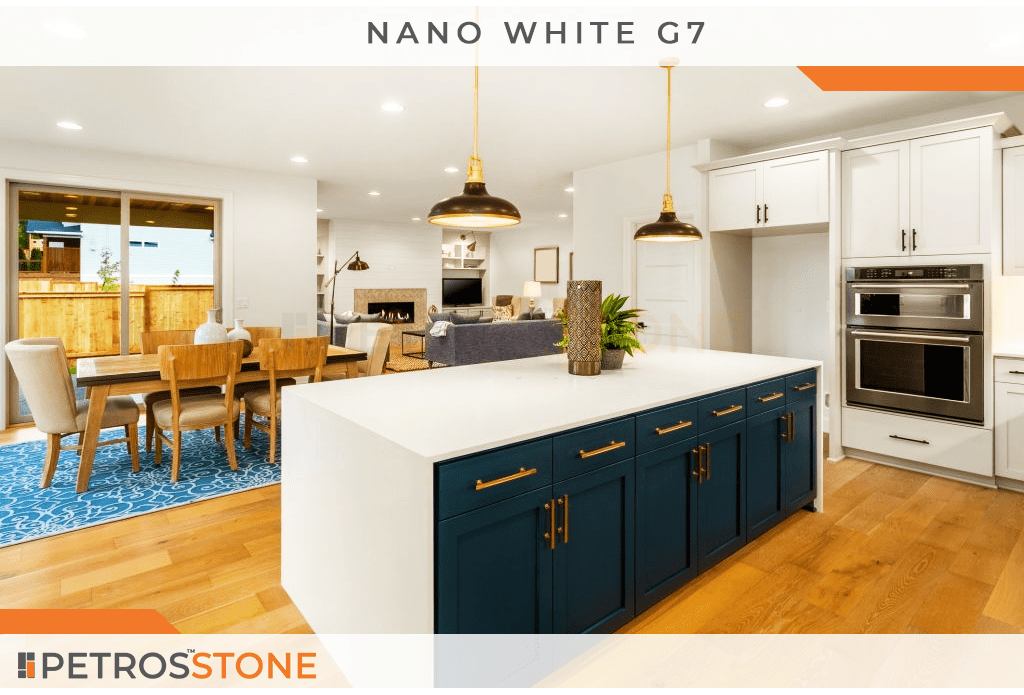 Best Nano White Grade for Kitchen Countertops
G7 Nano White is milky white is highly advised for Kitchen Countertops, door, window frames as well as floorings.
Lower grades of Nano White: G3, G4 and G5 are more suitable for commercial applications
Nano White G5 / G7: Pros and Cons
| | |
| --- | --- |
| Pros | Cons |
| Rough and tough material. | Nano white is difficult to work with and very hard, so only specialised contractors can work with this material and install it. |
| It is more stain-resistant and harder | Nano white marble is expensive. |
| Much glossier and much more white and is exterior compatible | The joint lines turn blackish over a period of time. |
| Heat and acid resistant | Susceptible to cracking |
| Long-lasting and durable. | Only available in pure white shade |
| Use it anywhere like flooring, window frame, door frame etc. | Available only in 18 mm (Not available in any other finish) |
Pros and Cons of Nano White Marble
---
Price of Nano White G5 / G7 Kitchen Countertops
Price of Nano White G5-G7: ₹350 to ₹450 per square foot

Thickness: 18mm / 20mm

Installation Cost: ₹2400 to ₹3400 per sq.ft (with material & labour)
---
4. White Marble Kitchen Countertops
Interior designers continue to describe marble countertops as the ultimate in elegance and luxury. Despite some practical limitations that make it less than ideal from a functional perspective when it comes to kitchen use, marble is still a strong contender for choices in kitchen countertops.
The great thing about marble is that it is available in a much wider range of hues than most people think.
White is the most common colour, but this ranges from pure white to a very pale pink or blue. You can also find green, reddish pink, salmon pink, blue-gray, blue-black, and black marble.
Marble is also available in a variety of grains and veining patterns that makes each type of marble distinct. It is not always obvious to most people. But these subtle differences have a significant impact on the overall look and flair of a room. The type of marble you choose for your kitchen counters will dictate the type of kitchen you have.
Pros and Cons of Marble Countertops
| | |
| --- | --- |
| Advantages | Disadvantages |
| Ø Timeless appeal | Ø Requires frequent maintenance |
| Ø Huge variety of styles and colours | Ø Acidic substances and harsh cleaners can cause damage |
| Ø It can be carved into and be customized | Ø Requires sealing very often. (Few times a year) |
| Ø Brings elegance in home spaces | |
Pros and Cons of Marble Countertops
---
Best Marbles for Kitchen Countertops
A. Carrara Marble
This is one of the most popular types of marble used in kitchens. It is quarried from Italy and most slabs originate in Tuscany. It is usually found in white but you can also find this variety in grey or a blue-grey finish as well.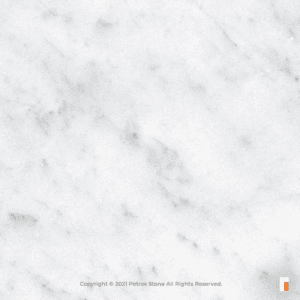 B. Statuario Marble
This marble is classic and comes from the same region as carrara. It is more translucent and has a better finish. It is also glossier than Carrara.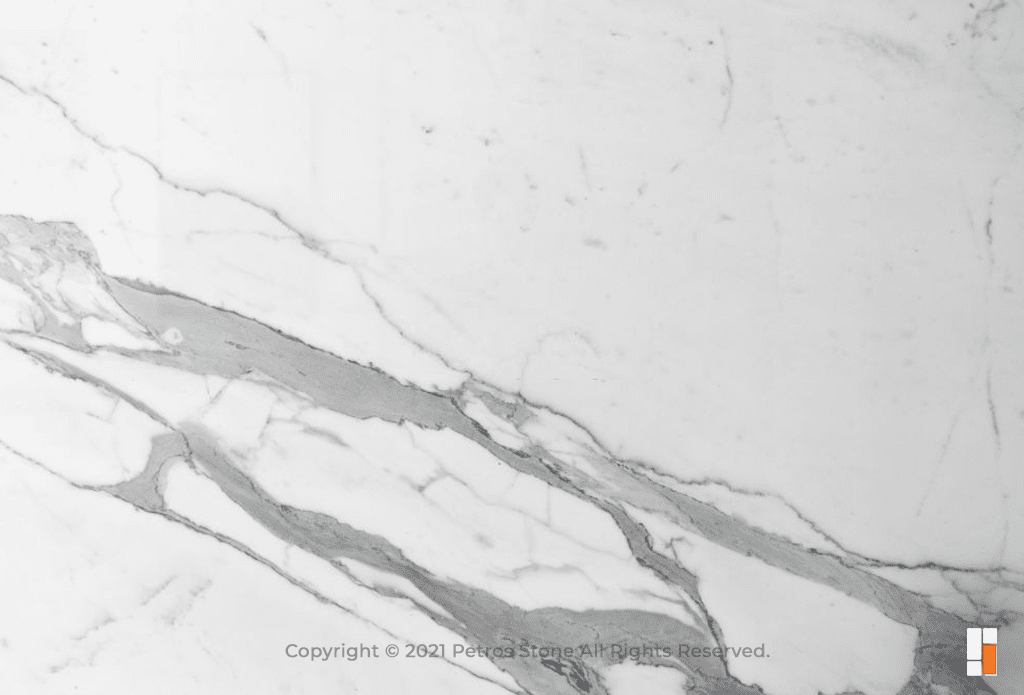 C. Calacatta Marble
One of the most expensive options and has a very luxurious feel. It is quite rare and comes in dark gray to gold colours in the veins.
---
5. Corian Kitchen Countertops:
Corian has a large variety of colours & patterns available in the market. Corian also known as acrylic solid surface and it is a man-made product that is available in Indian and imported both brands. We recommend using imported brands of Corian for better finish and durability, e.g. DuPont, LG, and Samsung.

The only material on the list that is not made from natural stone, Corian is the most popular "solid surface" countertop material and is available in a wide variety of colours, including solid white. You can choose any colour for the countertop to match your kitchen furniture like milky white, rose red, fresh green etc.
The best part about Corian is that its joints are almost invisible after installation and it is bendable material, so you can bend in any shape you want.
Corian Countertops: Pros and Cons:
| | |
| --- | --- |
| Pros | Cons |
| Joints are invisible | It is not stain resistant |
| It can be repaired if crack & scratches on countertop | It easily loses shine |
| Bendable material | It is very soft and hence can break while working |
| | It is usually overpriced |
Pros and Cons of Corian
Price of Corian Kitchen Countertops
Price: Starts from Rs. 650 per square foot

Thickness: 3mm / 6mm / 12mm
---
6. Solid Surfaces:
Solid surface countertops have been around for over 50 years now and are a mainstay in kitchens and bathrooms.
What might have once been considered trendy is now so established that few countertop materials, except for quartz, have managed to achieve the same status.
The solid surface is perfect mid-range countertop material.
Buyers not interested in laminate but still looking for an affordable countertop often gravitate to solid surfaces. It is one of the few counter materials that a homeowner can resurface with just an orbital sander.
Visually it lacks the depth of real stone or even quartz, it does resemble stone far more than laminate does.
Solid Surface Kitchen Countertop: Pros and Cons
| | |
| --- | --- |
| Pros | Cons |
| Nearly Non-Porous: No surface is completely non-porous, but tile, quartz, and solid surface come as close to being non-porous as any countertop material. Solid surface's extremely low porosity keeps bacteria away, promoting a cleaner and more sanitary countertop. | Weak (Scratches): Homeowners who have solid surface countertops should be extra careful to use cutting boards, as solid surfaces are relatively soft and can be scratched by knives and sharp utensils. |
| Homogeneous: Unlike laminate or ceramic tile, solid surface's material goes all the way through, from top to bottom. As a result, it visually fares better after impact than a multi-layered product like laminate. | Heat Deformation: Solid surface can hold up against boiling water's temperature of 212 F. This means that hot, dry pans (such as a frying pan, which is typically hotter than hot) and wet pans (such as a pot of pasta with boiling water) should not be placed on a solid surface counter. |
| Easy to Repair: Yes, solid surfaces will scratch if you cut on them. But with an orbital sander and fine grain sandpaper, even the homeowner can sand down scratches. | |
Pros and Cons of Solid Surfaces
---
Best White Kitchen Materials: Comparison of Quartz, Granite and Corian
| Characteristics | Granite | Quartz | Solid Surface/Corian |
| --- | --- | --- | --- |
| Appearance | Not solid white but patterned; each slab unique; no solid white/beige option | Polished finish – can be consistent in colour and patterning | Matte finishes are consistent and uniform in colour and patterning. |
| Properties | 100% Natural Stone; Quarried from within the earth | 93 – 97% natural quartz manufactured with a 7% resin binder | 65% stone based, 30% resin binder, 5% pigments |
| Heat Resistance | Quite resistant to heat but can be affected by extreme changes in thermal exposure which can be a huge advantage for kitchens. | Heat resistant | Not very heat resistant; use trivets under hot pots, crock pots, etc. |
| Scratch Resistance | Highly scratch resistant; exposure to harsh abrasives or equally hard materials could scratch granite | Highly scratch resistant | Can scratch; scratches/cuts can be professionally refinished |
| Cleanliness | Can be porous | Non-porous, anti-bacterial, can be used commercially | Non-porous, anti-bacterial, can be used commercially |
| Fabrication | May require seams – many edge options available | Seams typically tighter than granite – many edge options available | Seams will typically be inconspicuous |
| Maintenance | May require periodic sealing to prevent staining | No sealing necessary | No sealing necessary, top can be rescinded to restore original finish |
| Price | ₹55 per square foot to ₹825 per square foot | ₹195 per square foot to ₹1225 per square foot | ₹350 to ₹450 per square foot |
Using the above reference any homeowner can find the most suitable material for the kitchen countertop. With a diverse range of materials available, all the advantages and disadvantages of all these materials must be taken into account. Considering the advantages and features of each material, choose the right product meeting your kitchen needs
---
Find the Perfect Countertop in 30 Seconds here!
Granite: If you are looking for a material that offers a variety of colours and styles, is durable and is low maintenance, granite is an ideal countertop choice for you.
Marble: If you want a countertop that holds timeless appeal, comes in luxurious colours and styles, marble is a great choice. As long as you do not mind maintaining it (which includes re-sealing once every few months) and are willing to exercise the proper amount of caution to prevent acidic spills, marble is a terrific option.

Quartz:

If you want a countertop that does not compromise on style, is available in a huge array of colours and at the same time is extremely durable and easy to maintain, then High-Grade Quartz is the perfect option for you.
By evaluating the different factors listed and explained above, you can know which material is the best fit for your home.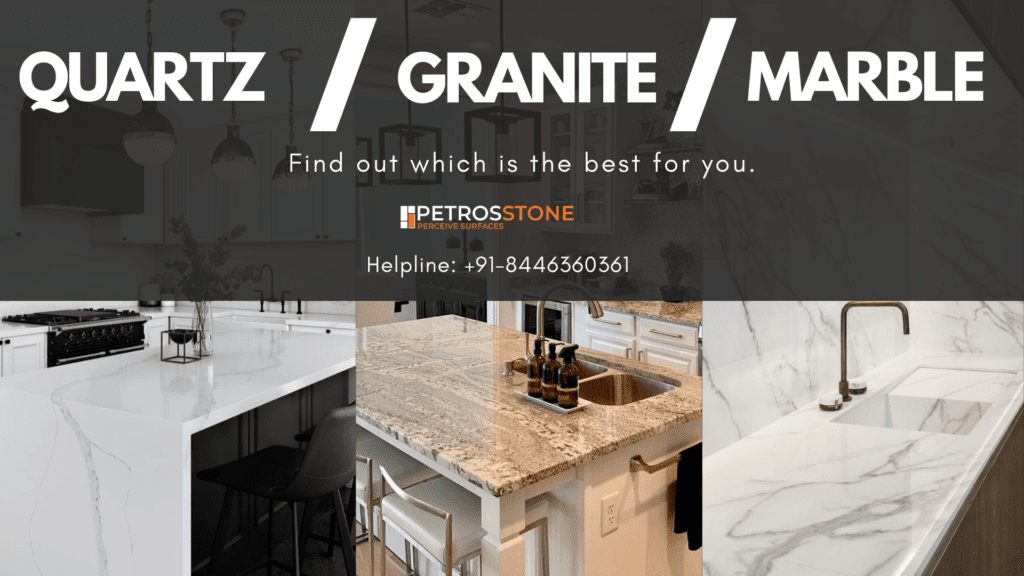 ---