Natural quartz stone slabs are the healthiest option for flooring in India. They are naturally durable and aesthetically pleasing in nature.
Natural Quartz slabs have high strength, durability, natural sheen and pleasing designs. Therefore, Petros Natural Quartz Stone Slabs are a perfect choice for any weather conditions. These are available in a variety of colours resembling granite, Indian and Italian marbles coupled with features such as non-porosity, heat resistance, chemical resistance, and scratch-resistant.
Natural Quartz stone slabs also have a temperature-regulating effect keeping the house warm in winters and cold in summers. This is why Natural Quartz is considered to be the best flooring for health in India.
Here is a list of the best floorings which are good for health in India:
Natural Quartz
Fantasia Gold Marble
Granite
Quartzite/Sandstone
Limestone
Slate Stone
Bamboo
Concrete
Cork
Hardwood
---
---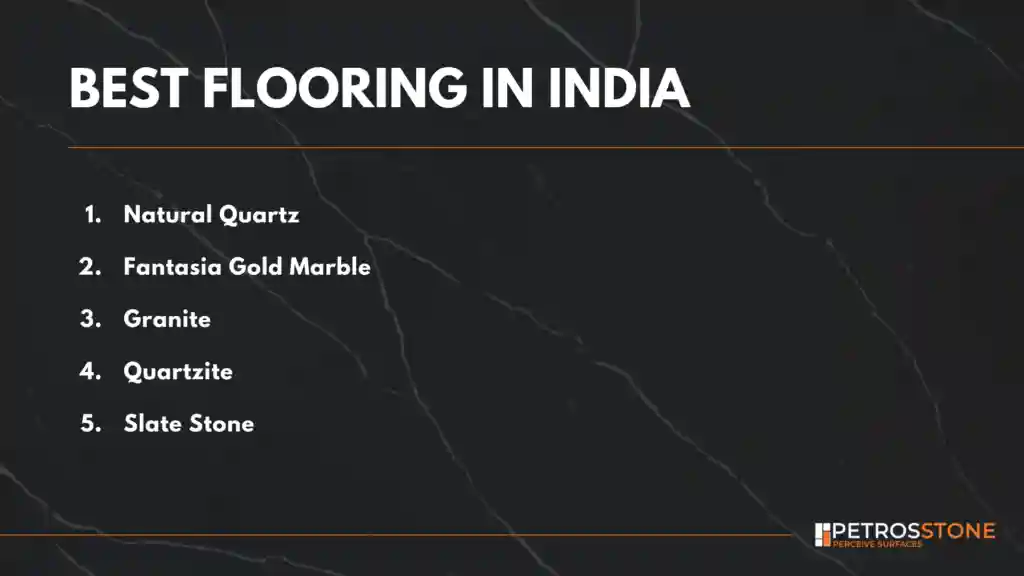 ---
---
1. Natural Quartz
These slabs are made using natural quartz minerals coupled with colouring elements to suit different needs. The natural quartz stone slabs do not exhibit any porous characteristics unlike other materials making them the healthiest flooring in India.
Natural Quartz slabs possess low-density, high-strength, and can resist high temperatures. Therefore, Petros quartz stone slabs are a perfect choice for all weather conditions. These are available in a variety of colours resembling granite, Indian and Italian marbles. They possess features such as non-porousness, heat resistance, chemical resistance, and scratch resistance.
Petrosstone's natural quartz stone slabs are available in various sizes, thicknesses and offer anti-slip stone slabs for outdoors / bathrooms/ other wet areas.
These Natural Quartz Slabs are suitable for all seasons, climatic conditions and spaces. Hence, they are certified to be the healthiest flooring material for any type of application.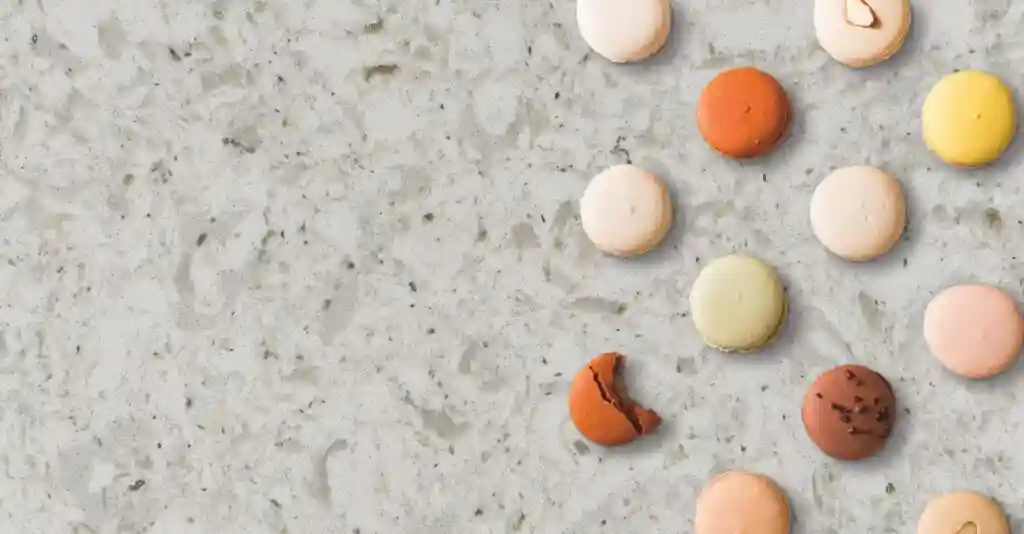 ---
2. Fantasia Gold Marble
Fantasia Gold Marble is a natural marble found in certain parts of India. Fantasia Gold Marble exhibits ambience in kitchens, bathrooms, living rooms, dining rooms, and fireplaces. Fantasia Gold Marble is 100% natural. Its speciality is that it contains pre-historic natural fossils that make it exceptionally sacred in many cultures.
Scientifically, fantasia gold marble has been used for thousands of years and has proven to be extraordinarily durable, appealing, beautiful and resilient.
Indian Vastu Science especially recommends the use of Fantasia Gold Marble flooring for homes. Marble floors create a cool atmosphere in warm places and a warm atmosphere in cool places, thereby, balancing the environment inside the home.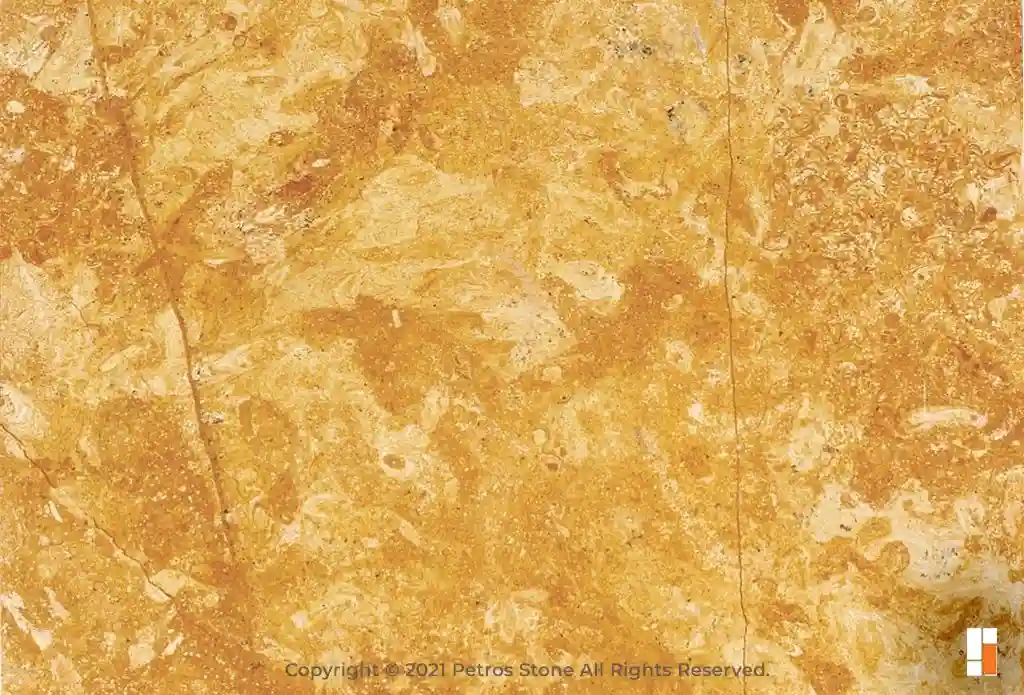 ---
Major Advantages of Fantasia Gold Marble
It has a vibrant, appealing colour, adding glamour to the house.
Consists of interesting fossilized minerals
It is highly durable, has survived for thousands of years – in ancient temples, palaces etc.
It is quite an affordable marble
Marble keeps the house cool, balances interior temperatures
---
3. Granite
Granite is a hard, strong, resilient natural stone. Granite is most commonly used for kitchen countertops but it is equally good for home floorings. Most commonly, granite is used in high traffic areas like airports, bus stops, railway stations and high impact application areas like staircases, and kitchen flooring etc.
Due to its superior strength and hardness granite is known to retain its polish for a very long time making it one of the healthiest materials for home floorings

Granite is also available in several natural colours and patterns, thus giving you multiple options based on your home designs. Exotic granites from Southern India, Brazil and Spain are some of the best granites for flooring.

---
---
Major Advantages of Granite Flooring
Superior strength, heat, stain and scratch-resistant
Durable and long-lasting lustre
Can be used for floors, walls, staircases, door and window ledges
Huge range of colours available
Affordable
---
4. Quartzite/Sandstone
Sandstone is the most widely available flooring material in India. It has a superb variation in grain. Coloured sandstone is sooting, soft, light-coloured and a highly durable material
Sandstone has a rocky look and a distinctive natural appearance. It is used for both indoor and outdoor applications. Most commonly it is used for terraces, patios, swimming pools, gardens, etc. Sandstone has excellent temperature control properties and is completely natural making it one of the healthiest materials for flooring in India.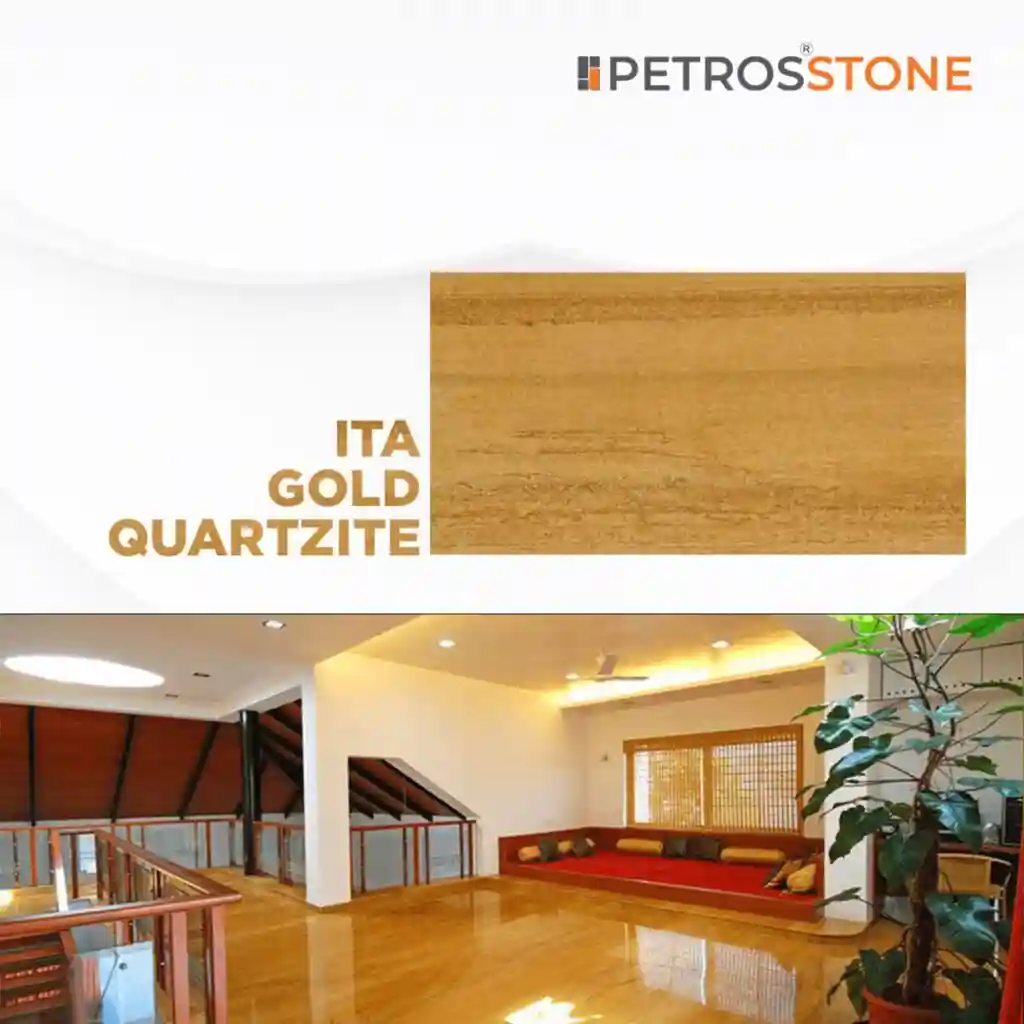 ---
Major Advantages of Sandstone Flooring
Beautiful solid colours
Balances interior temperatures
Easily available and affordable
Natural look with distinctive finishes
Suitable for all climates
---
5. Limestone
Limestone is one of the anciently used flooring materials in India. Limestone can be found in almost all parts of India. Most common limestones in India are:
Kota: Found in the northern part of India and is available in greenish-blue shade
Kadappa: Found in the southern part of India and is blackish in colour
Marco: Found in the southern part of India and has a chocolatey brown colour
KR Grey: Found in southern parts of India. KR Grey Limestone has a very attractive light grey colour, It is much stronger than other limestones found in India making it the healthiest limestone flooring for Indian Homes.
Limestone floors impart a raw, rustic and natural look when laid with their natural surface finish. If polished to perfection they can look modern and achieve a very contemporary style.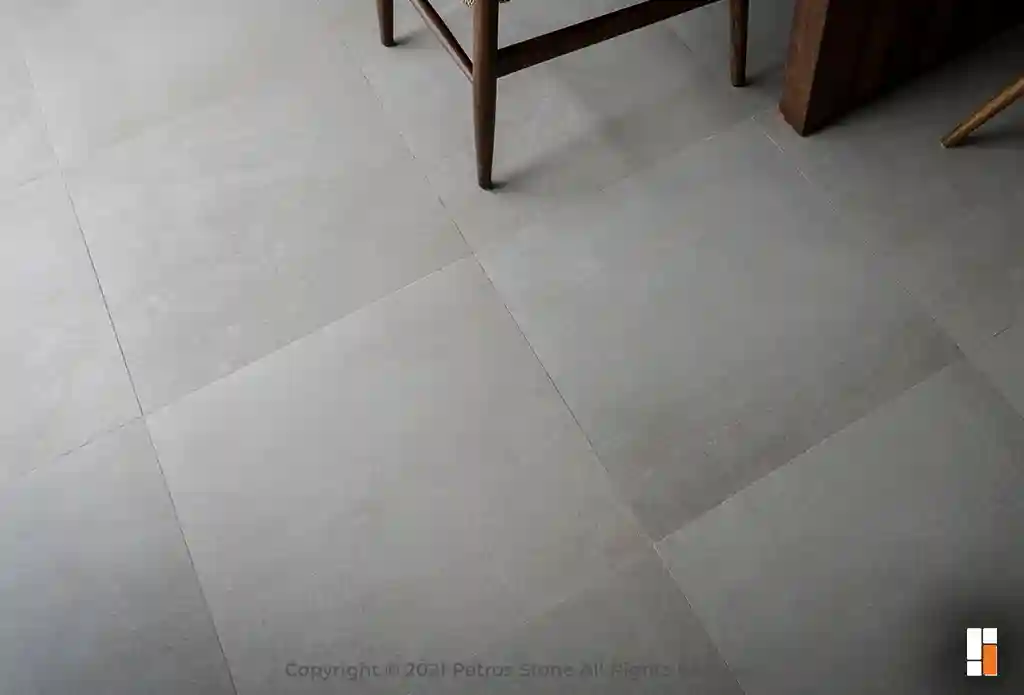 ---
Major Advantages of Limestone Flooring
Completely natural & devoid of harmful or toxic chemicals
Strong and durable
Attractive colours
Easily available and extremely affordable
---
6. Slate Stone
Slate Stone is an incredibly durable flooring material. It is made from metamorphic rocks that make it scratch, dent and scrape proof. It is one of the strongest flooring materials. It is easily cut to create interesting shapes, patterns and designs.
It is highly water-resistant and so it can be used in many parts of the house as flooring, indoors, outdoors and even as bathroom floors. It is low maintenance and also fireproof. It comes in varieties of colours; dark grey and black, to inclusions of brilliant and iridescent golds, reds, greens, blues, and purples.
Naturally, it imparts a very rustic look but if polished it can also be fit for modern decor. It is completely natural and hence does not release any chemical substance like VOCs.
This makes living with slate flooring more healthy.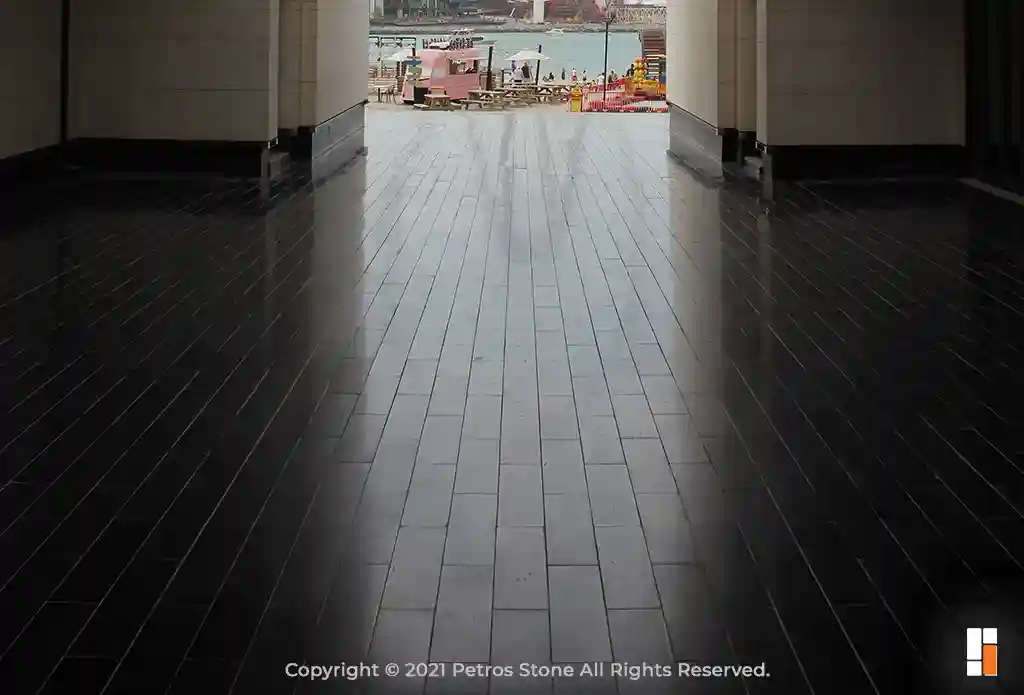 ---
Why Slate Flooring is Healthy
It is inexpensive, beautiful and weatherproof
Suitable for interiors/exteriors
Extremely Durable
Can be cut into different shapes and sizes to create patterns and designs
Major Drawbacks of Slate Stone Flooring
Brittle in nature.
It is cold in nature which makes it difficult to walk on winter days.
---
7. Bamboo
Bamboo flooring is extremely durable and offers equivalent beauty to that of a hardwood floor without contributing to any environmental damage. Bamboo grows and replaces quickly, unlike hardwoods that require 150 years.
Bamboo flooring is attractive, cost-effective, hygienic, easy to install, maintain and at the same time is eco-friendly.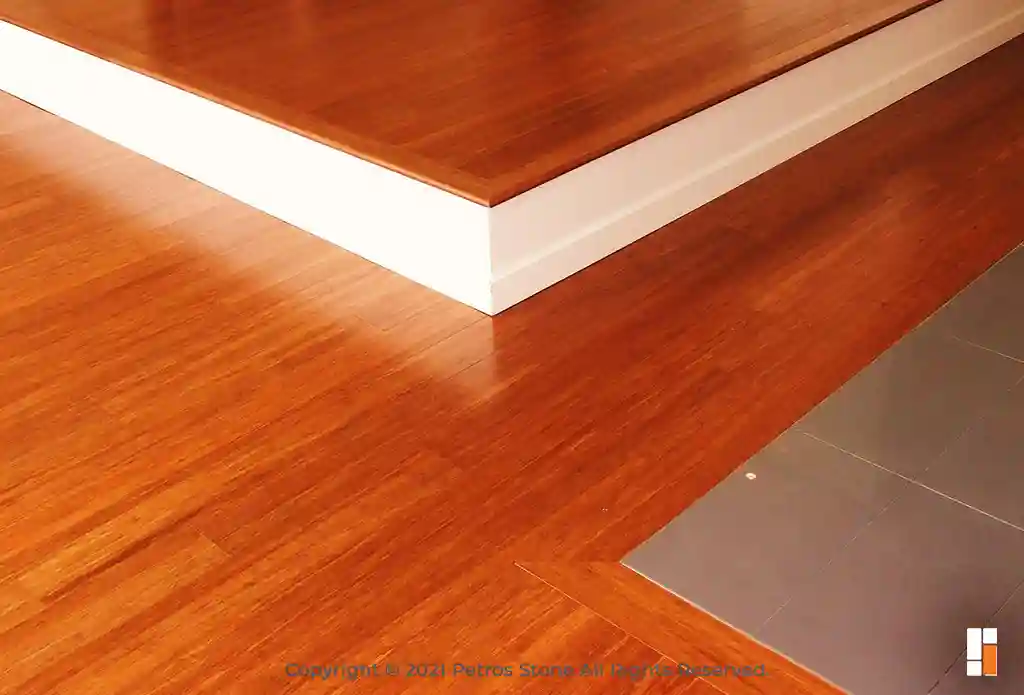 ---
Why Bamboo Flooring Is Healthy
Eco-friendly in nature
Easy to maintain.
Highly durable.
Kids and pet-friendly.
Major Drawbacks of Bamboo Flooring
Can absorb water and may damage under very humid conditions
Very limited colour options and may not suitable for all kinds of designs.
---
8. Concrete
Concrete flooring is one the best options for flooring when we think from our health perspective. They are highly durable, versatile, sustainable, weather proof and economical.
They have been found to refine the air, making it more breathable by reducing toxins. Concrete floors also augment the lights within the space. Hence, creating a natural flow of light in the area.
---
Why Concrete Flooring is Healthy
Allergy relief because they don't trap allergens
Highly Economical
Relatively maintenance-free.
Highly durable
Major Drawbacks of Concrete Flooring
Hard in nature. Not a good option to sit on the floor for longer. Unlike natural quartz, concrete does not adjust or change the environment with seasons or temperature
---
9. Cork
Sounds interesting right? Yes, Cork flooring is one of the healthiest floorings for your homes. It is a durable and renewable material. It gives a warm, soothing and inviting ambience to your home. It is made from the bark of a particular oak tree.
It is naturally resistant to moulds, termites or any other form of insects. The antimicrobial nature of these flooring is another advantage that makes it a healthy option. It imparts a cushion lie effect while walking on the floor. Not only this it is a natural thermal insulator, making it the perfect choice for cold regions.
The natural air pockets make it a great sound absorbent. It is easily maintained and is eco-friendly in nature. It is resistant to cracking, abrasions and is completely waterproof.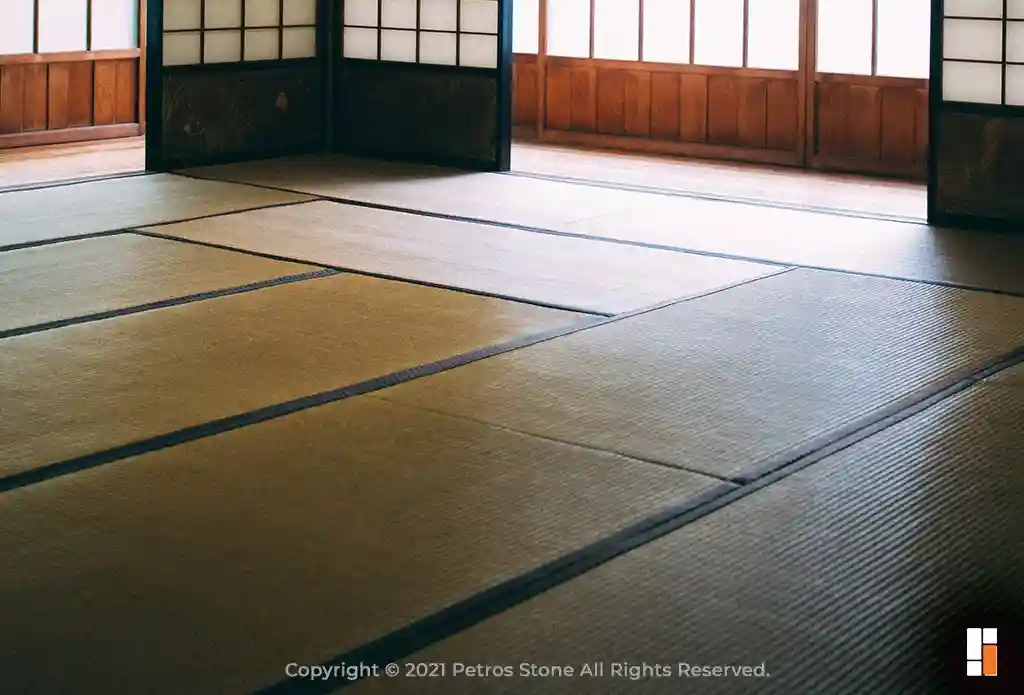 ---
Why Cork Flooring is Healthy
Comes under the umbrella of green building products.
Antimicrobial in nature.
Resistant to mould, termites etc.
Major Drawbacks of Cork Flooring
Made from high density fibreboards it is likely to have VOCs (especially in unfamiliar brands)
Easily scratchable if you have pets.
Tricky installation process.
---
10. Hardwood
Highly durable and exquisite. Hardwood flooring is a very healthy option to install for home flooring. They don't harbour allergens, dust, microorganisms, stop the accumulation of animal dander and pesticides.
They add warmth to the look of your home and are cost-effective. It also suits your every decor as wood is something that pairs well with everything. One of the most exciting parts of the hardwood flooring is that it can be refinished and the colour doesn't fade for a long time.
Indian Vastu Shastra considers it auspicious for staircases as well. This is because the stairs connect the two floors, so the use of wood in the stairs brings prosperity and happiness to the house.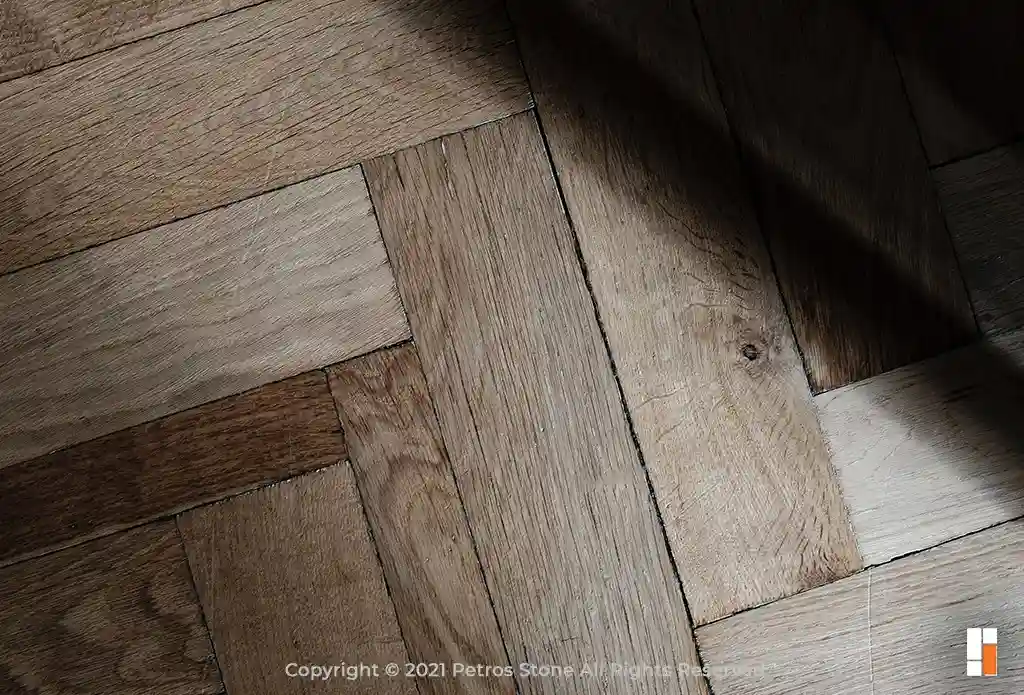 ---
Why Hardwood Flooring is Healthy
Highly durable.
Anti allergic
Brings positivity in the house.
Major Drawbacks of Hardwood Flooring
The labour charges vary a lot.
It is occasionally noisey sometimes.
---
About Linoleum/Marmoleum Flooring in India
It is made from renewable and natural material. All though man made but this one gets a special place in our list.
This healthy and non-toxic green renewable flooring is made from ingredients like linseed oil, it is the main ingredient that gives its name linoleum and natural pigments, pine rosin, and wood flour that is harvested from pine trees.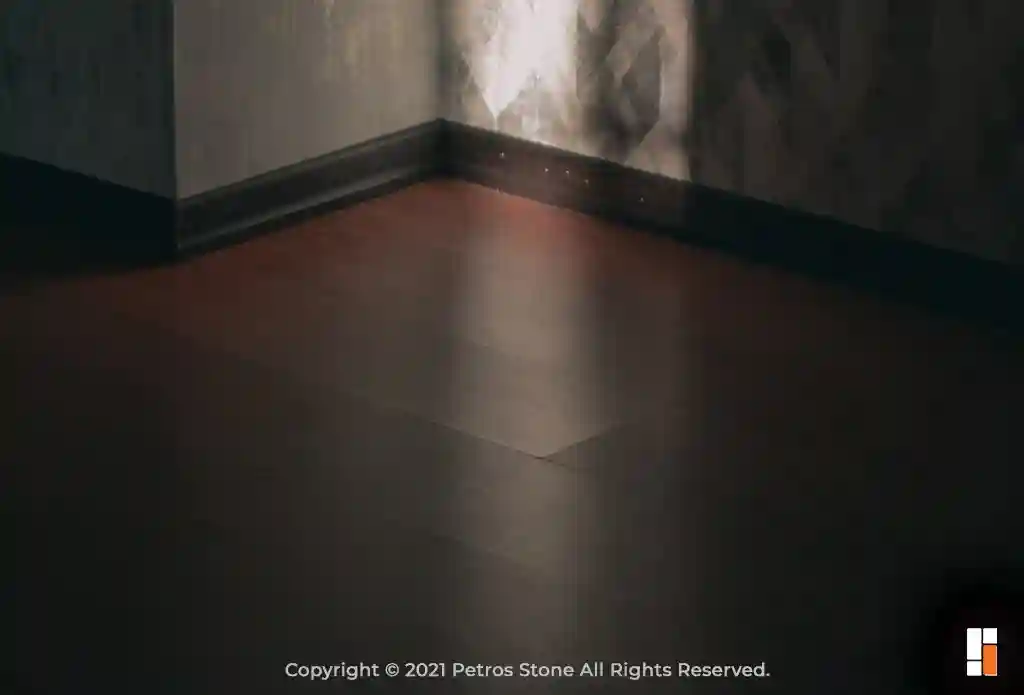 ---
Why is Linoleum / Marmoleum Healthy
One of the strongest flooring materials.
Renewable as it is natural.
Non-toxic.
Major Drawbacks of Linoleum/Marmoleum Flooring
It can be expensive.
Walking on it can be uncomfortable sometimes, especially in winters.
---
Why Choosing healthy flooring for your house is important?
The house flooring is the most impactful building material of the house. This is the material that one is continually exposed to. Though design and appearance are important, the health of the individuals residing in the home is even more important.
Natural and healthier flooring options ensure cushioning, temperature control, positive ambience and long-lasting durability. This in turn ensures a healthy lifestyle throughout the space. Unhealthy materials can lead to fungal growth, easy damage and overall create a negative atmosphere in the house.
---
How to choose a healthy flooring?
Check the level of toxicity: Always check the level of toxic chemicals added to manufacture the product.
Life span: Yes, Life span & durability is one of the most vital factors. Flooring is the one part of your house that is the most difficult to change.
Maintenance: Maintenance is one of the crucial parts of flooring. Some are easy to maintain and some need special care. Some materials can be difficult to maintain but it can be a wiser choice to choose as they are more healthy and natural.
Colours: Choosing the colour of the floor is as important as anything else. The right match will always create positive energy in your home. The right colour will make the rest of the home look and feel even better.
---
Comparison Between The Healthiest Flooring Materials
1. Petrosstone Natural Quartz Vs Alternative Materials
| | |
| --- | --- |
| Petros® Natural Quartz | Alternative Materials |
| Made of natural quartz minerals, that makes it the hardest, strongest and most durable to use healthy flooring option. | Alternative materials are either not natural or they lack the flexibility of design. |
| Endless colour options available; many shades and designs like all colours imaginable. | Other options available are soothing to eyes but mostly light colored shades |
| They are heat resistant and are non-porous in nature. | As all others are also heat resilient but many of them have different life spans. |
| Suitable for all kinds of weather conditions, completely weather-proof. | Other varieties may not be suitable for all seasons and can be very area or region specific. |
| Scratch-resistant; Petros® Stone's Natural quartz is hard and also stain-resistant | Easily prone to damage; E.g. wood and tiles are easily spoilt. |
Comparison Between Quartz and Alternative Materials
---
2. Granite Vs Vitrified Tiles
| | |
| --- | --- |
| Granite | Vitrified Tiles |
| Granite, a naturally occurring material found on earth; extracted from rocks. | Vitrified tiles are man made and are designed in artificial manner. |
| The natural occurrence makes it more safe, healthy and durable. | Made with chemicals and unnatural ingredients – Artificial look & feel |
| Large slabs make it look seamless. | Usually small sized and very thin in thickness make it flimsy. |
| Can be repolished and re-finished | Cannot be repolished as it is a mere digital print. |
Comparison Between Granite and Vitrified Tiles
---
3. Vitrified Tile Vs Marble
| | |
| --- | --- |
| Vitrified Tiles | Marble |
| Looks aesthetic when used. Can be made in a faux-marble effect. | A symbol of luxury and opulence. |
| Less healthy when compared to marbles are they are made from chemicals and processed materials. | The natural occurrence makes marble undoubtedly healthier. |
| Easy to maintain | It is a bit harder to maintain than vitrified tiles. |
Comparison Between Vitrified Tile and Marble
---
4. Indian Marble Vs Italian Marble
| | |
| --- | --- |
| Indian Marble | Italian Marble |
| Are available easily in parts of the country | Are quarried from Italy and special designs are only available with companies like Petros® |
| Do not have any coatings | They have an epoxy coating on top for protection. |
| In terms of texture Indian marble is harder in nature. | It has a soft texture comparable to Indian marble. |
| Indian Marbles have medium lustre and lesser shine. | Italian marbles have a very high quality lustre with superior shine after polish. |
| Usually harder and stronger than Italian Marble. | Softer and usually held together with fiber reinforcement to prevent breakage. |
Difference Between Indian Marble and Italian Marble
---
Room-wise Best Flooring Options For A House In India
Living room:
Petros® Natural Quartz flooring is quite easy-to-maintain and looks stunning at all times, lasting for years. One of the unique facts about Petros® Natural Quartz flooring is that they always have different designs and patterns as they are derived naturally. These floorings emit positive energy in the space.
As living rooms are supposed to be attractive and full of lights, Petros® Natural Quartz flooring is one such flooring that is shiny and lustrous in nature. Hence, the living room looks attractive and inviting at the same time.
Kitchen:
Kitchens are the most high-traffic zones. Kitchen Flooring Material should be durable and easy-to-maintain at all times. Petros® Natural Quartz makes a great flooring choice for kitchens due to its non-porous properties. It resists staining and doesn't chip or crack easily.
One of the best factors of quartz is that it can mimic any other material like marble, granite, wood, concrete etc. The wide range of color options available in quartz flooring give a lot of design flexibility.
Bedroom:
There are multiple options for bedroom flooring, and bamboo flooring is a good option for bedrooms. India experiences extreme summers and winters, and bamboo flooring is great flooring material because it does not expand or contract with temperatures. It is super inexpensive and easy to maintain.
Bamboo flooring is environment friendly and gives a contemporary look to your bedroom. It is easy to maintain with just a mop and soft cleanser. It is dimensionally stable and is extremely versatile in nature.
Bathroom
Bathroom flooring should be water-resistant, and the most durable bathroom flooring is granite with leathered surfaces. Another great option is slate stone – for a rustic look. It is naturally anti-skid, inexpensive and highly durable.
Vitrified Tiles with anti-skid surface finish is also a relatively inexpensive option.
---
Get Help Choosing A Healthy Flooring
Segregating your requirements in terms of colour, texture and healthiness is one of the main factors to consider. It's recommended to use light shades of Petros® Natural Quartz, granite, stones, or any other flooring as these reflect light and hence create a bright and positive environment in the space.
Always try to be foresighted about whether the flooring you have chosen will compliment the entire decor of the house or not.
If you need more information and are seeking to decide on the best flooring option for your home you can simply give us a call at +91-8446360361 or use the Whatsapp pop-up on the bottom right to immediately get in touch with an expert.
---
---