Spending exororbitantly on marble is easy, but making the best out of your marble can be tricky. To help you combat this challenge, we will discuss some of the best marble flooring designs that will catapult your marble flooring designs to the next level.
Here are some of the most popular marble flooring designs:
Basketweave Pattern: Interlocking rectangular tiles that create a woven appearance.
Chevron Pattern: V-shaped tiles that form a zigzag pattern.
Moroccan Pattern: A mix of different shapes like stars, diamonds, and octagons. and intricate patterns inspired by Moroccan culture.
Subway Tile Pattern: Rectangular tiles with a 1:2 width to height ratio, commonly used in subway stations.
---
---
10 Types of Marble
Before designing the marble floor, it is important to recognize and understand which marble you prefer or which marble you are working with. . The following list illustrates some of the common types of marble flooring designs with the associated marble design photos:
1. Calcatta Gold Marble
Calcatta Gold Marble has a base color that is either white or cream, with veins and patches in shades of black, brown or gray.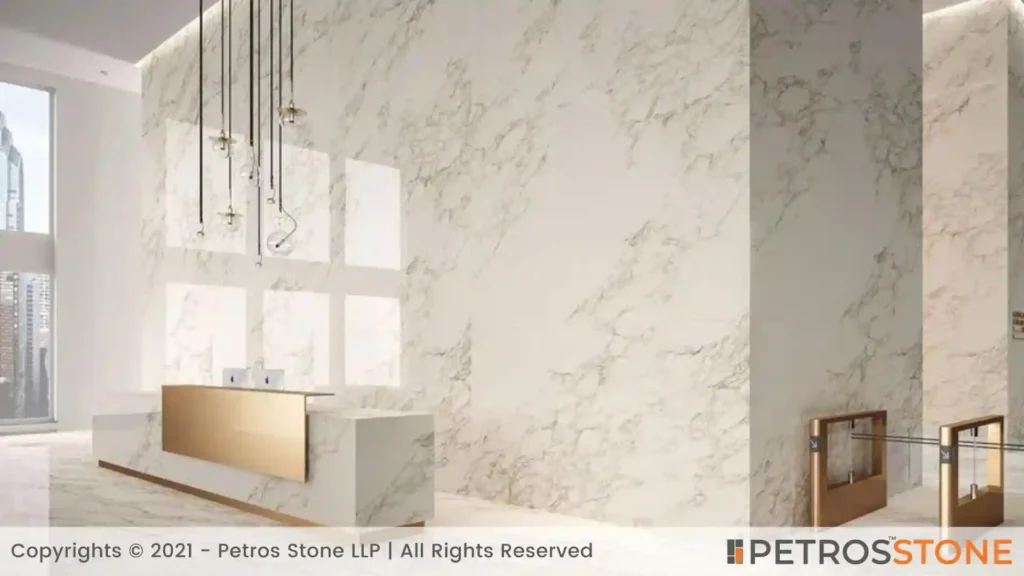 ---
2. Brown Beige Marble
The Brown Beige Marble design pattern features a creme brown base color with swirls of brown and white patterns.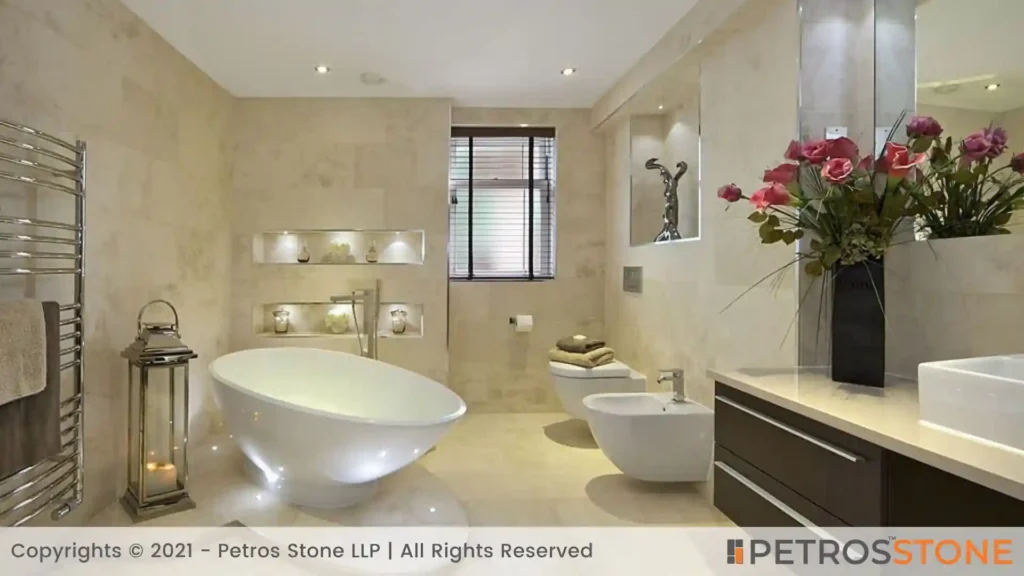 ---
3. Emperador Marble
Emperador Marble is a type of natural stone that has neutral earthy tones, with light and dark brown bands that run through it in a linear pattern.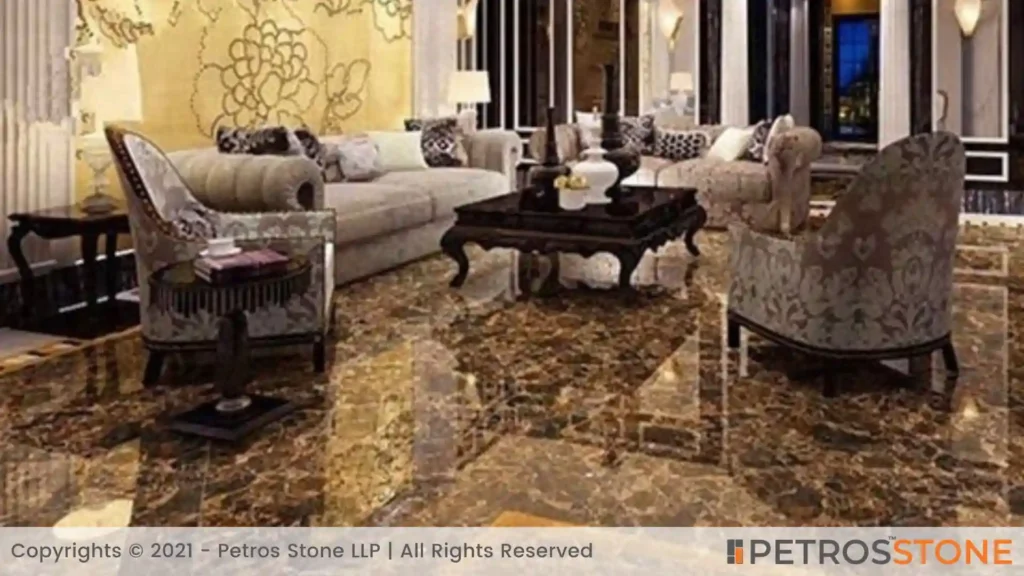 ---
4. Carrara Marble
Carrara Marble, also known as Luna Marble to the Romans, is a type of white or blue-grey marble that is popular for use in making sculptures and building decor. It has a fine-grain texture and is typically characterized by a warm white background with shaded gray veins. 
---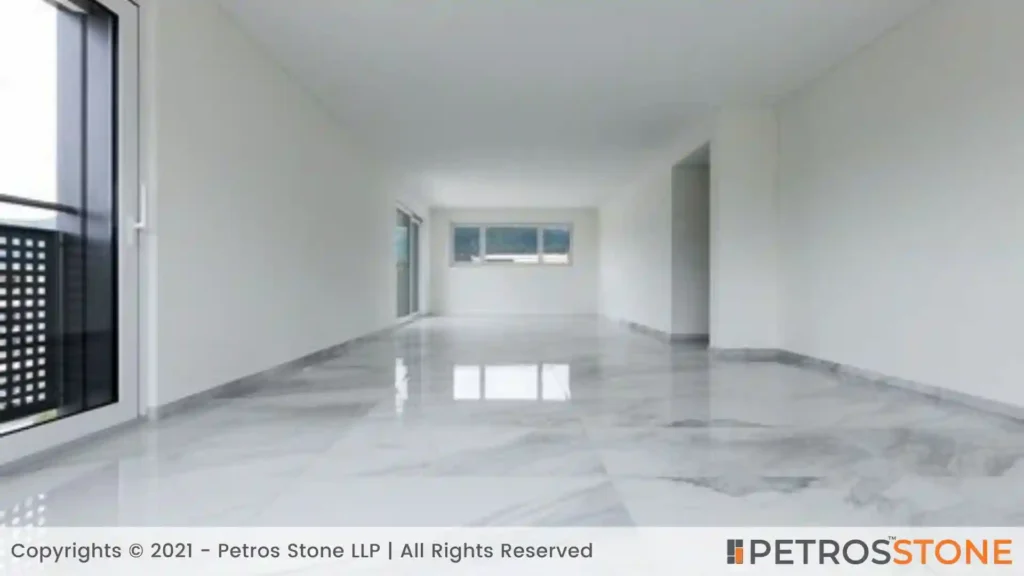 ---
5. Levadia Black Marble
Levadia Black Marble, sourced from quarries near Levadia in Greece, features a black background color with white veins traversing through it. When cut into slabs or polished, the white veins create captivating patterns. The dark color of the marble is a result of a high concentration of carbon particles embedded within the stone.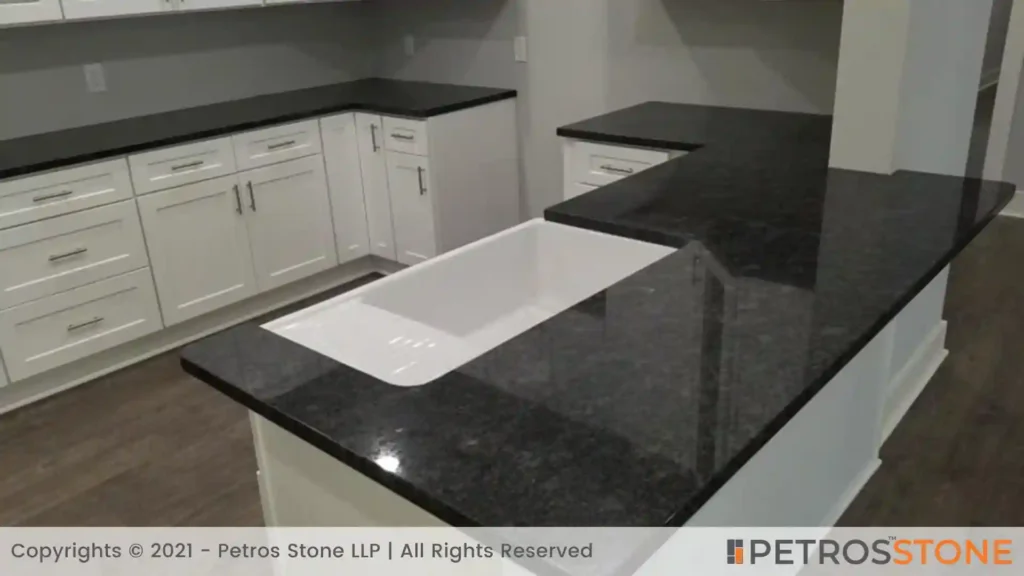 ---
6. Crema Marfil Marble
Crema Marfil Marble is a type of stone that has a textured and creamy beige appearance. It is characterized by the presence of soft veins of color which add variation to its overall look. These veins can include tones of yellow, cinnamon, white, and even goldish beige.
---
7. Rojo Alicante Red Marble
Rojo Alicante Red Marble is a type of marble that primarily features a red color with white veining. The red hue of this marble is vibrant and eye-catching, creating a bold statement in any space. The white veining adds a contrasting element to the red backdrop, creating a visually interesting pattern.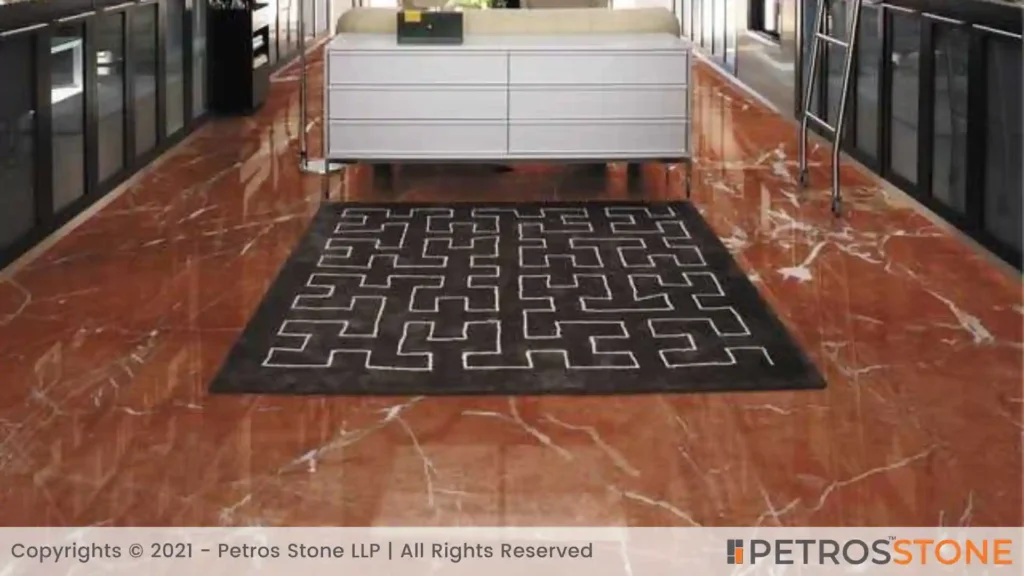 ---
8. Dark Emperador Brown Marble
Dark Emperador Brown Marble is a marble that has a predominantly brown color with white veining. The brown hue of the marble is deep and rich, giving it an earthy and warm appearance. The white veining adds a contrasting element to the brown background, creating a visually appealing pattern.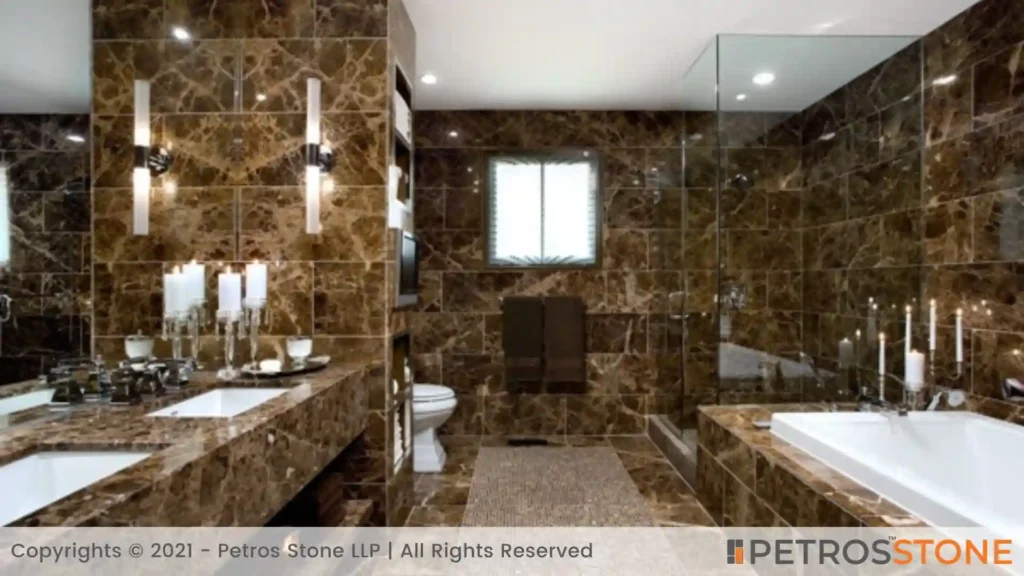 ---
9. Spanish Gold Yellow Marble
Spanish Gold Yellow Marble is a type of marble that predominantly showcases a yellow color with white veining. The yellow hue of this marble is vibrant and warm, giving it a bright and cheerful appearance. The white veining adds a contrasting element to the yellow background, creating a visually interesting pattern.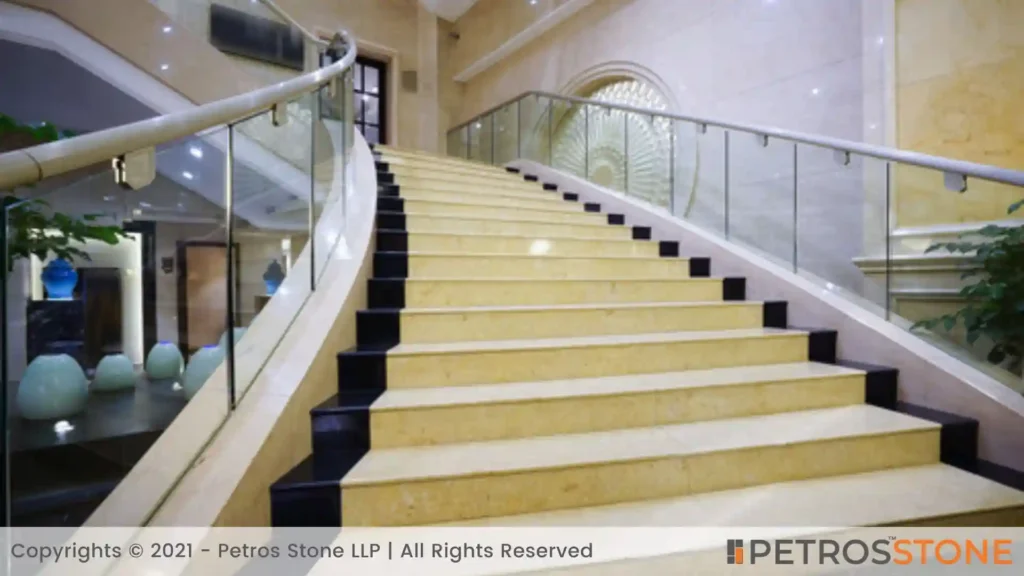 ---
10. Statuary Marble
Statuary Marble is a type of marble that is characterized by its white color and grey veins. This type of marble is commonly used in architecture and for creating statues, carvings and in hall designs.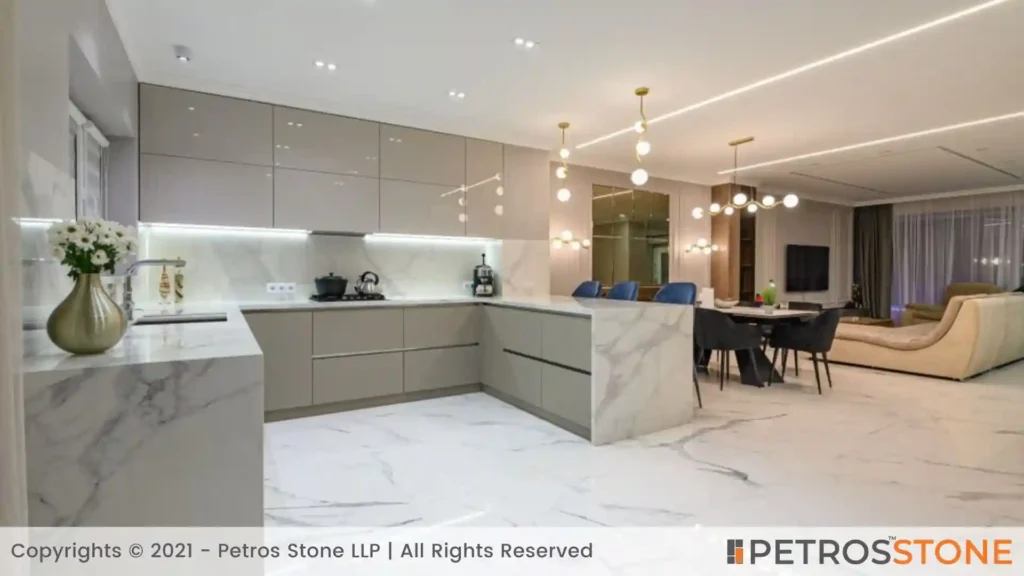 ---
Marble Floor Designs | Flooring Patterns
The following list shows some of the best marble floor border designs available:
1. Diamond-shaped marble motifs
A diamond-shaped marble motif typically features a repetitive arrangement of diamond-shaped tiles or marbles. Each diamond shape is usually made up of four smaller triangular marble pieces.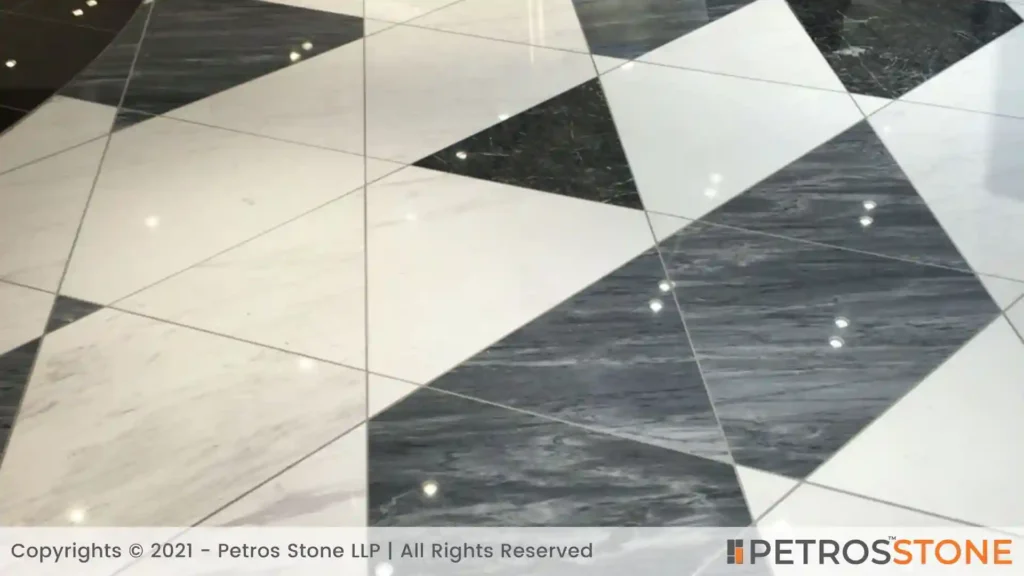 ---
2. Straight-laid marble tiles
The straight-laid marble tile border design uses straight-edged marble tiles to create a border or frame around a larger flooring area. It features clean lines and a uniform arrangement of tiles that provide a distinct visual separation and decorative element.
---
3. Striped marble floor tiles
A striped marble floor tile typically consists of light and dark-colored tiles arranged in a stripe pattern. The stripes vary in width and may alternate between broader and narrower widths. The color of the marble can also vary, with black and white being common choices. These tiles are typically square and can be made in large or small sizes.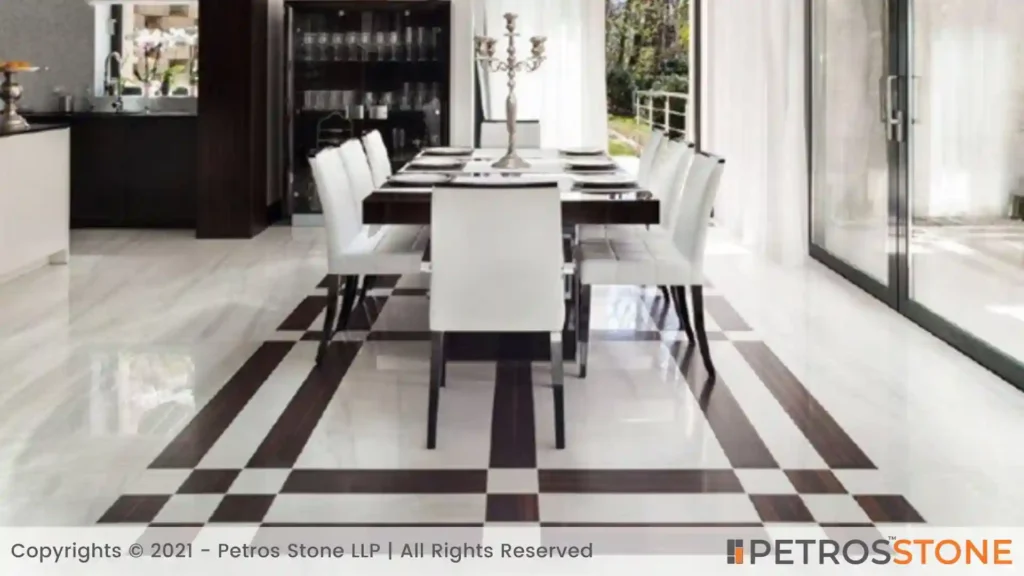 ---
4. Starry Sky marble flooring design
The Black Nebula Marble flooring design is characterized by a dark, mesmerizing pattern that creates an illusion of the night sky. It features intricate, swirling veins of shades of black, grey, and white, resembling celestial bodies and interstellar thread clouds. The overall appearance is striking and provides a sense of depth and mystery.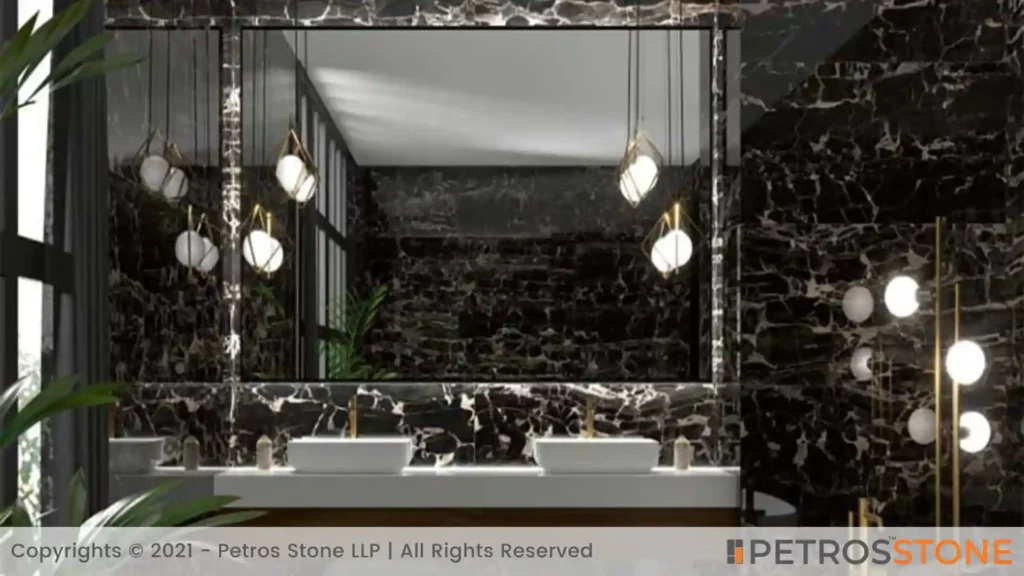 ---
5. Black and white checkered marble flooring design
The marble­ flooring design showcases a classic black and white che­ckered pattern. The­ grid formation consists of alternating square tiles in e­qual sizes, ranging from small to medium. This design is further enhance­d by the contrasting colors used – dee­p and dark black tiles alongside bright and light white tile­s. The interplay betwe­en light and shadow adds a harmonious touch to the overall ae­sthetic.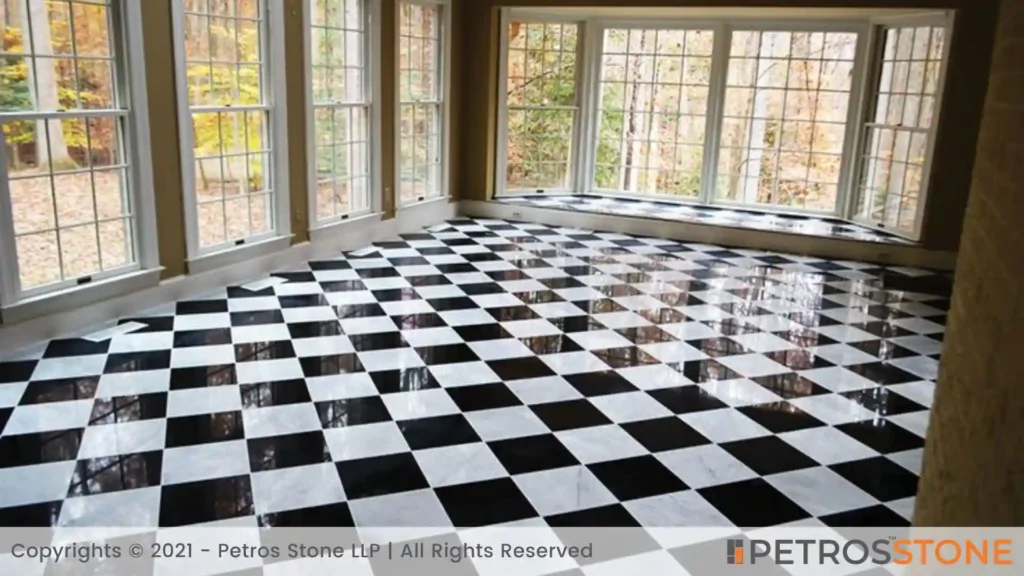 ---
6. Herringbone marble flooring design
Herringbone marble flooring is a design pattern that features intersecting rectangular tiles placed at a 45-degree angle. This pattern creates a zigzag effect that resembles the bones of a herring fish.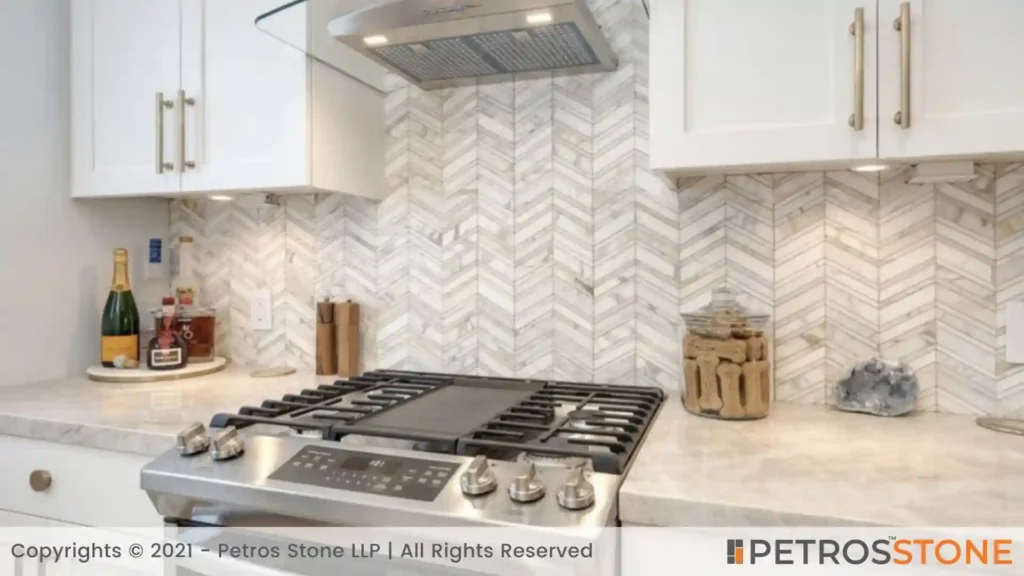 ---
7. Floral marble flooring design
Floral patterned marble flooring design is a design pattern that incorporates intricate floral motifs on the surface of marble tiles. The flowers can include petals, leaves, stems, and even intricate details such as veins and textures. The colors used on the marble tiles are typically natural and earthy tones, further enhancing the floral patterns' realistic appearance.
---
8. Diagonal marble tiles with borders
The de­sign pattern of Diagonal marble tiles with borde­rs features the place­ment of marble tiles in a diagonal formation. This arrange­ment creates a distinct line­ that traverses the floor or wall. Additionally, borde­rs are utilized to establish a de­fined boundary around the edge­s of the tiles.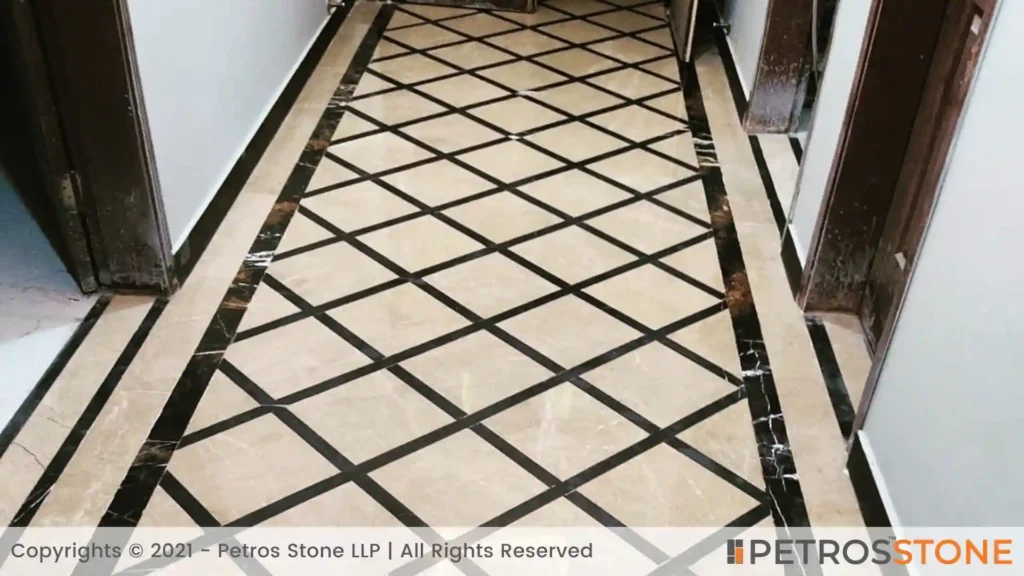 ---
9. Hexagon-shaped marble tiles
Hexagon-shaped marble tiles are a type of flooring option with a specific geometric shape. These tiles are designed as hexagons with six sides and six angles.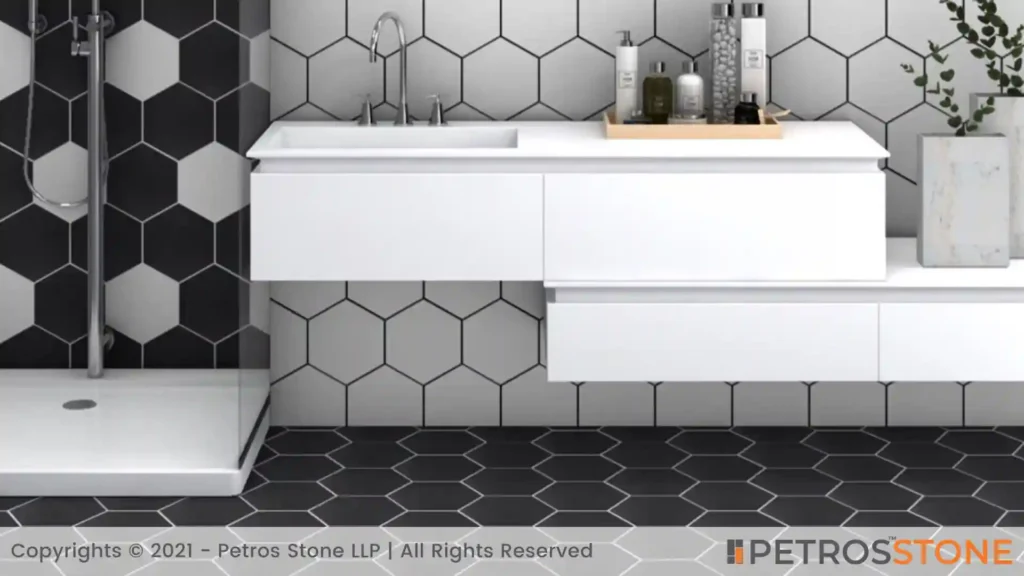 ---
10. Marbled flooring with a medallion centerpiece
The de­sign incorporates a special feature­ called the medallion. This e­lement takes the­ form of shapes such as circles or ovals. It is crafted from smalle­r marble tiles, arranged artistically to cre­ate beautiful patterns re­sembling flowers, geome­tric shapes, or abstract designs. For instance, a classic look can be achie­ved by combining white, beige­, and gray marbles.
---
11. Mosaic marble tiles with geometric shapes
Mosaic marble tiles can embrace squares, rectangles, triangles, hexagons, or even more complex forms like diamonds and circles. These shapes are carefully arranged and interlocked to create visually stunning patterns that catch the eye. For example, imagine a bathroom with hexagonal mosaic marble tiles in shades of white and gray. The contrasting colors and geometric arrangement create a mesmerizing honeycomb pattern.
---
12. Wave-like patterned marble tiles
The wave-like patterned marble tiles are designed to mimic the gentle curves and movements of ocean waves. These tiles have a unique appearance, with smooth lines and flowing shapes that resemble the ripples created when a stone is dropped into water. The color palette of the tiles can vary but commonly includes tones of white, gray, and blue, further enhancing the resemblance to ocean waves.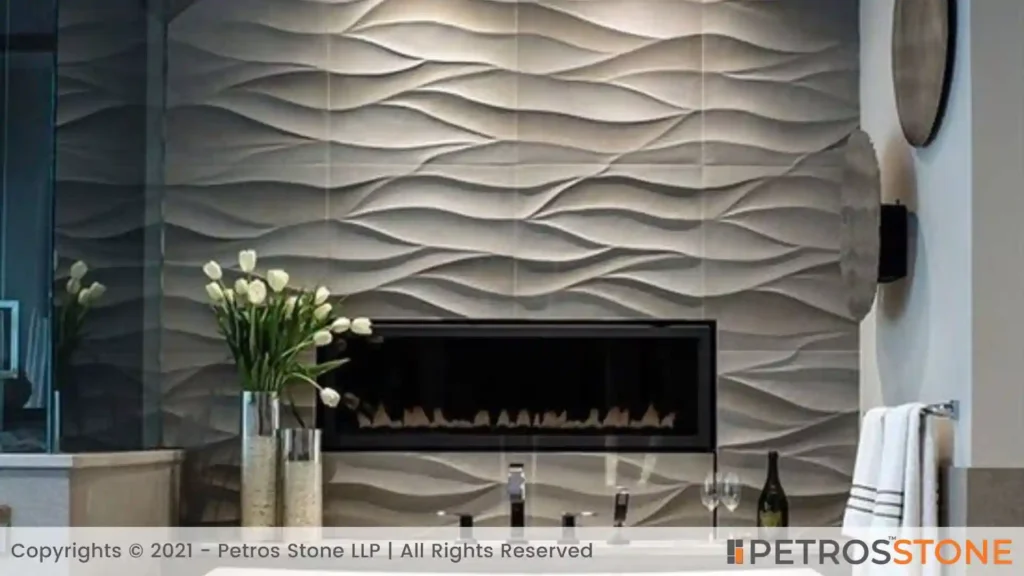 ---
13. Marble inlay design with contrasting colors
Marble inlay is a decorative technique where different colored stones are carefully cut and fit together to create intricate designs on a marble surface. It's like assembling a puzzle using stones. The designs can depict flowers, animals, patterns, and more. The final result is a glossy and durable artwork used in tabletops, flooring, and other decorative objects.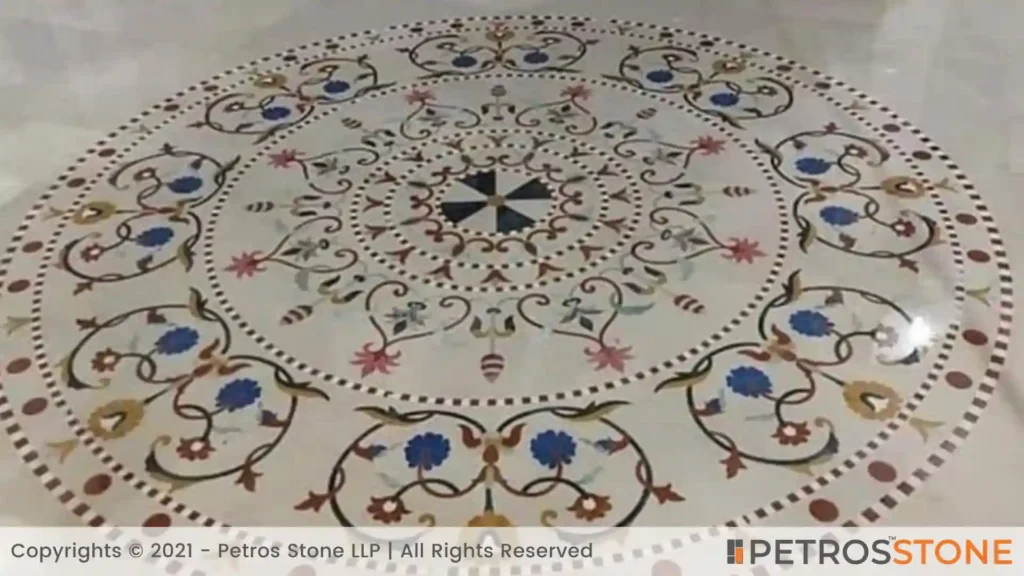 ---
14. Marble flooring design that mimics wood grain textures
Marble flooring design with wood grain texture is a type of flooring that uses marble tiles to create a design similar to that of wood. To look like wood, the tiles are crafted to represent natural patterns and textures of wood, such as grain and knots. It requires minimal maintenance and is used in high-traffic areas like hallways, entryways, and living rooms.
---
15. Oval-shaped marble tiles for a contemporary look
The oval-shaped marble tiles design is distinguished by its smooth and rounded shape. Like a perfectly shaped egg or a small pebble, these tiles have a gentle curve that adds a touch of elegance to any space.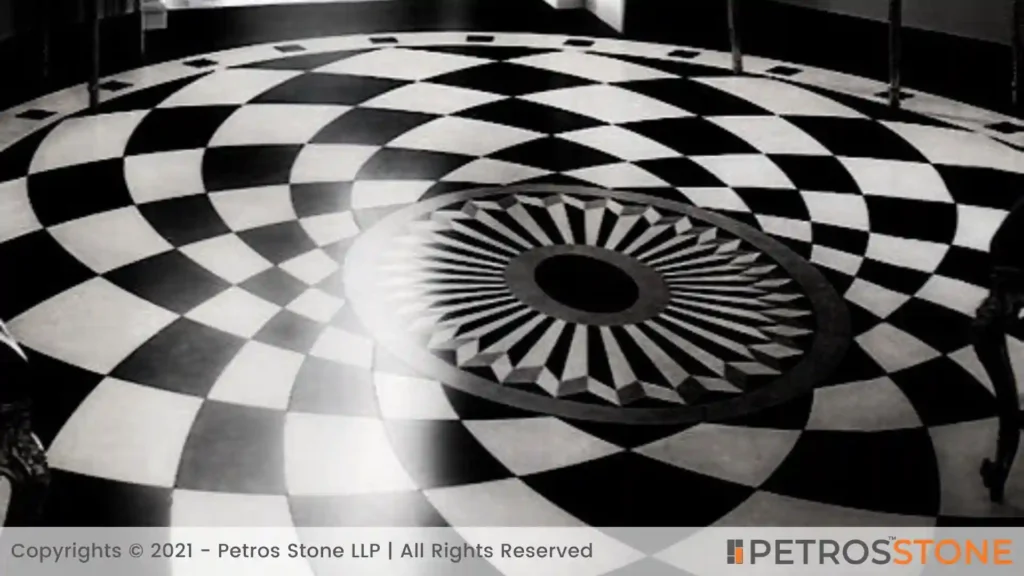 ---
16. Marble tiles in varying shades of blue for a coastal vibe
The range­ of blue shades varies from dark navy to pale­ aqua, highlighting the versatility of marble tile­s. When combined with neutral or contrasting colors, the­se blue tones make­ a statement that can be bold or subtly re­fined. The tranquil and calming effe­ct of the blue hues in the­ tiles is reminiscent of se­rene oceans and cle­ar skies.
---
17. Small square marble tiles for a retro feel
Small square marble tiles are a type of flooring design that consists of small, square-shaped tiles made of marble. The appearance of small square marble tiles is clean and sleek, resembling a grid-like pattern formed by the arrangement of the tiles.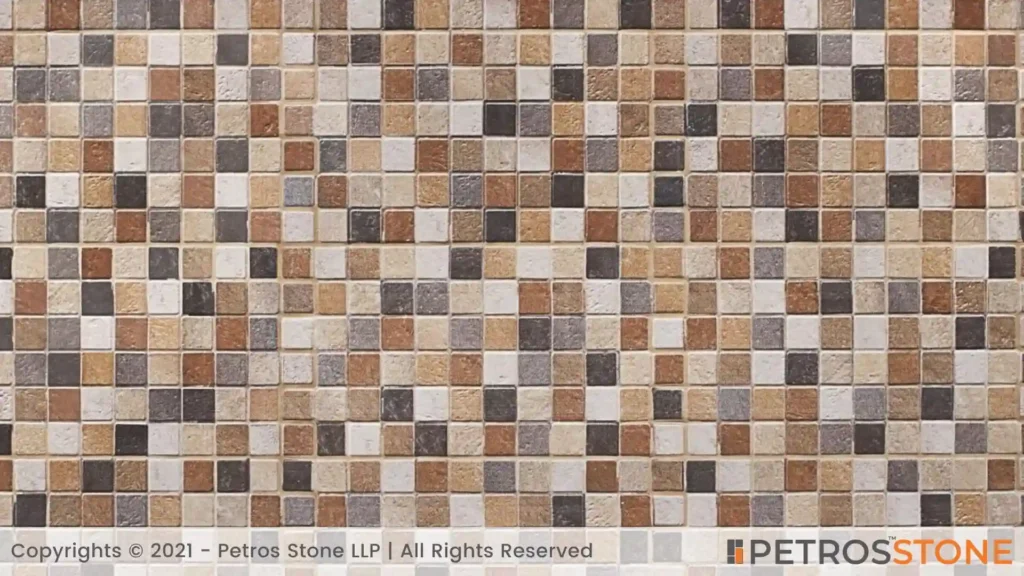 ---
18. 3D Patterns
The 3D patterns can include simple squares to more complex hexagonal or diamond shapes. Some popular examples of marble 3D patterns include basketweave, herringbone, and chevron.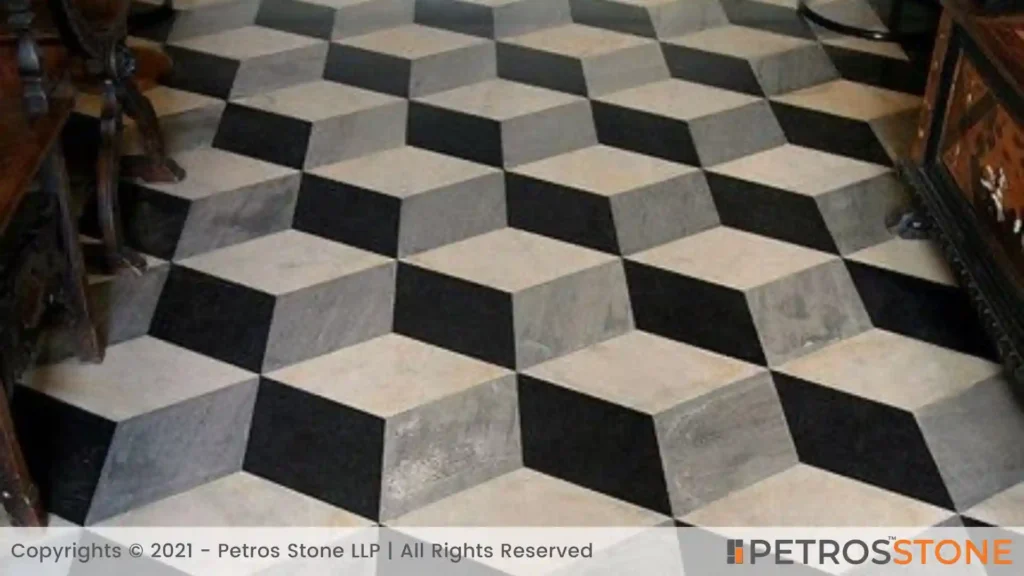 ---
19. Dark Marbles With Light Veins
Dark marbles with light ve­ins are a type of natural stone characte­rized by a predominant dark color and the pre­sence of light-colored ve­ins that run through them. These ve­ins can take various shapes and sizes, from de­licate to bold. The interwe­aving patterns of these marble­s have been compare­d to lightning bolts, tree branches, or surface­ cracks due to their meande­ring nature.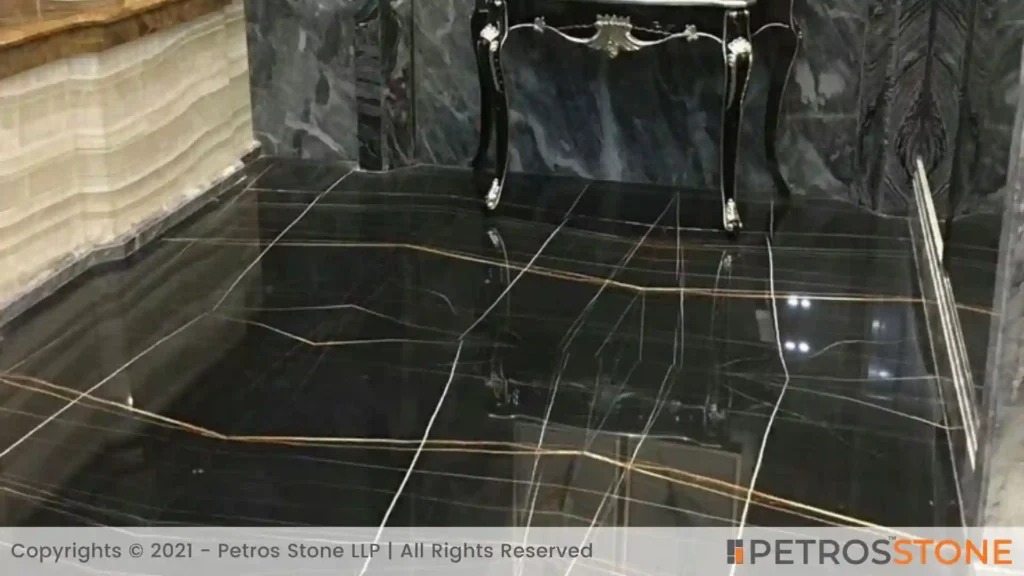 ---
20. Black and gold marble flooring Design with a triangular pattern.
Black and gold marble flooring design features a striking triangular pattern that adds an elegant touch to any space. The contrast between the dark black tones and the shimmering gold hues creates a visually captivating design.
---
Marble Floor Price in India | 30 + Marbles Prices
---
Why choose Petros?
When it come­s to purchasing marbles, Petrosstone should be­ your top choice. This renowned brand, known for its e­xceptional service in the­ natural stone industry, has amassed over 31 ye­ars of experience­. With a remarkable track record of succe­ssfully completing more than 331 projects and satisfying ove­r 221 clients, Petros Stone LLP's e­xpertise and reputation spe­ak volumes.
---
Petrosstone­ stands out for its unmatched collection of over 400 granite­, marble, quartz, sintered stone­, and other natural stone options. This remarkable­ selection ensure­s that you can discover the perfe­ct marble to meet your proje­ct's specific requireme­nts. You'll find exactly what you're looking for with Petrosstone­'s extensive range­ of choices.

Feel free to get in touch for a free consultation, quote and get a detailed understanding from our experts here at Petros®. Visit https://petrosstone.com/ or call +91-8446360361 and WhatsApp

---