Amongst all the natural stones available, Italian Marble has emerged as the most preferred choice of millions of architects and designers for their stairs. Marble is illustrious in building designs due to its durability, beauty, and scratch resistance.
It's important to consider the right marbles for the staircases as not all Italian marbles are suitable for steps. Furthermore, the polishing of these marbles is crucial since every step requires a comfortable grip and control.
High Grade Natural Petros® Quartz – Carrara and Calacatta are the most suitable Italian Marbles for stairways.
---
Here is a list of the 11 Best Italian Marbles for Staircase / Steps:
Calacatta Classic
Calacatta Gold
Carrara White
Statuario
Arabescato Brescia
Bianco Lasa
Moscato Beige
Giallo Siena
Fior Di Bosco
Nero Portoro
Black Lava
---
---
---
Calacatta Classic
Calacatta Classic is perhaps the most popular marble used for stair design due to its simple and elegant appeal. Sourced from the Carrara region in Italy, Calacatta Classic is known for its prominent grey veins running across a white background. Calacatta Classic is strong, durable, and usually has a rough finish making it a perfect stairs material.
When used with a black or a brown wooden railing, it gives a very stylish look to your stairways with a purposeful grip.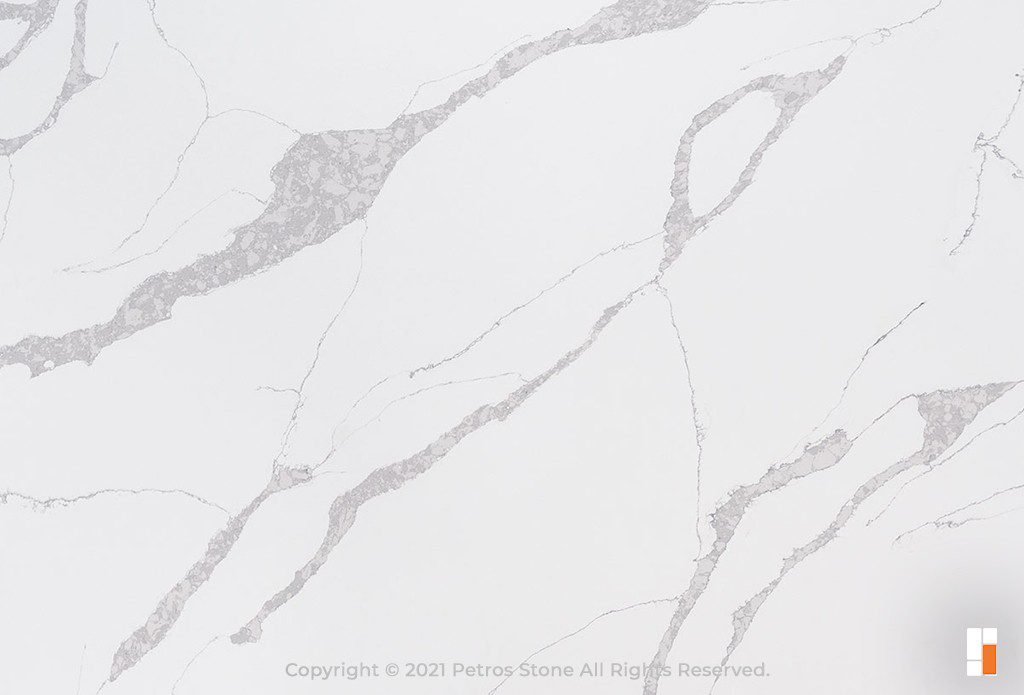 Calacatta Classic is easier to fit into a design because of its simplistic pattern. Since it is white marble, indoor applications are preferred over outdoors.
If the Calacatta Classic marble is regularly cleaned and maintained, it can be used outdoors. The reason for this versatility is Calacatta Classic's scratch and heat resistance nature.
Calacatta marble comes from a single region in Italy. So to procure a high-end Calacatta Classic marble, you will have to contact some of the best suppliers of Italian marble around you.
The rarity and versatility of Calacatta marble make it the most precious and demanded Italian marble on our list.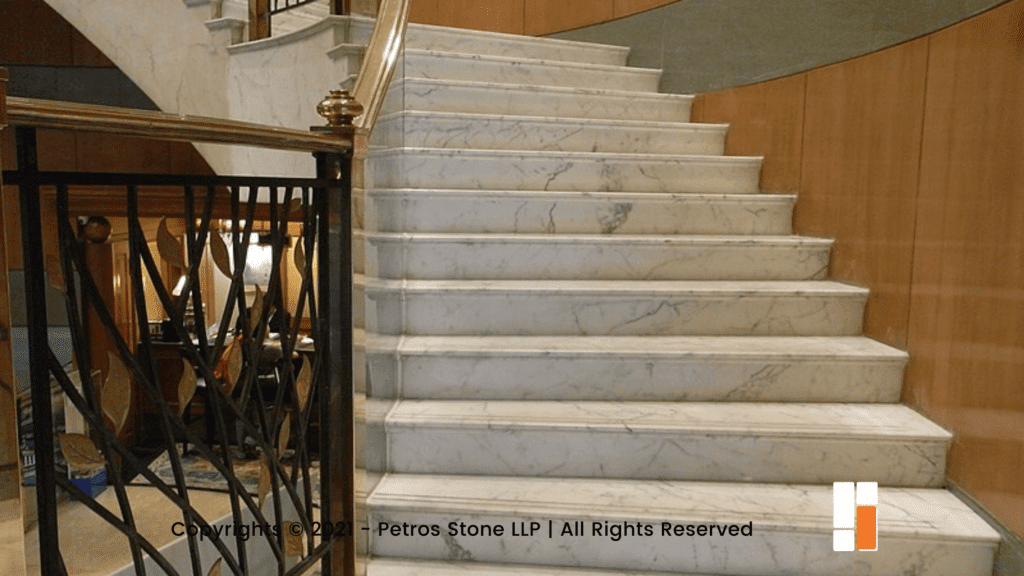 ---
Calacatta Gold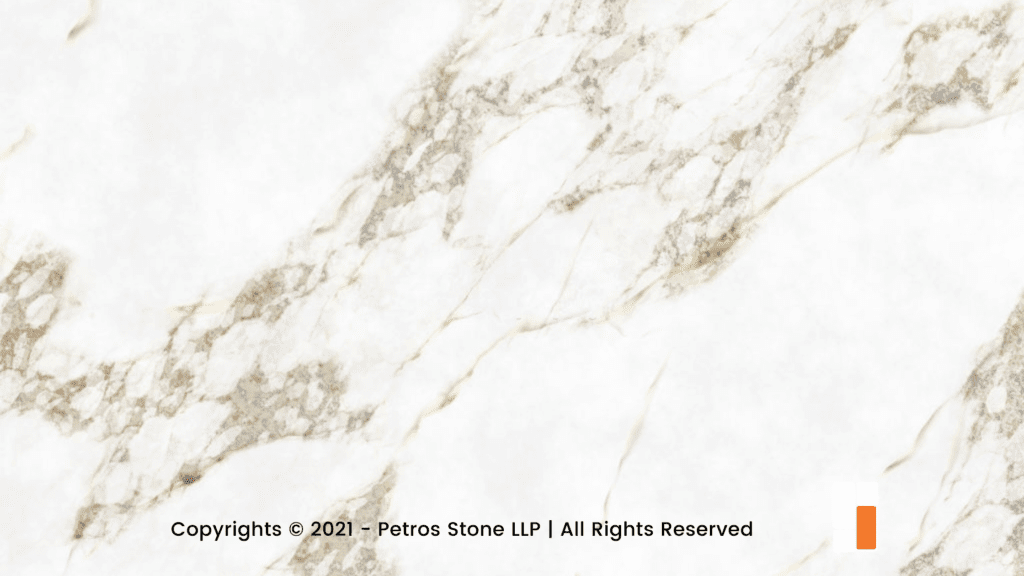 Calacatta Gold is similar to Calacatta Classic, the only difference being the golden streaks running along with the grey veins on a white background. Calacatta Gold gives a more royal look to your stairways because gold symbolizes royalty.
There is an increasing rise of Calacatta gold in interiors, especially in stairs due to its elite design pattern, turning a simple interior design into a luxurious one.
In terms of physical attributes, Calacatta Gold is similar to Calacatta Classic. In recent years, Calacatta Gold marble has become an integral part of luxury home designs. It is best to use Calacatta Gold marbles in massive stairways in the middle of a large hall. By combining them with golden metal railings and sculptures, you can project the eliteness of your interiors.
To summarise, Calacatta Gold is a rare piece of stone that requires the appropriate architecture and usage to bring the best out of it. Calacatta Gold is best applicable for commercial indoor designs such as office hallways, cathedrals, and bungalows.
The golden streaks of Calacatta Gold need to project out in an interior space, so they require good polishing and finishing. This rare marble has to be purchased from companies having special expertise in these marbles.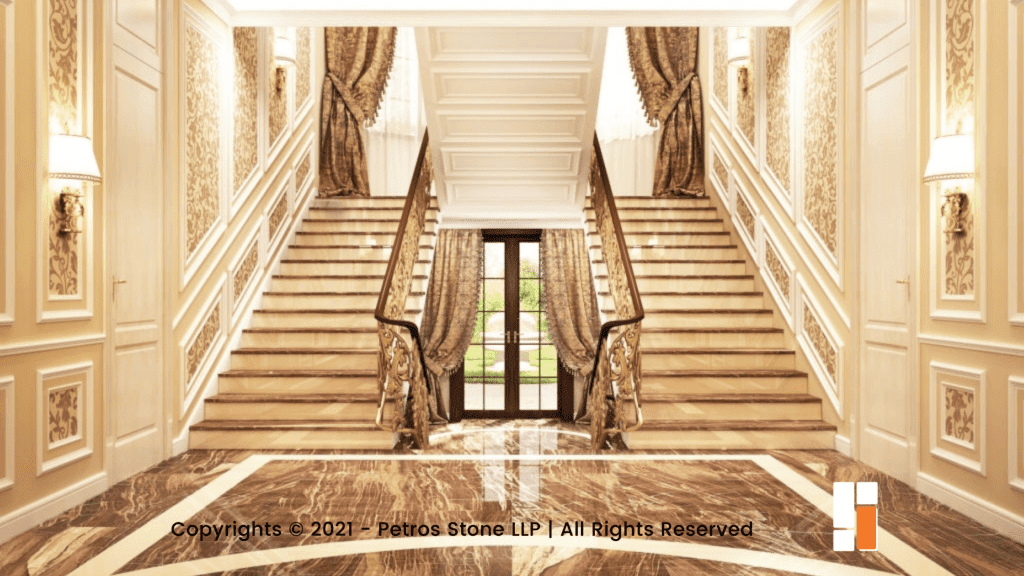 ---
Carrara White
On a broader note, we move on to the other most popular Italian marble used for stairways, Carrara. The name Carrara refers to the region where the stone is quarried. And like Calacatta marble, it is a white marvel. Calacatta and Carrara marbles are almost identical, but an expert in natural stone can tell the blue veins in Carrara from the grey veins in Calacatta.
Carrara White is a strong, durable marble that is used both indoors and outdoors. Carrara marble exhibits a slightly bluer tone due to its veins, and is not as white as Calacatta marble. Due to its ease of application, Carrara White marble is used in several architectures around the world.
Carrara white marble blends well in a monotone design where white or light grey are the dominant colours, and it can work well with marble railings and wall tiles.
Carrara White is finished coarser for indoor purposes and shinier for outdoor. This reason makes Carrara White marble highly versatile and popular amongst interior designers.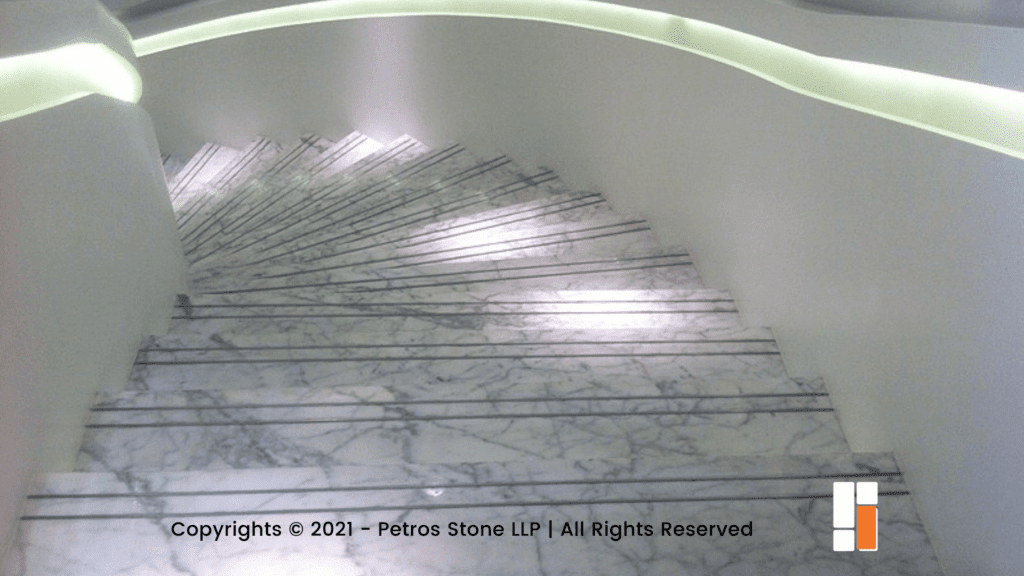 ---
Statuario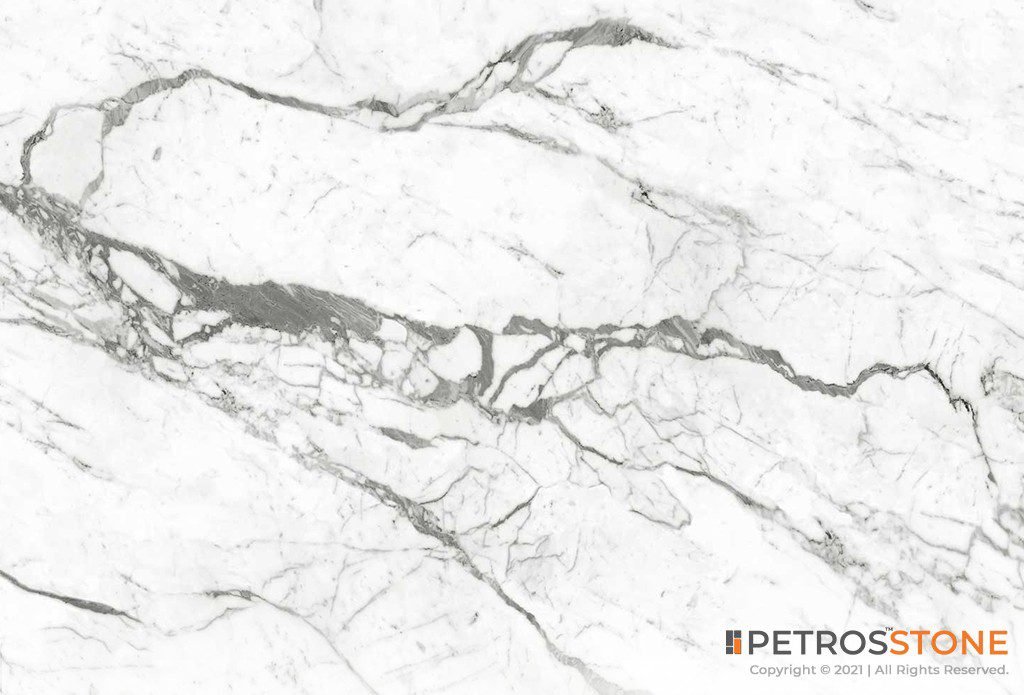 Another product of the Carrara region in Italy, Statuario marble is perhaps known for being an omnipresent marble infamous sculptures and architectures. Statuario marble is the strongest Italian marble available and is timeless due to its scratch resistance.
Similar to Calacatta Classic, it is a white marble with the only difference being the thickness of the veins and its criss-cross pattern.
Statuario marble is a highly durable marble and when finished smoothly, is used for outdoor stairways of buildings. Statuario marble has a low water absorption rate and can withstand massive amounts of pressure. That is why it is used in exterior designs such as the stairways of government and institutional buildings.
A well-polished Statuario marble stair can be seen along with iron railings to provide purpose to a marvellous design.
Statuario is a symbol of endurance and timelessness. These reasons make Statuario marble one of the most demanded marble for stairway designs. Good quality and authentic
Statuario marble are imported from Italy by many natural stone dealers around the world. Primarily a sculpting stone, Statuario marble slabs can be found in many dimensions and shapes, catering to the buyers' needs.
---
Arabescato Brescia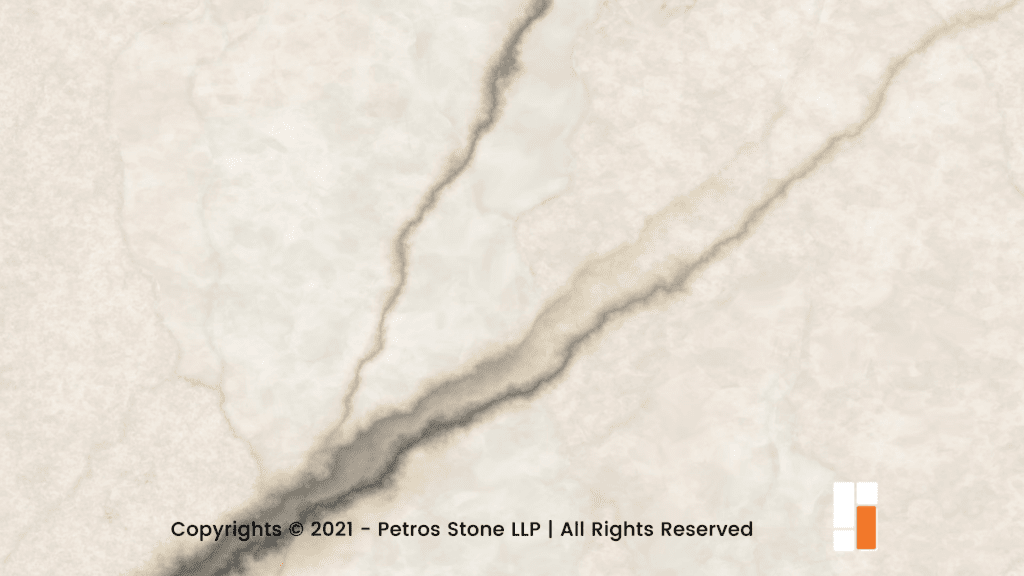 Arabescato Brescia is from the regions of Tuscany in Italy. It is scratch-resistant, can withstand a decent amount of pressure, making it a great indoor stairway material. Just like Statuario, Arabescato Brescia has interwoven black and grey veins. But instead of white, it has a beige background.
Arabescato Brescia marble has a pale yellow appearance. So it requires smooth and polished finishing to bring out the hidden colors. When combined with wooden and metal railings, Arabescato Brescia marble makes an intriguing staircase that provides a stylish look to the interior designs.
Arabescato Brescia is most suitable for narrow and suspended stairways due to its lightweight and ductility properties.
Arabescato marble is a rare marble as it is quarried only in certain parts of Tuscany. This feature makes Arabescato Brescia marble invaluable and high in demand. However, it is not as expensive as Carrara or Calacatta marble.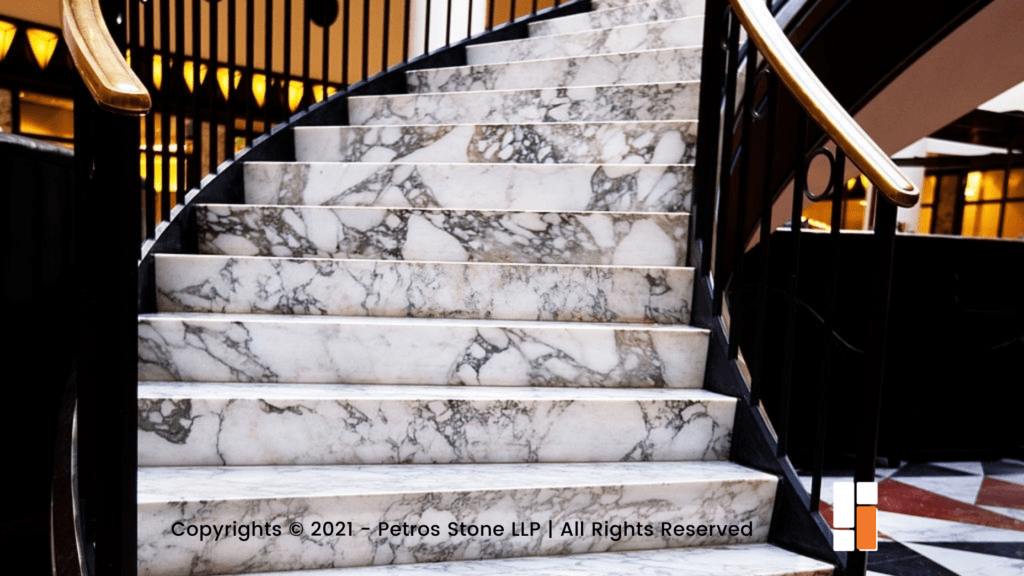 ---
Bianco Lasa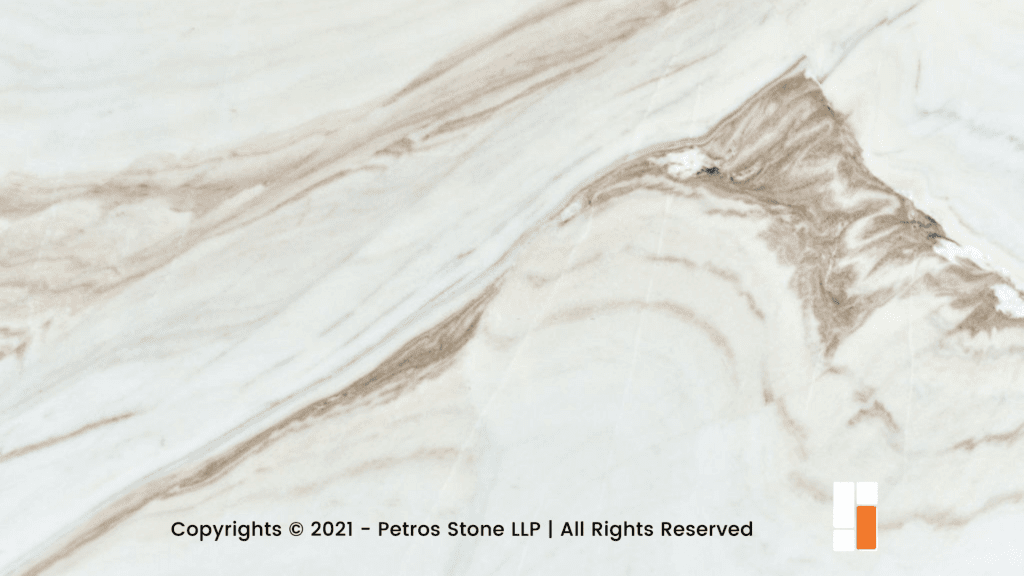 Bianco Lasa originates from a mountainous region in Italy called Laaser, and there exists only one quarry that mines this beautiful stone. Bianco Lasa is a strong as well as a rare piece of marble. Its design consists of soft and thin blue veins that run along with a single prominent grey vein, crossing each other and creating a beautiful pattern across a white background. It is not uncommon to see copper veins in Bianco Lasa.
Bianco Lasa has a crystalline structure that gives it durability and a coarse finish. Bianco Lasa is used for indoor stairs as well as outdoor stairs. Bianco Lasa is good quality marble for indoor staircases which are narrow. Some designs even include a black marble cladding with Bianco Lasa to form a dual-tone pattern that looks great on a stairway.
Mined from a single quarry in Italy, it is again one of the rare marbles on our list. In recent years, Bianco Lasa has seen a spike in demand, which has led some of the top suppliers of natural stones to import this stone. The rarity of Bianco Lasa makes it a pricy but classy choice for your staircase designs.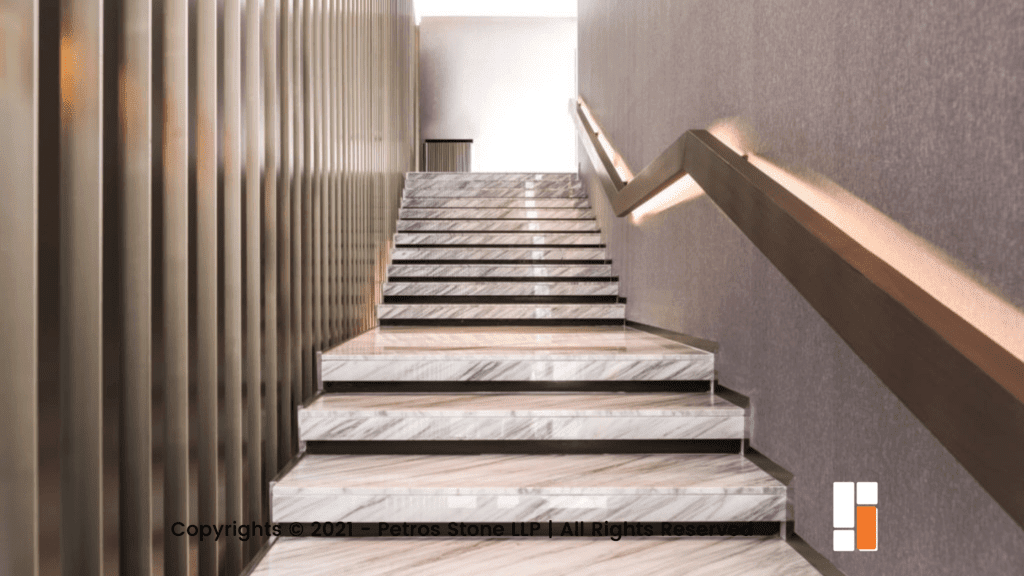 ---
Moscato Beige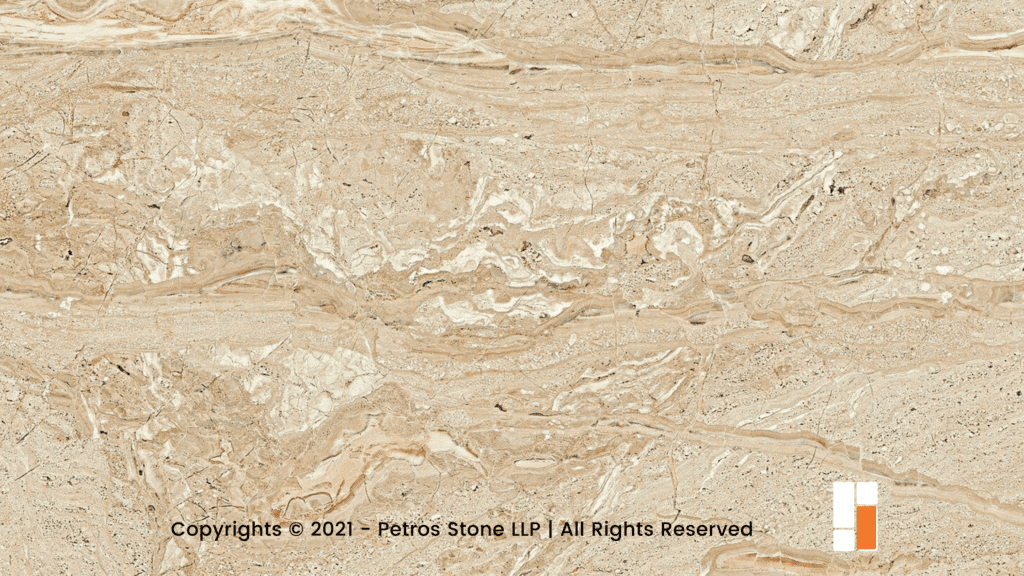 We now move from white marbles to he beige Italian beauty called Moscato Beige. Moscato Beige is a beige colour marble with thin white lines and light brown crystal patches. Being composed of limestone, Moscato Beige marble is not the strongest marble on our list, but we have listed it for other aesthete reasons.
Moscato Beige is very ductile, which makes it easy to cut and polish into shiny tiles. Concrete stairs can be clad with these tiles, and the edges can be carved to fit your design needs. Moscato Beige can be easily shaped for some eccentric staircase designs such as hanging, suspended, and attached stairways. This makes Moscato Beige our top eleven pick due to its versatility.
Moscato Beige can be easily found around you through any supplier and is one of the affordable marbles on this list.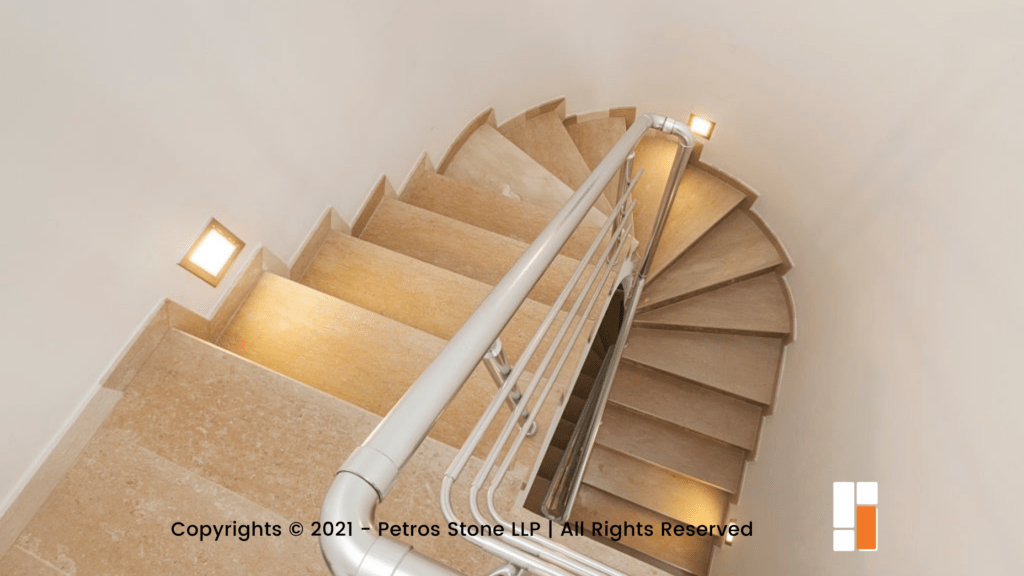 ---
Giallo Siena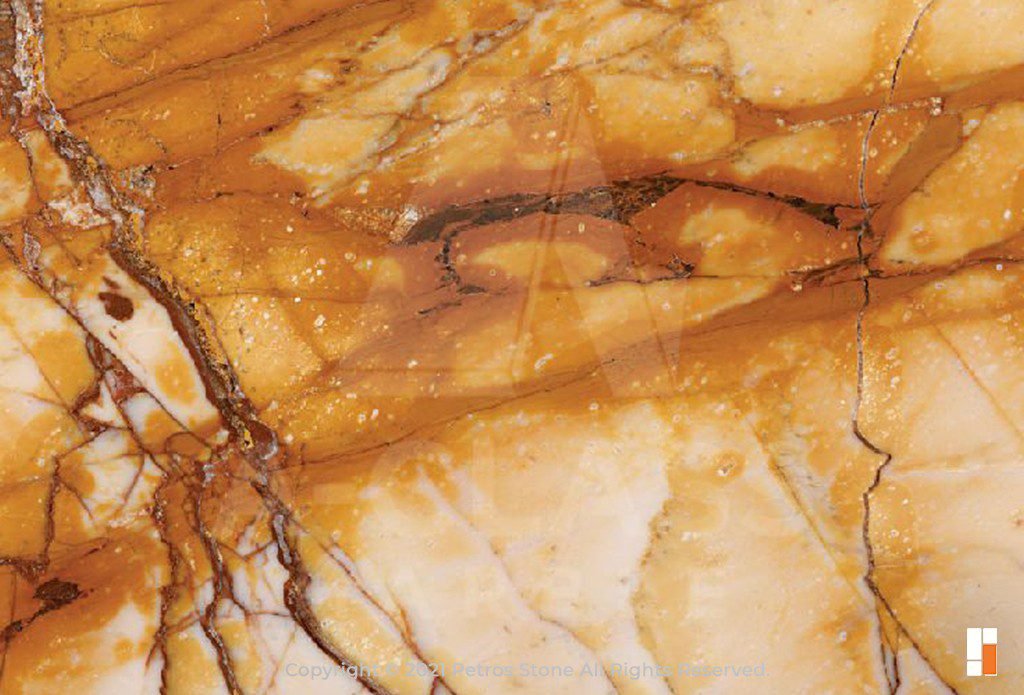 Name suggestive, Giallo Siena is a marble quarried from Sienna in Italy. Giallo Siena has excellent heat resistance and anti-freeze properties. This makes it suitable for both indoor and outdoor stairs. Giallo Siena is highly durable, has a low liquid absorption rate, making it ideal for staircases.
Giallo Siena is primarily a yellow marble with white crystalline patches and brown veins. Giallo Siena is stain resistant, dust resistant, and does not require much cleaning over a long period. This feature makes it a perfect stairway material and is combined with other limestone-based stones to form a beautiful flight of stairs.
Giallo Siena is a great choice for all kinds of staircase designs and can be paired with concrete, wood, or metal railings.
These caramel-like marbles are multipurpose due to their availability in the form of large slabs or small tiles.
---
Fior Di Bosco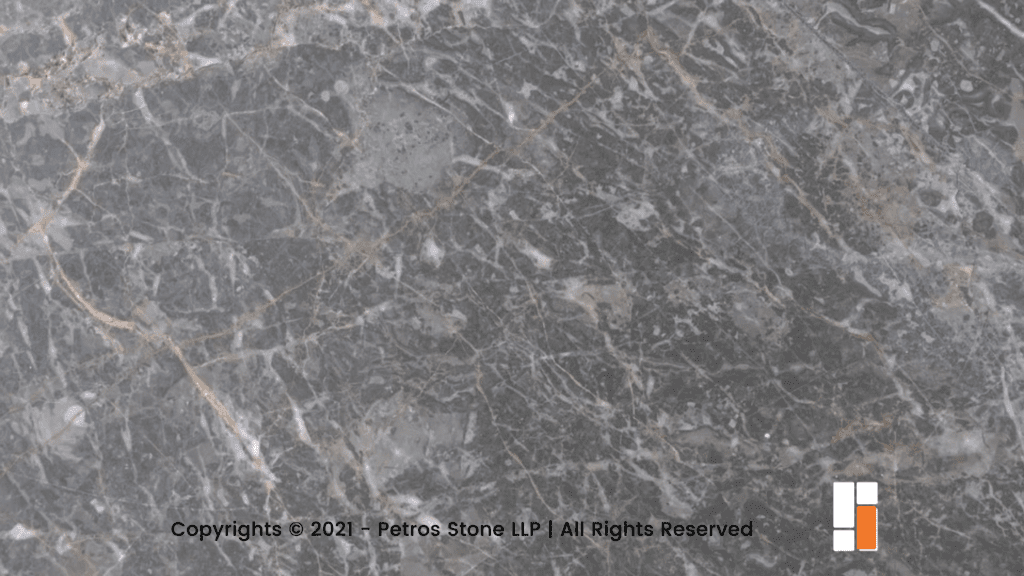 Fior Di Bosco is found in the region of Tuscany and is glassy in appearance and non-porous in nature. Fior Di Bosco is a grey marble with prominent white veins with light brown veins. Fior Di Bosco is a non-porous stone and is scratch and dirt-resistant.
Fior Di Bosco is smoky in tone and has a very rustic design. This makes it a good material to use in conjunction with other marble tiles to create unique patterns on your staircase.
Fior Di Bosco is best used indoors, especially on stairways in an apartment. A well-honed and polished Fior Di Bosco marble give the staircase a modern, niche appearance.
Fior Di Bosco can be cut into tiles and used as slabs. But in most modern stairway designs, it is seen combined with another lighter marble material such as Carrara or Calacatta. Fior Di Bosco is an affordable and readily available marble for you to integrate into your stairways.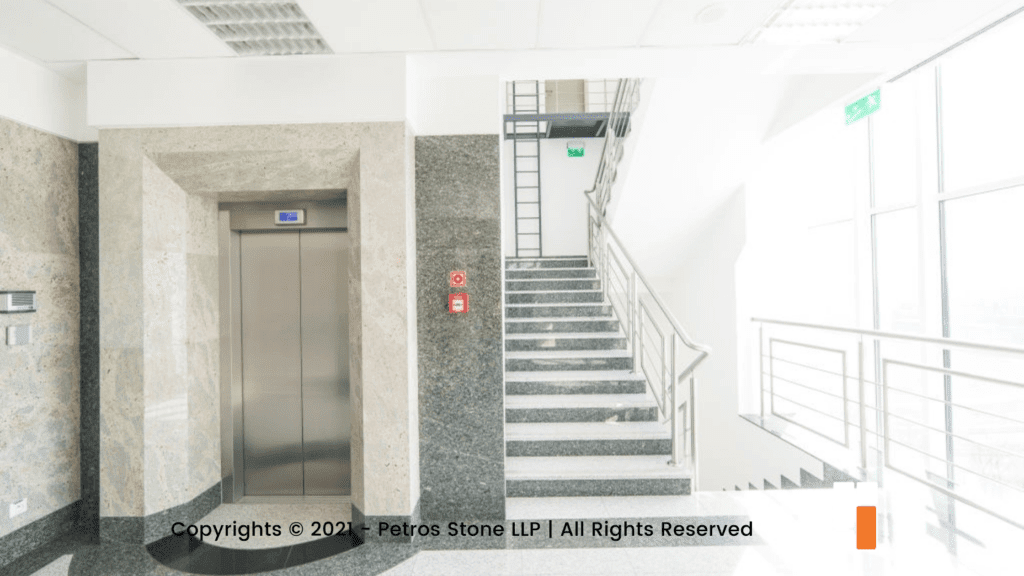 ---
Nero Portoro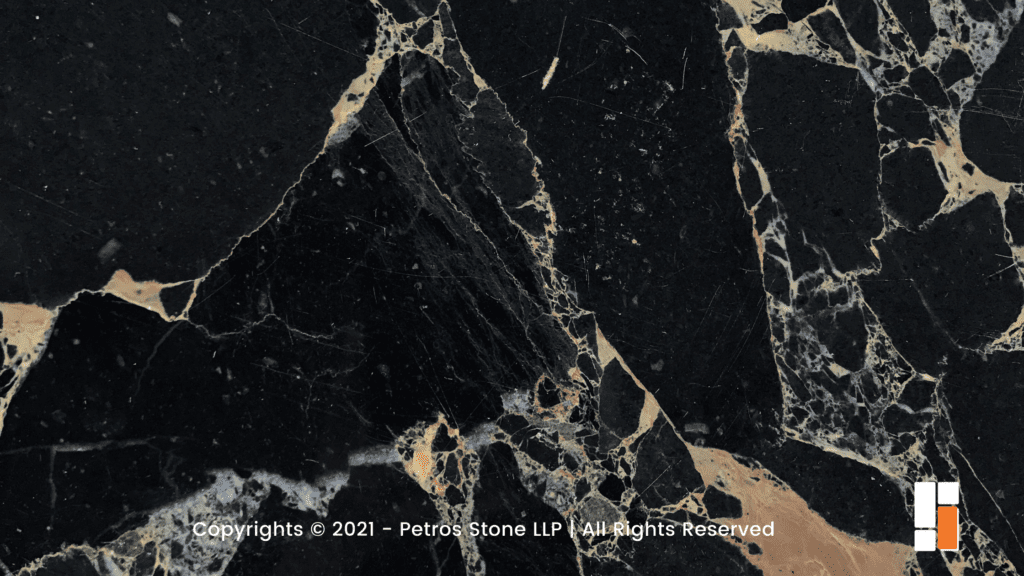 Nero Portoro is a rare Italian marble originating from Porto Venere, an island off the coast of the mainland. Nero Portoro marble is one of the delicate marbles in this list, which might make you wonder why it makes our list of top marbles for stairways. The answer to that is in its design, perfect for niche and luxurious homes.
Nero Portoro is a black marble with veins of gold, white, and copper, making it stand out even when used at the edges of the staircase. Imagine it to be a designer marble used best to accentuate the beauty of your stairway model rather than providing it with durability. These delicate marbles can be used for narrow spiral spaces and can be used even in suspended stairways as well. Perhaps the best use of Nero Portoro is at the entryway of – staircase, living room and any space for that matter, which has Nero Portoro marble integrated into its design.
Nero Portoro is extremely valuable because of its rare nature and massive demand across the globe. This reason makes it a marble material for those architects who are into luxury homes or villa designing.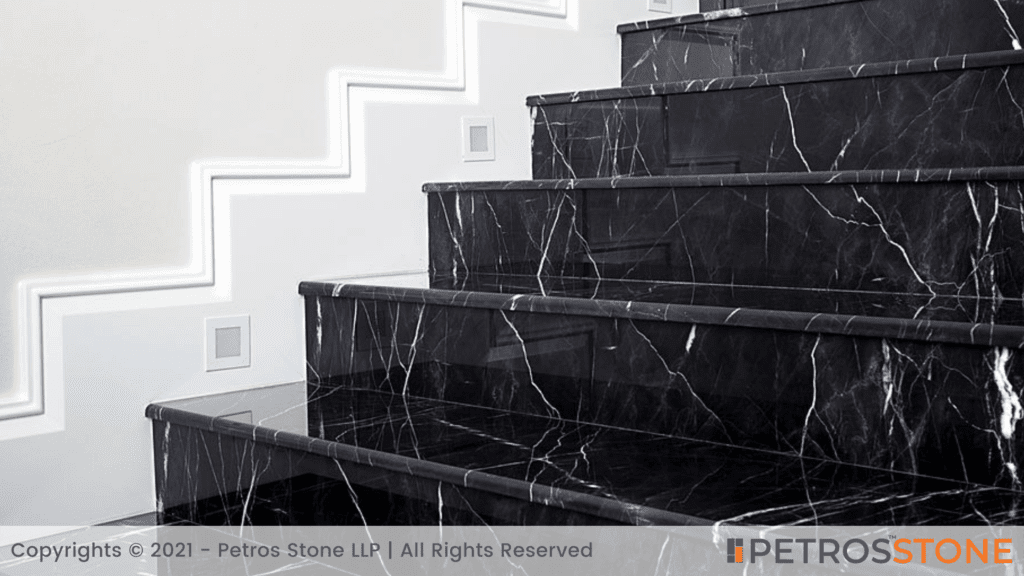 ---
Black Lava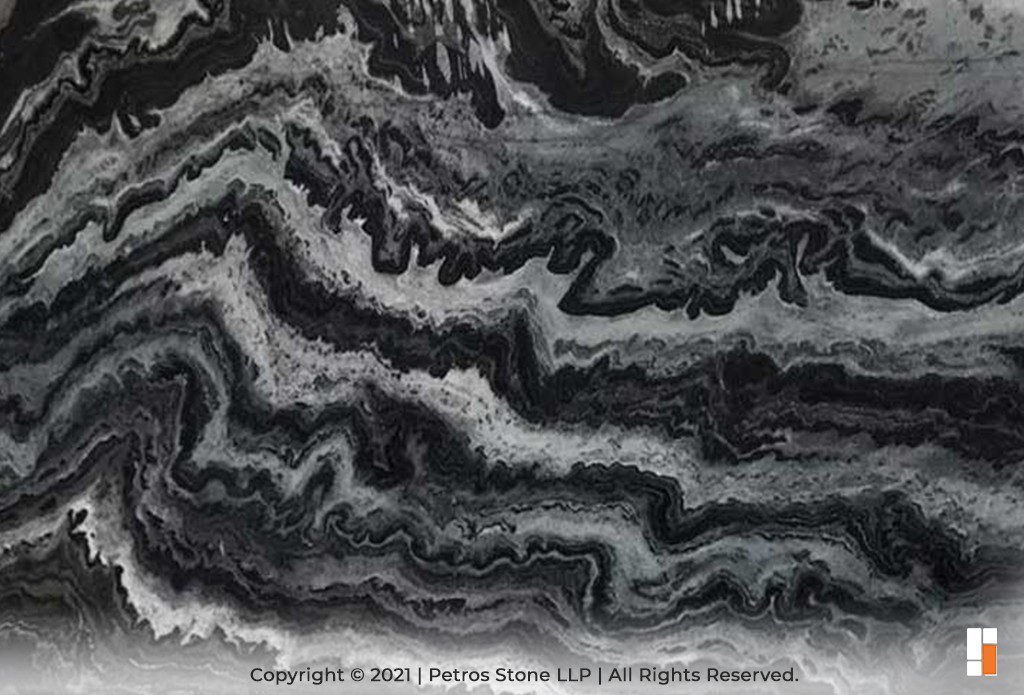 Finally, we have another black beauty from the mountains of Italy that has a unique design pattern, setting it apart from the other marbles in this list. It is known for its black and white veins that run symmetrically across the marble slab. Formed by the cooling down of lava, this stone is durable, heat or scratch-resistant, and elegant looking. This reason makes the last Italian marble on our list the best one.
Black Lava can be used for indoor and outdoor stairs due to its ability to withstand heavyweight. Unlike Nero Portoro, Black Lava marble can is used for wide and long stairways. Black Lava can even be used as tiles for stair cladding due to its eclectic design. This versatility of Black Lava is the reason why it is seen all over the interior space of homes and buildings.
Black Lava is strong, versatile, and is an expensive marble. To get the most out of the pattern in Black Lava marble, it needs to be polished and honed well.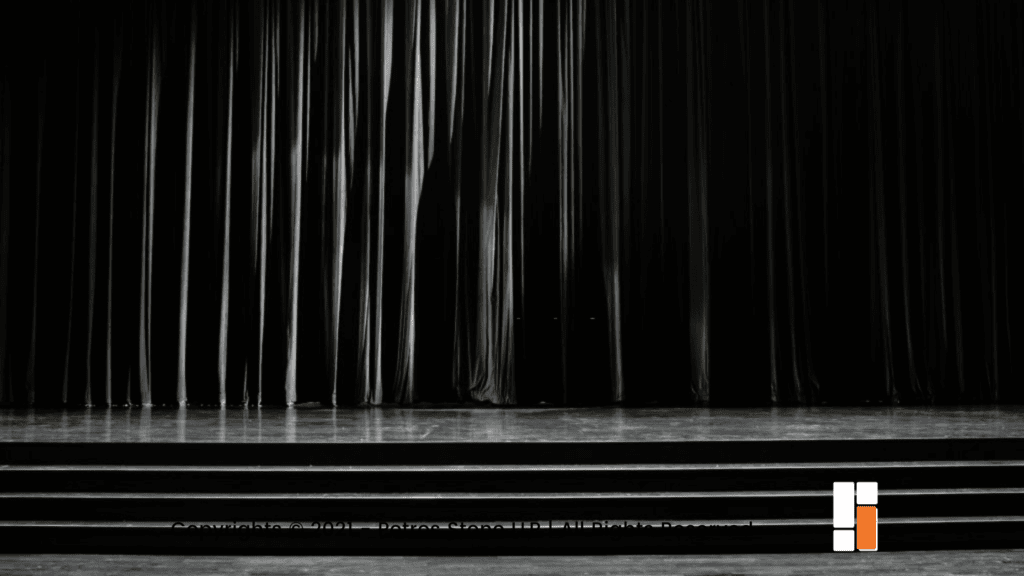 ---
---
So, these were some of the best Italian marbles for staircases. This is a general list of some of the best Italian marbles for steps, but based on the specifics of your project, your requirement and the necessities of the project, there are a lot of options to choose from. We, at Petros®, process over 150+ natural stone and quartz – giving you a wide assortment to choose from.
At Petrosstone, we not only manufacture but also help you find the right stone for your project – making Petros® one of the largest Stone brands in India. Feel free to get in touch with us so we can help you with your project.