Commonly known as Nano Artificial Marble or Nano Crystallised Glass White, Nano White G5 / G7 has become quite popular in the international market these days, leaving many to wonder what it exactly is. Is a granite? or a marble? or Quartz?
The answer is:
---
Let us delve deeper into the various aspects of this Nano White, its grades like G5 and G7, further in this article.
---
---
---
Nano White – Price | Size | Brand
| | |
| --- | --- |
| Country of Origin of Nano White | China |
| Nano White Glass/Marble Slab Size | 114″ x 64″ |
| Price of Nano White G5 in India | ₹350/sq. ft. |
| Price of Nano White G7 in India | ₹420/sq. ft. |
| Price of Nano White G3 in India | ₹165/sq. ft. |
| Best Nano White Brand in India | G7 – OGL or Petros® Certified |
Nano White Artificial Marble Size and Price
---
How is Nano White Manufactured?
The factory-manufactured material Nano G7 is a type of crystallised glass. Composed of 75% silica besides other natural materials, the preparation of this artificial product is a pretty simple process. The silica-based mixture is poured into pre-designed moulds of designated shapes and sizes. The mould is then subjected to very high temperatures. The range is between 1,550°C to 1,800°C for 24-26 hours.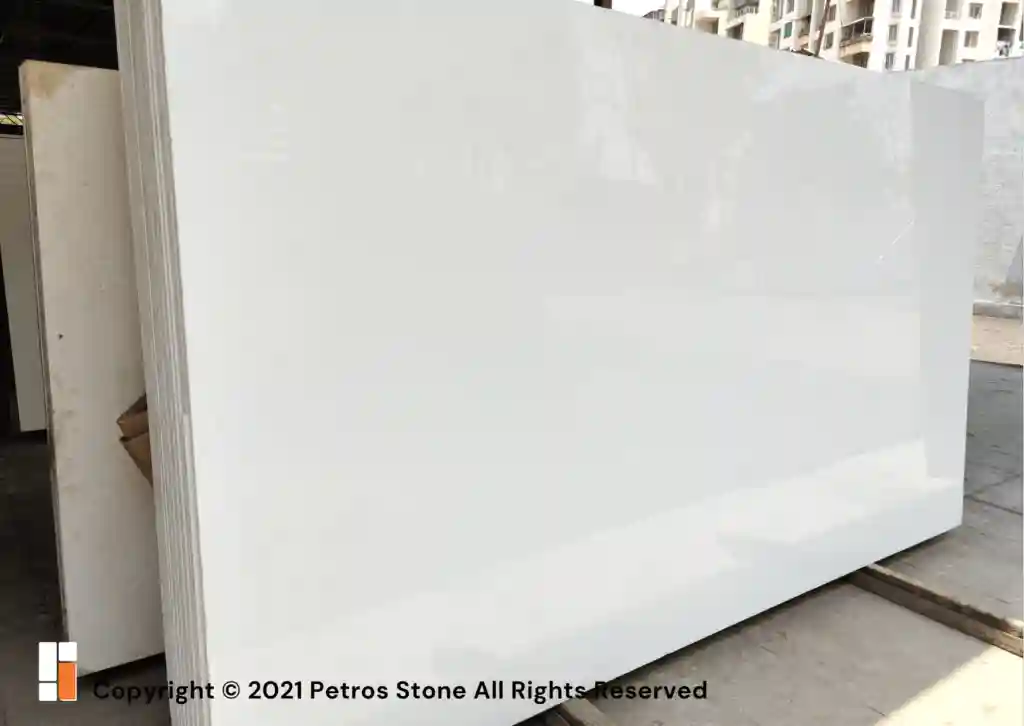 ---
The subjection to high temperature and pressure for such a long period aligns the molecules of the glass on a nanoscopic scale. This alignment is retained even after cooling and hardening and formation of nano white slabs. The silica-dominating composition adds to its toughness and sheen, making the slabs naturally polished.
Nano White Crystallised Glass G5 / G7 is cut using continuous blade saws, though it can also be honed, chiseled or sandblasted. Edges can be bullnosed or chamfered, as per demand. Most Nano White crystallised glass is manufactured in China. It is then imported by countries all over the world, including the US, UK and India. One side of the stone is glossy while the other is rough.
---
Problems with Nano White for Indian Kitchen
Though Nano White is one of the tougher options for kitchen countertops, in the Indian Kitchens, it has faced some problems.
For example, being a glass-based material, Nano White G5/G7 has been found to crack/chip/break in a number of situations. This is especially true when certified personnel/certified Nano White Grade has not been opted for.
Another common issue observed with Nano WHite is the persistence of stains & chipping of the edges on impact.
For Above reasons Nano White G5/G7 does not match up to Petros® High Grade Q Stone in terms of quality, strength and durability as Petros® is practically unbreakable and has better warranties.
---
Types of Nano White Crystallized Glass
Nano White Crystallised Glass comes in not one, but three different variations. The three types of Nano White Artificial Marble are:
Nano White G3
Nano White G5
Nano White G7
These varieties differ from each other on the basis of the ease with which their slabs can be cut. Out of the three, G7 Nano White is of the most superior quality and is the safest for all applications like kitchen countertops, walls and staircases.
G3 and G4 may some black spots on them and are not as vibrant in colour. G7, however has a striking milky white look. Besides, it comes with a characteristic sheen and highly reflective surface. This can give marble surfaces a stiff competition in terms of lustre – especially considering its stain resistant and heat resistant properties.
---
Why has Nano White become so popular?
Nano white crystallised glass has, in recent times, become a favourite among architects and designers all over the world. The material has become a top choice primarily because of its aesthetical uniqueness. While carrying the same lustre and sheen as natural marble, the stone also manages to overcome its flaws through the following qualities:
Durability
Nano white is one of the most long-lasting and durable materials that you can use in residential or commercial interior spaces. Though Nano White Artificial stone is much more complicated when it comes to cutting and processing, the appearance is well worth the hassle. Once fixed properly, the stone can turn out be extremely durable. However, when compared to high-grade quartz it does have a tendency to chip. Hence, for certain commercial and intensive use cases, Petros® high-grade quartz is recommended over Nano White G5/G7.
The other most important benefit of Nano White G5/ G7 is that is exterior grade. Unlike Quartz, which cannot be used in direct sunlight, in exteriors, Nano White G5/G7 can be reliably used for exterior applications like exterior staircases and outdoor kitchens.
---
Appearance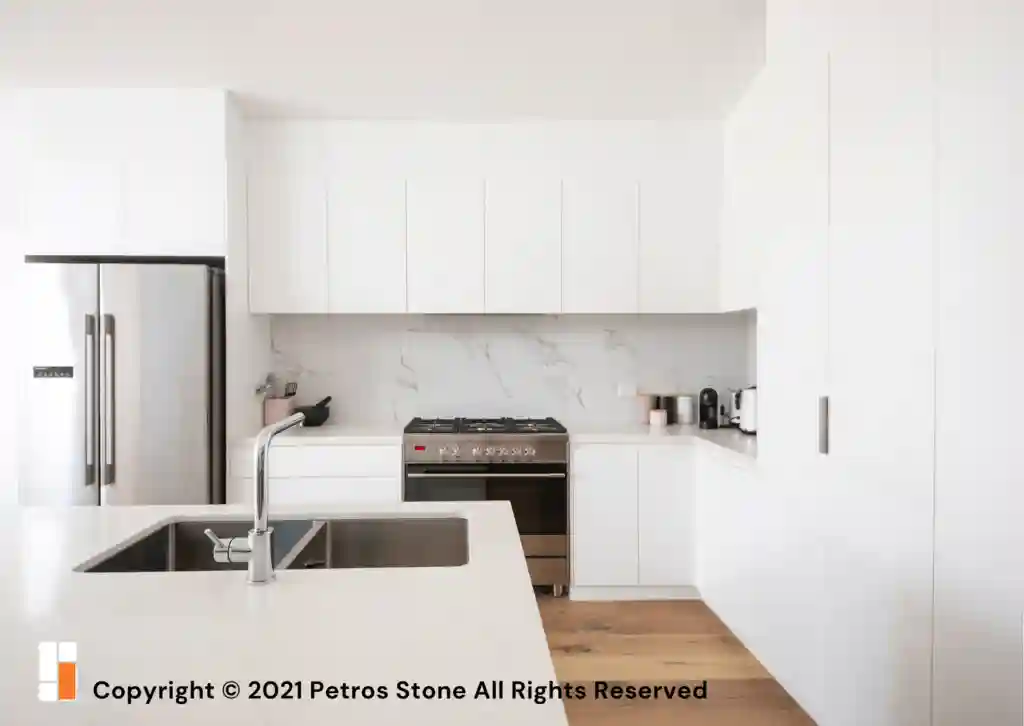 G7 Nano White is one of the best picks for a white interior style that demands a luxurious, classic sheen. It is extremely white in colour paired with a characteristic reflective surface. In fact, it is the purest white material you can use as your kitchen countertop. This is why it has emerged as a popular alternative to marble in several modern designed spaces today.
It is important to consider that Nano Glass G5/G7 is a type of glass. Hence, it has properties of glass which make it more susceptible to chipping/cracking on impact. For certain use-cases, high grade quartz, like Petros® is much more ideal.
---
Stain, Scratch and Chemical Resistance
You may be aware of the high porosity of natural marble surfaces which makes them prone to stains, scratches and chemical damages. With Nano White G5/G7, however, this situation is taken good care of. Nano White is very dense and non-porous on the tiniest scale; this makes its surface resistant to abrasion as well as harmful chemicals. No wonder, the crystallized glass is super easy and hassle-free to maintain.
---
No Sealing Required
Unlike other flooring and countertop materials available in the market, Nano White does not require additional sealing. You can rest assured that there will be no untoward incidences of bacterial or viral growth or infestation of mould or mildew. This makes G7 highly suitable for use in kitchens and bathrooms, where sanitary requirements are a priority.
---
Eco-Friendly and Recyclable
Compared to other synthetic products that make use of artificial inputs, nano white is made completely from natural minerals such as silica. Add to that its simple manufacturing process, which can be made to rely entirely on green energy. Besides, the stone can be recycled to produce new material. These eco-friendly properties of Nano White make it a superior alternative compared to others.
---
Is Nano White good for Kitchen Countertops?
The countertop is arguably one of the most important elements of any kitchen, not just functionally but also aesthetically. It is where all the action takes place. Besides, it is also the first focal point anyone notices about your kitchen whenever they see it! This is why the choice of material for your countertop can really set the tone and voice of your kitchen's style.
Although there are many popular materials in vogue these days for using as kitchen countertops, nothing comes close to the sheen and pure white colour of Nano White crystallised glass.
---
Nano White Vs Other Materials
All of Nano White Crystallized Glass' wonderful features being highlighted, many still prefer traditional materials to modern choices. Marble, granite and quartz continue to be the number one choice for many homes due to the age-old trust associated with them in terms of quality, appearance and more. But how does Nano White crystallised glass compare to these materials in the short- and long-term? Let's find out.
Marble vs Nano White
The amazingly gorgeous marble always lends an instant sense of grandeur and elegance to any space that it is used in. The timeless material has been used in kitchens since time immemorial, and has always been a special favourite among designers for kitchen countertops.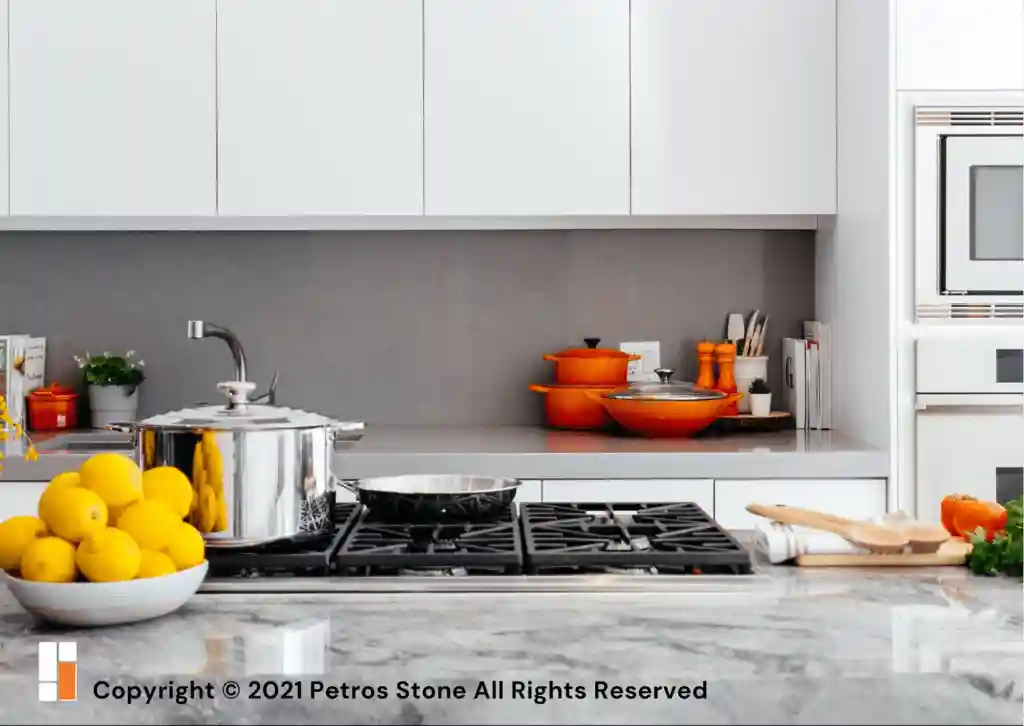 However, with the remarkable magnificence of marble also comes its incredible costs, weight and porosity. Marble countertops stain pretty easily, making it difficult to maintain them for long, especially in frequently used areas such as kitchens. Besides, marble is fragile and easily breakable, which means placing heavy or sharp objects can damage its surface.
Compared to marble, nano glass is not only less expensive but also much more durable, tough and non-porous. Without taking away the sheen and elegance of natural marble, nano glass manages to avoid any form of staining, is not easily breakable and can also be recycled to form new material.
---
Granite vs Nano White
Granite continues to be one of the most preferred material choices for kitchen and bathroom countertops as well as tiles. The material requires minimal processing after quarrying, which means there are no toxic chemicals involved in its making.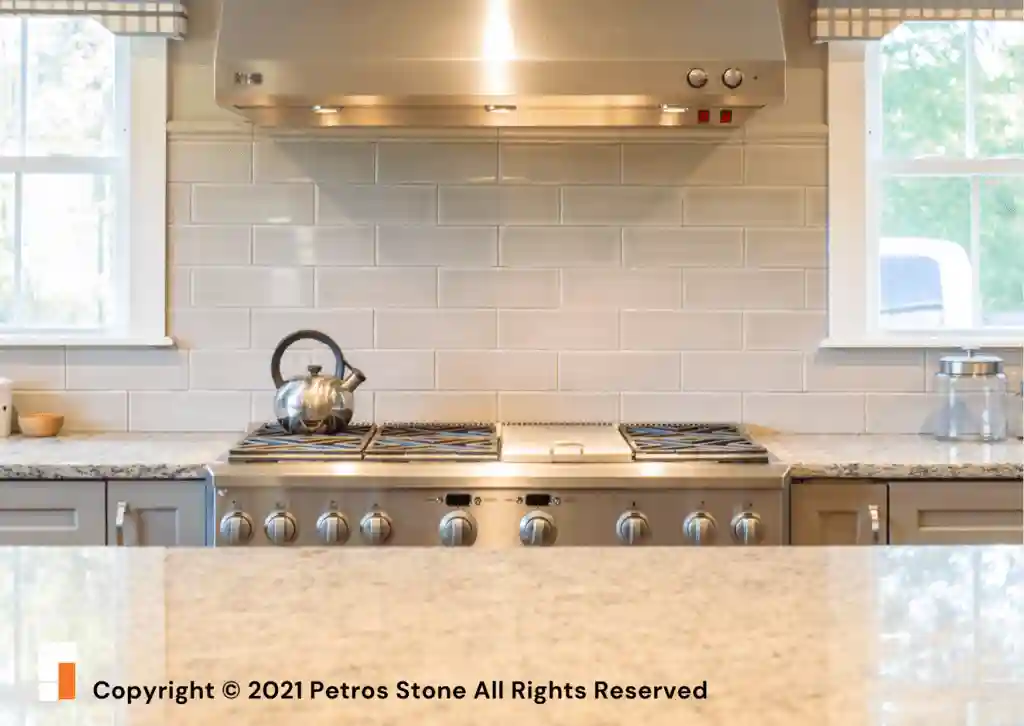 At the same time, granite offers impressive heat and scratch resistance and is comparatively quite low maintenance. However, granite is a naturally porous material and requires sealing when used in kitchens and bathrooms lest it gets stained easily and absorbs liquids, including chemicals.
Nano glass cannot beat granite in terms of price, colour options or seams. However, it certainly overcomes granite when we take into account its highly non-porous composition. Nano white does not stain or absorb liquids and also offers high chemical resistance due to this characteristic.
---
Quartz vs Nano White
Quartz has always been considered one of the most durable natural stones and the most suitable choice for kitchen countertops. The material not only boasts of a remarkable appearance but also a wide variety of colours, textures and patterns. Quartz does not chip or crack easily, but also does not have an unpleasantly hard feel to it.
At the same time, the high non-porosity of quartz helps resist staining much better than traditional materials like marble and granite. Quartz also offers high resistance to bacterial and fungal infestations, which means you do not have to bother cleaning the countertop often with harsh chemicals to keep it hygienic. A mild cleaner with water and a gentle cloth will do the trick.
Nano glass is also considered highly suitable for using as kitchen countertops, though it does not match up to quartz in terms of quality, strength and durability. Nano glass also leaves visible seams on the countertops which may not appear too elegant for your kitchen. Quartz countertops do not have this issue, for the seams blend in with the countertop really easily.
---
Latest Trends
Homeowners are looking for character when it comes to their countertops these days. This means the countertop must stand out on its own whether in terms of colour, vibrance, sheen, patterns, profiles or more. The idea is to make the countertop a central piece of attraction while reflecting the user's creative or aesthetic touch. This is why Nano white countertops are facing intense competition from Italian Quartz. These nature-inspired quartz surfaces have interesting veining and patterns – that may be much more appealing. That said, if a pure white countertop is exactly your taste, Nano White is the way to go!
---
Sleek Monochrome
Modern, contemporary homes these days are opting for sleek looks that are minimal yet expressionist. This is where Nano White can play its part brilliantly – the plain but gorgeous material blends in perfectly well with monochromatic interior styles. With Nano White Crystalline Glass, you can choose to play with all-white or even black and white interior décor.
For this kind of a style, we suggest you opt for the highly in-demand black sink and sink fixtures combo. A hint of gold, silver or brass is also welcome. Next, you can pair your sleek, shiny white countertop with contrasting backsplashes to make the two stand out even better. Make sure you have plenty of cabinets to conceal pots, pans, jars and other kitchen utilities, lest you want to interrupt your kitchen's monochrome appeal.
---
Striking Backplashes
Often, the backsplash gets ignored when talking about kitchen interiors. This is because people usually do not pay attention to what's going on in the background, thinking it is not as relevant as elements such as countertops and cabinets. However, top designers believe that a backsplash has great significance when it comes to the latest trends and styles.
Think of the backsplash like a blank canvas to portray your creative side when it comes to styling your kitchen. An elegant white backsplash using Nano White Artificial Marble can act as the perfect base for décor. For instance, you can hand your favourite crockery pieces or special glass jars with plants and use the Nano White Glass backsplash as a beautiful base to make these stand out.
---
Dramatic Vibrance
Nothing looks better than the sharp, dramatic contrast between sleek white countertops and vibrant wooden accents of cabinets. Chic kitchen interiors that focus on colour, warmth and a vibrant appeal are trending now more than ever. A lively kitchen with lots of contrast and drama ongoing is an ageless wonder – it speaks of the creativity and warmth of its owner!
No wonder, bold and dramatic kitchens with classic white countertops as a contrast are doing the rounds everywhere these days. From sage green metal cabinets to artsy multi-hued elements, kitchens that never have a dull moment are the rage!
---
Sustainable Choices
Environment-friendly is the go-to phrase this year. People have become more conscious about their choices and how it affects the environment, especially when it comes to their homes. This also reflects in the material and product choices for their kitchens.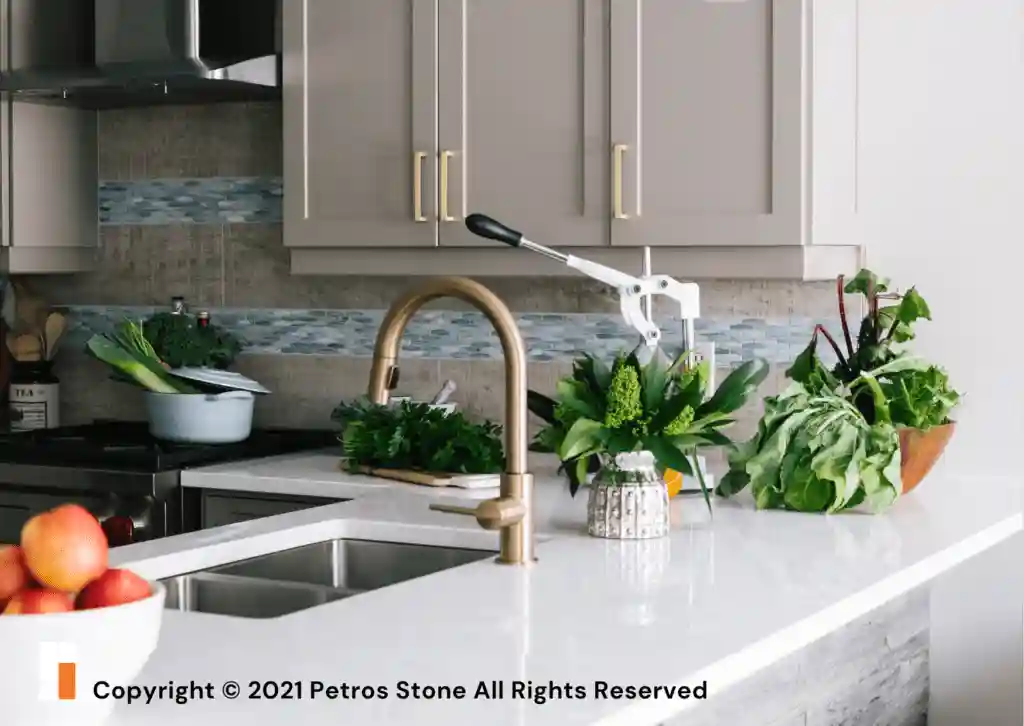 Nano white crystallised glass is one such eco-friendly material that made out of a combination of 75% recycled glass. It neither has any harmful VOCs nor any plastic resins that can cause unwanted emissions. The fact that nano glass can be recycled after use to create new material adds to its eco-friendliness, besides its durability and soft appeal. This makes nano glass both an alluring and responsible choice.
---
Industrial Vibes
These days, many people are preferring the raw industrial look for their residential and commercial spaces. Such an interior style dictates the choice of specific materials, such as exposed bricks or concrete for interiors paired with metal or wooden accents. Nano glass fits the scene perfectly, for its clear white elegance matches any other material you deem fit for your space.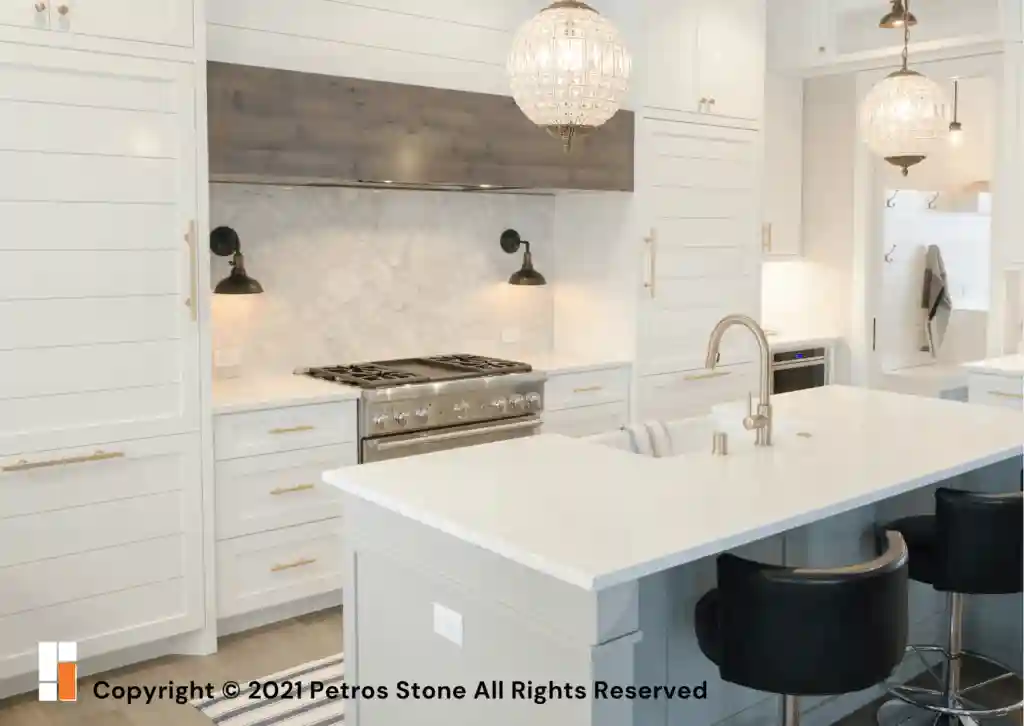 Imagine a sleek shiny nano white countertop paired with exposed brick walls and metal lighting for your kitchen! Or, think of clear white wall tiles that go perfectly well with your wooden cabinets or exposed concrete ceiling and flooring. The simplicity and elegance of nano glass are the reasons it can blend in so perfectly well with any kind of material choices you can think of.
---
Outdoor Fun
It has become a top trend these days to opt for outdoor kitchens for barbeque and little parties. This, however, also makes it important to decide which materials you would want to use. Not all materials are suitable for use in outdoor or semi-outdoor areas in terms of their performance and quality.
Nano glass, however, lives up to these expectations as well. It is non-porous, which means it is perfect for using outdoors as well for it does not absorb any liquids. At the same time, it does not allow germs to thrive on its surface and makes for easy cleaning as well. Therefore, maintaining nano glass surfaces even when used outdoors is not a fuss at all. Lastly, nano glass has high durability and a long life, making it the perfect companion for your outdoor or rooftop kitchens and barbeques in a lavish home setting.
---
How to Clean Nano White Kitchen Countertops?
Nano white crystallised glass is a highly non-porous material that offers impressive resistance against acids and stains. At the same time, it does not absorb any liquids, making it much easier to handle and maintain the surface for a long time.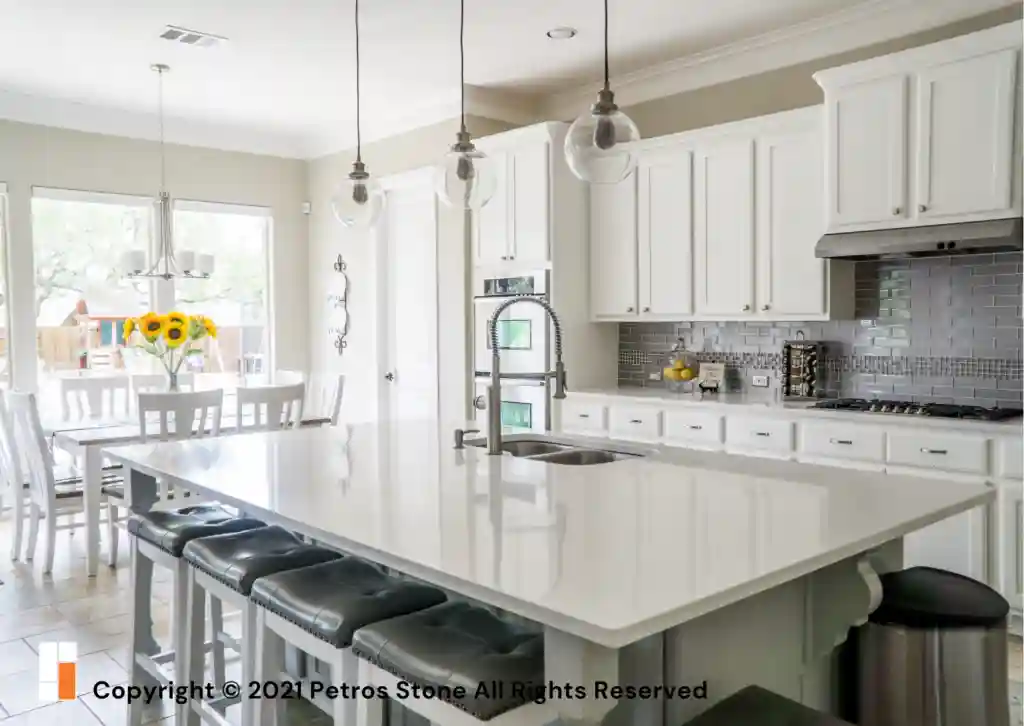 For cleaning the surface from time to time, all you need is a cotton cloth with water and a mild, non-chemical liquid detergent to wipe it down. Harsh products are usually not needed as the material is absolutely stain resistant. In case of tough stains, you can always use a mild abrasive such as baking soda, followed by rinsing it with a soft cloth. Nano white does not require any sealing as well.
---
Other Applications of Nano White Stone
Nano glass is the ideal choice for several modern, trendy kitchen and bathroom countertops these days. Apart from its natural sheen and characteristic durability, nano glass' property of high non-porosity protects it against staining and liquid seepage. This is why the material is also frequently sighted as kitchen backsplashes, bathroom wall tiles and flooring as well window sills, tabletops, and so on.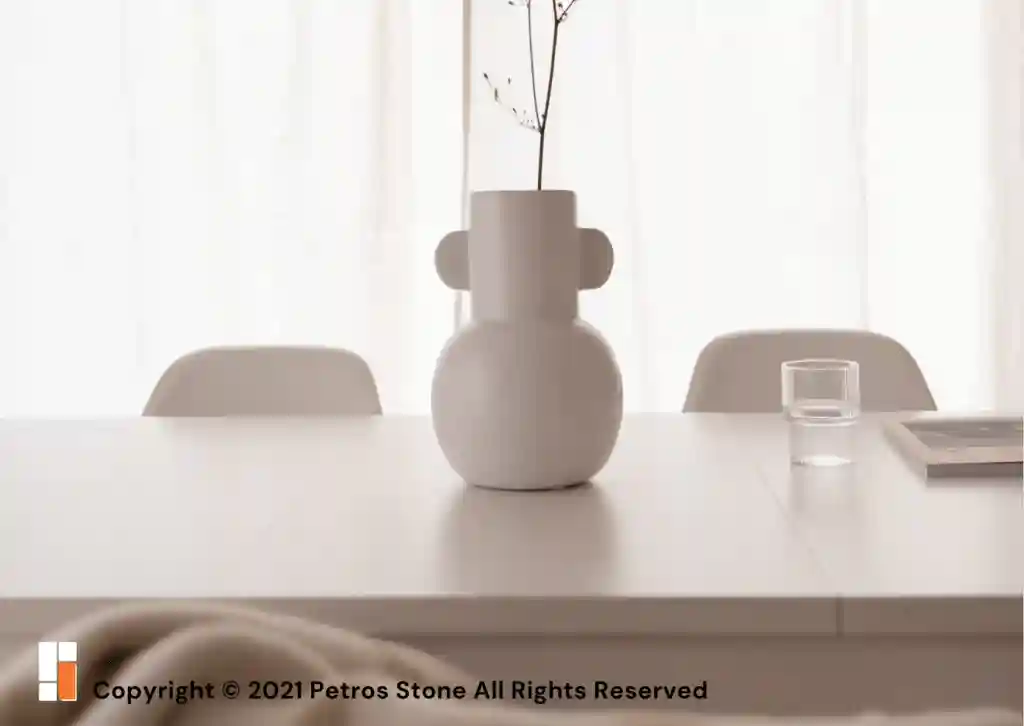 Nano glass is also one of the most hygienic materials you can use for your home. It does not allow infestation of germs, thereby making it one of the best partners for your kitchen. If you are someone who likes to chop or knead on the countertop itself, nano glass is a great choice that ensures hygiene, safety and easy maintenance.
---
Shortcomings of Nano White
The joints may be easily visible.
It can turn yellowish if not maintained regularly and properly
Nano is excessively hard – hence difficult to cut and process
It is very brittle – has a tendency to crack/chip spontaneously
One of the most significant cons of Nano white crystallised glass is that the joints are clearly visible in a setup with this material. Joints may also turn blackish if not tended to.
Another shortcoming of the material, which is also its strength at the same time, is its excessive hardness – which adds in a tendency to chip/crack easier than quartz or granite. Therefore, only specialised contractors can handle the preparation, modification and installation of Nano White Artificial Marble. Secondly, since the base material is crystallised glass, it is not possible to adorn it with beautiful inlay work, as is the case with marble.
---
Nano White Price | Material & Fixing Costs
Nano glass material can be procured at almost any local marble or granite outlets, though you would want to be extra specific where you are buying it from to ensure the right safety and standards. Prices, however, can differ from one retailer to another. It is better to do some market research before jumping in on a purchase, and it is always better to trust a renowned name in the market for the best quality product.
Nano glass falls slightly at the higher end of the cost spectrum. Authentic Nano White G5 and G7 (16 – 20mm thick ) can cost you between ₹380 to ₹450 per square foot. Vendors can provide you with cut-outs of required sizes depending on your spatial needs. Fixing costs for Nano White can range between n₹200-₹300/ sq. ft.
---
Why Petros® is the Best Nano White Brand?
Authentic Nano White certified by Petros® has a trademarked Petros® hallmarks on each slab (backside). This ensures that the Nano White you purchase meets all standards of quality and durability. Further, it also ensures the grade of Nano White Crystallized glass you purchase is accurately communicated -whether it be G4, G5 or G7.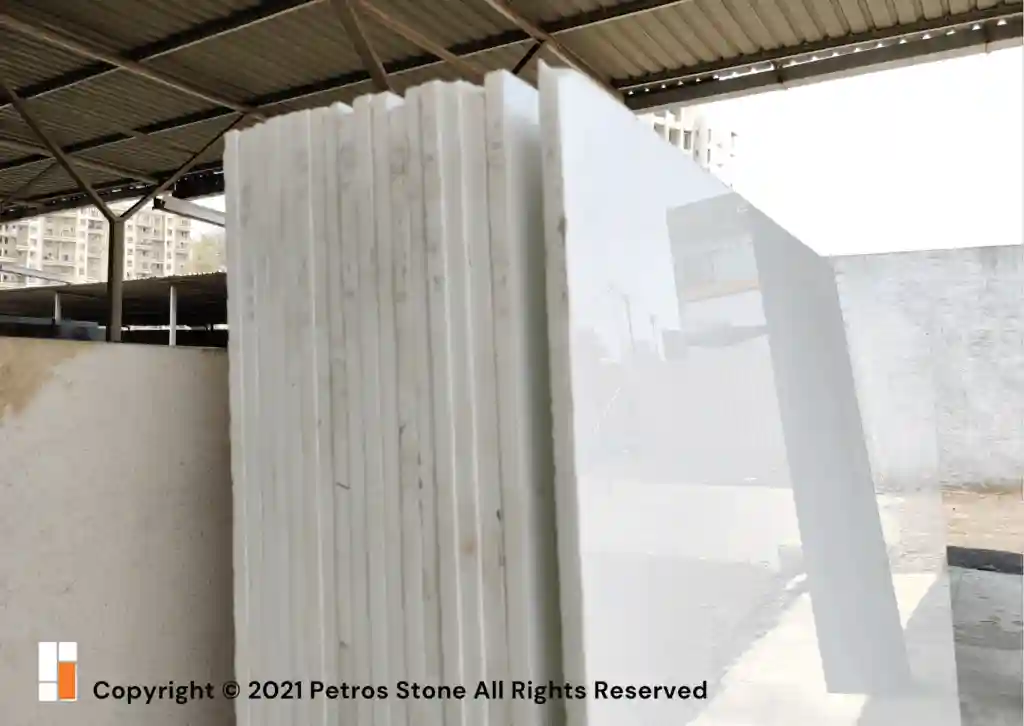 Our products come with the Petros® hallmark – A symbol of the best standards in the entire industry.
---
---