Building materials like quartz stone slabs and composite marble(engineered marble), irrespective of space type and function, must have a few characteristics hands down. These include durability, aesthetics, ease of maintenance and design options. A comparison between Quartz vs Composite Marble(Engineered Marble) shows that both live up to these aspects, yet differing in some ways.
Composite Marble or Engineered Marble of any brand is not suitable for Kitchen countertops/similar applications as it is relatively porous and weaker compared to Quartz.

Quartz is considered the second hardest material, second only to diamond. Therefore, for homes or spaces that seek longevity, Quartz is clearly the better choice.
Now, let us dive a little deeper into the comparison between Quartz and Engineered Marble, and how their characteristics define their application for Interiors.
Choosing the Right Material: Quartz vs Composite Marble
When making a choice between Quartz vs Composite Marble, it can be tough to decide which is better. You need to know the exact demand of your space and the specifics of the material for a well-informed choice. We can help you understand this with some special insights.
On one hand, Quartz Stone Slabs offer a luxurious and contemporary aesthetic. On the other, Composite Marble resolves the challenges facing natural marble, without compromising on elegance and variety. In this article, we offer an in-depth comparison of Quartz vs Composite Marble covering fundamental characteristics, advantages and disadvantages.
What is Quartz?
Derived from the Polish words "kwardy" meaning 'hard', Quartz is an odourless, white igneous rock. It is also the second most abundant mineral in the earth's crust, after feldspar. In no time at all, Quartz has become one of the top choices for all types of flooring. The reasons are its properties of scratch resistance, non-porosity and hardness.
Natural Quartz is white in colour. Resins are often added to the material while processing into slabs to produce an assortment of patterns and colours. The engineered Quartz Slabs are a ideal solution for kitchen countertops and flooring in commercial spaces receiving heavy footfall and daily wear and tear.
Composition of Quartz Stone Slabs
As a thumb rule, the proportion of stone to resin in the manufacture of quartz dictates its quality and strength.
95% quartz: 5% resin is the optimum ratio when it comes to superior quality quartz stone slabs. A higher quartz composition makes the slabs stronger, more durable and higher grade of overall quality.
On the other hand, higher resin content can decrease the tile's durability, making it softer. This is why leading quartz flooring companies like Petros® Stone maintain the optimum ratio of quartz for their Quartz Slabs.
---
What is Composite Marble?
Composite Marble, unlike Quartz, is an industrial product. It uses marble chips, resins, strength polymers, gel coat and pigments as raw inputs in manufacture. This artificially produced stone looks almost identical to natural marble, with realistic veining patterns in myriad colours.
However, composite marble is about more than its looks.
Also called engineered marble, composite marble offers greater ease of installation and affordability compared to natural marble flooring. At the same time, it has some issues and problems of staining, porosity and high installation costs.
Composition of Composite Marble Flooring
Composite Marble comprises 88-90% of Calcium Carbonate (Marble) and 10-12% of resins, pigments and other chemicals. The product is an artificial alternative to natural marble while retaining a similar appearance as the latter.
Composite marble is less brittle and less porous in contrast to natural marble, because of its higher density.
The product does not chip or jag, therefore making it possible to create finer hairline joints when installing it in spaces. Add to this the benefits of lighter weight, and lesser costs – these are the reasons composite marble is scoring so high in the flooring segment.
However, it is much inferior to engineered quartz stone slabs manufactured for high durability and strength along with superior stain and heat resistance.
---
Comparing Quartz vs Composite Marble
It can be really difficult to choose from quartz and composite marble, as both are human-made products of high acclaim in the current market. Yet, there are a few factors to look at individually for a more well-informed decision.
A comparison between Quartz vs Composite Marble brings out their similarity in many respects, but also key differences when it comes to durability, price, appearance and so on. Both are soaring high in popularity in designer and homeowner circles, but a detailed comparison could help us gain more clarity on which is better for what type of project.
Development and Manufacturing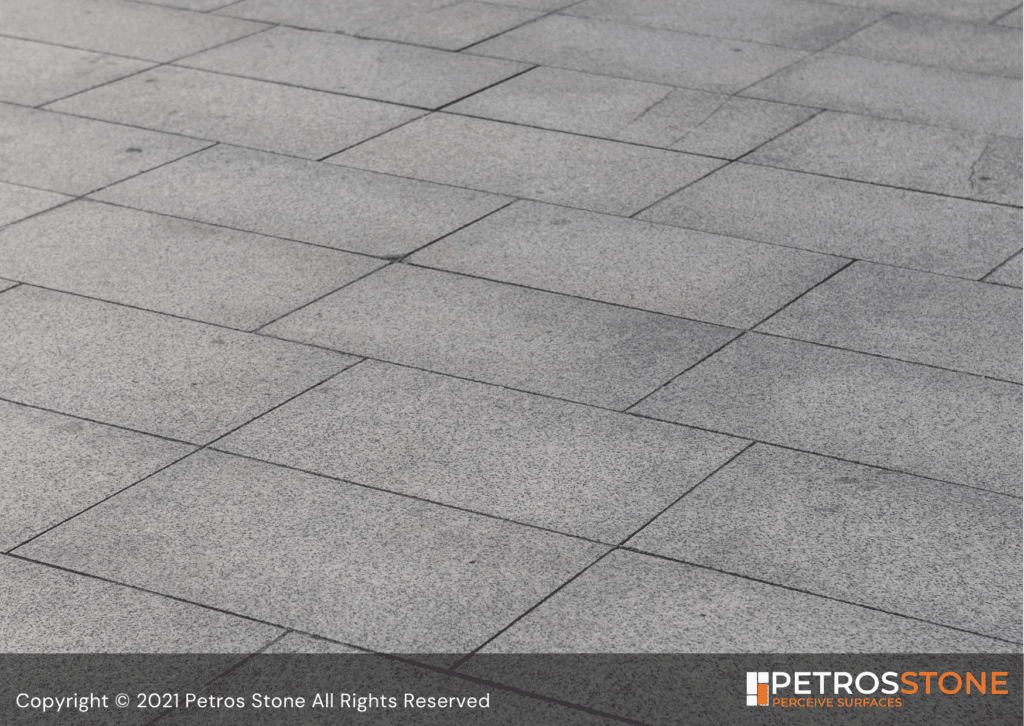 Quartz
Also called agglomerate or engineered Quartz, Quartz tiles comprise a combination of resin, quartz, sand, various pigments and even crushed mirror pieces. After extracting the natural mineral quartz through mining operations, the material goes through extensive cleaning, crushing and processing.
This is followed by resin binding in a 93:7 ratio, followed by slab pressing to form fixed-sized quartz slabs. To further strengthen the product, it is subject to extreme heating and cooling for long hours followed by final trimming and levelling of edges.
Since quality and integrity are important characteristics of Quartz Stone Slabs, they are subjected to rigorous verification for consistency in colour, pattern, texture and uniformity of appearance.
Composite Marble
Composite or Engineered Marble is generally made using marble dust and chips, using resin and pigment as binders. The product chiefly utilises by-products of the marble processing and mining industries in its formulation.
However, supplementary elements such as coloured glass, metal, shells can also be added to the production of composite marble for enhanced appearance. Marble chips are bleached and powdered before mixing with resins and other chemicals. Next, they are cast into blocks which are kept out in the open to dry and consolidate strength. The sundried blocks are then cut into predetermined slab dimensions and polished to achieve the final product.
---
Selection
Quartz
When looking for multiple options to select from based on the needs of your unique interiors, Quartz Stone Slab makes for a go-to choice. The industry-made product comes in several variations of colour, patterns and veining, with a greater emphasis on myriad colour combinations.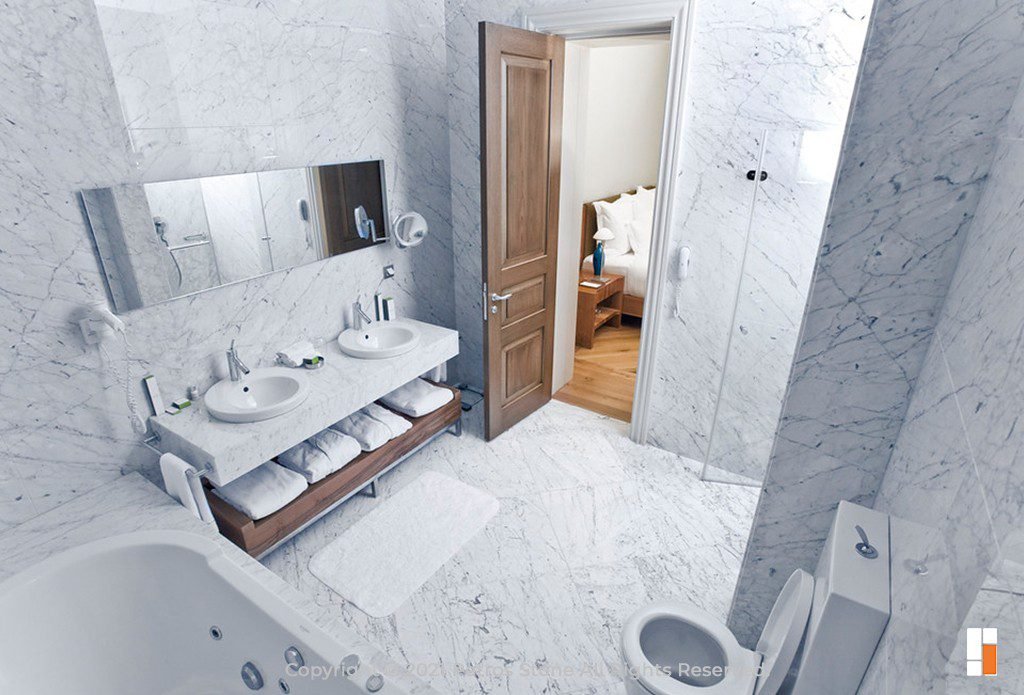 Composite Marble
There is a wide variety of options in terms of colours and veining patterns. Besides, you can rest assured of grain and colour consistency throughout all products, because it is industry-made.
Where quartz beats composite marble(engineered marble) fair and square is the strength, durability and design. Though composite marble has a lot of designs these are limited to similar vein structures. In quartz, a huge range of marble-like designs is available. Apart from this, quartz is extremely durable and stain and heat resistant, unlike composite which is quite porous.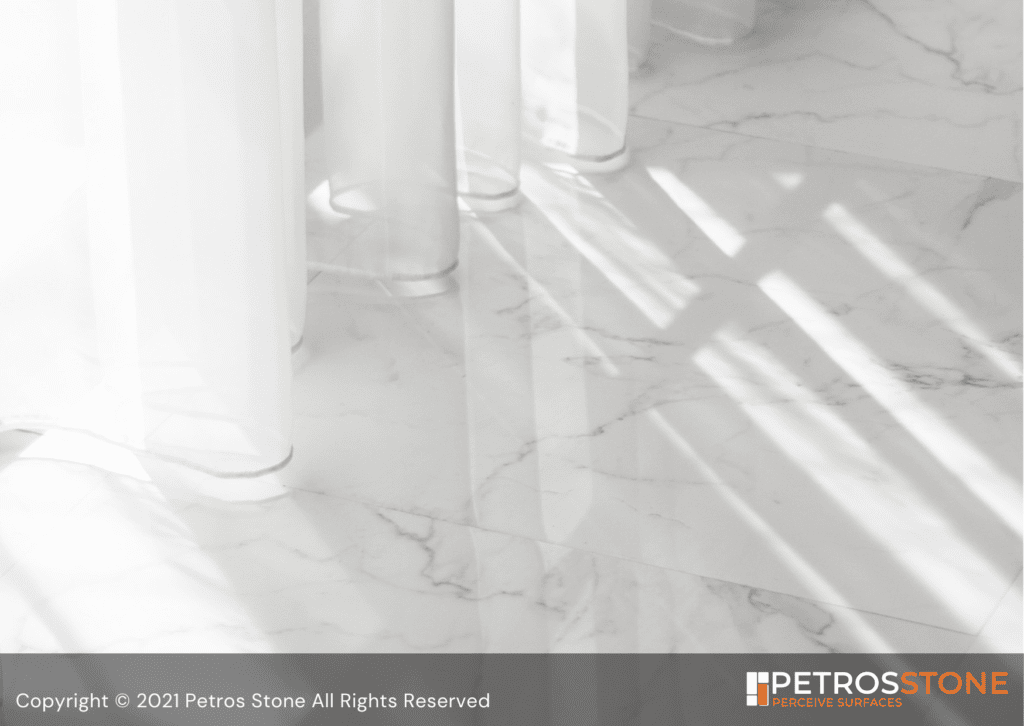 ---
Price
Quartz
Quartz makes for a budget-friendly flooring option compared to several imported marbles. It is one of the most value-for-money options when considered the strength, durability and quality offered. Besides this, it is also available in a wide variety of colours, designs and textures.
Price of Quartz Stone Slabs: ₹180/sq.ft. to ₹730/sq.ft.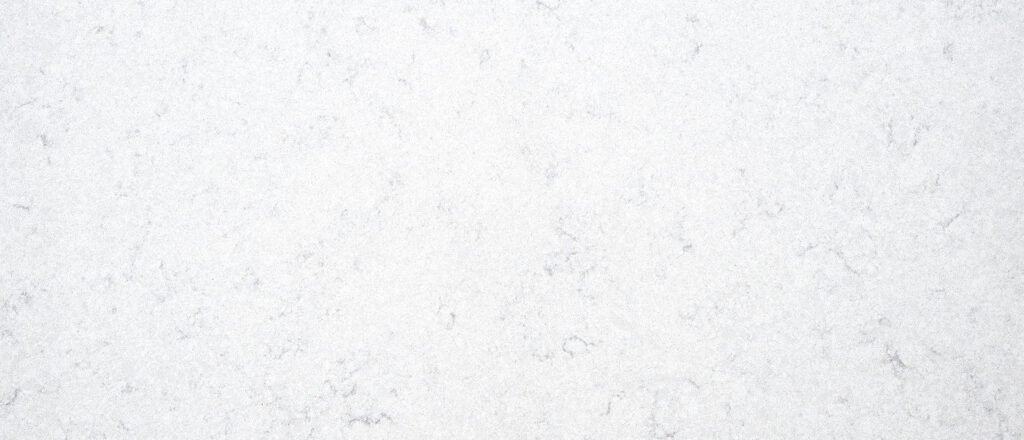 Composite Marble
Both the fabrication and installation of composite marble is more pocket-friendly, in contrast to quartz. Composite marble costs less than even marble, but it is much more porous and has inferior properties overall.
Price of Composite Marble Slabs: ₹120/sq.ft. to ₹180/sq.ft.
---
Thickness
Quartz
Quartz Stone Slabs follow standard specifications in terms of size and thickness. However, the range of thickness options is wide enough to meet various requirements. Quartz tiles are available in thicknesses of 15 and 20 mm up to even 30 mm depending on the use cases. For Kitchen countertops, door and window sills, staircase and similar applications,
Composite Marble
Composite Marble is incredibly versatile and comes in an array of thicknesses, normally 15, 16 and 18 mm. However, special thicknesses can be ordered based on function and volume.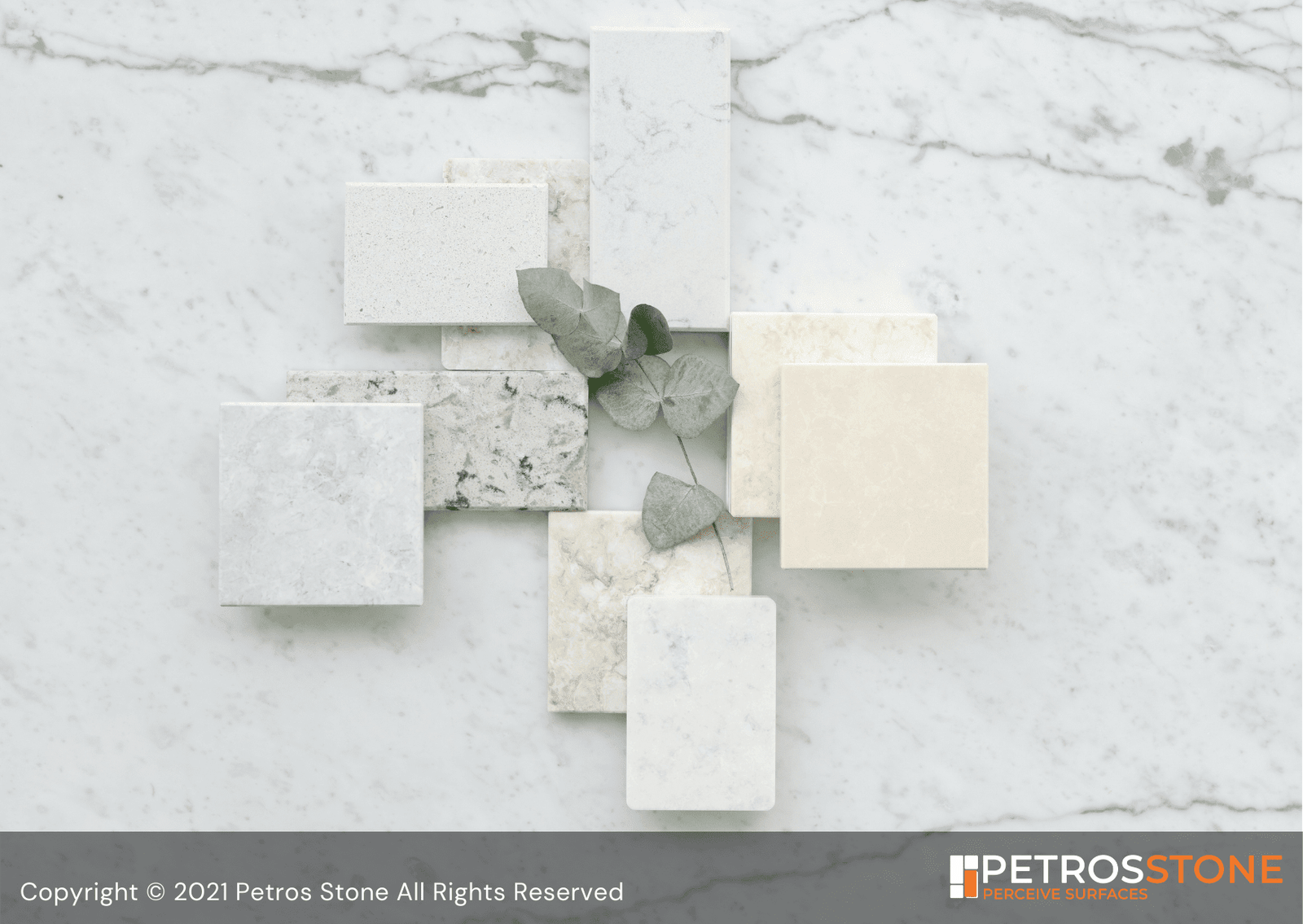 ---
Installation
Quartz Stone Slabs are moderately easy to install, for they come in standard sizes that are optimized to reduce wastages. Quartz stone slabs are very easy to cut to size. Round and free-shape cutting are also easy. Edge-polishing and profiling of edges is also very easy.
Processing of Quartz stone slabs usually requires no special tools making them extremely easy to install.
Further, quartz stone slabs possess natural flexibility, thus, they are not brittle unlike other engineered surfaces (like Nano White)- This makes it further easy to handle and process into the countertops.
Composite Marble
Composite marble is an industry-made product that is fabricated exactly according to predetermined requirements. This makes the installation process of composite marble in homes, offices and other spaces quite hassle-free.
These are relatively brittle and need care for installation. Composite Marble or Engineered Marble is not suitable for kitchen countertop applications.
---
Maintenance
Quartz
Quartz is heat, scratch and water-resistant flooring material. This means you do not have to worry about any high-end maintenance when using quartz for any space of your choice.
Simple regular cleaning is enough for quartz, unlike other materials which require sealing from time to time. This makes high-grade quartz stone slabs, especially, Petros® Quartz one of the best materials for Kitchen Countertops.
Being non-porous, quartz also does not absorb any liquids, thereby adding to the life of the product. You can use any disinfectant on the quartz floor without bothering about damages to its consistency.
Composite Marble
One of the prime qualities that set composite marble apart from other options today is that it is incredibly easy to maintain. The resin binders present in composite marble do not attract dust and dirt.
Just like quartz, composite marble does not require any sealants, unless textured deliberately. At the same time, its resistance against stains and liquids is not up to par with the level of heat and stain resistance of quartz. Thus, making it an inferior option when compared with Quartz.
---
Durability
Quartz
Quartz flooring is, by far, the most opted for when it comes to spaces with high footfall. This is because quartz makes for an extremely durable flooring material with incredible strength and longevity. Quartz is heat, water and stain-resistant.
Since quartz is industry-made, just like composite marble, it comes with resins that make it resistant to scratches and abrasion.
Quartz is considered second only to diamond when it comes to strength, which means that it will not take a battering even if heavy objects are dropped on the floor or if it sees regular wear and tear.
Composite Marble
Composite marble products come with an extra outer coat of polymer resin which makes them non-porous and highly resistant to scratches, chips and stains due to shocks or abrasion. At the same time, engineered marble is almost impervious to moisture and retains its integrity even under high temperatures, which considerably add to the long life of the product.
Compared to quartz, however, the durability of composite marble may fall a little behind. This is because quartz is considered the second strongest material, after diamond.
Some experts say that composite marble may require re-sealing from time to time – something your quartz flooring eliminates the need for.
---
Hygiene
Quartz
Quartz tiles are extremely hygienic and easy to clean, thanks to their property of being non-porous. A damp cloth is usually enough to get rid of any stains or build-up, but you can always use a disinfectant as well, and it will not damage the stone surface.
Since quartz does not absorb any liquids, you do not have to worry about grimy build-ups that are tough to clean. The tight pores and high-grade surface of this engineered product also make it easy to keep viruses and bacteria at bay.
Composite Marble
Composites are known for being non-porous. Composites, on the other hand, are not just non-porous but also resistant to disinfectant products. Compared to quartz, composite marble cannot withstand sanitization chemicals without leading to any damage to the material in the long run.
---
Appearance
Quartz
Quartz Stone Slabs come in an assortment of colours and patterns, making it easier to blend them with any design or décor of choice. Each tile type could come in multiple colours to choose from, as Quartz Stone Slabs are industry made and can be worked on with a variety of pigment options.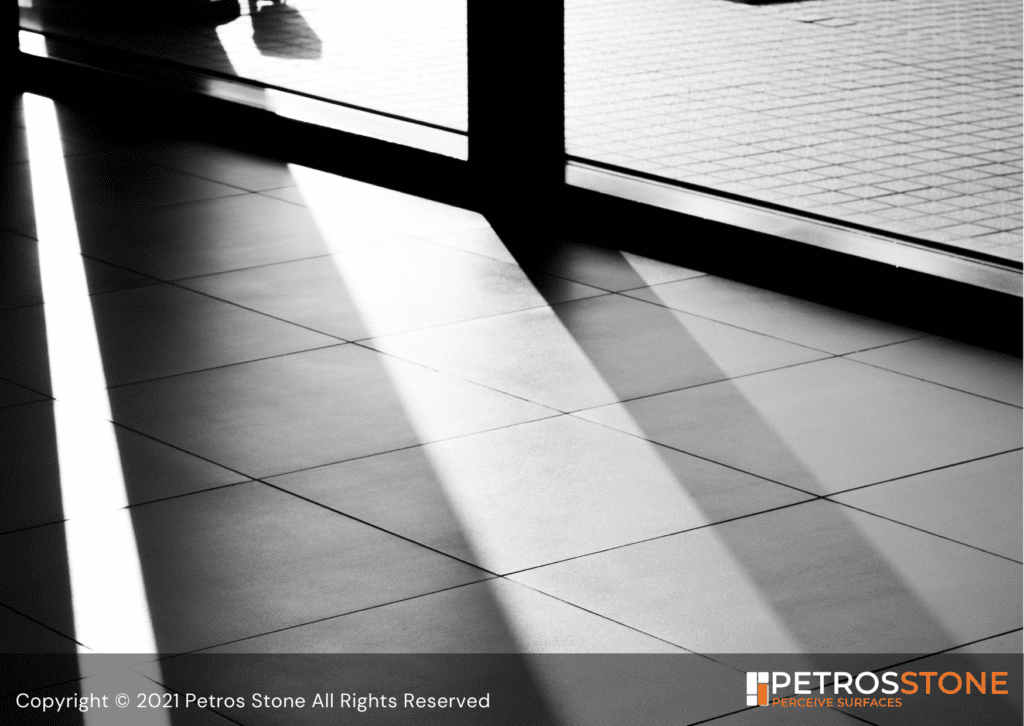 While some would prefer a single solid colour for their floor/kitchen countertop/door/window sills, yet others would want to experiment with different patterns. Luckily, quartz stone slabs provide them with both options.
One of the major modern interior trends of today dwells on muted, neutral colour schemes. Quartz Stone Slabs complement fabulously with a multitude of options in terms of tints and shades.
Composite Marble
When it comes to Composite Marble, the options available in terms of appearance are endless. This flooring material is manufactured under special, controlled conditions, which makes it easy to produce them in an assortment of colours, tints, designs and sizes.
At the same time, since the product is entirely machine-made, engineered marble offers more uniformity in texture, colour and design. Grout lines are reduced to a minimum because of the perfection of industrial production. This makes composite marble the material of choice for large areas by designers and architects.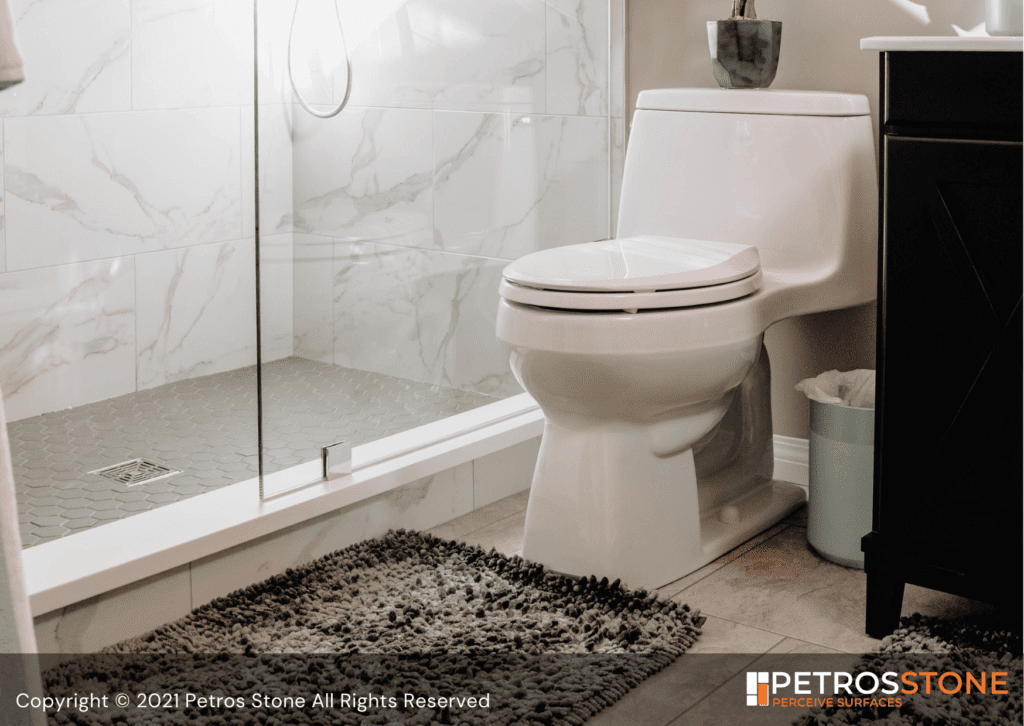 ---
Texture
Quartz
While Quartz Tiles are much more celebrated for their colourful options, you can always find some textured varieties for fulfilling aesthetic purposes. Quartz Stone Slabs are premium industry-made products that can be adorned with crushed mirror pieces for a twinkling finish. You can also opt for honed quartz slabs if you are looking beyond polished varieties.
Composite Marble
Apart from elegant coloured veins in appearance, composite marble can also come in a variety of textures. Processes such as sandblasting, shot blasting, CNC and water jet finishes can be wrought on composite marble to achieve the desired texture.
However, any texturing is bound to increase surface porosity, thereby making them substantially less suitable for applications such as flooring and staircases – thus in these cases, Quartz is much better material.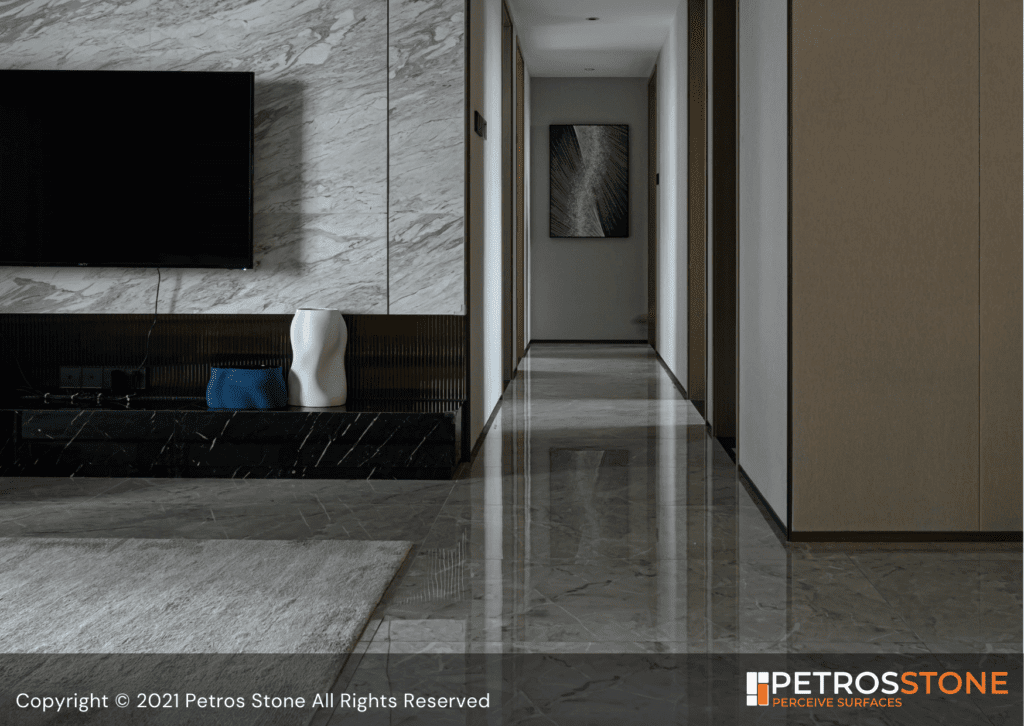 ---
Application
Quartz
Quartz stands out in the list of kitchen countertop as well as flooring materials due to its extreme durability under duress, an array of colour options, negligible concerns for maintenance and pocket-friendly costs. These characteristics make the product suitable for a variety of indoor spaces for homes and offices, high-footfall areas such as malls and restaurants, and heavy-duty spaces such as warehouses and museums. They can be used for flooring, countertops, vanity tops, bathroom floors and wall.
Quartz does not require frequent re-sealing or abrasive cleaning tools for maintenance, making it perfect for projects that prefer materials that will last long. No wonder, high-grade quartz stone slabs remain a top choice for most designers and builders, bringing aesthetics, elegance, economy and strength in one.
Composite Marble
Composite marble is relatvely weaker and porous. Hence it finds applications in areas such as door and window sills for budget friendly projects. Composite or Engineered marble is not advised for applications such as kitchen countertops and staircases owing to its sub-par properties.
---
Quartz vs Composite – Which is Actually Better?
Quartz and Composite Marble are both extremely trendy and sustainable flooring options that come with their respective set of benefits. Both are engineered products and are therefore capable of overriding the existing shortcomings of natural stone products such as marble or granite. If you ask us, both are amazing choices!
However, you should also take into account some personal preferences and determiners when finalizing one product between Quartz vs Composite for your project.
Composite Marble makes for a delightful choice when it comes to areas that call for elegance at minimum costs. Remember, composite marble renders an appearance exactly like natural marble, minus the weight, costs or hassles of installation. Therefore, you can opt for composite marble in your residence or the central foyer of your commercial project, where aesthetics are in the limelight.
However, Quartz is the ideal choice for spaces requiring high performance and durability. This comprises residential as well commercial projects that are rooting for high footfall, industrial constructions which require heavy-duty functions, or even smaller spaces with defined functions.
Think of kitchens in homes and restaurants, active spaces in schools and offices, areas such as gymnasiums, rehearsal halls and so on. The unmatched strength and longevity of Quartz make it the ultimate choice for such areas when picking between Quartz vs Composite.
---