This time, we talked to Mansour from Mansour Design Studio about architectural sketching techniques. Mansour spent a large chunk of his quarantine time sketching and we would like to share his views about architectural sketching as an indespensible tool for architects and designers.
Mansour, please tell us about yourself and your journey so far….
I am originally from a small town located between Egypt and Palestine – RAFAH- in the north-east of the Sinai Peninsula, Egypt. I am now living in Milan, Italy.
 
I have a Masters of Science Degree in Building Architecture and Urban Planning from Politecnico di Milano; Milan, Italy and a Bachelor of Science in Architecture and Urban Studies from Alexandria University in Egypt. In addition to my academic qualifications, I also have practical experience working as a BIM Specialist in one of the biggest construction companies in Milan – MSE Milano Serravalle Engineering S.r.l. Also, I have worked as an Interior designer in Company specialising in Exhibition Designs – D7 group in Riyadh, Saudi Arabia. I have also worked as an Architect and Project Assistant with AHK Consultant Architects.
I now have my studio – Mansour Design Studio. With all the experience I have, I am finally moving towards my dream. I am now working in Italy, Egypt, Saudi Arabia and United Arab Emirates.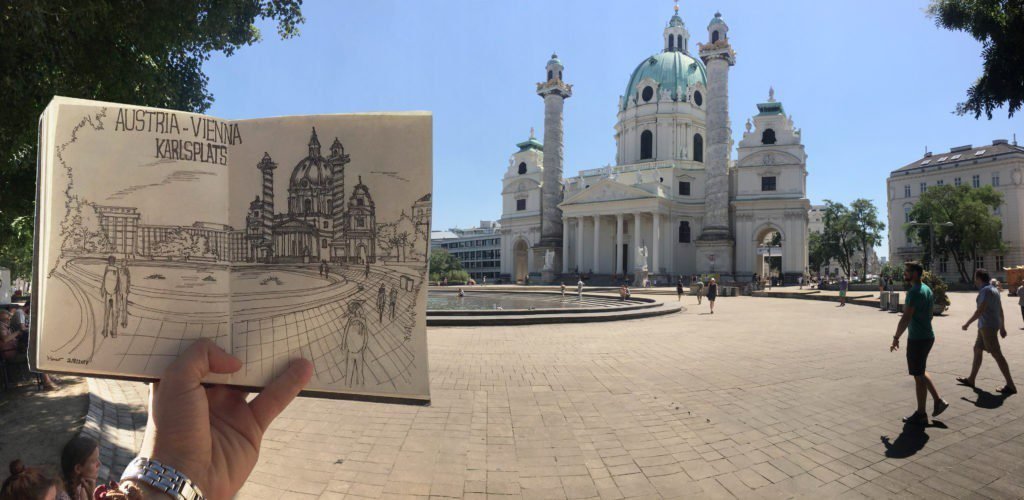 What is your opinion about the purpose of Architecture and Design?
Architectural and Design to me is everything around us. As someone who has the experienced living in drastically different environments such as the Bedouin, Middle East, Egypt, Saudi Arabia and Europe. It has become very clear to me that Architectural and Design is a reflection of lifestyle, culture and broadly, the way of communication between the people of the community.
When did you start sketching with an Architectural emphasis?
I remember when I was 8 years old, I was always drawing some imaginary characters for a story. I spend an enormous amount of time perfecting the world around these characters. That is, as far as I can rememebr, the first instance when I noticed my love for architecture.However, I started sketching with an architectural emphasis in 2009 when I enrolled in the faculty of Engineering. Back then, I was going to the School of Engineering and later had to shift to the School of Architecture. In hindsight, that was a good decision.
Tell us about architectural sketching and its importance…
I usually sketch with a pencil and later go over them with a marker so they are clean and confident. My style comprises of basic drawing techniques that I learnt way back in school. I try to attain an urban look to the sketches, I belive they suit architecutre much better than clean, crisp lines.
I always sketch to explore different ideas in the design process. Once, I have a good idea of the design, I then make a cleaner version of the sketch for better communication. I also use the Procreate app on the iPad Pro. I think it works great considering its portability and ease.
Let's have a look at some of your sketches and the intent behind them…
Duomo di Milano
During the quarantine, everybody in the world and especially people in Italy were depressed. It was as if, we were doubtful if life would ever return back to being normal. During the quarantine, I hadn't seen the Duomo di Milano for more than two months so I decided to draw the Piazza Duomo di Milano to give me some hope and inspiration.
Lincoln Cathedral (UK)
After I finished my Bachelor's Degree, I applied for a Master's Program in Preservation and History. But unfortunately, I could not afford the expenses and the tuition fees and couldn't continue the program. During this period, I was just drawing the cathedral every day. I drew it in the fullest of details, almost as if I wanted to preserve it. But till now I haven't had the chance to see it.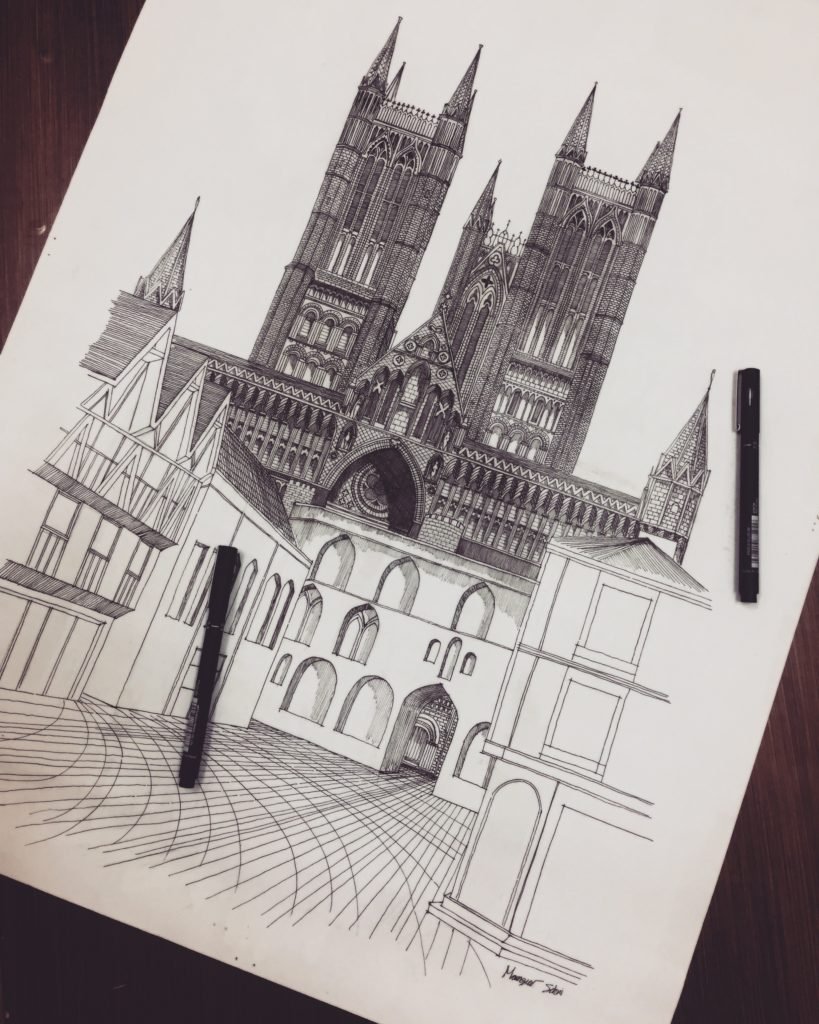 What is some personal advice you can give to our readers to improve their sketching?
The only advice I can think of is to keep drawing and sharing your work with other people. Keep getting feedback and you will improve. I think sketching is an important part of the project and I think it cannot be overlooked. Sketching is much more physical than any other ArchViz tool or software, you can interact with your design in a way that is otherwise not possible.
 Lately, what have you been working on?
I'm now working on a project called "NOSART" where I am sketching old or demolished buildings in an attempt to re-live and revive them for the next generation.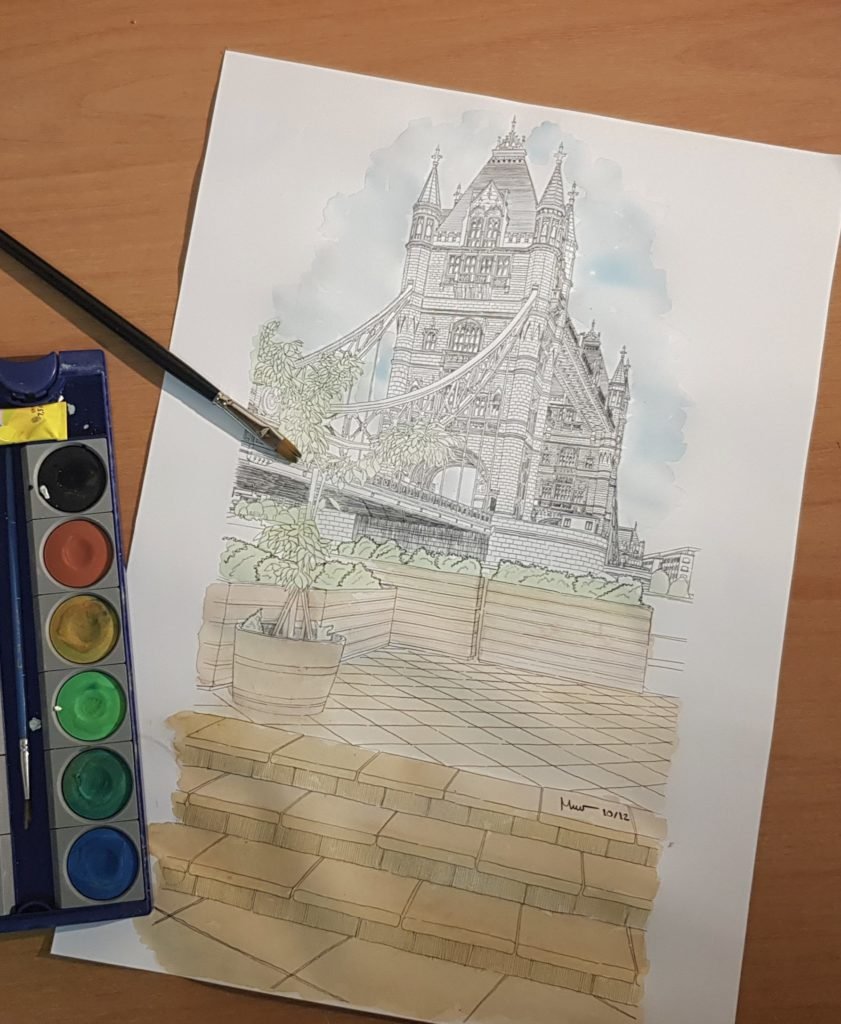 Who have been the most influential people in your journey so far?
My parents, most definately. Also, Daniel Germani – an Interior Designer. I find my journey quite similar to his.
Where do you see yourself, as an Architect/Designer, in the next 5 years?
In the next 5 years, I see myself as a designer with a large vision. I'm still trying to prove myself within the design community. I'm still young, there's a long way to go and a lot of things to learn.
Where can people learn more about you or get in touch with you?
On social media, you can find me on Instagram (@mansour.design.studio) or here's my Linkedin Profile.

---