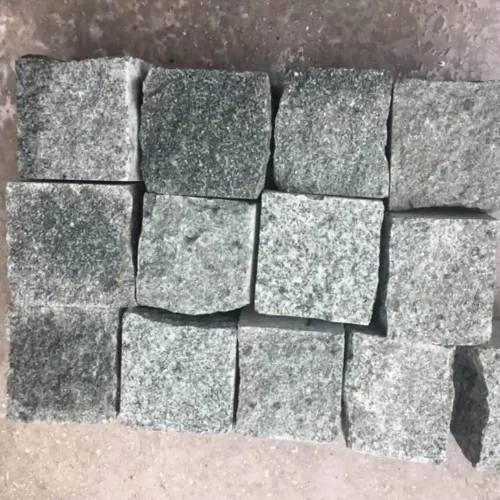 Description
Transform your outdoor spaces into serene retreats with our Green Granite Cobbles. These cobbles infuse your environment with a sense of tranquility, featuring the soothing charm of green hues and the enduring elegance of granite.

Key Features:

Tranquil Shades of Green: Immerse yourself in the calming green tones of our Green Granite Cobbles. These cobbles embody natural serenity, creating an ambiance that resonates with freshness, harmony, and timeless allure.

Craftsmanship with Precision: Each Green Granite Cobble is meticulously chosen and crafted with expert attention to detail. Their superior workmanship ensures not only visual splendor but also enduring quality that stands the test of time.

Versatility in Natural Charm: Whether you're designing a peaceful garden space or a modern layout, these cobbles seamlessly merge into various styles. This allows you to shape your environment with grace and refined simplicity.

Textures of Tranquility, Visual Grace: The textured surface of the cobbles adds depth to their visual appeal and provides a tactile delight. Engage with your outdoor space on a more intimate level as you explore the unique textures of each cobble.

Why Choose Green Granite Cobbles:

Serene Ambiance: The calming green tones create an ambiance of tranquility and natural beauty, making these cobbles a perfect choice to infuse your outdoor environment with a sense of serenity.

Design Versatility: From crafting soothing pathways to enhancing outdoor focal points, Green Granite Cobbles offer design flexibility that embraces the aesthetics of enduring serenity.

Timeless Allure: The captivating beauty of green granite, coupled with the durability of the stone, ensures that these cobbles continue to evoke a sense of tranquility and enduring elegance.

Elevate your outdoor spaces with the serene beauty of Green Granite Cobbles. Let their soothing hues inspire your landscapes, creating an outdoor haven that embodies the perfect blend of natural harmony and timeless allure. Your journey towards a captivating outdoor environment begins here.
Specification