Yes, Quartz Countertops can fade in sunlight. Prolonged or direct exposure to sunlight can easily fade regular-grade quartz countertops. The reason for this is that Quartz Countertops are engineered stone slabs manufactured by combining 90-97% of ground Quartz with 3-10% resins, polymers, and pigments forming a hard granite-like substance. When binders are mixed with natural quartz, these resins and polymers make them more vulnerable to sunlight. Resins and polymers can react with the ultraviolet rays in sunlight causing the quartz to fade.
The quartz composition of the Quartz Stone Slabs gives a more durable and stronger countertop that does not break or crack easily though. Fading of Quartz Stone Slabs might not be very prominent during the early stages when the quartz countertop is relatively new but over time the colour fading will be easily noticeable.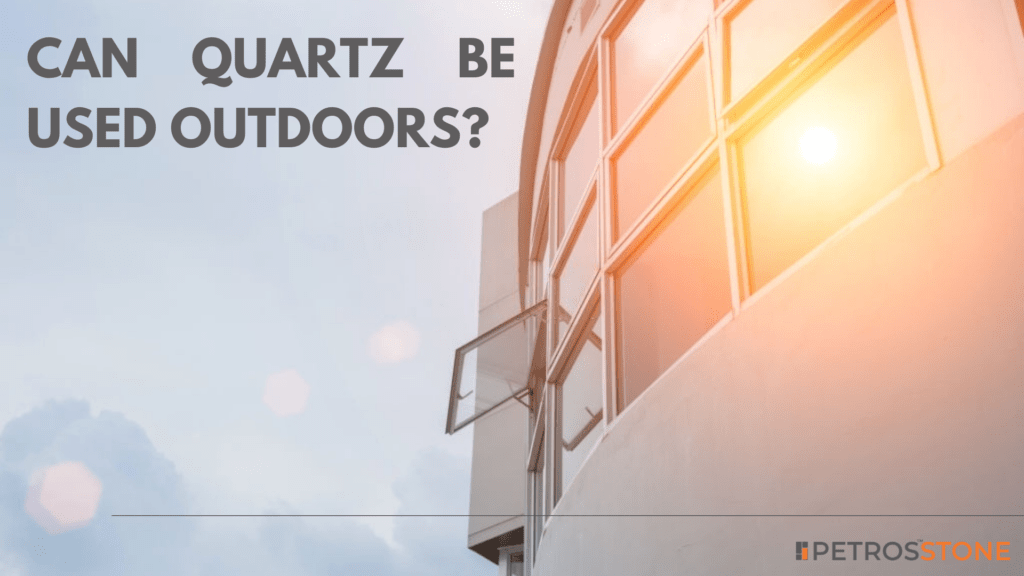 Can Quartz be Used Outdoors?
Quartz Stone Slabs may fade when used outdoors, especially in exterior application areas like outdoor kitchens, lounge areas, gazebos and even some indoor application areas like window ledges where the quartz is exposed to direct sunlight through the window.
Indoor Kitchen countertops, vanity tops and door/window frames are less likely to fade as they are more covered and protected.
There are some very simple measures that can help you keep your prevent fading of quartz and hence, keep your modern quartz countertops pristine for a long time. We will discuss much more in detail later.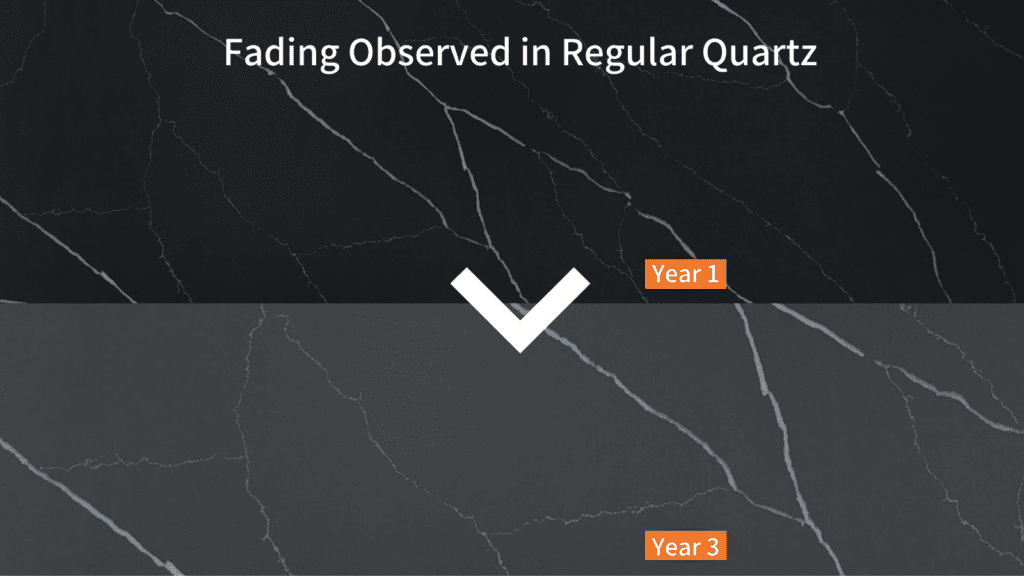 What can cause fading of Quartz Countertops?
Quartz stone slabs can fade in direct sunlight because the sunlight has ultraviolet rays that cause radiation exposure to the quartz countertops causing the pigments in the quartz stone slabs to react. It is usually observed in the quartz countertops installed in the exteriors, for example, Outdoor Kitchens.
Factors can cause fading on Quartz countertops are:
Direct exposure to sunlight is one of the most common factors that cause fading in Quartz Countertops.
The sealant that gives it an added layer of protection that tends to wear off over time can make changes in the colour of the counter. However, it can be by reapplying the sealant again which gives it a quick fix.
Also, the use of abrasive cleaner can affect the countertop and hence cause fading. Using a recommended cleaner will make the countertop run longer.
Reaction with chemicals and liquids can cause discolouration of Quartz Countertops. (not in High-Grade Quartz Countertops).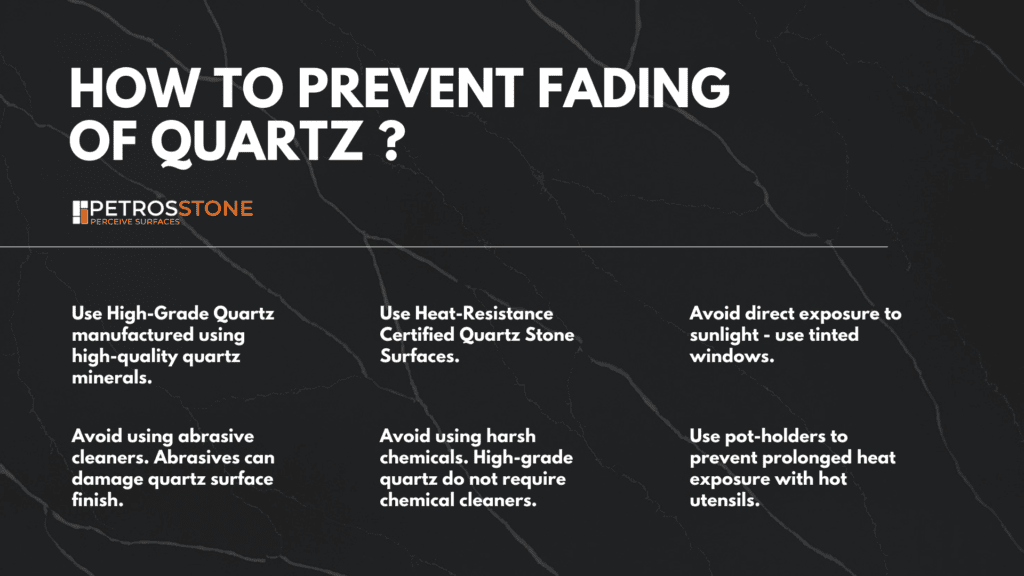 How To Prevent Quartz Countertops From Fading In Sunlight?
Quartz countertops are resistant to heat, yet they can be susceptible to fading when in contact with direct heat sources like sunlight, extremely hot contacts, heat pipes, etc. Quartz countertops are not completely heatproof and taking a little care goes a long way.
Below are the some very simple ways to prevent Quartz Countertops from fading in sunlight:
Use high-grade quartz surfaces from brands like Petrosstone, Caeserstone, Silestone.
Making sure that quartz is heat-tested and complaint to heat-resistance standards – confirm by asking for testing documentation from the brand
Use trays and pot-holders holders and avoid directly placing hot utensils on the countertop.
Try covering windows with a tinted plastic film.
Another measure is using low resin-content stones to avoid quartz countertops from fading in sunlight – by using light colours like White, Beige, Ivory.
Apply protective coatings and sealants on the surfaces of quartz stone slabs and quartz countertops.
Use blinds on your kitchens and bathroom doors or windows; to avoid any direct sunlight rays falling on your quartz countertops/window frames.
Shelter Quartz countertops from direct exposure
Avoid using abrasive cleaners on your quartz surfaces.
Avoid direct exposure to heated utensils on your quartz countertop.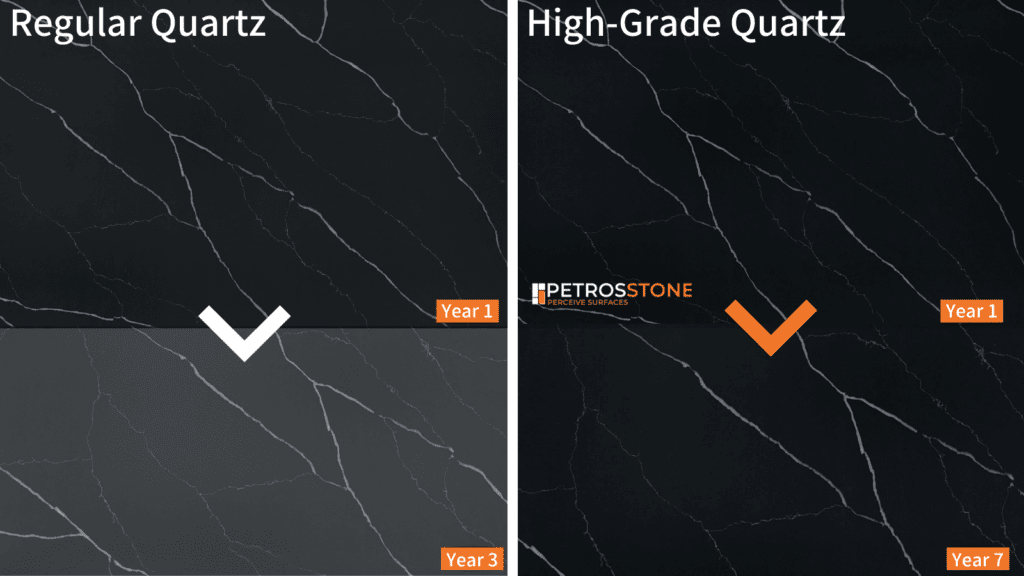 Quartz Brands That Are Less Prone To Colour Fading
Fading of quartz countertops may seem inevitable but its not. Using Quartz countertops from brands that are less prone to fading in sunlight can be some of the best ways to go about.
Here are a few brands that manufacture quartz that is less prone to fading in sunlight:
Caeserstone
Silestone
1. Caesarstone: Caesarstone quartz is one of the most heat resistant quartz, making it durable against sunlight exposure.
2.

Petros Stone

: Petros stone quartz has high-grade quartz and pigments that result in high-quality quartz surfaces with long-lasting colour pigmentation. This makes Petros Stone Quartz Surfaces less prone to sunlight and almost completely resistant to any type of colour fading. Petros Stone has set the seal on durable, hard and dynamic colour ranges countertops.
3. Silestone: Silestone quartz countertops are stain and heat resilient, making them less prone to fade in sunlight. They follow a strict product quality control process to ensure that the best materials reach their customers.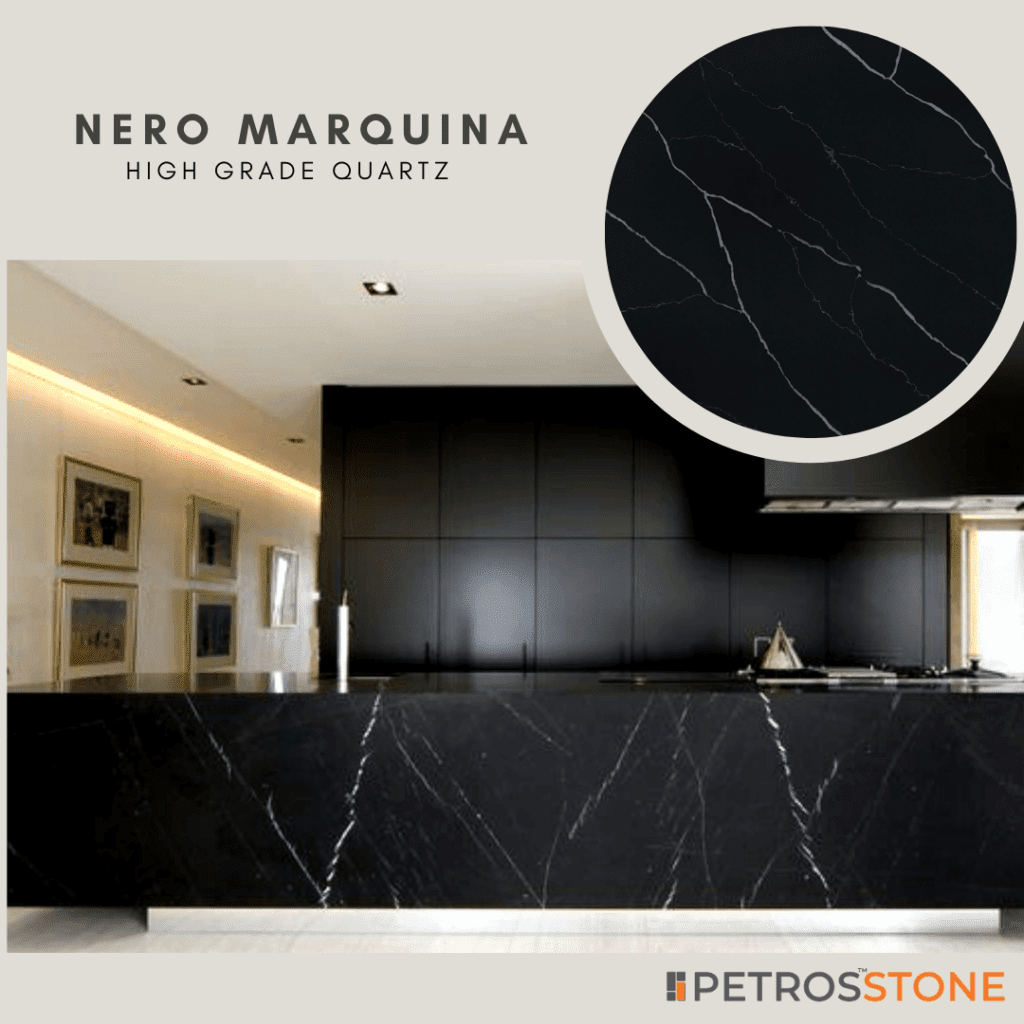 7 Areas Where Quartz Shouldn't Be Used
Using quartz countertops indoors is ideal but, this is different when it comes to using them outdoors. It can be a bad idea to use them outdoors because they are more likely to fade in direct sunlight. Here are some areas to avoid using Quartz for:
Outdoor Kitchen: Quartz when directly exposed to the UV Rays; create radiation with the polymers to cause the fading. Hence, quartz should not be used for outdoor kitchens.
Outdoor Bathrooms: Sunlight and UV radiation and will eventually fade quartz textures and colours and so avoid using quartz for outdoor bathrooms.
Pool Area: It can be a bad idea to use quartz surfaces around your pool area. Even if you want to use it outdoors, always make sure you must cover it with breathable material.
Open Bar Ovens: The heat produced near ovens presents an unsuitable condition for the quartz countertops.
Exterior Lounge areas: Being an outdoor area it may be exposed to sunlight making quartz, not a good material to be used for flooring.
Patio: Using quartz on your patio surface can be a bad move to make. As it is vulnerable to UV rays and direct heat/sunlight exposure.
Fireplaces: Quartz is highly reactive to heat and definitely should not be used for or near fireplaces.
These were a few places where a quartz countertop is likely to fade.
10 Best Applications of Quartz Stone Slabs
The most common uses of quartz are doors, window frames, staircases, kitchen tops, flooring, gazebo and lounge areas.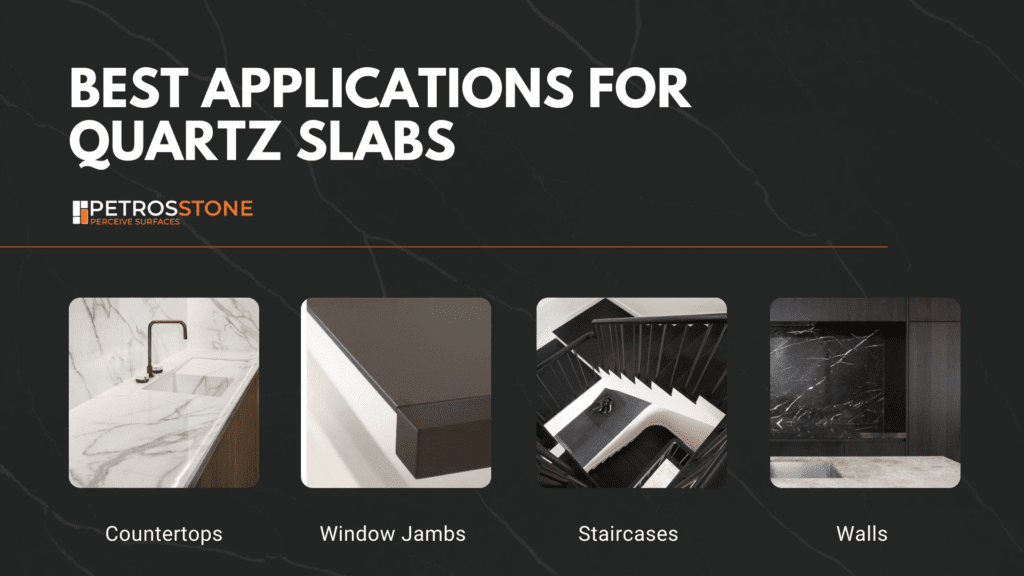 Here are some areas of application where quartz can and must be used:
Quartz Kitchen Countertops: This is the best area to use a quartz countertop. It surely will give your kitchen an elegant and stylish look.
Walls: The designs and textures of quartz make it an excellent choice for feature walls, creating an elegant impression for your spaces.
Doors and Window frames: Areas like doors and window frames add a lot of design to the house. Door and Window frames, ledges and sills are some of the best applications of quartz. Highly recommended to use quartz for doors and window frames.
Staircases: Using quartz countertops as staircases is an excellent idea if used in the interior area. It is highly advised to use quartz countertops for steps, staircases and entrances.
Quartz Flooring: Quartz flooring the best kind of flooring as it is a high-traction material. It means it is less slippery than other floorings and hence a good choice for bathroom floorings as well. It is heat and stain resistant like most marble making it more durable for any kind of floorings.
Custom Table Tops: Quartz is also used for many coffee and side tables. It can be customised with designs, texture and comes with a highly durable and hygienic surface.
Fireplace Mantels: As it is heat resilient it can be used for cladding the fireplaces and surroundings.
Backsplashes: Quartz can also be used as backsplashes in your kitchen area to give a vibrance and glossier surface.
Bathroom Shelves: This is an interesting area to use quartz. As it gives an aesthetic appeal to the bathroom interiors. It is also heat and stain-resistant. Quartz also doesn't absorb water making it the perfect choice for the bathroom shelves, tops, floorings and walls.
Trim Furniture: You can use the remaining quartz countertop to trim your furniture, It will be a great idea to use the leftover material and make good use of it.
Bathroom Flooring/ Showers: Engineered Quartz can be used in showers, steam showers and bathroom floorings.
Kitchen Island: Using a quartz countertop on the kitchen island is one of the most common uses of quartz.
Alternatives of Quartz for Exterior Applications
Quartz countertops are trendy these days. Many people opt for them but some people look for something different. Here are some best alternatives to quartz countertops:
Granite
Marble
Concrete
Slate
Granite: It is the best alternative to quartz countertops, as granite is much stronger and resistant to heat, cracks and chippings, hence a good substitute for the outdoors.
Marble: When compared with quartz countertops marble, is more porous but still can be a good alternative for exteriors. It is completely resilient to heat and sunlight exposure, unlike quartz.
Concrete: A rigid material and probably best to use in exteriors as it is heat resistant and can withstand any damage. The only thing about concrete is that it is expensive when compared with quartz.
Slate: It is one of the most durable and long-lasting materials to choose from for exteriors. They come in varieties of colours and are fireproof material which makes them the best alternative for exterior usage.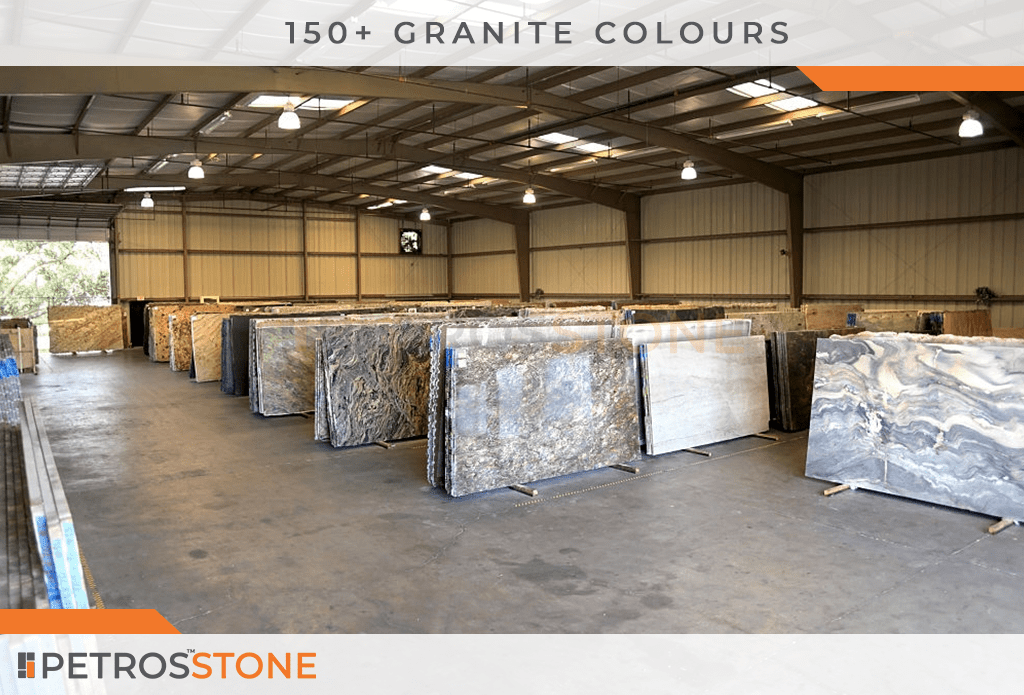 Petros Stone is amongst the best quartz countertop manufacturing companies in India and one of the only high-grade quartz companies to provide a huge variety of colours, textures and surface finishes.
Petros Stone is available in 50+ colours and textures giving plenty of options to choose from for any area of application. The major four types of quartz collection are as follows:
Glitz: It has supreme quality quartz crystals that glisten from certain angles. They come in varieties of colours and texture options like; Glitz White, Mud, Beige, Grey and Black.
Clear: It has a more subtle and smooth style with minimal designs. The clear series has a different texture and finesse to look at; Auburn Brown, Fossil Grey, Calm Beige, Tweed Brown and Walnut Brown.
Fine: Fine quartz is also somewhat the same as clear quartz countertop; smooth, subtle and minimal designs or just no designs sometimes. They just come in two colours; Fine White and Fine Beige.
Marble: Marble quartz countertops are not exactly marble, instead made in marble finish. They are available in; Fresh white, Bianco beige, and Swiss brown.
Petros Stone is amongst the companies that manufacture high-grade quartz which is less prone to fading from sunlight. They are available at a reasonable price and have the best quality, strength, varieties of colour along with heat and stain resistance, making them perfect for your kitchen, flooring and outdoor areas.
Pros And Cons For Quartz Countertops
Before you choose quartz as your countertop option for any area of your house, it's better if you go through its pros and cons list below:
| | |
| --- | --- |
| PROS | CONS |
| Durable – if you use a high-grade brand for your countertops. | Susceptible to heat. One of the extensive drawbacks of a quartz countertop is that they are vulnerable to heat and tend to fade in sunlight. |
| Quartz countertops are hygienic when compared to other stones. | They are expensive as compared to other natural stones. |
| Quartz is versatile and is available in a plethora of designs and colours. | Need a professional to install the countertop. It is not an easy DIY job to install a Quartz Countertop. |
| Quartz Countertops are low maintenance and come in handy. | Need special care when used outdoors. It always needs special care like shelter, coverings, etc. |
| Stain resilient and non-porous in nature. | Reactive to hard cleaners. |
| Quartz Countertops are good mimickers as they can be easily made in granite or marble finish. | Limited sink Options. |
Pros and Cons of Quartz Countertops
Conclusion
Quartz Countertops are trending these days and are the most durable material to be used on your kitchen countertops. But unlike other countertops, they are not as great as them when it comes to direct exposure to sunlight.
The companies like Petros Stone are now manufacturing high-grade quartz countertops more resilient to heat and are resistant to discolouration in direct sunlight, making them more usable for exteriors.