The best quartz countertop manufacturers in India are Petrosstone, Kalinga Stone and Oswal Granite. They offer a wide range of colors and textures, so you can find the perfect look for your home.
Petrosstone offers an extensive selection of quartz countertops that include textured surfaces, polished edges, and many other options. The company also offers a wide range of colors for its quartz countertops, which makes it easier for you to find exactly what you're looking for.
Oswal Granite is a more affordable option than Petrosstone. They have a wide range of colors and styles that work well in both residential and commercial spaces. The company has been around since 2007 and has been featured in many design magazines over the years. They offer a variety of different finishes for their counters, including matte, polished, honed and flamed options.
---
---
---
What is a quartz countertop? What are its benefits?
Quartz countertops are typically composed of three materials: quartz stone, resin, and pigment. Quartz stone is the base layer of the countertop; it gives it strength and durability while also providing an aesthetically pleasing look. Resin makes up the middle layer of the countertop; it helps to mould the stone into its final shape by filling in any gaps between stones or pieces of stone. Pigment makes up the final layer; this gives it color so it can be distinguished from other quartz countertops.
The Benefits of Installing Quartz Countertop
Quartz countertops have become famous for homeowners who want to add a touch of luxury to their kitchens. In the past, they were only used by high-end restaurants and hotels, but now they are becoming more affordable and easier to install.
Here are some of the benefits that you'll get when you choose quartz countertops:
Durability: Quartz countertops are durable and can withstand the wear and tear of everyday life; they don't scratch easily, and they don't chip or crack. With proper care, your quartz countertops will look as good as new for years to come.
Stain-Resistant: Stains don't stand a chance against quartz countertops. They're stain-resistant, meaning they won't absorb stains like granite or marble can. This means that even if you spill something on your countertop, it won't leave an unsightly mark that needs to be cleaned up immediately.
Nonporous: Quartz countertops' surface is nonporous, meaning that water will bead off instead of soaking into the stone and damaging it over time. This makes them very easy to clean—wipe them down with a damp cloth when needed!
Bacteria-Resistant: Quartz is a nonporous surface that cannot hold bacteria, so it's easy to clean with simple soap and water. It doesn't absorb stains, so you never have to worry about your counters looking dingy or dirty.
Maintenance-Free: Because it's nonporous, quartz requires virtually no maintenance beyond basic cleaning. You don't need to seal or reseal it when installing it—it's ready for use right out of the box!
---
Best Quartz Countertop Manufacturer in India | Description, Price, Product Range
The Quartz countertop industry has been growing at a rapid pace. The demand for quartz countertops has increased due to their durability and elegance. In this section, we have listed some of the best quartz countertop manufacturers in India. These companies are known for their quality products and services.
Petrosstone (Highly Recommended) | Petros® Stone LLP
---
When looking for quartz countertops, you want to know they're made with high-quality materials. At Petrosstone , we use only the best.
But what makes our quartz so unique? The answer is in the details:
Our proprietary process for creating a superior surface finish is the first thing that sets us apart. We use an innovative technique to create a smooth, polished surface on the edges of each slab of quartz without sacrificing durability. This allows us to create a unique look in your kitchen with precise control over how much shine you want on each countertop piece.
We also use only premium-grade quartz crystals mined from around the world—never synthetic or imitation stones. Our crystals are cut into slabs using state-of-the-art computerized saws that ensure precise measurements and perfect angles every time! This means no offcuts go unused—they all get repurposed as accents throughout your home or business!
---
Types of Petros® Quartz Countertop
Glitz
Glitz is a beautiful, elegant collection that offers a classic array of quartz options. This collection has the perfect material for any interior design project, from natural stone to engineered stone.
Starting Price: 2CM(Thickness)– $33.12/SQM
Clear
quartz is one of the most versatile materials available today. It's excellent for kitchen and bathroom countertops, shower walls, and backsplashes.
Starting Price: 2CM(Thickness)- $44.64/SQM
Fine-Grained
quartz has been polished to perfection to bring out its natural beauty and lustrous shine. Use this stone in high-traffic areas like entryways or hallways where it will be exposed to scuffs and scratches from shoes.
Starting Price: 2CM(Thickness)- $38.16/SQM
Marble
Quartz is an ideal option if you're looking for something unique with a rustic feel it's made by mixing crushed marble with resin and then polishing it until smooth as glass!
Starting Price: 2CM(Thickness)- $10.07/SQM
---
They have been supplying high-quality natural quartz materials to customers all over the world for 30 years. They offer a variety of options: from rough rock to polished slabs and tiles. The quartz products are available in a variety of colors and sizes, depending on your specific needs.
Furthemore, the company has been certified by SGS as an ISO 9001:2008-certified supplier, which means we adhere to a stringent set of standards for quality management systems that ensure that all processes are performed in a safe environment with proper documentation and record keeping. They have also received accreditation from Bureau Veritas for quality management system, which proves that they are committed to meeting international standards for safety and environmental protection.The company provides a 10 year warranty on their quartz products.
They believe in providing our customers with top-quality quartz products at reasonable prices—and this commitment extends beyond own operations; it includes every step of every process from mining to manufacturing to distribution and installation.
---
Oswal Granite is one of the best quartz suppliers in India. They have been in business since 1989, and they are known for their high-quality products and excellent customer service.
The company has a wide range of options for customers: from classic granite and marble to exotic materials like onyx and jasper. Their natural stone products are available in different colors and finishes (24 colors, 16 finishes), which allows them to offer something for everyone.
Oswal Granite also offers a variety of services related to the installation of their products. These include fabrication, polishing, honing, cutting, grinding, drilling and more. In addition to these services, they provide all kinds of advice about what kind of material would be best suited for your needs or tastes.
---
Quartz countertops are one of the most popular materials that you can use to make your kitchen look great. They are durable, easy to clean and maintain, and they are available in a wide range of styles and colours.
The quartz countertops made by Kalinga Stone are among the best on the market because they have been carefully crafted by expert craftsmen who take pride in their artistry. These countertops are made from natural quartz crystals, which have been melted down into a liquid form that is poured into moulds, where it sets and hardens into beautiful countertop surfaces.
Kalinga Stone offers these countertops in several different colours, so you can choose one that will match your kitchen decor perfectly. They also provide an excellent selection of accessories, including sinks, backsplashes, faucets and more, so you can quickly complete your new kitchen!
---
Quartz Kitchen Countertops: Why Petrosstone is the Best Choice
Quartz kitchen countertops are popular for anyone looking to upgrade their kitchen. But with so many options, it can take a lot of work to know what type of quartz is right for you.
To make your decision easier, here's why Petrosstone is the best choice:
Petrosstone has been in business for many years, so we've had plenty of time to learn what it takes to make a durable product. We use only high-quality materials and employ the most skilled artisans to create counters that withstand everyday wear and tear.
We also use innovative techniques such as plasma cutting and diamond grinding which allow us to cut down on waste while providing a smoother surface than traditional method and we source our quartz directly from quarries around the world, so our products are always fresh
Experience and expertise: Petrosstone has the experience and expertise to answer any questions you may have about choosing kitchen countertops or how to install them in your home. Our team can help you determine which colour of quartz best suits your kitchen, from light and bright whites to dark blacks and rich browns or anything in between!
Quality of products or components: Petrosstone quartz kitchen counters are made using only the best natural raw materials and components. The company uses quartz powder instead of quartz slabs because it requires less processing time and is easier to handle during installation.
The company also uses aluminium oxide as a sealant rather than epoxy resins because they provide better resistance against bacteria and mould growth.
Confidentiality: We're committed to protecting your privacy, which is why we use the most advanced security systems. We know your data is valuable to you, so we work hard to ensure that it's protected at all times.
Quality management systems and certifications: Our manufacturing facilities are certified by ISO 9001:2008 and ISO 14001:2004, ensuring that every step in our production process meets or exceeds industry standards for quality assurance.
Not only do these certifications help us maintain our rigorous standards for excellence, but they also provide peace of mind for our customers. You can trust that we'll consistently deliver the best products possible—and stand behind them with our warranty!
Longevity and stability: Because of its composition (95% quartz, 5% resin), Petrosstone is extremely durable under heavy use conditions. With proper care, it will last for decades without showing signs of wear or tear. It also has low thermal expansion rates, making it less likely to crack or chip over time. This means you'll get consistent results every time you use your kitchen.
Price: Petrosstone is also more affordable than other options, such as granite or marble. You'll end up paying less for your countertop than if you had chosen another option—and still get a high-quality product that can stand the test of time
Production Flexibility: Because we manufacture our quartz kitchen countertops on-site, we can offer you flexibility in scheduling and delivery times—something that not all manufacturers can do. We'll work with you to install your countertops as quickly as possible, so you don't have to wait around while they're being made!
---
The Different Types Of Quartz Countertops Offered
When it comes to quartz countertops, there are a variety of options available. Whether you're looking for a natural stone look or something bold and edgy, we have the resources to help you find the perfect countertop for your kitchen.
Below are some of the most popular types of quartz countertops:
Glitz Black Quartz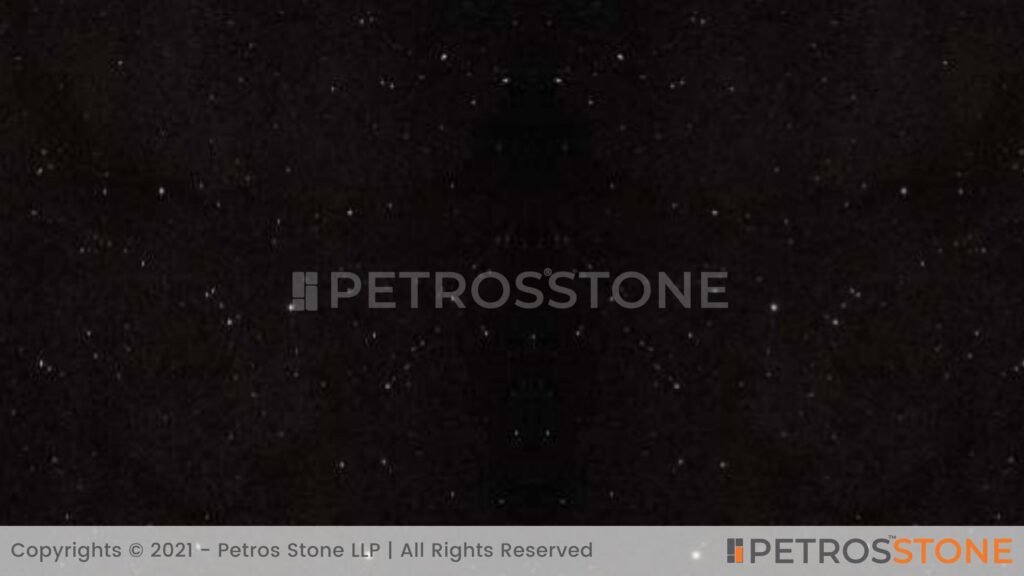 ---
This is a clean and straightforward surface that has a glossy finish. It's available in shades of black, ranging from dark charcoal to light grey. This countertop is often used in kitchens and bathrooms but can also be used as an accent piece in other home areas.
Starting Price: 2CM(Thickness)– $33.12/SQM
---
Calacatta Quartz With Bold Design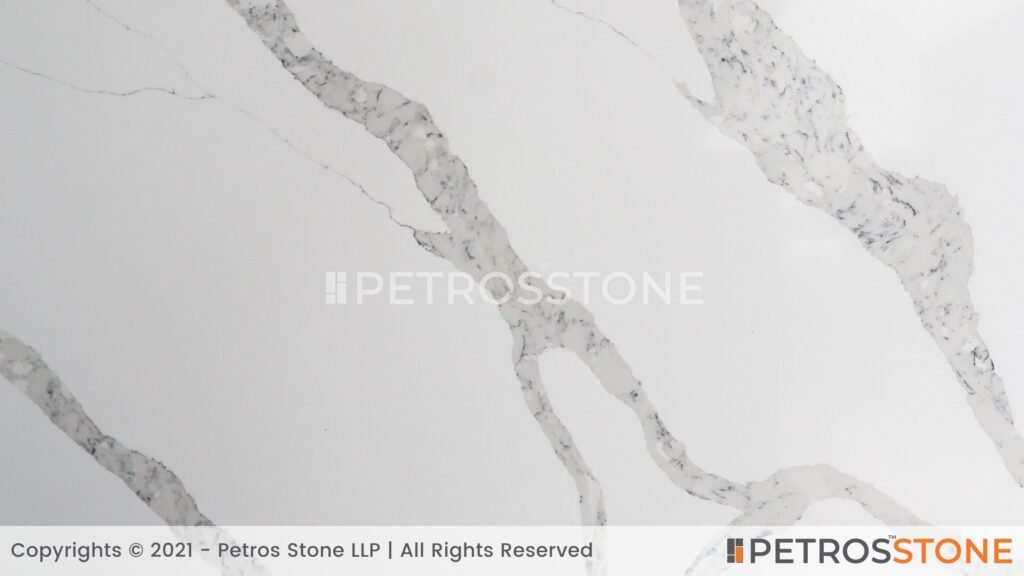 ---
This quartz countertop looks natural stone with bold design elements such as swirls or veins. The stone is usually translucent so you can see the veins through it, but some varieties are opaque. The veins can be any colour, including black or white, depending on what type of stone they're made from; however, most granite will have red veins running through it somewhere along its surface area due to its composition being primarily comprised of pink feldspar minerals (which are reddish-orange).
Starting Price: 2CM(Thickness)– $48.54/SQM
---
Glitz Grey Quartz
---
Grey quartz kitchen countertops have a beautiful, earthy appearance. This colour comes from the inclusion of iron oxide in the stone. The presence of iron oxide makes grey quartz stronger than its white counterpart. This makes it ideal for kitchens with heavy use and can stand up to the cooking heat.
Grey quartz kitchen countertops have various finishes so you can choose between matte or polished. If you want to add style to your space, consider using a natural stone tile backsplash with grey quartz countertops. This will create an interesting contrast between the two materials and give your space a more unique look than just using one material throughout.
Starting Price: 2CM(Thickness)– $33.12/SQM
---
Ice White Quartz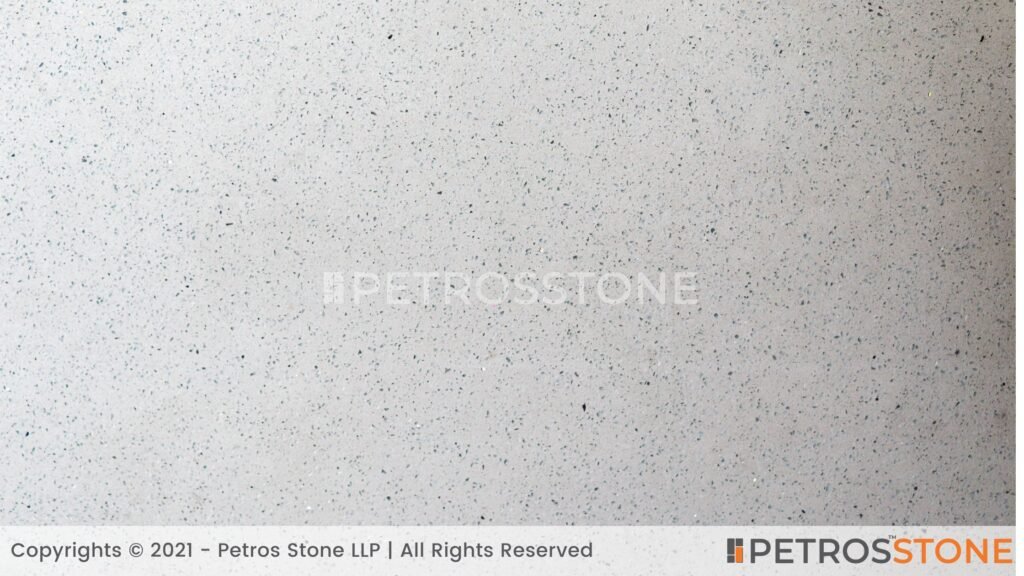 ---
White quartz kitchen designs offer an elegant look while still being easy to maintain. White quartz is a rigid material resistant to stains and scratches, making it perfect for high-traffic areas like kitchens where pots and pans are often used. Some homeowners pair white quartz counters with stainless steel appliances for an updated look that is perfect for modern homes
Starting Price: 2CM(Thickness)– $44.64/SQM
---
Carrara Gold Quartz
---
The bold gold quartz countertop is one of our most popular styles because it's so beautiful and eye-catching. It has a warm goldish-orange tone with flecks of yellow and brown that make it look like lava rock without being too dark or heavy on the eye.
This quartz countertop would look great paired with stainless steel appliances in a contemporary kitchen design. It's also perfect for an old-fashioned country kitchen where you want to add rustic charm!
Starting Price: 2CM(Thickness)– $44.64/SQM
---
Tips to get the best Price on Quartz Countertop
Quartz countertops are one of the most popular options for homeowners who want a durable, long-lasting, and beautiful surface in their kitchen.
But they can be expensive, and when trying to save money, it's essential to get the best deal possible. We've put together some tips that will help you do just that:
Source Materials from a Reliable Suppliers
When you're looking to buy quartz countertops, it's important to source your materials from a reliable supplier. If you don't, you may end up with an inferior product. Quartz countertops are made of natural materials like sand and other minerals. If even one of those materials is replaced with something else, the quality will be compromised. If you want to get the best price on quartz countertops, make sure that the product is sourced from a reputable supplier who uses only natural materials in their products.
Consider the Quartz Slab's Thickness
The thicker your slab is, the better quality it will be. However, if you're looking for something thinner than 12 inches (30 cm), ensure it has at least 3 inches (7.5 cm) of edge protection around all sides.
Select a Simpler Quartz Slab Design
Complex designs cost more than simple ones because they require more labour and materials per square foot of countertop area created. If you're looking for something simple but elegant enough for your space, consider using smaller pieces like squares or rectangles instead of larger ones like circles or ovals.
Balance Quality and Price
When you're looking for quartz countertops, there are a few things to keep in mind that will help you find the right balance between quality and price. First, consider the quality of the quartz. What's the grade? Is it top-grade or second-rate? What kind of thickness will you get with this quartz?
Finally, know your options! There are many different kinds of quartz countertops, from laminate to solid stone versions. Make sure that whatever you choose fits within your budget and meets your needs!
---
How can I contact Petrosstone to get a quote for my project? What are the steps involved?
The first step is to send us an email at [email protected] or contact us at +91-8446360361. Visit contact page – here
Please include: An outline of the project you're looking to get a quote for, including dimensions, the number of materials needed and any other details that would be helpful to us in providing you with a quote.
Your contact information so we can reach out to you when we have the quote ready.
We will review your request and provide you with a quote as soon as possible, within 24 hours of receiving your request.
---
At Petrosstone , we believe in the value of transparency and honest communication. We want to keep our customers informed about what's happening with their orders and to ensure they know exactly what they're getting when placing an order.

We take pride in our commitment to quality and our ability to deliver on time and provide a great customer experience at every stage of the process. If you choose us as your primary quartz countertop manufacturers & exporters in India, we'll make it worthwhile!