Be it your backyard, courtyard, patio, or lawn to canvas it with something organic, rustic, and durable – stone outdoor floorings come as the most appropriate choice. Keeping in tune with the natural surroundings around and the pristine blue sky above stone floorings inherently gel with the biotic character of mother earth.
Here we have put forth a detailed list of the best outdoor floorings available in India and how each one stands out from the other. Though there is great diversity in the composition and look of these flooring options and we help you tap the features of each so that you choose the best flooring for your outdoor space.
Check out the 20 Best Outdoor Floorings in India that can redefine your exterior space with its impeccable style, variety, and timeless elegance:
---
20 Best Outdoor Stone Flooring Options in India | Price
| Sr.No. | Outdoor Flooring | Approx. Price |
| --- | --- | --- |
| 1 | Granite | ₹50-₹150/sqft |
| 2 | Cobblestone | ₹8-₹35/pc |
| 3 | Tumbled Stone | ₹4-₹15/pc |
| 4 | French Grey Limestone | ₹45-₹110/sq.ft. |
| 5 | Bluish Green Limestone | ₹13-₹36/sqft |
| 6 | Quartzite | ₹80-₹130/sqft |
| 7 | Beige Quartzite | ₹105-₹280/sqft |
| 8 | Grey Quartzite | ₹80-₹180/sqft |
| 9 | Kadappah | ₹35-₹55/sqft |
| 10 | Sandstone | ₹64-₹220/sqft |
| 11 | White Marble | ₹55-₹350/sqft |
| 12 | Black Marble | ₹75-₹200/sqft |
| 13 | Slate | ₹45-₹75/sqft |
| 14 | Travertine | ₹89-₹217/sqft |
| 15 | Kerb Stone | ₹220/sqft |
| 16 | Kota Stone | ₹35-₹115/sqft |
| 17 | Basalt | ₹60-₹140/sqft |
| 18 | Pebble Stone | ₹15-₹50/kg |
| 19 | Paving Stone | ₹65/sqft |
| 20 | Quartzite Flagstones | ₹70-₹180/sqft |
20 Best Outdoor Flooring Options in India With Price
---
---
1. Granite
Formed by the gradual crystallization of magma under the Earth's surface, granite is an igneous rock with coarse grains and beautiful texture. Composed of three basic minerals- quartz, mica, and feldspar its naturally occurring colours give you wide options to choose from. Besides being a popular choice in bathrooms and for kitchen countertops it is a fantastic choice for outdoor gardens, sideways, fireplaces, walkways, or your curved driveways.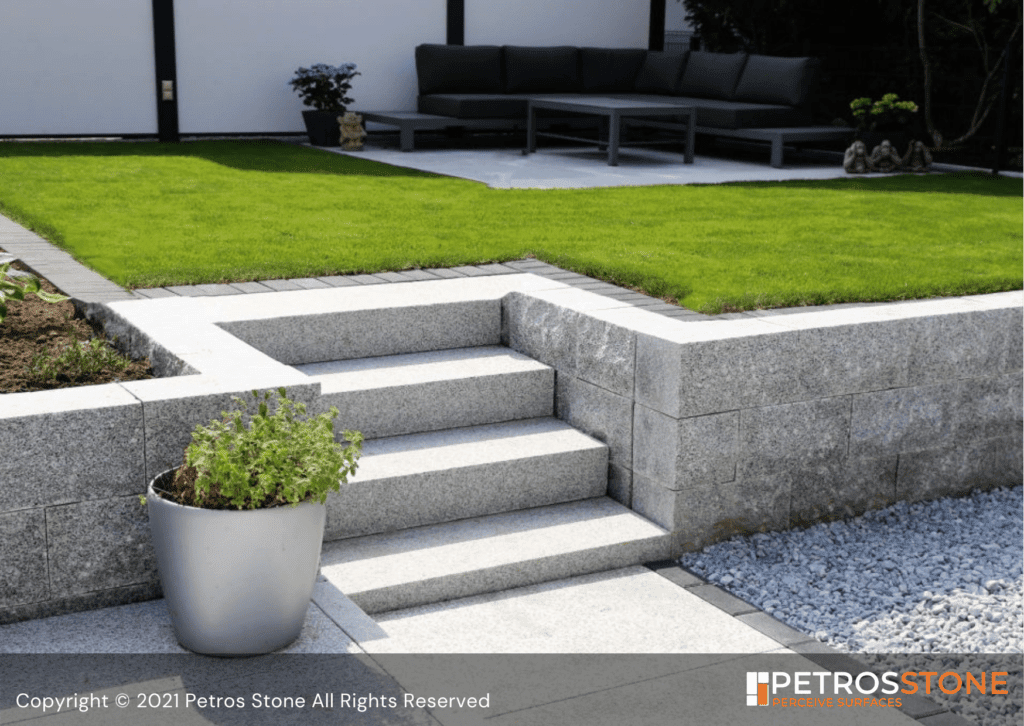 ---
Features
Composed of different minerals that appear as tiny and shiny specs in its body, granite is a hard-grained natural stone.
Granite comes in different color palettes and can be polished as per customized needs.
It has a subtle shine with visible veins of different hues.
It is a strong and durable naturally occurring stone with water-resistant properties not allowing water to seep through it.
With its stain-proof character, you don't have to worry about stubborn stains and spills. Being heat resistant, it does not warm up easily and stands tough against scratches and chipping.
Granite is also extremely easy to maintain & clean.
Types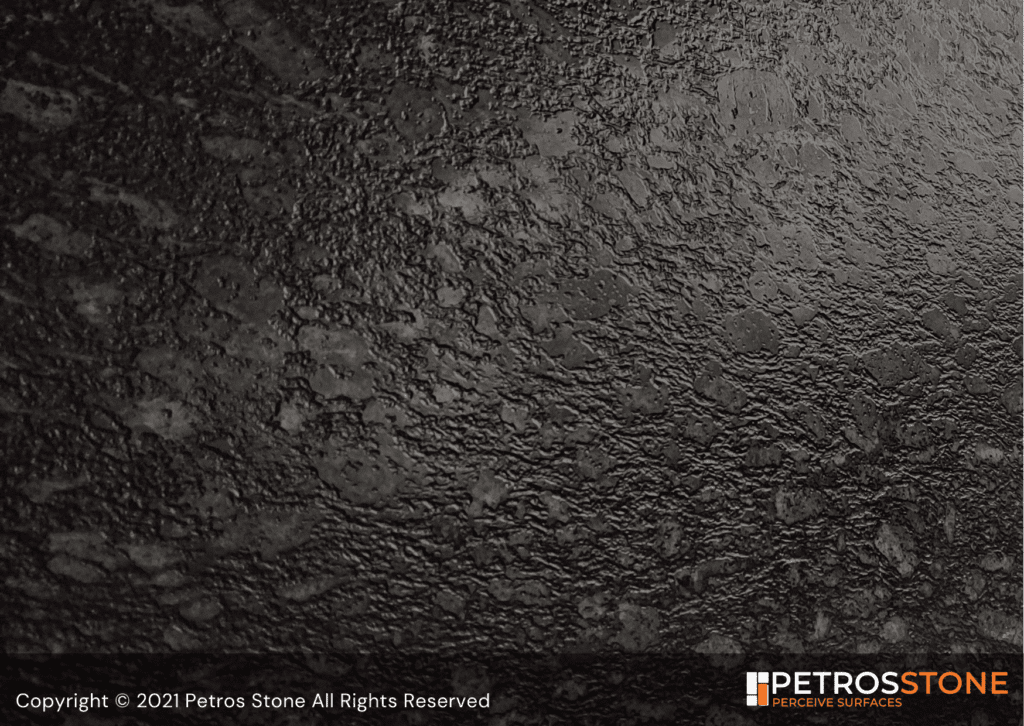 ---
Available in a broad spectrum of colors, the best way to make granite stones appear different is to give them varied finishing. Some of the most popular granite finishes most preferred for outdoor spaces are:
A. Leathered Finish
Also known as Brush finish where humble dimples are formed by running diamond-tipped brushes over a honed surface of the granite. Highly stain-resistant, it plays well to camouflage stains, water sports, and other footmarks on the flooring.
B. Flamed Finish
As the name suggests, here the granite stone is subject to high temperatures where the heat alters the composition and color of the grains that compose the hard stone. Post-treatment the granite stone obtained has a slightly faded appearance and a coarse and rough texture.
C. Honed Finish
Gives a smooth and flat finish that emanates gloss or mirror-like reflection. Non-slippery and stain proof, it is a good option for floorings. It is also called matte or satin finish.
D. Satin
It involves further processing the leathered finish by adding more shine to it. With a combination of elegance and rustic, this finish has its beauty. The raised areas of the leathered finish are given a polish to add shine and sparkle to them.
E. Bush Hammered
Treated with a special hammer that has triangular points or spikes attached to it that gives the granite a textured and weathered look. The hammering process lightens the shade of the granite. As the stone becomes porous in the process of hammering, it is less likely to be used as a flooring option in the outdoors.
Maintenance
An easy maintenance flooring option that cleans well with a damp cloth or routine mopping. For occasional deep cleaning of heavy debris, soapy water cleaning is most recommended. Application of granite sealant ensures additional protection to granite that can restore its shine and last for years. The use of ammonia or bleaching agents on the surface of granite should be avoided as they can alter its texture and appearance.
Price of Granite Outdoor Floor
The price of granite in India starts from ₹50 and might go up to ₹100-₹150/- for most of the available colors.
It is considered one of the most affordable and economical floor options when it comes to covering vast outdoor spaces.
---
2. Cobblestone
Cobbled stones are essentially sedimentary rocks that are made up of cobbles. Cobbles are bigger when compared to pebbles but smaller than boulders. They appear as large rounded stones. They are ideally used in pathways and driveways adding a traditional look to your house.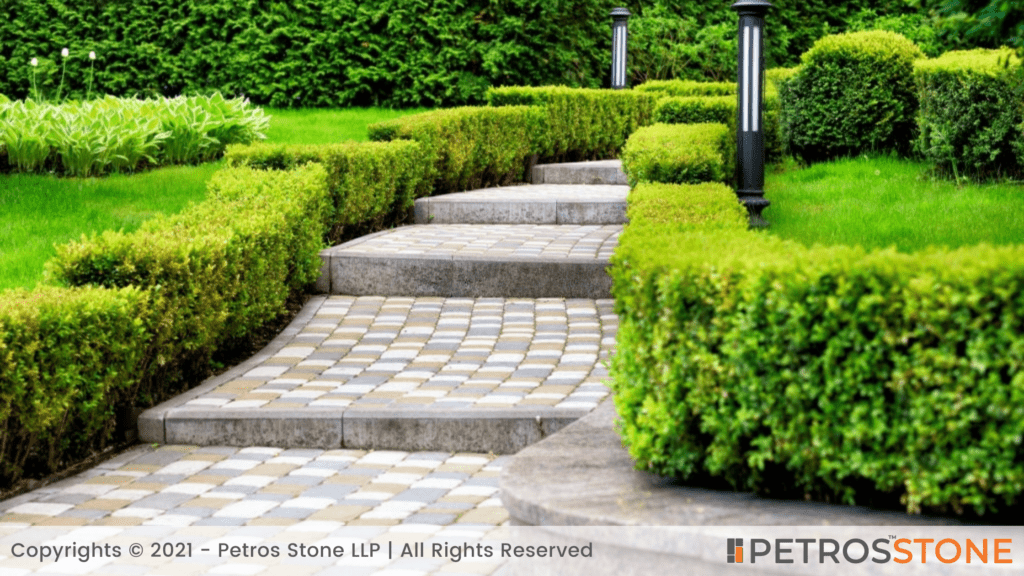 ---
Features
Cobblestones are strong, hard, and durable as well as available in a large color palette.
They are generally available in the standard sizes 90X90mm or 100X100 mm sizes.
They can withstand high traffic and footfalls because of which they are good for driveways.
Their anti-skidding feature and rough texture are good for car wheels and cyclers. They are popularly known as granite sets.
Types
Some of the most popular colours of cobblestone used in flooring options are Red, white, black and grey. Granite Cobble stones are more durable then limestone cobbled stones.
Maintenance
Cobblestones offer an extremely low-maintenance flooring option. They just need a decent wash once or twice a year. Yes, gaps in between the cobbles can lead to the growth of weeds that needs to be pulled out from time to time.
Price
The price range of standard cobblestone starts from a ₹8/pc and may range up to ₹35/pc depending on the type of finishing, colour and textures,.
---
3. Tumbled Stone
Also known as polished stones, tumbled gems, or baroque gems, tumbled stones can essentially be made of any stone. The tumbled stones are processed in a rock tumbler that tumbles them to make their edges smooth and surface polished. They are usually bright-coloured natural stones that carry beautiful shapes and varied hues.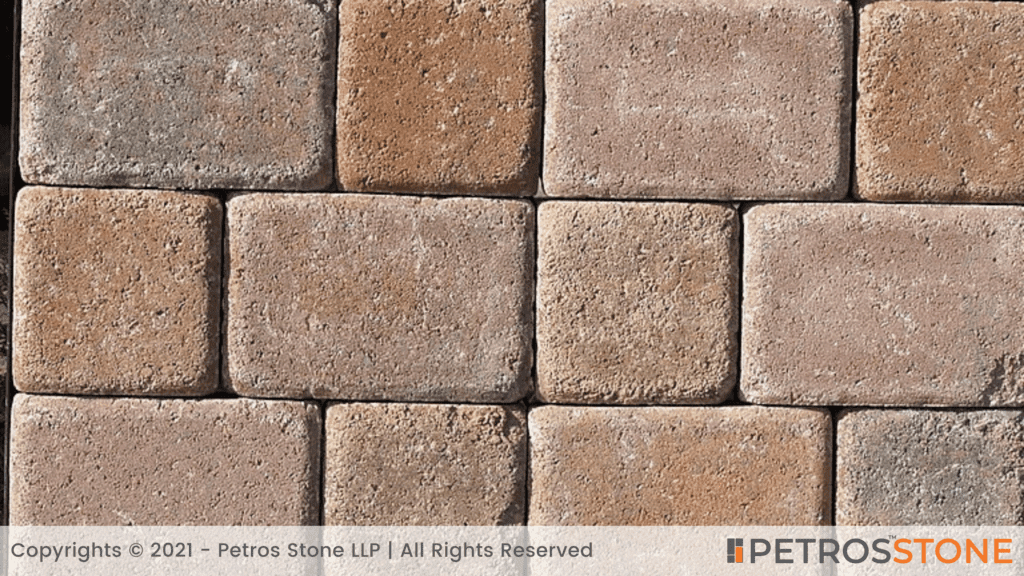 ---
Features
Tumbled stones are tumbled or rotated in a big barrel called a rock tumbler. During the process, the stones grind against each other and the edges rubbing against one another. This gives the stones a smooth texture. Further, the grinding removes the dusty look of the stones and gives them a natural color, highlighting their grains and veins.
Tumbled stones are slip-resistant controlling skid accidents on wet surfaces. It is a preferred outdoor flooring option for pool decks.
It is a sturdy, rough and hard stone that has already passed the tough tumbling process.
Types
Though virtually any stone can be processed into tumbled stone, most popular tumbled stones in India are: granite, quartzite, Jaisalmer stone and white marble.
Maintenance
Tumbled stones have a natural shine . They posses a natural finish owing to the tumbling process. They do not need extensive maintenance efforts – a little, sweep or wash is enough to keep them clean and in good shape.
Price
Tumbled stones are usually available between ₹4 to ₹15 per piece. Their price significantly depends on the base stone on which the tumbling process has been carried out.
---
4. French Grey Limestone
Unlike monotonous grey, French Grey Limestone is a blend of pristine light grey and the elegance of timeless limestone. The smooth surface with beautifully carved edges makes it a perfect option for outdoor floorings. Its encapsulating grey colour reflects the warm light of the sun filling your space with warm and cosy vibes.
With a medium dense composition, it is perfect for floorings in the kitchen, driveway, and outdoor space that experience high traffic and heavy footfalls.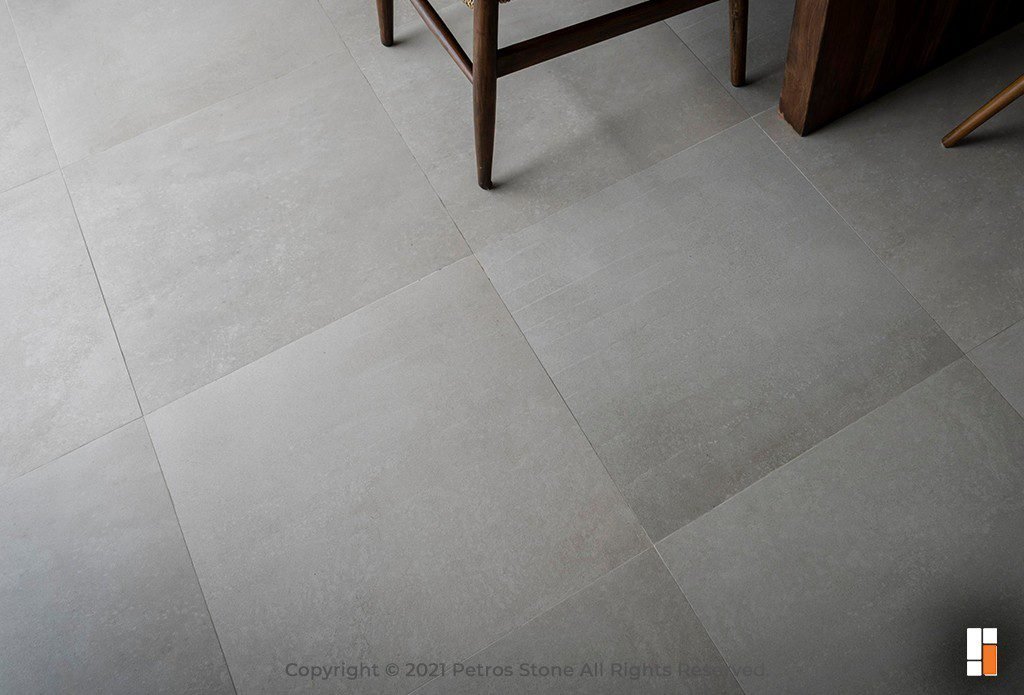 ---
Features
Its high durability and attractive appearance make limestone a much preferred natural stone option for flooring indoors and outdoors.
It comes with a smooth and polished surface that makes it ideal and versatile at the same time.
They create a sense of coolness during the warm months, without absorbing much heat., i.e. they show a temperature regulating nature.
Types
Limestone as a natural stone is available in a wide range of colors like white, beige, rose, pink, straw, peachy, orange, copper tan, and many more. French Grey Limestone with its subtle grey hue is a good choice for flooring large areas of outside space that reflect the light of the blue sky making your place all the more amiable.
French grey is available in multiple surface finishes, namely:
Leathered
River Wash
Honed
Natural
Sand Blasted
Mirror Polished
Ziano
Maintenance
Limestone flooring can be easily wiped and cleaned requiring minimum maintenance.
Price
French Grey Limestone may be prices between ₹45-₹85 for leathered surface finish. Ziano Finished limestone can be expensive, may range up to ₹110/sq. Ft
---
5. Bluish Green Limestone
Commonly called Kota Blue Limestone in India, it is a delicate shade of green and bluish green. When dry it exudes a light bluish-green color but when wet, it has a more rich and exotic bluish-green color. It is often considered a good flooring option because of its tough structure and high durability.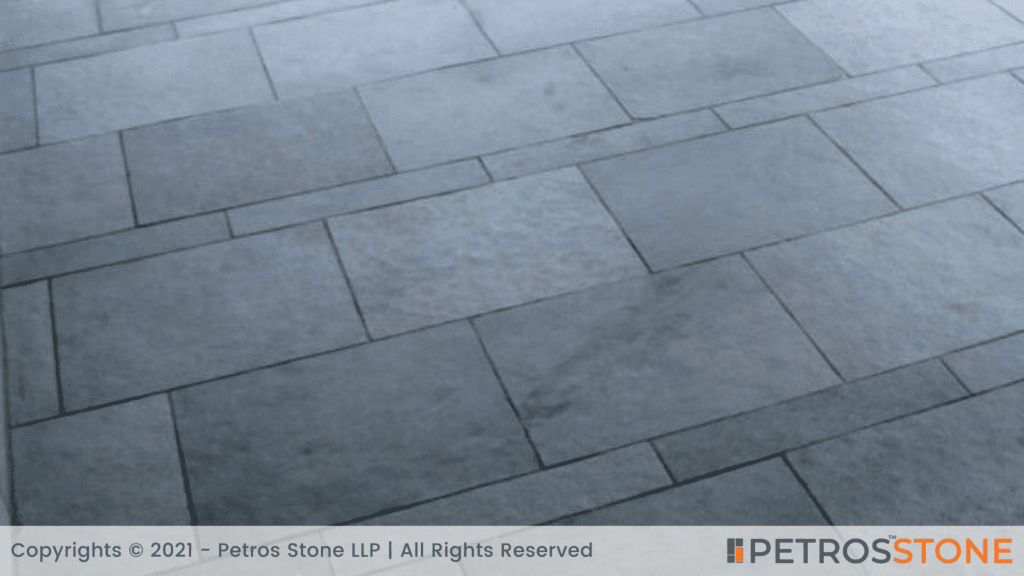 ---
Features
Bluish Green Limestone is hard, tough, and water-resistant that makes it perfect for canvassing outdoor floorings.
It is relatively non-porous with anti-skidding properties and high stain removability.
Its sturdy composition allows it to withstand all weather conditions-heated summers, rains, and the freezing winters.
It can be cut and resized as per customization.
Types
Bluish Green Limestone is available in different finishes like:
Honed
Polished
Natural
Leather
River Wash
Sand Blasted
Ziano
Maintenance
By nature, limestone requires minimum maintenance. The bluish-green limestone just needs simple sweeping and occasional mopping. Resealing it once a year is a good idea to restore its integrity and help it last longer.
Price
The price of blue limestone ranges between ₹13 to ₹34 per square foot.
---
6. Quartzite
A perfect blend of modern, traditional and contemporary, quartzite natural stones add sophistication and class even to the most modest and simple looking outdoors. Quartzite with its unique hue sparks up life and warm vibes wherever it is laid.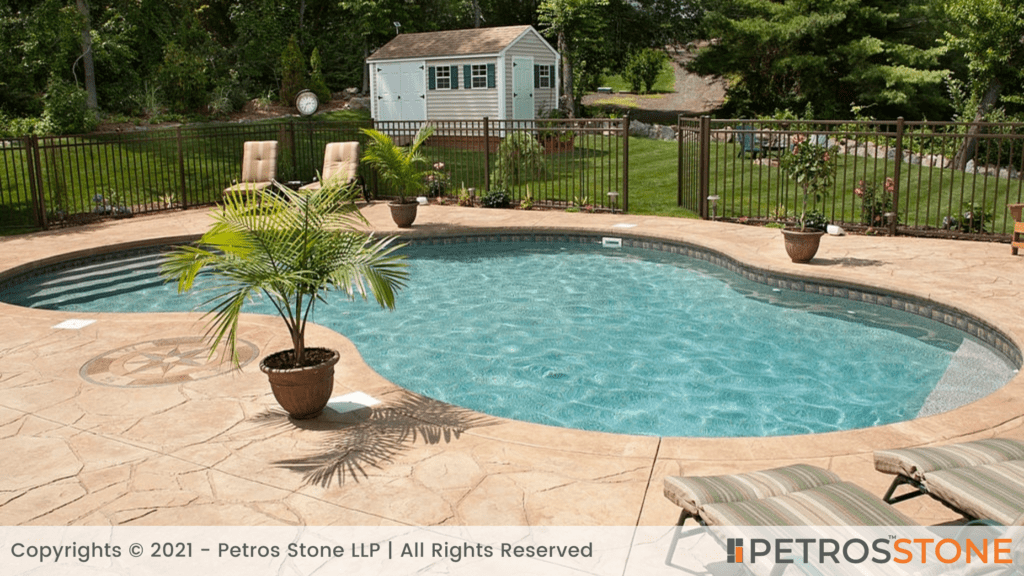 ---
Features
Quartzite is a naturally occurring hard natural stone that makes great floors for hallways and large outdoor spaces.
Quartzite stones are composed of sandstone that is compressed by natural heat and pressure over a long period.
A strong, durable stone, quartzite has a glassy and smooth finish that makes floorings very impressive.
Types
Common varieties of Quartzite available in Indian markets are Red, grey, White Mint, Burgandy and Beige.
Maintenance
Requires normal cleaning with neutral water and soft cleaning agents. Use of harsh chlorine bleach should be avoided as they can discolor the quartzite stone.
Price
Quartzite slabs are priced in the range of ₹80-₹130 per square feet.
---
7. Beige Quartzite
With its elegant soft and subtle colour, Beige Quartzite instantly lights up even the dullest areas of your house. When added to your outdoor floorings it gives a visually large perception of the same place and makes it look, airy and well lit. With its neutral tone, it fits well in every area of your outdoor space, whether it be the stairs, corridors, pathways, or poolside deck.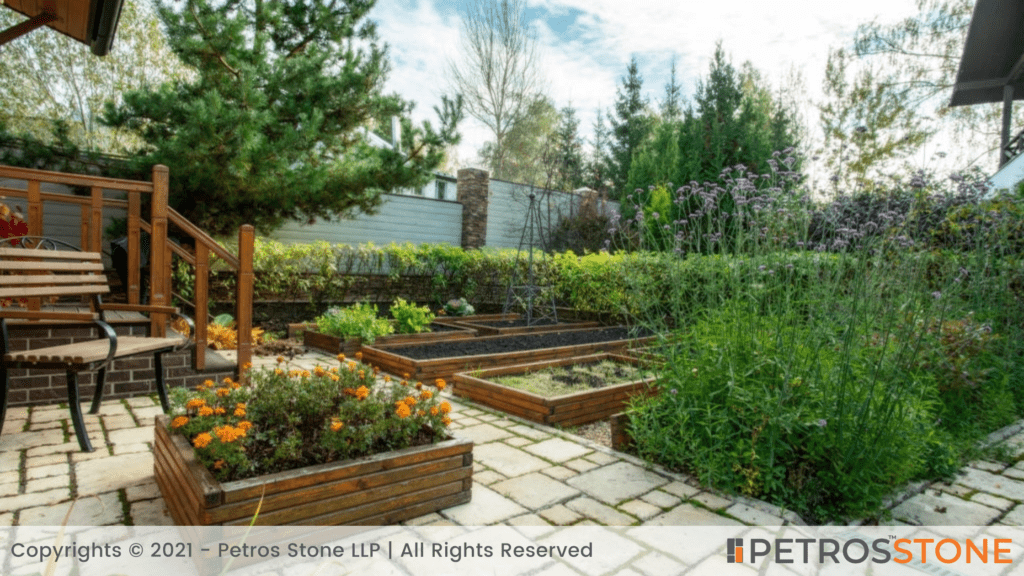 ---
Features
Denser than marble, beige quartzite is far more scratch-resistant and waterproof than normal marble.
Available in bespoke sizes they are beautiful flooring options for the outdoors as they are hard, strong, and last long.
It offers strong resistance against the toughest weather conditions and natural challenges.
Types
The most famous type of beige quartzite quarried in India is the Mascavo Quartzite that comes with different finishes like polished, sawn-cut, sanded, rock-faced, tumbled, and sandblasted.
Maintenance
Clean by sweeping and mopping with simple detergent. Do not use abrasive cleaners, vinegar, or acetic acid on the stone slabs as they can alter their appearance.
Price
Available in standard slab sizes of 20mm though bespoke cuts and sizes are also easily available. Price starts from ₹105/- per square foot.
---
8. Grey Quartzite
Grey quartzite like its Red and Beige variety is hard and strong that neither chips nor etches easily. As such it makes a great choice for outdoor floorings bearing all the rough and heavy load of your outdoor furniture and parked vehicle.
---
Features
Resembling marble, grey quartzite is a beautiful natural stone that exudes veins and subtle patches in its appearance.
The stone can be cut into slabs or tiles of desired sizes and is easy to install in outdoor spaces.
However, it is porous and absorbs any spills of water or other fluids.
Types
The most famous type of grey quartzite quarried in India is the Jaipur Grey Quartzite, Monsoon Black Quartzite, Smoke Grey Quartzite, Metal Grey Quartzite, Deep Mist Quartzite, Silver Shadow Quartzite, Himalaya Grey Quartzite, Khandla Grey Quartzite, and Silvershine Quartzite.
Maintenance
Normal cleaning exercise is required without the use of strong chemicals. Stubborn stains on grey quartzite can be treated with a combination of baking soda and water.
Price
Price of Grey Quartzite ranges between ₹80-₹180/sq. ft.
---
9. Kadappah
Kadappah or 'Kadapa' is a natural stone that derives its name from an ancient town of Andhra Pradesh. A beautiful black stone it is known for its rich dark color and robust character. Because of its color, it is more commonly called Black Limestone.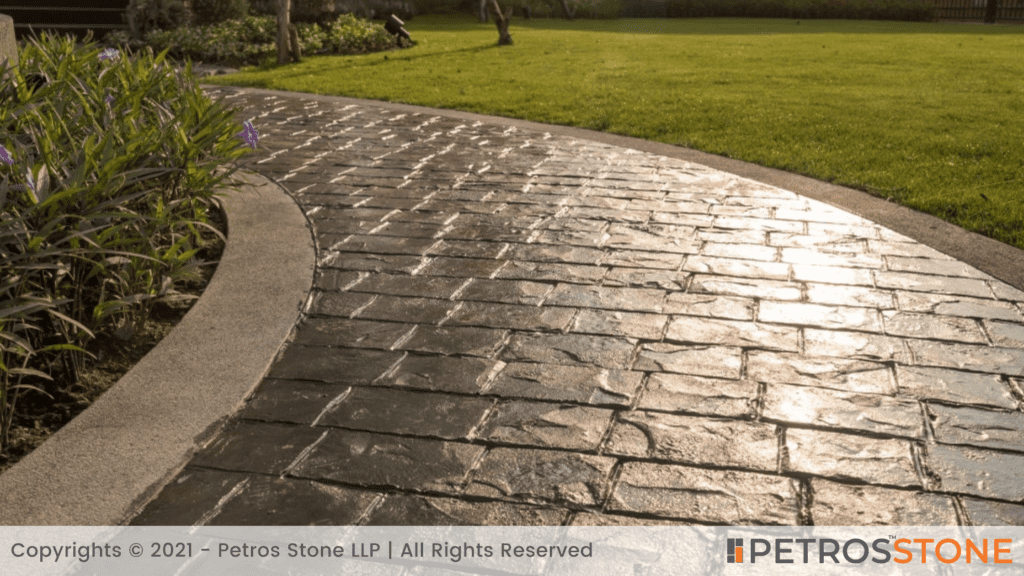 ---
Features
Kadappah is a very hard and non-porous stone that demands minimal maintenance and can last long.
It is highly suitable for outdoor areas as it can withstand high traffic, rough weather conditions and is water-resistant.
Besides flooring, it is widely used in wall claddings, kitchen cabinets, and paving driveways and walkways.
Compact in structure and intense in color, it is an instant eye-catcher and makes great exteriors of your house.
Types
Kadappah stone though naturally beautiful is available in various finishes in the Indian market. You can pick from natural, honed, polished, or brushed surfaces to suit your needs.
Maintenance
Like most natural stones, Kadappah is also easy to maintain and needs an occasional sealant to make it anti-slippery and resistant-free. To revive their fresh look and shine, they can be polished from time to time.
Price
A very economical option that gives you the chance to pose a luxury appearance at the most economical price. The price range of Kadappah stones ranges between ₹35 – ₹55 per square foot.
---
10. Sandstone
For beach and sand lovers, sandstone gives you the perfect natural floor covering. With its earthy shades of gold, reds, tans, and browns it escalates the aesthetic appeal of your exteriors with strong roots in your earthy choice. Originating naturally every aspect of sandstone is pure, virgin, and organic. A true masterpiece of mother earth, each slab of sandstone that is quarried from the mines is unique with a special design, pattern, and color and is least likely to be replicated by nature itself.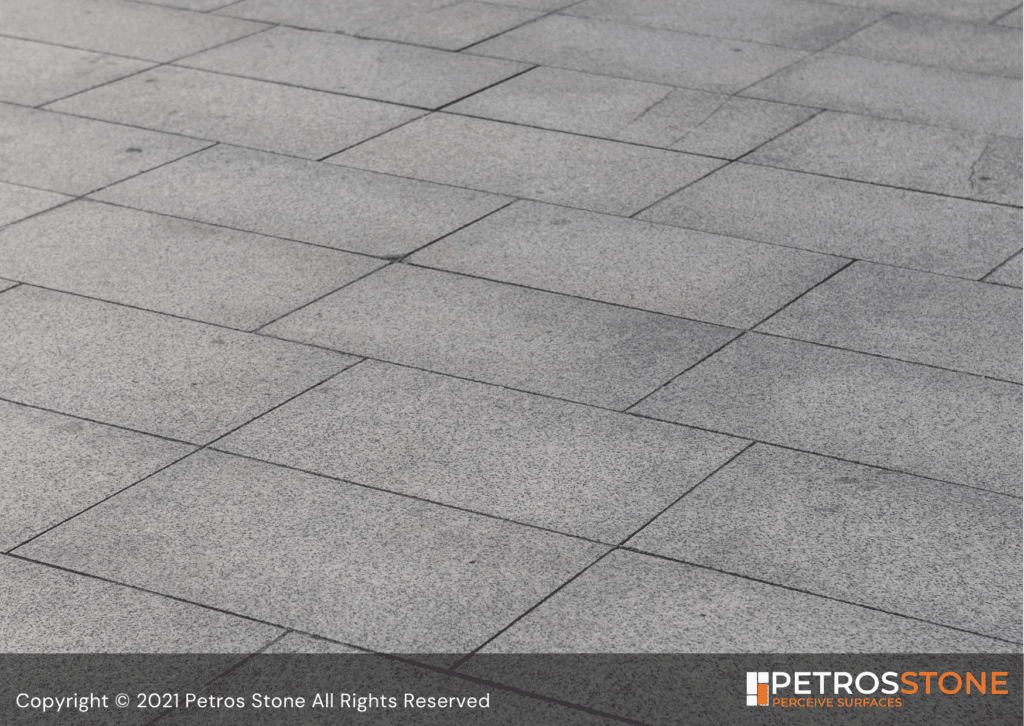 ---
Features
Obtained naturally from the mountains, each piece of sandstone is rough and unstructured. It is then subject to commercial processing called 'gauging' where it is leveled out and the surface honed to make it suitable for floorings and interiors. It is given a decent polish and glistening effect.
In terms of durability and hardness, it gives tough competition to both granite and slate.
However, the downside of sandstone is that it is slightly porous owing to its origin of been a soft rock and is prone to stains and spills.
Scratches and dents also easily show up on sandstone and therefore needs to be carefully dealt with.
Types
Sandstone is easily available and much liked natural stone in India. A wide variety of the stone can be obtained in the country to name a few- White Mint, Modak, Agra Red, Rainbow Sandstone, Dholpur, Beige, Lalitpur Pink, Mandana Red, Jodhpur Pink, and Jaislamer Yellow.
Maintenance
Sandstone floorings are best maintained with gentle cleaning using neutral cleaners and not harsh chemicals. They may be re-honed and re-polished after certain years to restore their grace and beauty.
Price
Slabs of sandstone can be obtained in the price range starting from ₹64/- up to ₹220/- per square foot.
---
11. White Marble
The most loved choice in outdoor flooring is perhaps white pristine marble that accentuates any space and adds grandeur and nobleness to it. Radiating like a mirror-like reflection the legacy and supremacy of marble can never be undermined. From ancient Mughals to present-day elites, marble rules the world of flooring-both interior and exterior.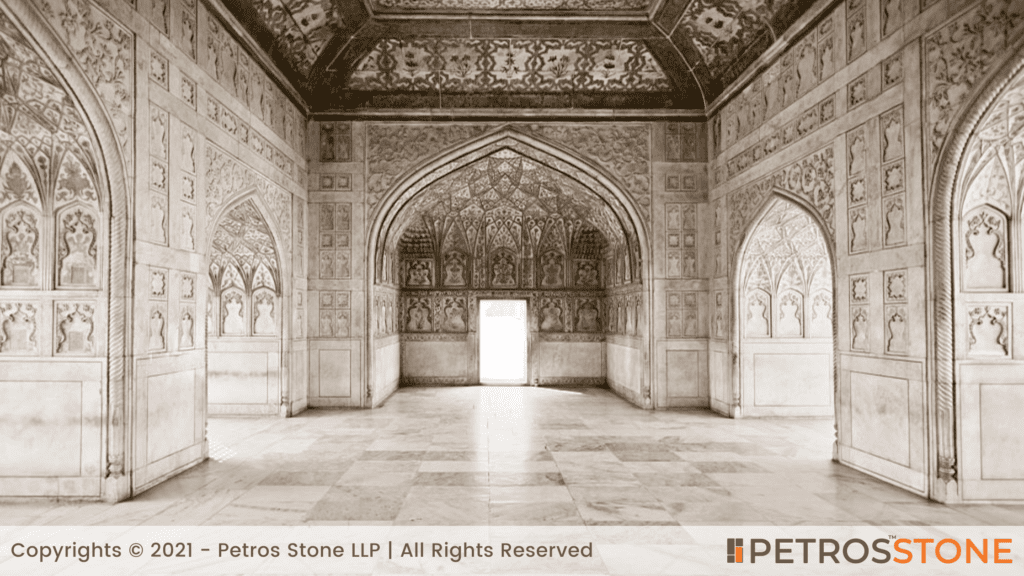 ---
Features
Marble is a hard dense stone with beautiful veins and patterns that are unique to each piece.
It is porous and allows liquid to seep through thus susceptible to stains.
The biggest outstanding feature of this natural stone is its climate compatibility. It does not conduct heat, thus remaining cool despite soaring temperatures.
Naturally fire-resistant, marble is a hard, durable stone that can last for ages and add value to your property.
Types
While white marble is the most preferred choice in terms of color, other shades of marble that are gaining traction are yellow, pink, black, brown, and green marbles. Each has a distinct character and charm that instantly adds value to the space where they are used.
Maintenance
Marbles are prone to stains, therefore should be handled carefully. It reacts to acidic solutions that should be completely avoided on its surface, lest can lead to alteration in its color and composition. Simple sweeping and mopping with a gentle cleaner help to maintain its luster for a long.
Price
With a strong history of royalty, marble demands a decent price. Indian marble can be obtained from a starting price of ₹55/- per square feet while its Italian counterpart can cost you around ₹150/- to ₹6,000/sq. ft.
---
12. Black Marble
Black marble gives the perfect combination of elegance, style, and intensity to your outdoor spaces. Formed from the deposits of various geological stages, black marble is unique and gets its impeccable color from the sediments that get deposited with abundant organic matter and carbonate all under extreme anoxic conditions.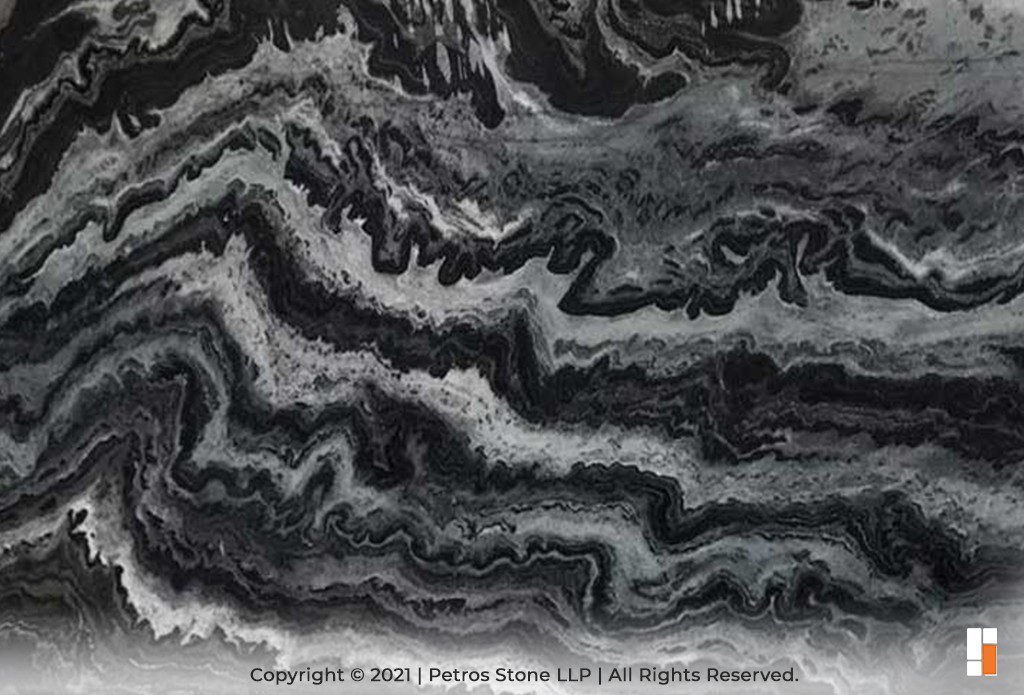 ---
Features
With its sophisticated and stunning looks, black marble on your exterior floors can never go unnoticed.
The presence of calcite in this variety of marble makes it highly durable and strong.
It absorbs less water and fluids as compared to its white counterpart.
It can withstand extreme weather conditions for a long time.
With a touch of luxury, it adds warmth to the place where it is laid.
Types
Internationally black marble is available in a wide variety, while in India the most preferred types are Grey Carrara Marble, Indian Black Marble, and the Indian Black Marquino Marble.
Maintenance
Not much maintenance is needed for black marble considering its dark color that hides dust, dirt, and fine particles. A bit of regular cleaning exercise like sweeping and mopping does well to keep it clean.
Price
The price of Indian Black Marble ranges anywhere between ₹75/- to ₹200/- per square foot.
---
13. Slate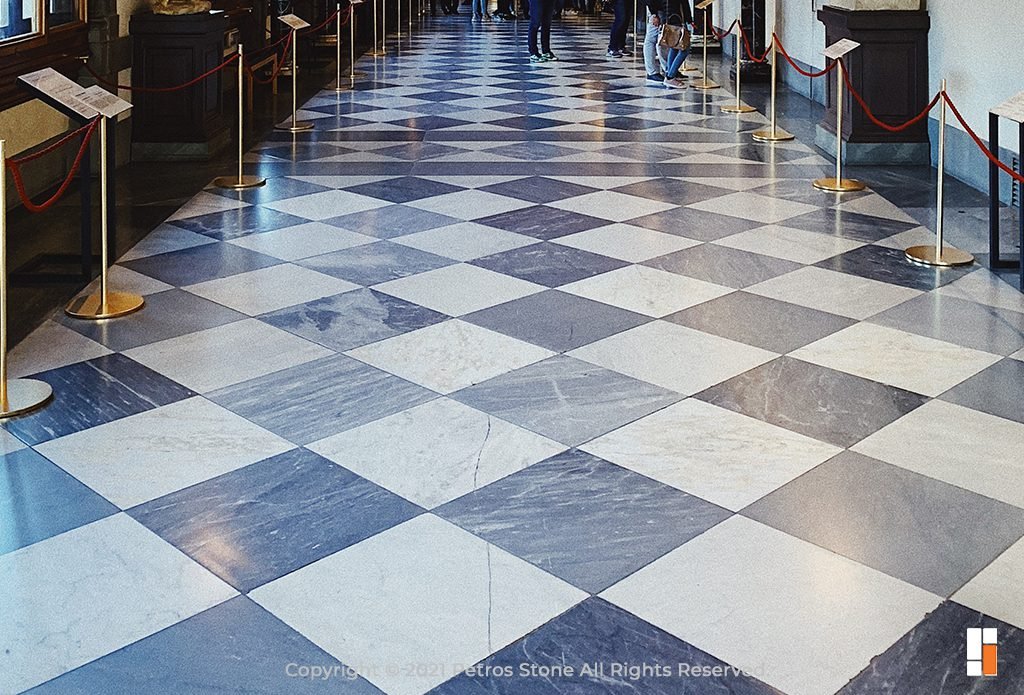 ---
A naturally occurring beautiful metamorphic rock that is formed by the deposition of layers of shale and under high temperature and movement pressure. Essentially slate is composed of fine particles of quartz, mica, and various other minerals found in the earth's crust. It is one of the most loved choices for outdoor floorings because of its less absorbent nature.
Features
Slate is characterized by layers that are created during its natural formation.
It is one of the hardest natural stones and is extremely durable and long-lasting.
Available in a wide spectrum of colors, it can add life to your outdoor space instantly.
Its natural layers allow it to be split or cut easily, making it easy to commercially process and transport.
Types
Available in beautiful natural colors like gray, green, orange, brown, and tan. Some of the texture finishes that can be achieved with slate include natural cleft, polished, tumbled, and honed.
Maintenance
Use a pH-neutral cleanser to clean slate flooring. Simple rinsing with clean water also works effectively to keep it clean and dirt-free.
Price
Standard slate stone slabs of thickness 10-15 mm are available from a starting price of ₹45/- per square foot.
---
14. Travertine
A variety of limestone has been subject to various chemical reactions over time. Available in earth tone colors, its texture resembles marbles but has a distinct character, unlike any other natural stone. Major resources of travertine are mainly found in the mountains of Italy, Turkey, and Iran.
---
Features
A hugely heavy stone, travertine is porous therefore needs a good sealant to make it waterproof.
With its unique designs, patterns, and earthy colors it brings the ecstasy of the mountains to your outdoor spaces.
Usually available in tile forms, each piece is a work of nature and stands out with its character and personality
Types
Available in a soft color palette of earthy shades you can choose from tans and beiges, grays, and off-white hues. Polished and honed finishes are most preferred in terms of texture.
Maintenance
Travertine is a hard material but prone to spills therefore needs careful cleaning and occasional sealing. Routine sweeping and mopping keep it clean. It is also subject to scratches and cracks but since it is available in tile form, the damaged tiles can be replaced with new ones easily.
Price
Travertine can cost anywhere between ₹89/- to ₹217/- per square foot.
---
15. Kerb Stone
Kerb Stones are most popularly used for paving streets, walkways, and driveways. It is a hard stone that can be used both commercially as well as in residential areas. Best suited for large landscaping areas, kerbstones add elegance to your outdoor place.
---
Features
Kerb Stones are ideal for roads and streets as well as aisles that walk down to your home entrance.
It is also used effectively to direct rainwater in gardens and lawns.
This natural stone offers optimum strength and is a high-grade natural stone that is extremely long-lasting.
It can withstand high traffic and is easy to install.
Types
It comes in different shapes though vertical rounded shapes are most preferred with different forms of cut like narrow dropped curb cuts and wider curb cuts.
Maintenance
Kerbstones are low-maintenance natural stones that can be cleaned by a simple sweeping and mopping exercise.
Price
Kerb Stone paver blocks can be obtained at a starting price of ₹220/- per piece.
---
16. Kota Stone
A limestone variety of natural stone sourced originally from Kota, Rajasthan, Kota Stone is fine-grained, visually attractive, and comes in various earthy shades. With a rustic appearance, it is a good choice for outdoor floorings because of its anti-skidding, water-proof and non-porous qualities. It makes an ideal flooring option for staircase, patio, corridors, pathways, balconies, and courtyards.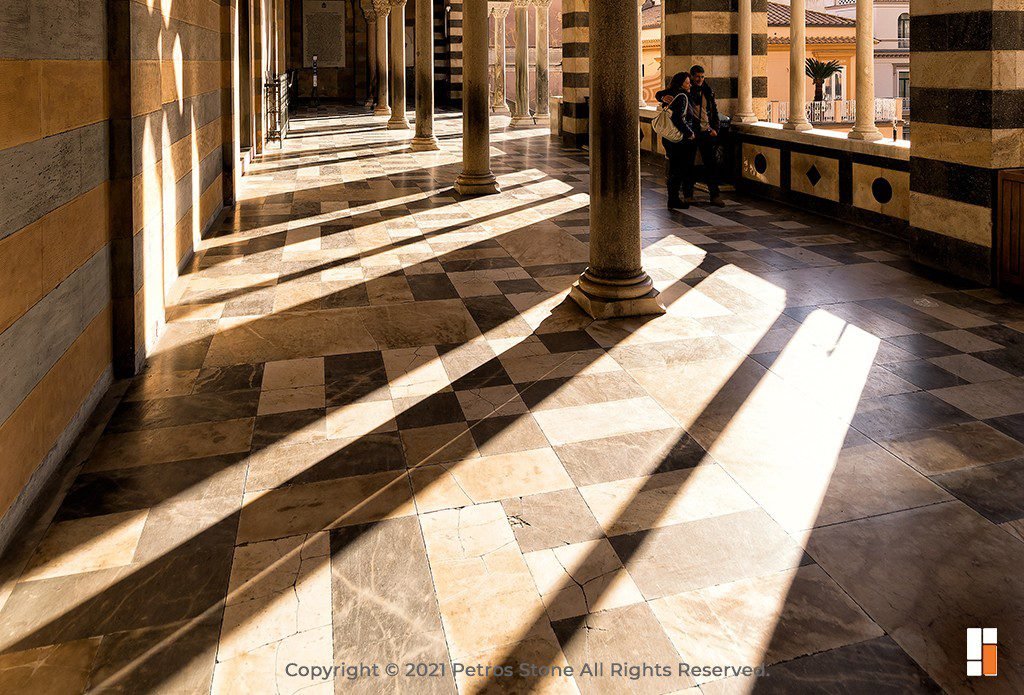 ---
Features
A homogeneous natural stone that is hard, compact, and finely grained.
It is considered eco-friendly as it is bio-degradable and works well for nature-lovers.
With a nice smooth and shine it looks decent though it does not match up with the sophistication of granite and marble.
Since it reflects heat, it is a cool option for those living in warm and humid areas.
Types
Kota Stone comes in varied finishes like one-sided honed, both-sides honed, machine cut, hand-cut, mirror-finished, polished, and calibrated. In terms of colors, you can choose from black, pink, grey, greenish-blue, shades of brown, and beige.
Maintenance
As a non-porous natural stone, it is hygienic and does not collect dust easily, therefore, requiring nominal maintenance.
Price
One of the most affordable natural stone flooring options in India. The range starts from a token price of ₹35/- to ₹115/- per square foot.
---
17. Basalt
Originating from volcanoes, Basalt has a history that spans centuries. With a neutral color and character, it does not alter with acidic reactions and is best suited in high-traffic areas like kitchens, bathrooms, and outdoor spaces. Its hardness is nothing less compared to granite and emerges as one of the strongest natural stones.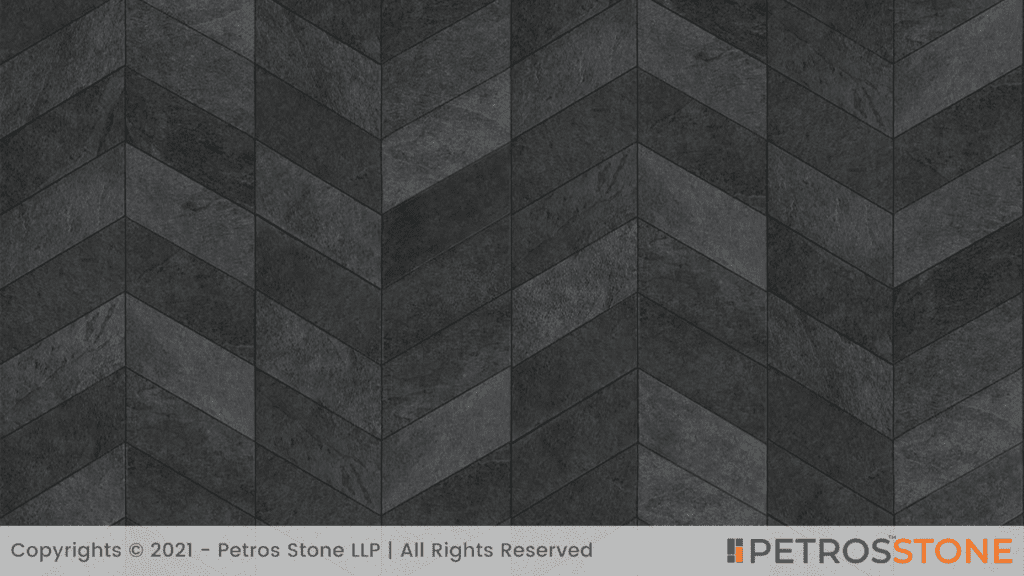 ---
Features
As an igneous rock, it is dark in color, low in silica and rich in iron and magnesium contents.
They are usually fine-grained and compact in appearance.
Composed mainly of minerals it does not weather easily even under harsh conditions.
It is hugely composed of Magnetite that forms the bulk of the natural stone.
Types
Basalt stone is generally uniform in color and comes in different finishes like bush-hammered, honed, and polished.
Maintenance
Basalt tiles and stones are resilient that require low maintenance. Removing surface dirt and cleaning and wiping with water works well for it.
Price
Basalt slabs can be purchased for a price ranging anywhere between ₹60/- to ₹140/- per square feet depending upon its processing and finish.
---
18. Pebble Stone
Indian pebble stones can naturally make garden areas, lawns, and poolsides beautiful with their aesthetic appeal and creative landscaping possibilities. Made naturally by tumbling small pieces of stone, crafted by nature and carry a beauty that is unmatched with any commercially processed product. They are versatile and work brilliantly to bring out the beauty of your garden and lawn areas.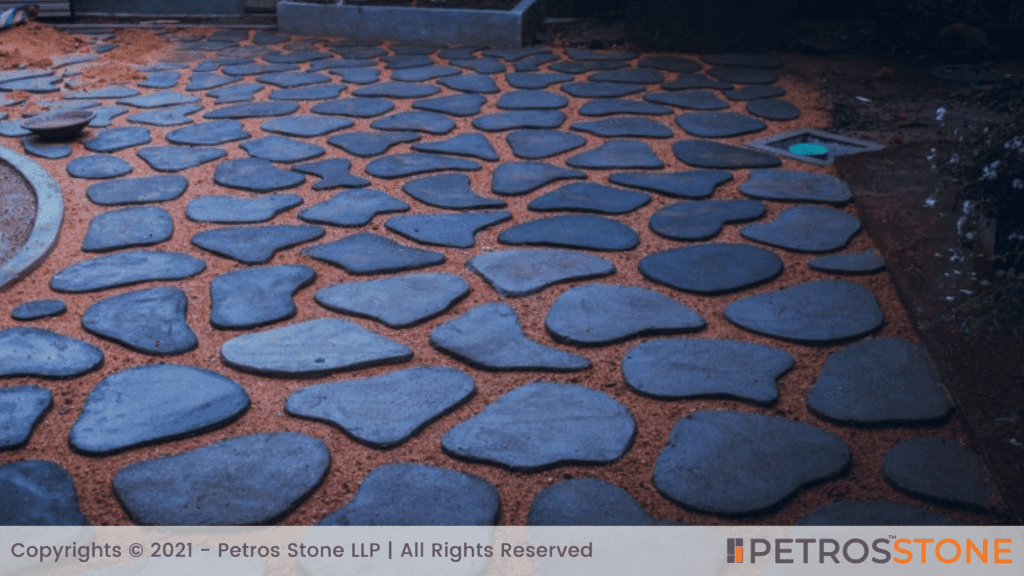 ---
Features
Pebble stones are small stones that are mainly used for decorating driveways, pathways, and garden areas because of their high aesthetic appeal.
Extremely low-maintenance natural stones can fit well in any landscape accentuating their value and charm.
They are available in different sizes and colors.
Types
The two most common varieties of pebble stones are natural pebble stones and tumbled pebbles. They are available in both dry and wet finishes and the tumbling process adds shine and smoothness to their texture. Sizes vary from 1 inch to 3 inches. Color variations include red pebbles, rainbow pebbles, chocolate pebbles, beige pebbles, pink pebbles, black pebbles, and the much sought colored river pebbles.
Maintenance
Practically need no maintenance and is extremely eco-friendly.
Price
A pebble stone flooring of thickness 15-20 mm can cost somewhere around ₹15/kg and may range up to ₹50/kg for polished finishes.
---
19. Paving Stone
Natural stone pavers add an old-world charm to your exterior space with their timeless elegance. Circular paving stone islands amidst a garden or paving roadways leading to your door are all creatively satisfying and artistically rich.
Features
Paving stones are rustic, inherently natural, and earthy.
They add harmony to your place and create a masterpiece that stands out in your outdoors.
hey come in different designs and shapes offering architects ample space to showcase their creativity using these stones.
They appear as tiles or brick-like pieces that are laid to create visually appealing designs or straight ways.
Types
The most common types of paving stones used are flagstones and fieldstones. Other varieties include limestone pavers and travertine pavers both of which are relatively expensive.
Maintenance
Regular clean water wash is recommended with minimal use of cleaning agents.
Price
The price range starts from about ₹65/- per square foot.
---
20. Quartzite Flagstones
Quartzite Flagstone is a sedimentary rock that is split into layers and is generally flat in shape. It can be cut in rectangular or square shapes to pave outdoor walkways, paths, facades, patios, and grounds.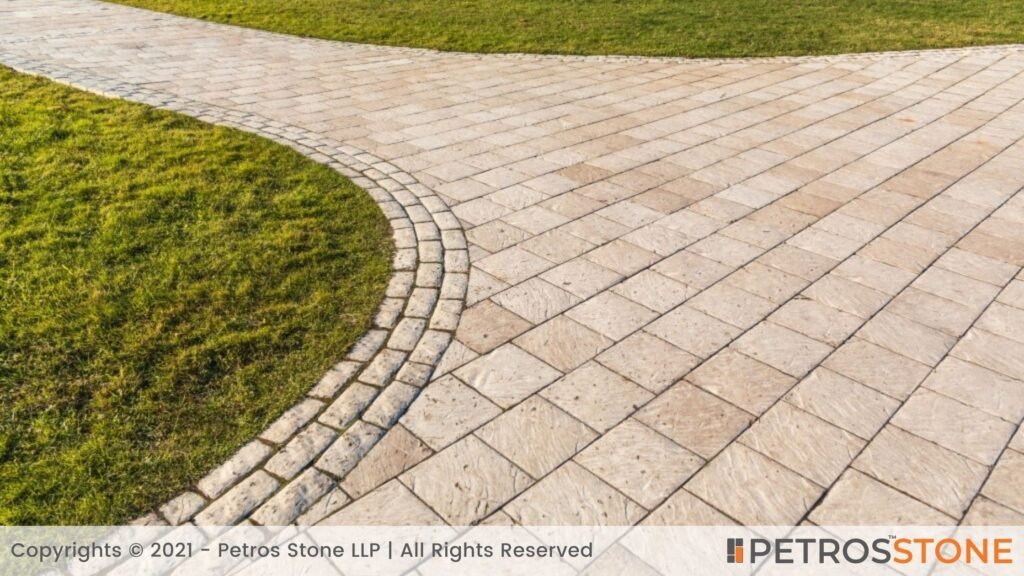 ---
Features
Essentially a sandstone, it is composed of minerals like quartz, feldspar and reflects fine grains.
The major binding material in flagstones is silica, calcite and iron oxide.
Available in exotic colors, it is quarried from places that boast of bedded sedimentary rocks.
Types
The color of flagstones is imparted from its cementing material and is usually available in shades of red, blue, and buff. In terms of size, two popular varieties are 'patio' usually 12-18 inches, and are used for stepping stones because of their small size. The larger type is 'stand up' that comes in sizes 18-36 inches.
Maintenance
It is best to sweep the flagstone area and clean it with a stone cleaner once in a while.
Price
Flagstones with a standard thickness of 25-35mm are priced at around ₹70-₹180/square feet.
---
How to select the best one for your Project?
With multiple options discussed above, choosing the right natural stone flooring option can be both easy and tricky. With the above article it will be very easy to select a few options based on your taste of style and practicality.
For further assistance on choosing the right stone for your outdoor floors, feel free to get a free personalized consultation with us at +91-8446360361 or [email protected]
---