Italian marble is an epitome of luxury and elegance. That said, choosing the best Italian marble for the flooring can be tricky, especially with so many options. Hence, we list down a comprehensive list of the best Italian marbles that can easily be found in India. These marbles are selected with flooring in mind but can definately be used for manny other applications.
As each kind of marble has its distinct hue and veining. Each kind of marble induces a different ambience in the home. Matching the right kind of marble with price, colour and the rest of the decor is imperative.
Here is a curated list of 20 Best Italian Marbles for Flooring in India with Price :
| | | |
| --- | --- | --- |
| Sr. No. | Italian Marble | Price Range |
| 1 | Calacatta Venato | ₹525/sqft – ₹3200/sqft |
| 2 | Oro Calacatta | ₹865/sqft – ₹6200/sqft |
| 3 | Carrara | ₹365/sqft – ₹1100/sqft |
| 4 | Grigio Carrara | ₹365/sqft – ₹1050/sqft |
| 5 | Bianco Marfil | ₹215/sqft – ₹450/sqft |
| 6 | Equator White | ₹195/sqft – ₹460/sqft |
| 7 | Giallo Siena | ₹195/sqft – ₹410/sqft |
| 8 | Golden Spider | ₹295/sqft – ₹710/sqft |
| 9 | Grey Vin | ₹215/sqft – ₹510/sqft |
| 10 | Lasa White | ₹265/sqft – ₹530/sqft |
| 11 | Black Lava | ₹225/sqft – ₹580/sqft |
| 12 | Lilac | ₹325/sqft – ₹980/sqft |
| 13 | Michelangelo | ₹225/sqft – ₹480/sqft |
| 14 | Palissandro | ₹185/sqft – ₹680/sqft |
| 15 | Pearl White | ₹185/sqft – ₹1680/sqft |
| 16 | Bermingham Carrara | ₹485/sqft – ₹1680/sqft |
| 17 | Vin White | ₹285/sqft – ₹1520/sqft |
| 18 | Calacatta Borghini | ₹1285/sqft – ₹8520/sqft |
| 19 | Statuario Venatino | ₹1285/sqft – ₹8520/sqft |
| 20 | Statuario | ₹785/sqft – ₹8120/sqft |
Best Italian Marble for Flooring with Prices
---
1. Calacatta Venato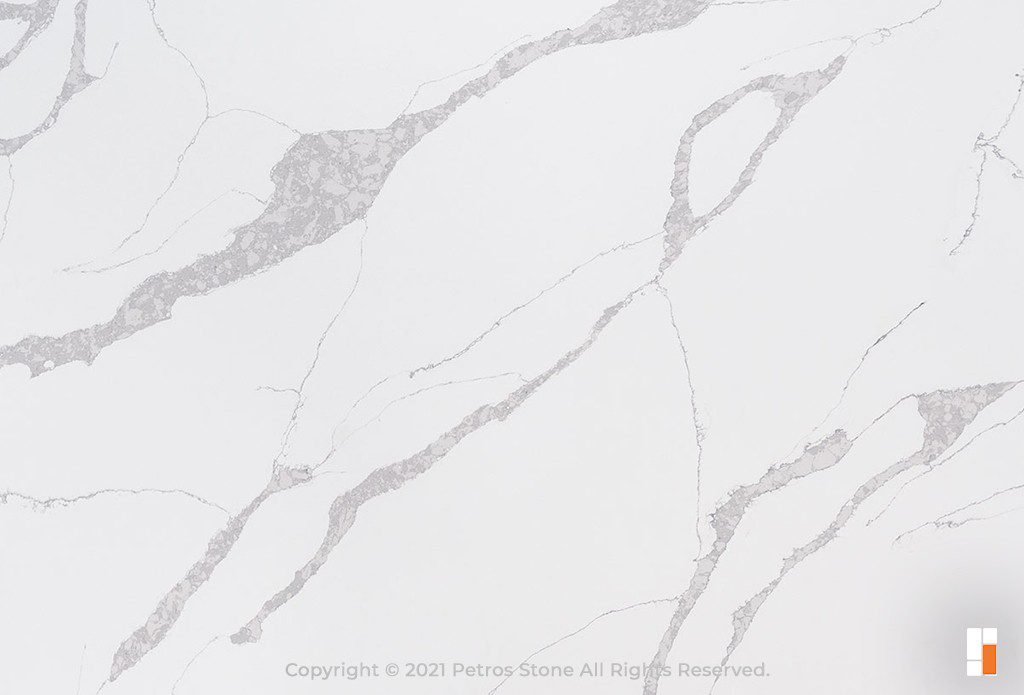 Origin and Importance
Calacatta Marble, first brought to us by Michelangelo, is the most luxurious Italian marble – a stunning, premium natural stone sought for its unique appearance and scarcity in a spectrum of uses.
Calacatta marble has a beautiful, dramatic gold and grey veining on a pristine white backdrop. It stands out due to its strong, dramatic structure. Because of its calming white backdrop, veining, and colour tone, the hue has a worldwide appeal among designers and architects.
As the backdrop becomes whiter, the marble is rendered more expensive and precious. Calacatta's tones are neutral and may be readily matched with dark or light woods or other materials to emphasise or minimise architectural features.
These stones may seem to the inexperienced eye to be the same kind of white marble. Conflict is compounded by the fact that calacatta is quarried in Carrara, Italy.
Uses
Calacatta Marble is a premium stone, therefore it is often used in highly prominent places. Calacatta Marble flooring is popular in corporate entrances. 
Calacatta Quartz slabs, on the other hand, are suggested for a range of interior applications where elegance is required, including kitchen worktops and backsplashes.
Calacatta marble worktops may be seen in both corporate boardrooms and modern designer houses.
Price of Calacatta Venato Marble: ₹525/sqft – ₹3200/sqft
---
2. Oro Calacatta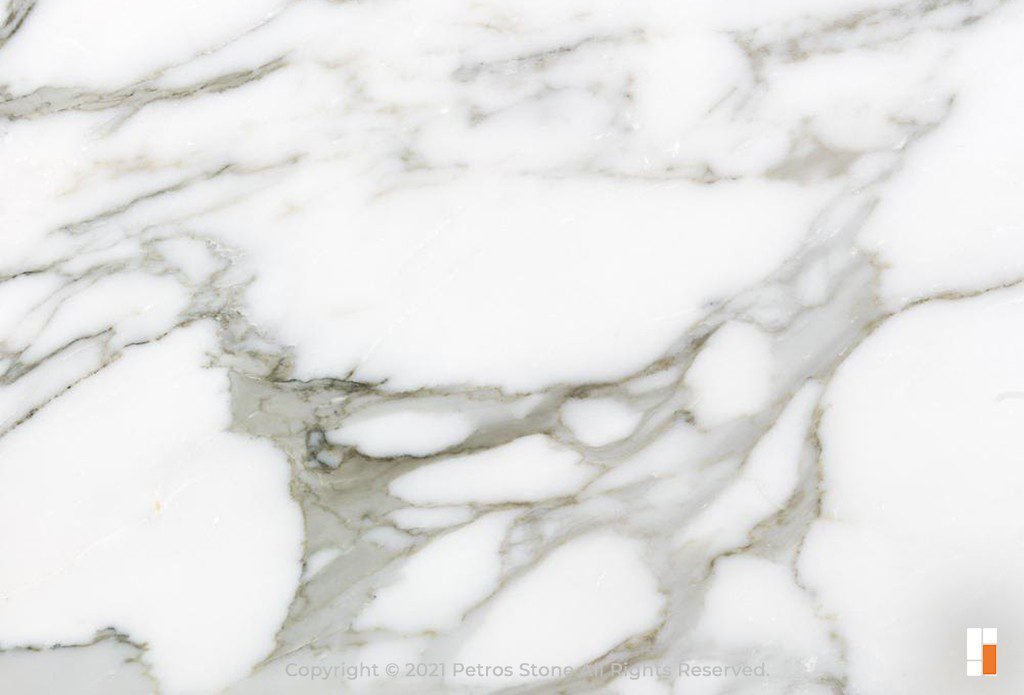 It features noticeable veins that range from gold through hues of brown, green, and grey, and its colour is ivory/butter. The vein pattern differs across the slabs, so sections with prominent veining, many with vast expanses of white may be seen, producing a unique cobblestone-like pattern
Origin and Importance
This natural stone originates from Carrara, Italy's Apuan mountains, where there are many quarries..
Types of Calacatta Marble
There are five different kinds of Calacatta marble slabs in the market to select from for your home or commercial renovation project. You may use one kind of Calacatta marble for all of your home's uses or mix and match various Calacatta marbles.
Five kinds of Calacatta Marble are:
Calacatta Gold
Calacatta Borghini
Calacatta Michelangelo
Calacatta Extra Marble
Calacatta Oro Marble
Uses
Due to its offbeat appearance, uniqueness, and multifaceted applications, a large portion of the luxury home owners choose Calacatta marble slab for their kitchen and bathroom upgrades.
Because of its cobblestone-like pattern, it is also often used in the manufacture of tables and bathroom cladding.
Price of Calacatta Oro Marble: ₹865/sqft – ₹6200/sqft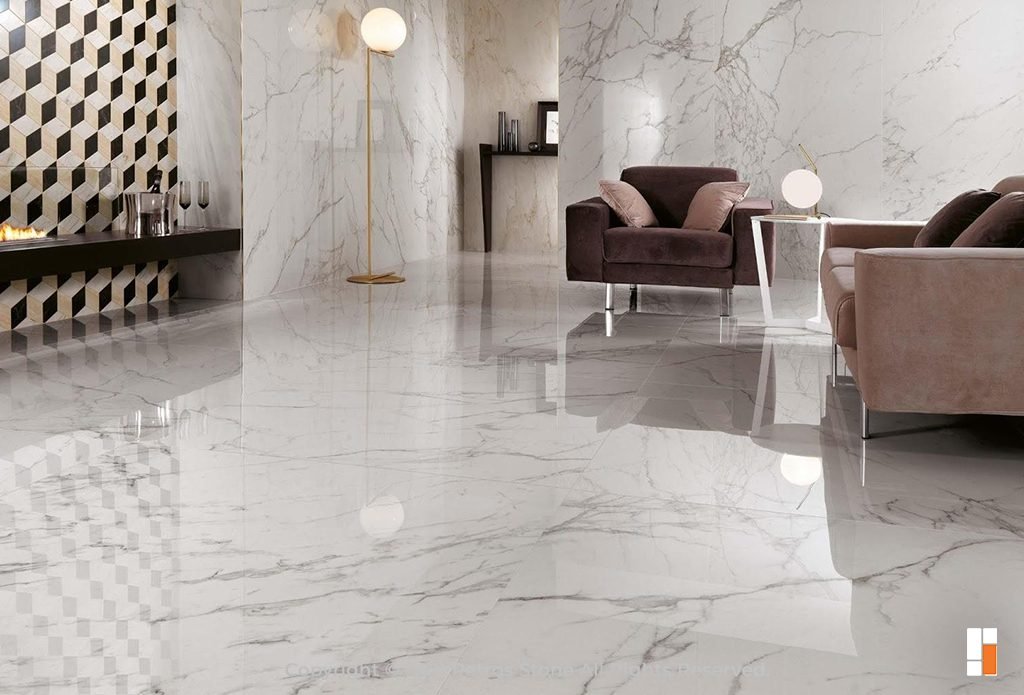 ---
3. Carrara
Carrara marble, with its primary white or white-grey hue and veining ranging from blue-gray to charcoal grey, transforms a plain space into a piece of beauty.
Origin and Importance
This beautiful white stone mined in the quarries of Massa-Carrara in northern Tuscany was chosen by Michaelangelo for his statue of David. Since the days of ancient Rome, Carrara marble has been used extensively in art and architecture.
Uses
Carrara marble is used as flooring in hot areas because it exudes a coolness that keeps the internal temperature mild.
Carrara marble countertops are warmly beautiful and sophisticated, complementing most kitchen designs and working well with both light and dark cabinets.
The magnificence of this delicate stone is in the history it forms as it wears. It is always cool to the touch.
The use of marble in the bathroom, from the floor to the walls and fixtures, creates an opulent atmosphere.
If you're using Carrara to line the shower walls, choose your slabs carefully to create a striking veining arrangement from floor to ceiling.
Price of Carrara Marble: ₹365/sqft – ₹1100/sqft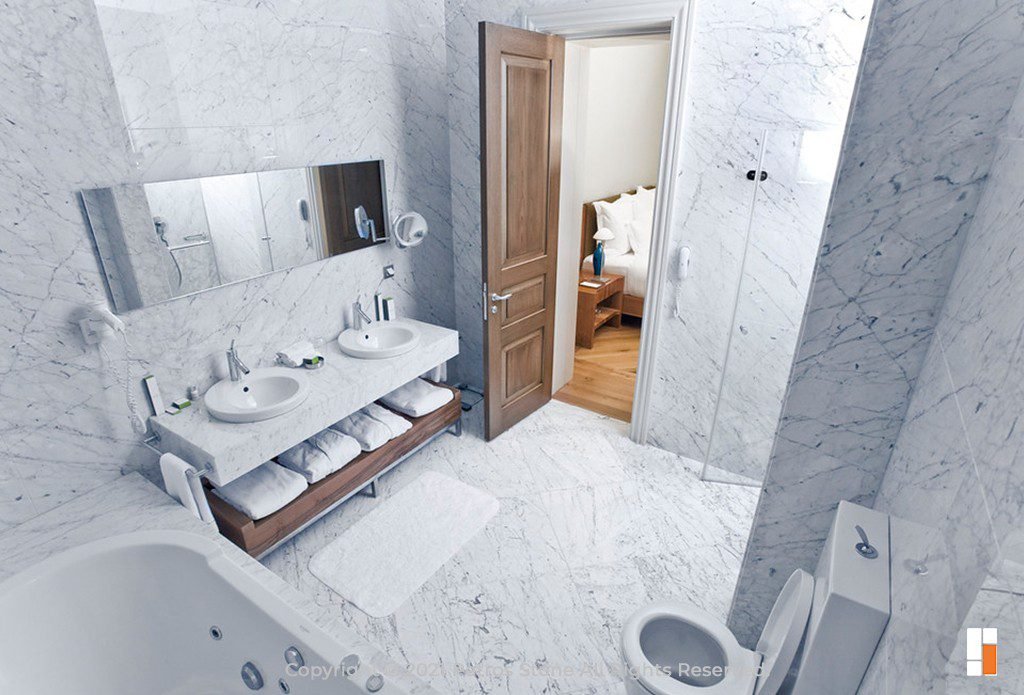 ---
4. Grigio Carrara
Appearance
Grigio Carrara, with its broad, delicate grey veins on a winter white backdrop, surpasses the beauty of real Carrara marble. The neutral colour scheme appeals to a wide range of people and complements a wide range of design styles, but more importantly, the striking pattern on this slab makes a big statement in any room.
Uses
Carrara Grigio Quartz features a warm white backdrop with delicate gold clouds and veins, evoking a practical elegant pattern that is guaranteed to catch the eye.
These gorgeous slabs are ideal for quartz countertops, kitchen islands, flooring, accent walls, showers, and more.
Price of Giogio Carrara Marble: ₹365/sqft – ₹1050/sqft
---
5. Bianco Marfil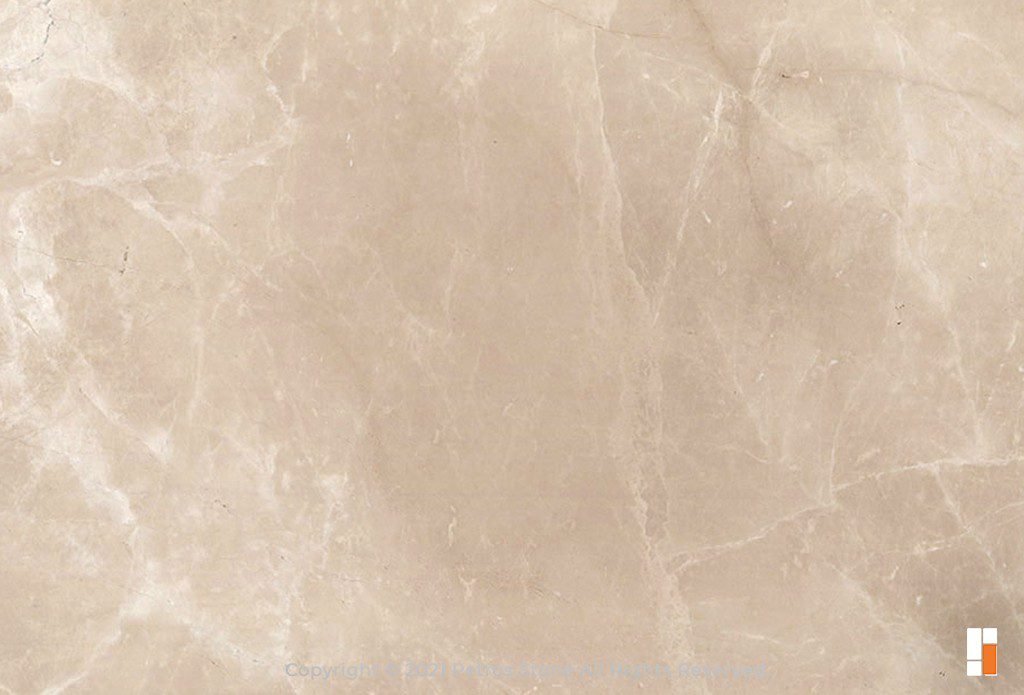 Origin and Importance
Bianco Marfil Marble is a beige marble mined in Turkey.
Uses
Bianco Marfil has been used for hundreds of years because of its versatility, which allows it to be adapted for furniture, bathrooms, vanities, and flooring.
It is mostly used to create exterior and interior floor and wall designs, as well as pools, staircases, windows, and other design features.
When utilised in a bathroom, bathtub, hearth, or staircase in polished or rougher form, it will turn the area into something elegant and far from anything conceivable.
Bianco Marfil has low porosity, it requires less care. Air and water can readily flow through it because of its low porosity and sturdiness.
It is extremely simple to maintain, and cleaning can be done with a mop, hot water, and a pH-neutral solution.
Do not use or try to avoid cleaning products that include acids or chemicals.
Price of Bianco Marfil Marble: ₹215/sqft – ₹450/sqft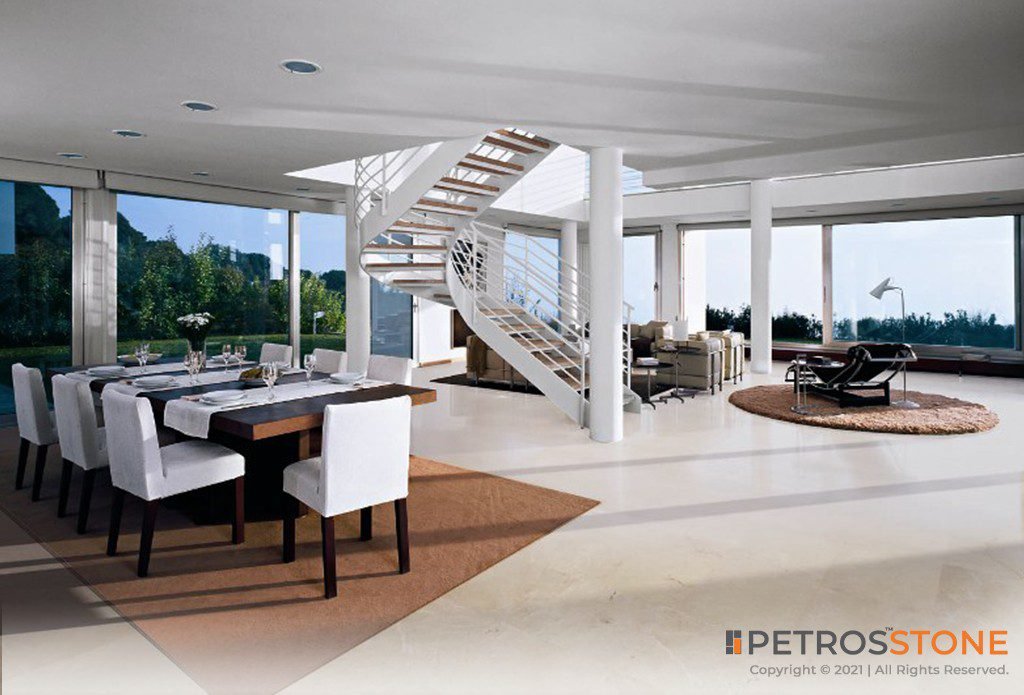 ---
6. Equator White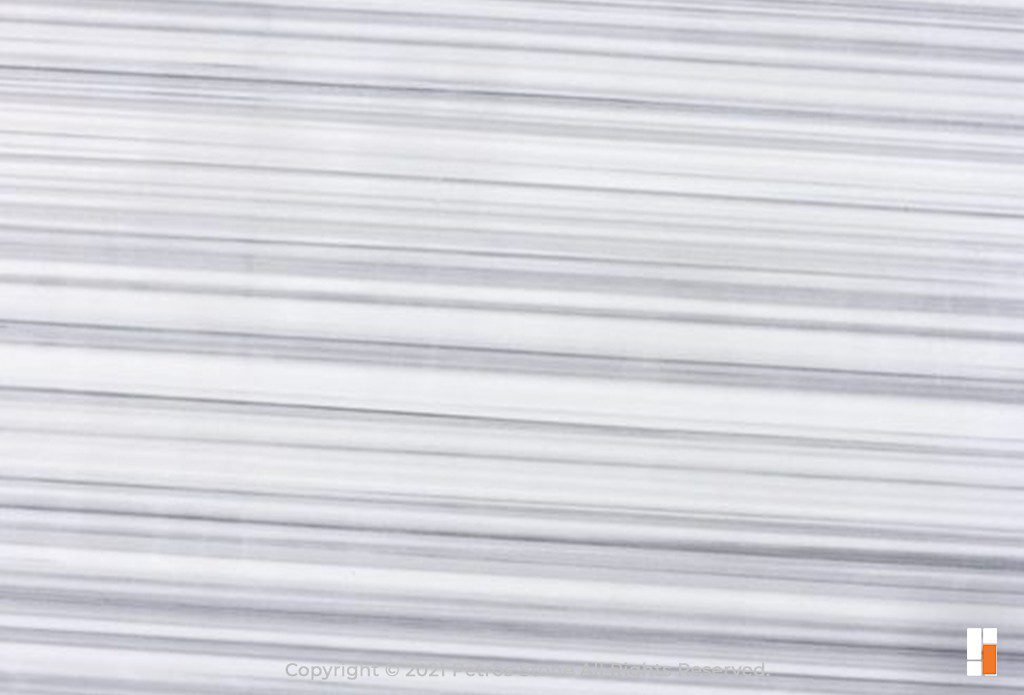 Appearance
Equator Marble is a white marble with a homogeneous backdrop and mild texture. It is known as one of the most well-known and stunning marbles, with horizontal gray/black veins running across its surface. These veins are what distinguishes this white marble from others.
Fluid, Panda White, Marmara White, Marmara Stone, Marmara Marble, and Marrora White Veincut Marble are some of the names given to it.
Origin and Importance
The Equator Marble, also known as Marmara White, is a well-known Turkish natural stone with a long history. "Marmara" is derived from the Turkish word "mermer," which implies "marble." It is mined in a few small to medium-sized quarries on the island of Marmara.
Uses
For ages, it has been widely used in monumental structures like mosques and hammams. It may be used to decorate both the inside and outside of a home.
It has the benefit of being able to be deployed in a variety of locations around your home, including the bathroom, kitchen, hallways, and living room, as well as in damp areas.
Price of Equator White Marble: ₹195/sqft – ₹460/sqft
---
7. Giallo Siena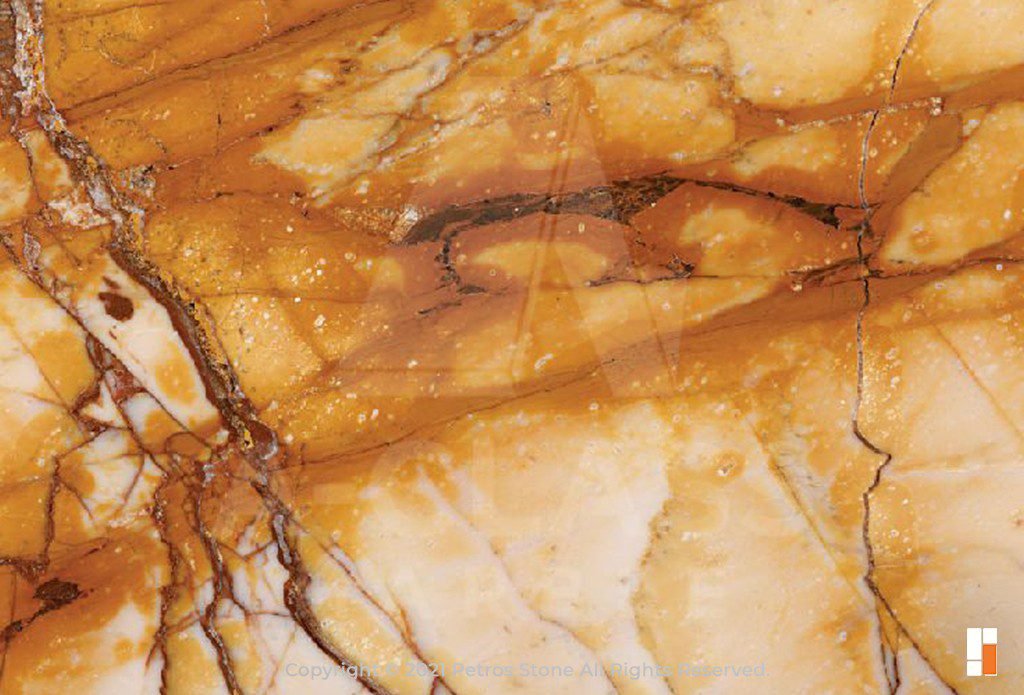 Appearance
Giallo Siena is an Italian marble that comes from the quarries of Siena. The Giallo Siena Marble takes pride of position among the hundreds of beautiful hues of Italian marble.
This stone is especially expensive due to its beauty as well as the difficulties in obtaining it. Its beauty, on the other hand, is well worth the effort, and it exalts for its rich yellow hue, which becomes heterogeneous owing to the existence of veins in colours ranging from ivory white to light yellow, up to yellow ocher and reddish.
Uses
Giallo Siena Marble is renowned for its beautiful texture, toughness, and elegant vein-cut pattern, as well as its practicality.
It may be used on floors, walls, stairwells, sinks, kitchens, external and interior destinations, and columns.
Giallo Siena is ideal for creating distinctive countertops since it comes in a variety of natural colours and patterns.
With either a high-glossy polish or a quiet but romantic satin honed finish, this stone may be beautiful to the eyes.
This marble may be found in abundance in the lovely Italian towns. One of the most remarkable pieces of evidence is the floor of Duomo of Siena.
Price of Giallo Sienna Marble: ₹195/sqft – ₹410/sqft
---
8. Golden Spider
Appearance
Golden Spider, a classy white marble from Greece with dramatic gold and taupe veining has a classic white backdrop. The veins of Greek golden spider marbles are dispersed over the whole surface.
There are three types of Golden Spider marble:
Red root on white backdrop;
Red root on cream beige background;
Yellow root on creamy beige background
Uses
The golden spider is a lovely and generous addition to any house, luxury hotel, or business or residential building.
This stone is ideal for mosaics, fountains, pools, countertops, wall capping, and other design projects on both the outside and inside.
It's also useful for backlit vertical walls, as well as floors and other decorations.
Price of Giallo Sienna Marble: ₹295/sqft – ₹710/sqft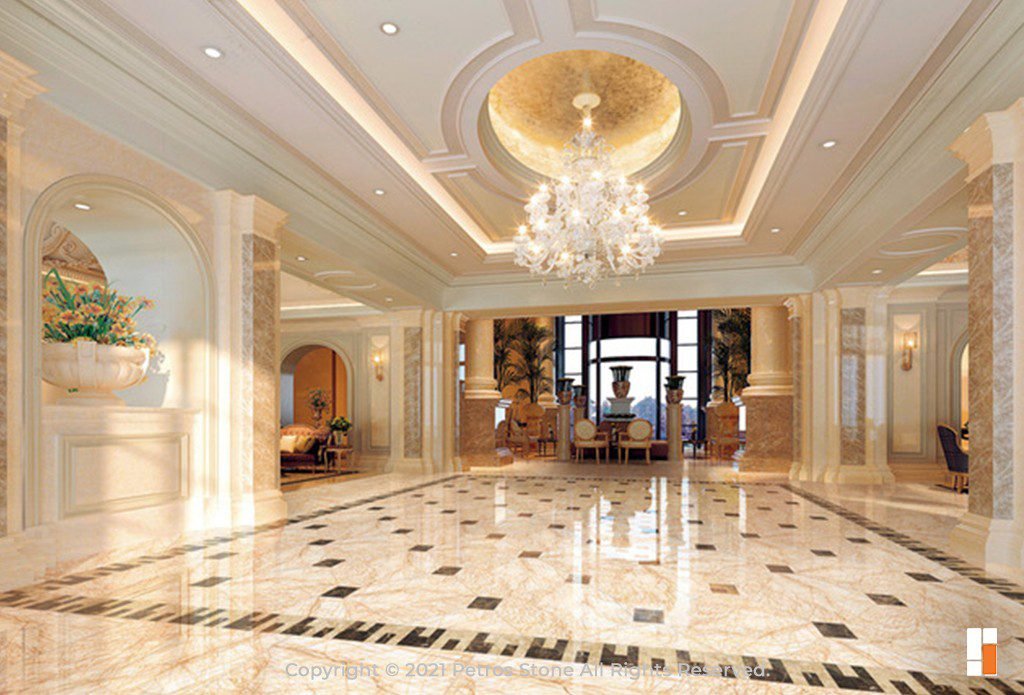 ---
9. Grey Vin
Appearance
This gorgeous Italian marble has a cool white and grey backdrop with beautiful dark grey veining across.
Uses
Grey Vin marble slabs are ideal for worktops, fountains, window sills, pool and wall capping, wall and floor applications, staircases, mosaic, and other design projects.
Grey Vinas Marble is another name for it.
This amazing stone would look great in any tub deck, powder room, kitchen, island, bar, fireplace, bathroom counter as well as a shower room.
Price of Grey Vin Marble: ₹215/sqft – ₹510/sqft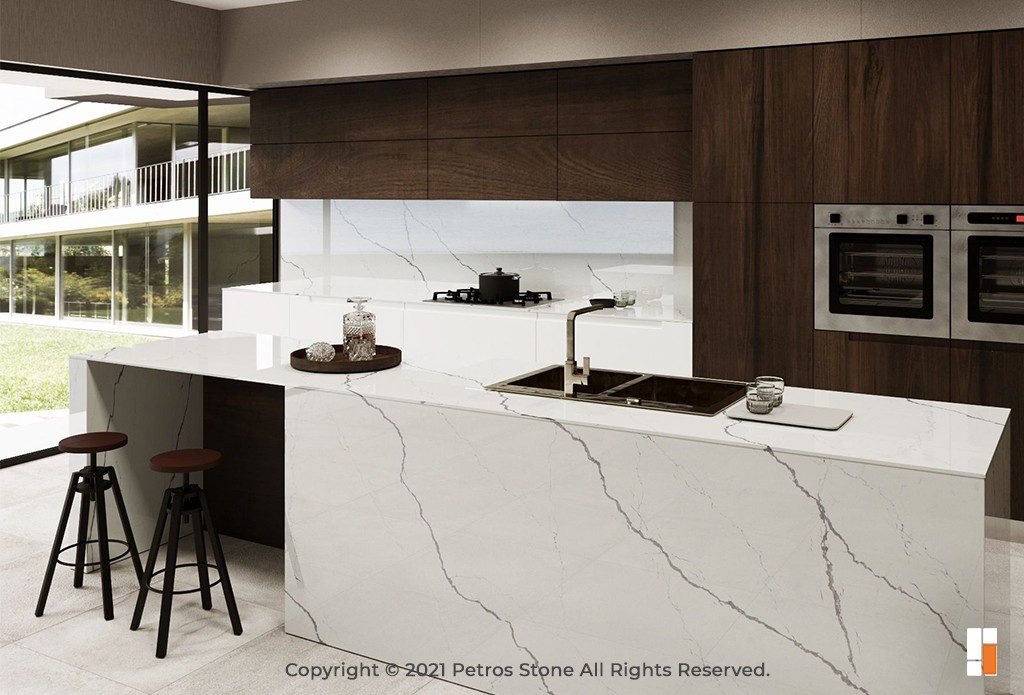 ---
10. Lasa White
Appearance
Bianco Lasa Marble Slab is a natural marble sourced from Italy's oldest quarry.
This marble has a beautiful white base that flows with light grey and brown veinings that are both straight and diagonal in nature.
Uses
The capacity of the Bianco Lasa marble to outfit vast interior areas with elegance is highly appreciated by architects and interior designers.
Bianco Lasa is used in remarkable walls, dividing walls, and artistic natural stone murals in large residential and luxury hotel buildings.
This marble is often seen in book-match arrangements.
Price of Lasa White Marble: ₹265/sqft – ₹530/sqft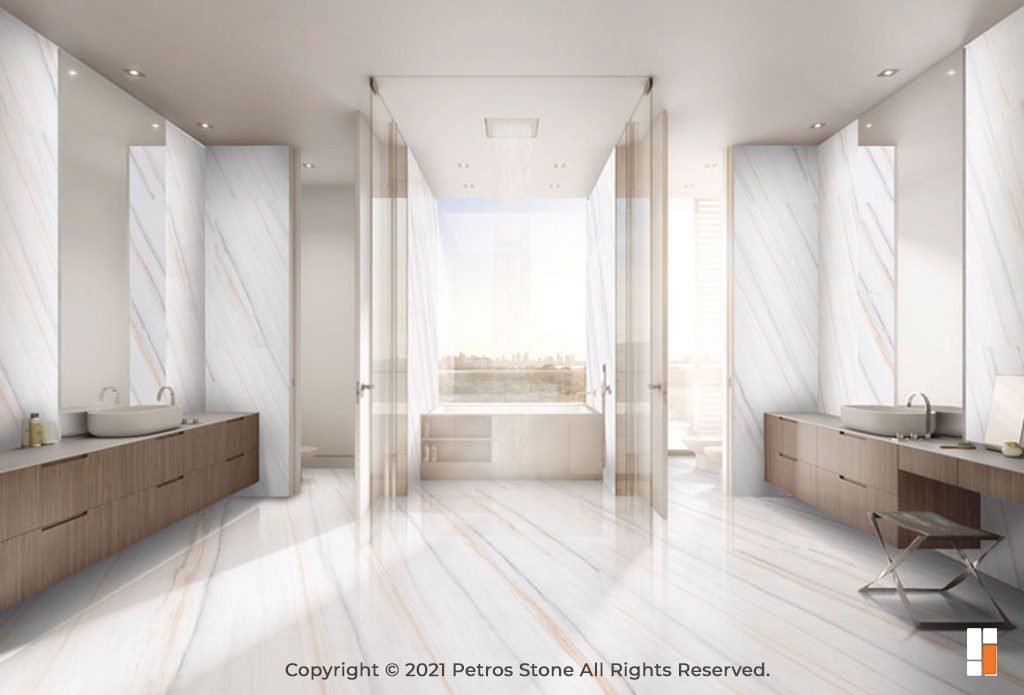 ---
11. Black Lava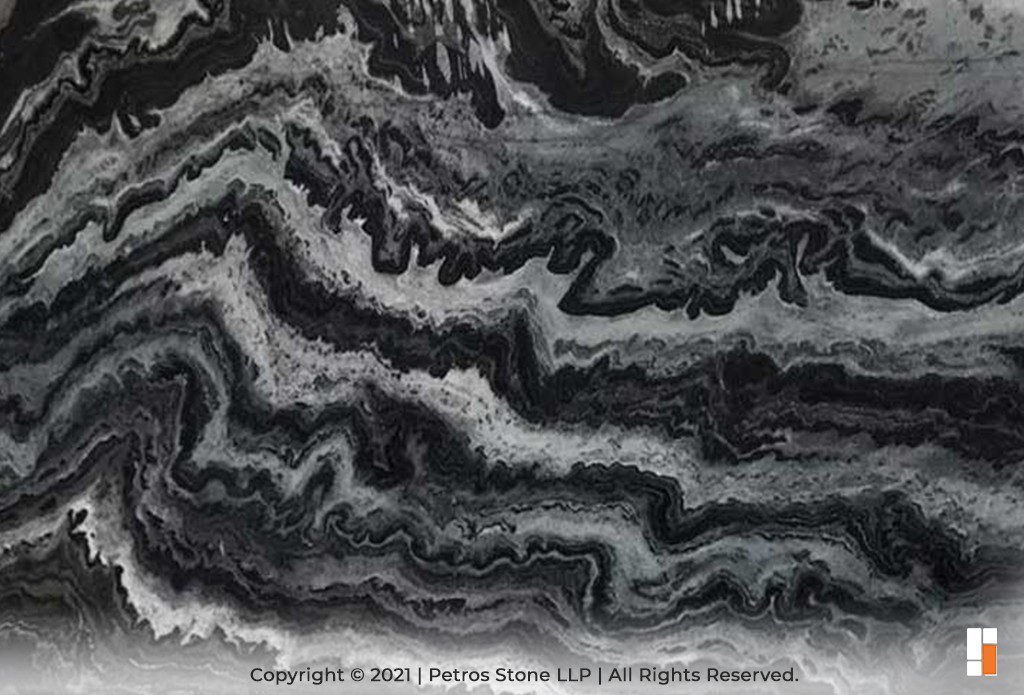 Appearance
Black lava marble has a attractive black/white waves that runs in an exotic manner throughout the slab.
Uses
Black Lava marble provides the ability to add a dark wall for visual impact.
This lovely marble may be used for countertops, cladding, marble handicrafts, swimming pool areas, monuments, fountains, mosaic, external – interior wall and floor applications, stairwells, and other design projects.
Black Lava Marble works well in both modern and traditional settings.
Price of Black Lava Marble: ₹225/sqft – ₹580/sqft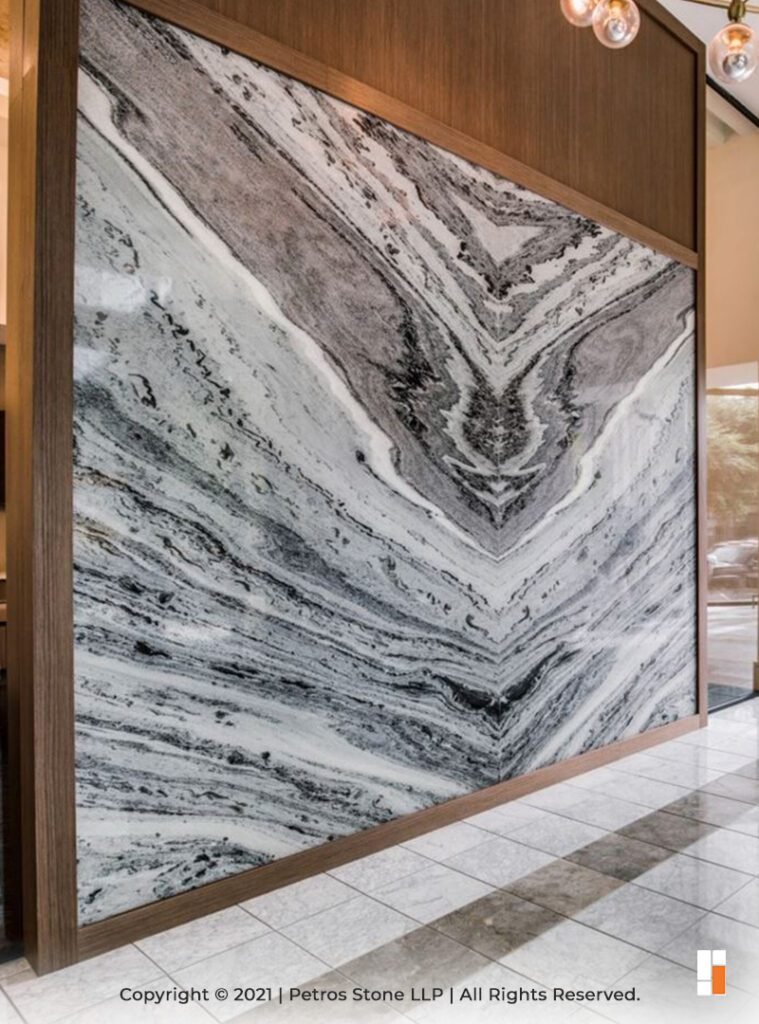 ---
12. Lilac
Appearance
Lilac is a calcite marble that is white. It has a foundation that is somewhat greyish-white. This marble's veins exhibit an arborescent pattern and mix tones ranging from black to violet.
The distinctive aesthetics of this natural stone are defined by two key elements: the tremendous energy of its designs and the presence of the lilac hue, which spreads unexpectedly along each line.
Uses
The Lilac marble has limitless applications for large-format cladding, both external and interior, as well as interior flooring.
Architects and interior designers use Lilac marble as the focal point in high-end residential and hotel projects.
It shines most in large-scale components such as book-match compositions, striking walls in living rooms or bedrooms.
Price of Lilac Marble: ₹325/sqft – ₹980/sqft
---
13. Michelangelo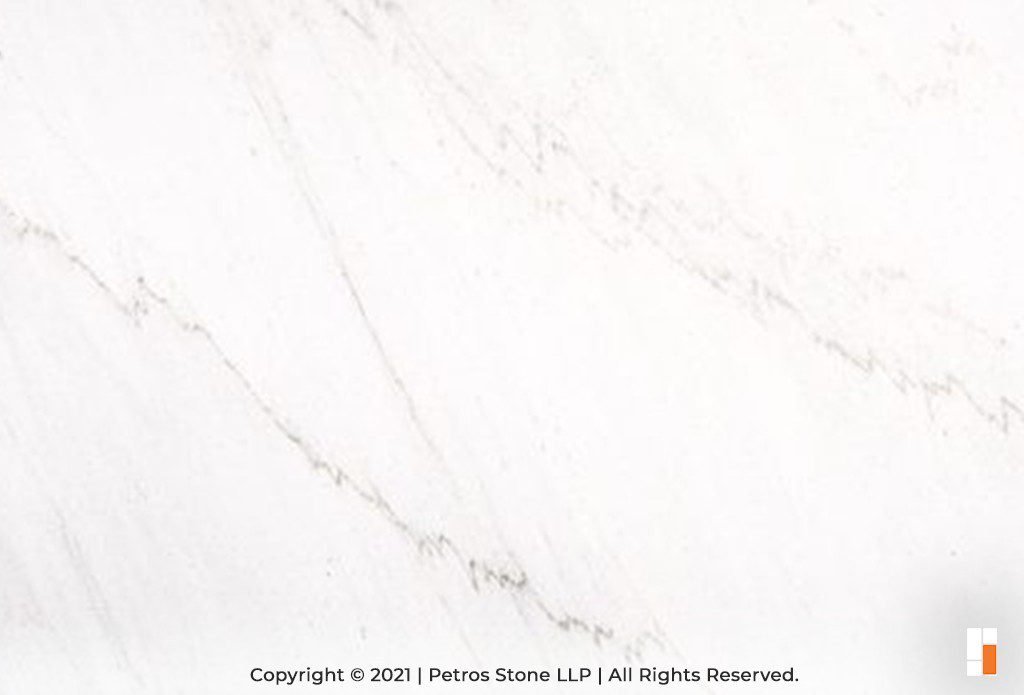 Appearance
Michelangelo Marble is without a question one of the most beautiful and valuable marbles that can be found in quarries. Michelangelo Marble has a snow-white backdrop that, depending on the block, may be completely white.
Its backdrop may also be split by fine grey and golden veining, giving the stone its individuality.
Uses
Because of its fine grains, Michelangelo Statuario Marble becomes extremely glossy after polishing, making the natural stone ideal for both interior and outdoor design projects.
Michel Angelo White Marble is a wonderful material with many applications, the most popular of which are flooring, elevation, kitchen countertops and backsplashes.
Price of Michelangelo Marble: ₹225/sqft – ₹480/sqft
---
14. Palissandro
Appearance
Palissandro marble is a valuable material found in Italy, a natural stone with a very homogeneous and neutral beige background that is interrupted by brownish and grey veining, stripes, and shadings.
Uses
Palissandro has been chosen in the past to construct renowned buildings such as Milan Cathedral and Pavia Cathedral, owing to its beauty and heterogeneity.
Pallisandro is ideal for various uses and combinations, both external and interior, with other stones.
Palissandro marble is a natural stone that has been highly praised for its contemporary look.
It is ideal for a variety of applications such as facades and façings, flooring for exteriors and interiors as well as one of the most beautiful italian marble for stairs.
Price of Pallisandro Marble: ₹185/sqft – ₹680/sqft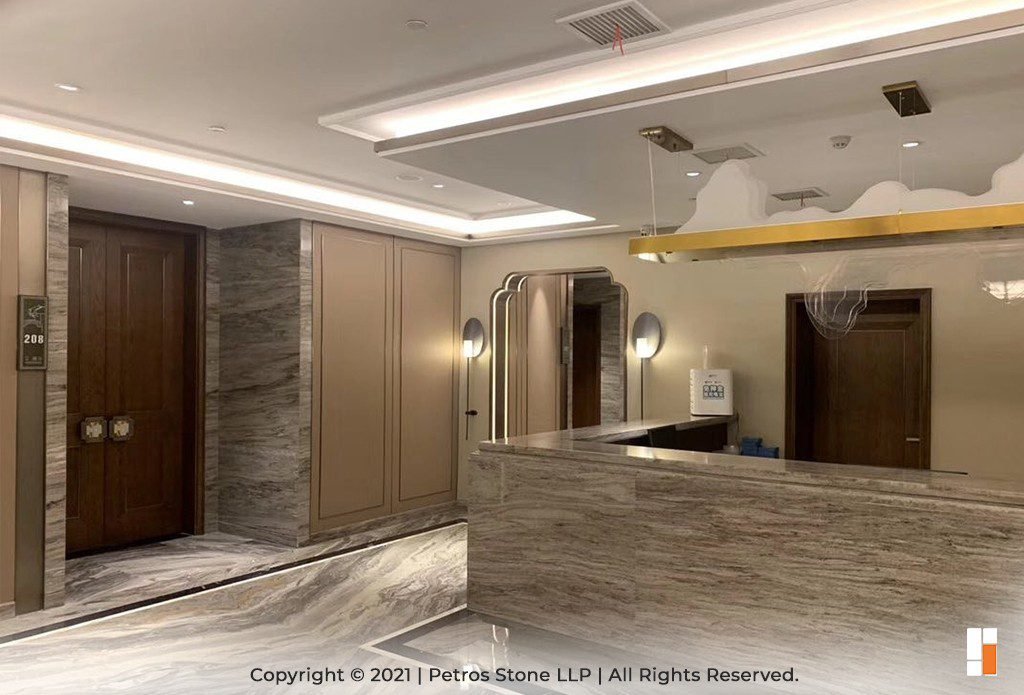 ---
15. Pearl White
Appearance
The veining on this stone varies from mainly grey to touches of gold, making it ideal for a clean, warm appearance.
Uses
White Pearl Marble is appropriate for interior applications such as kitchen, bathroom, and hallway walls.
Pearl White is also used to decorate landscaping objects, stone arts and crafts, pillars, arches, garden furniture, fountains, and other similar items.
Because of its low porosity, this natural stone is ideal for use in the kitchen.
Depending on your needs, you may choose from a variety of finishes such as polished, honed, flamed, sandblast, and so on.
The product is well-known for adding shine and a lovely white graphic appeal to the interior of the home.
Price of Pearl White Marble: ₹185/sqft – ₹1680/sqft
---
16. Bermingham Carrara Quartz
Appearance
Bermingham Carrara is white, grey with subtle veining. The clean white backdrop and inky, sometimes patchy grey spots set it apart.
Bermingham Carrara is a beautiful marble with a complex fine veining pattern that runs the length of the slab. Bermingham Carrara has a fine grain and is compact. It has a white ground with light grey and alborea blue hues.
Uses
Bermingham Carrara is mostly used in flooring, slabs, walls, bathroom vanity worktops, bathroom floor and walls, and kitchen countertops and backsplashes.
It comes in a variety of finishes, including brushed, antique, polished, honed, bush-hammered, and flamed.
Bermingham Carrara is associated with excellence, modernism, and the luxury category.
Its inherent elegance can turn any area into a sophisticated one.
It's one of the most prestigious materials used by architects and interior designers for natural stone flooring and the luxury hotel industry.
Price of Bermingham Carrara Marble: ₹485/sqft – ₹1680/sqft
---
17. Vin White
Uses
Because of its versatility to contrast or complement an existing scheme, this magnificent marble is deployed in several home design styles.
It is utilised for worktops, backsplashes, wall panels, fireplaces, shower walls, and flooring and has an exotic appearance.
Vin white marble wall cladding creates a feeling of spaciousness and provides a beautiful background for artwork and other home decorations.
Price of Vin White Marble: ₹285/sqft – ₹1520/sqft
---
18. Calacatta Borghini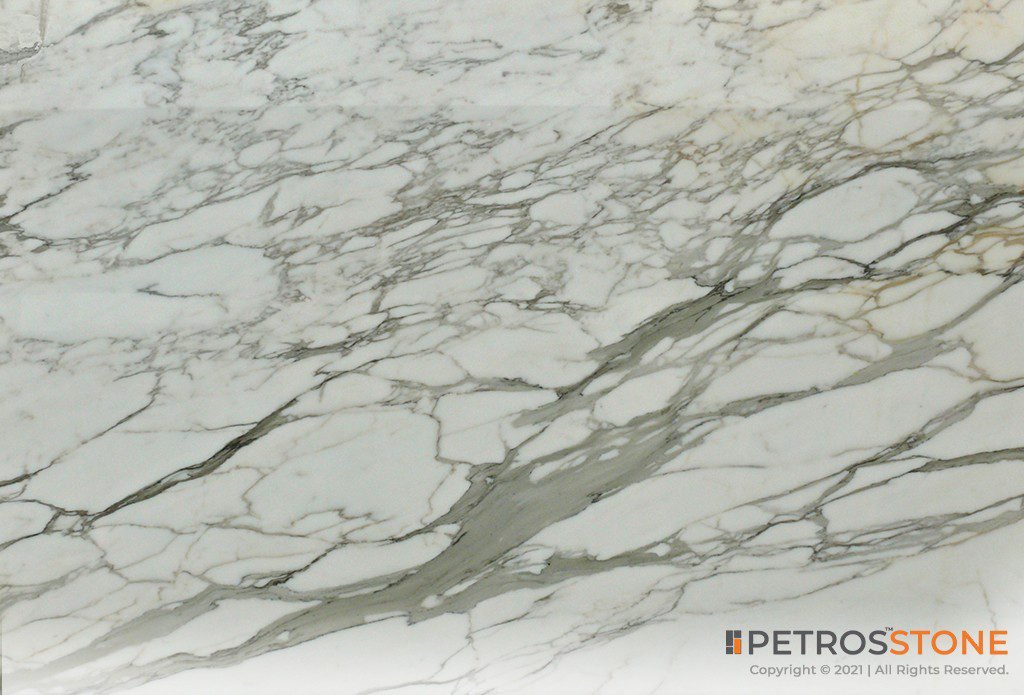 Uses
Calacatta Borghini marble is frequently used for staircases because of its inherent strength, beauty, and brightness which is even intensified by time.
Indoor marble steps have a practical purpose, but they are unquestionably a piece of furniture that must be integrated into an architectural environment, following and exalting its style.
Even outdoor marble steps must be in keeping with their surroundings, with a line that is suitable for the style in which they are placed.
Calacatta Borghini is a popular choice for both indoor and outdoor staircases because of its obvious beauty, sturdiness, and delicacy.
Price of Calacatta Borghini Marble: ₹1285/sqft – ₹8520/sqft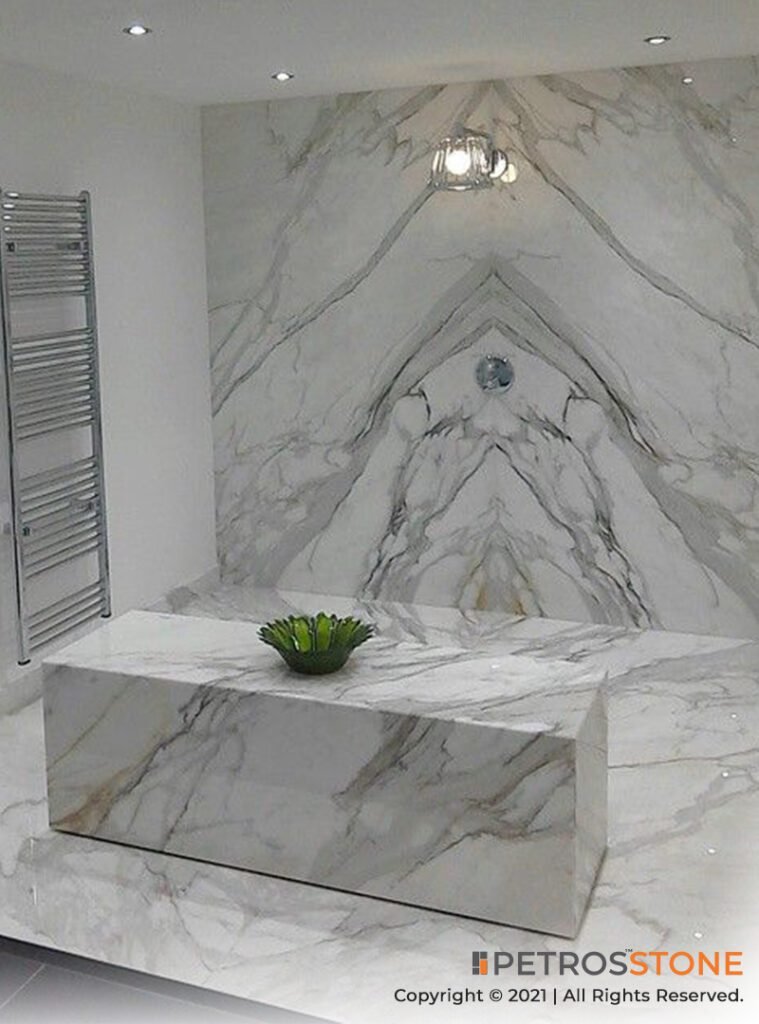 ---
19. Statuario Venatino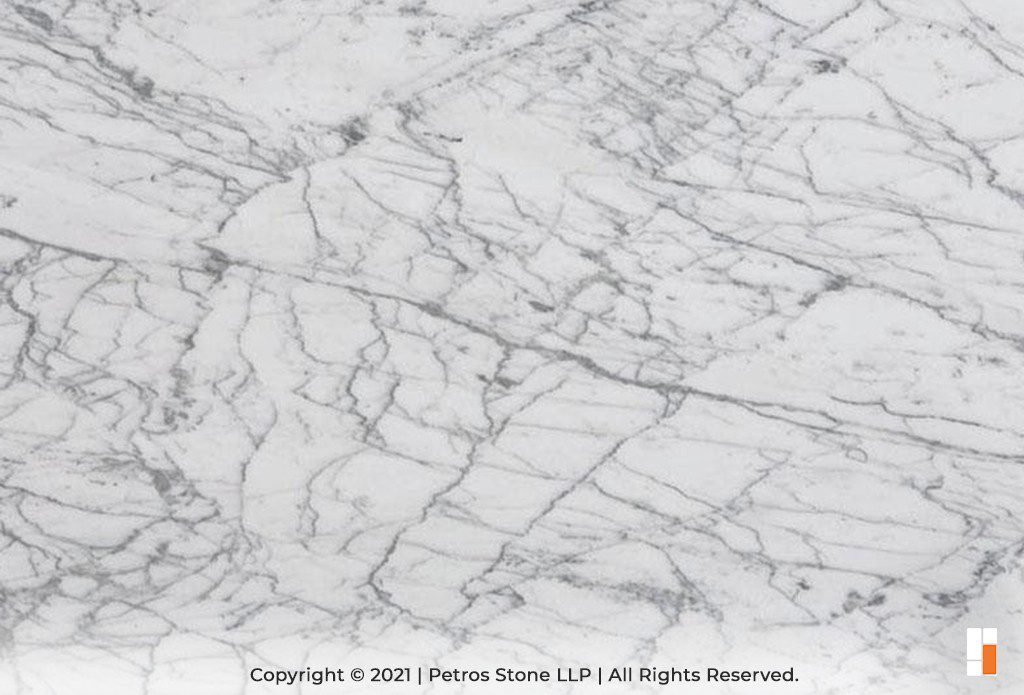 Appearance
This lovely marble is mined in Italy.
In its natural colour setting, Statuario Venatino White Marble is mottle white with grey streaks. Like Gioia, Statuario Venatino White Marble features fine veining, but it is more plentiful and distinct.
Uses
Statuario Venatino is ideal for use in the bedroom, kitchen, countertops, patio, and bathroom.
It's also used in the home office, living room, pool hall, flooring, bowling alley walls, gaming room, and apartment complexes.
Statuario Venatino White Marble is a beautiful, elegant, and long-lasting material.
The Statuario Venatino White Marble is installed to give the sumptuous setting a final glow and gloss.
Statuario Venatino is valued for its beauty and variety, as it offers a timeless appearance that can be adapted to any décor.
Price of Statuario Venatino Marble: ₹1285/sqft – ₹8520/sqft
---
20. Statuario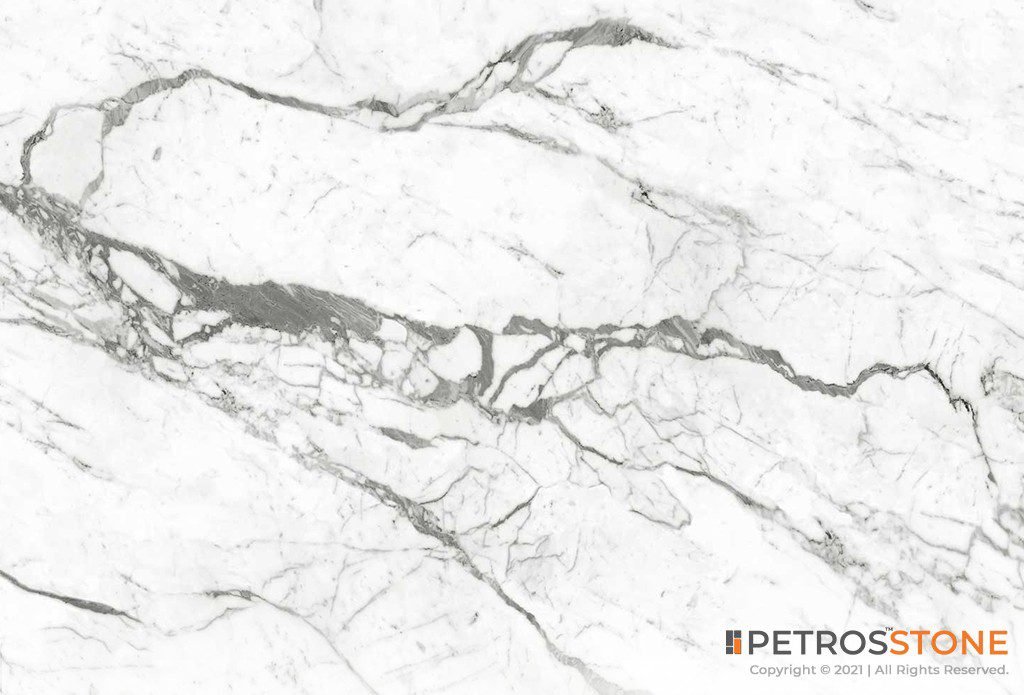 Appearance
Carrara's Statuario marble is a popular white and grey marble. Large light-medium grey veins and a pristine white backdrop distinguish it. Statuario often has blue and silver hues.
It is the pinnacle of style and elegance and has been used in interior design for ages as a symbol of refinement and prestige owing to its clear shine and extremely tiny structure.
Uses
Statuario Carrara marble is excellent for interior applications such as kitchen worktops and backsplashes, benchtops, bathroom vanities, and flooring.
Statuario Carrara marble is also ideal for luxury bathrooms as a vanity area or for dazzling flooring.
Price of Statuario Marble: ₹785/sqft – ₹8120/sqft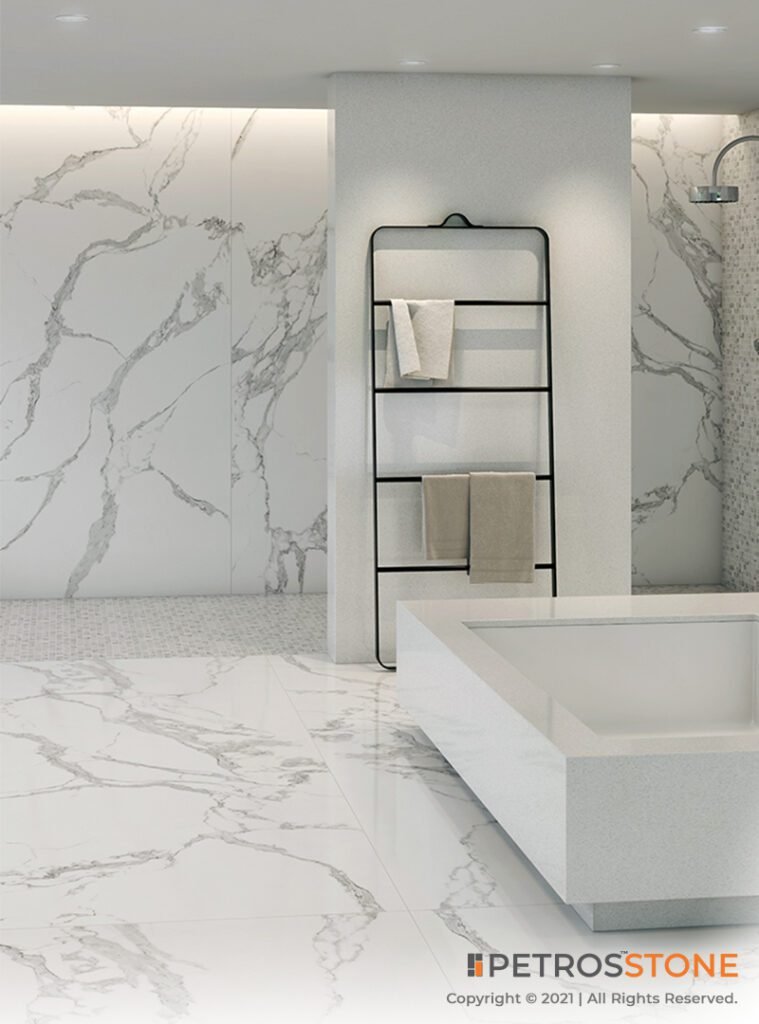 ---
---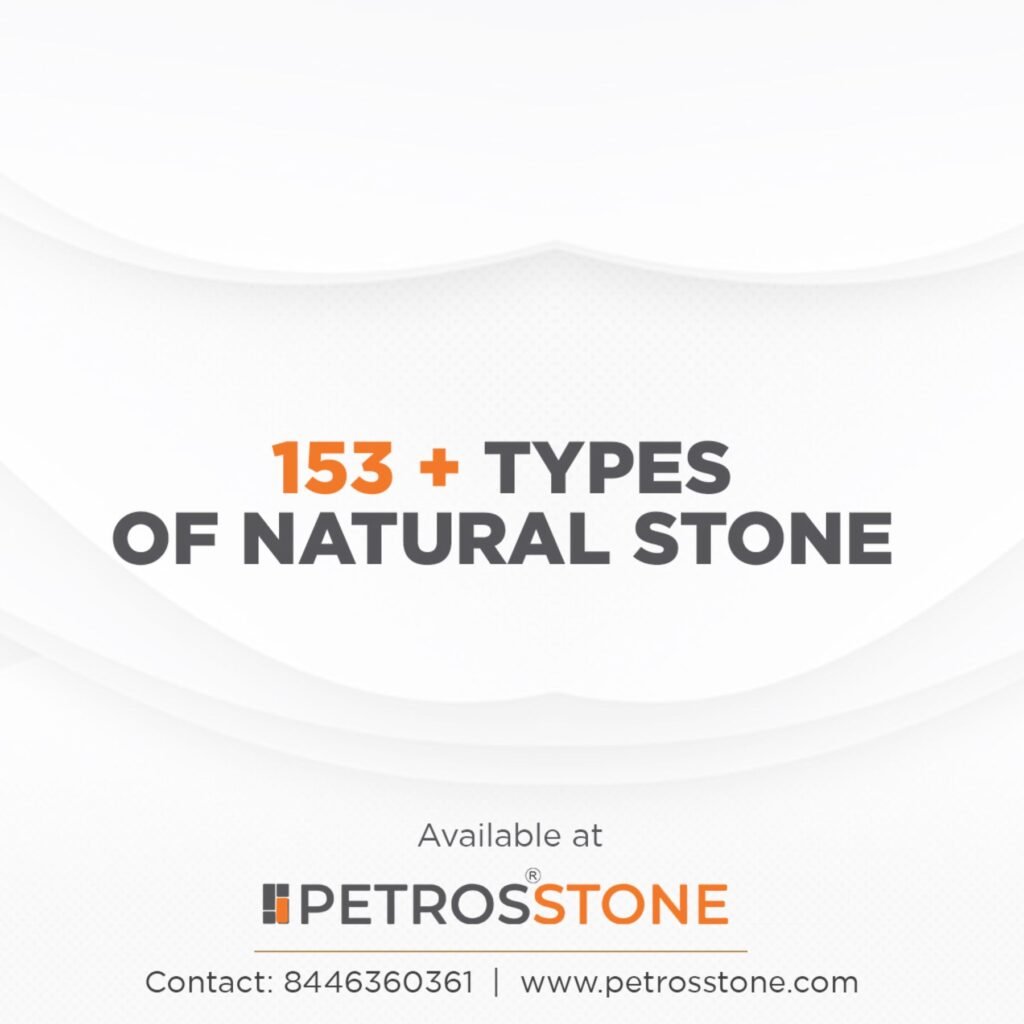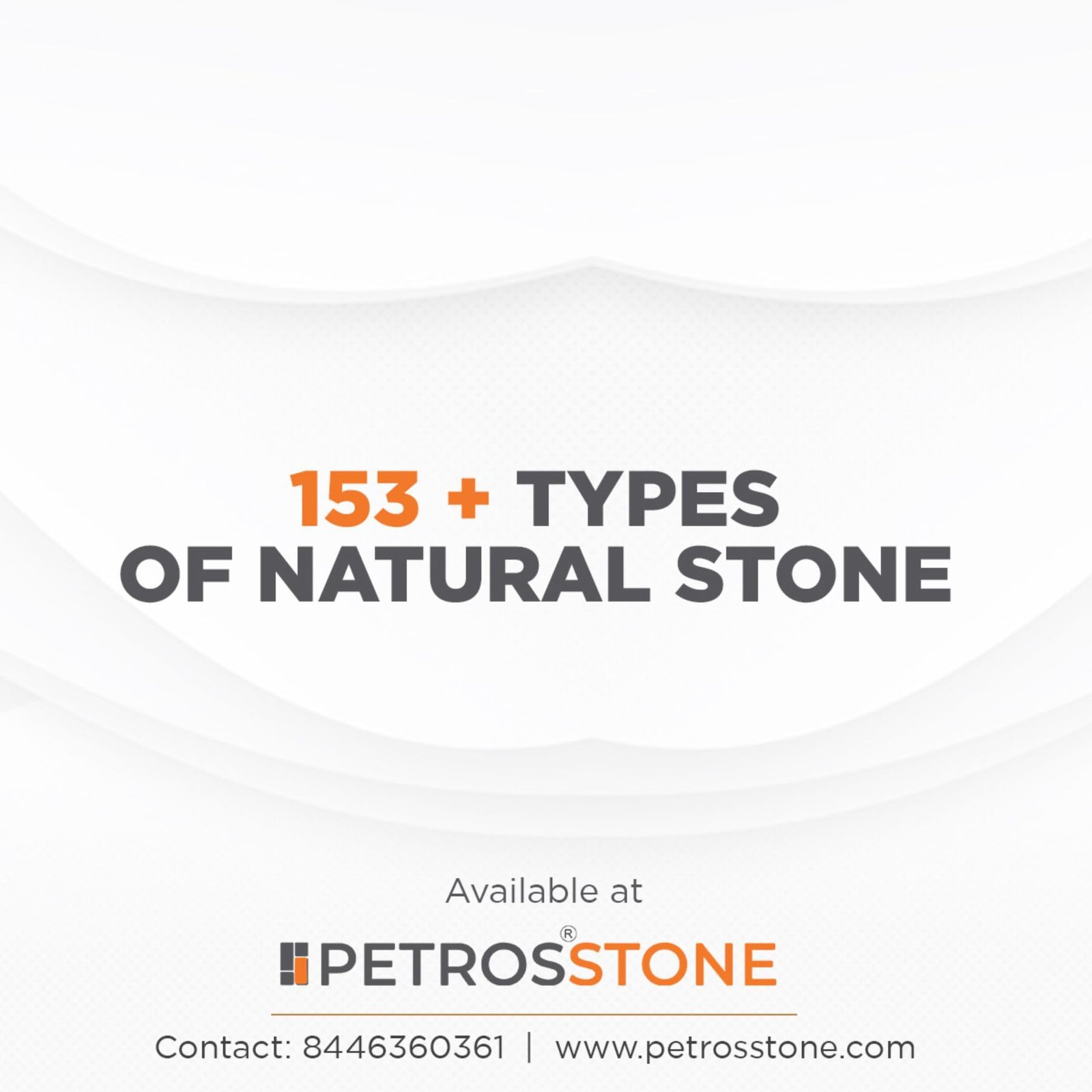 ---