India's best suppliers of gravestone and Tombstone are Petrosstone, Oswal Granite, and Bharat Abrasives.
Petrosstone is a well-known brand in the industry with a reputation for producing high-quality products at competitive prices. They offer a wide range of products, from granite slabs to gravestone.
Oswal Granite is another excellent choice for gravestone or Tombstone builders in India. This company has been in business since 1989 and uses only high-quality materials to create its products
Bharat Abrasives is another option for gravestone makers near you! They have created beautiful memorials for over 15 years, with many satisfied customers worldwide!
---
Best Supplier for Gravestone in India: Petros Stone LLP
Gravestones are a standard part of modern funerals and have been for thousands of years. But why would you choose Petrosstone over other suppliers?
Petrosstone is the best supplier for gravestones because:
Capabilities
Petrosstone can produce products in a variety of sizes and materials, including:
Large gravestones made from granite, marble, or limestone
Complex as well as simple designs based on cultural preferences.
---
Experience and expertise
Petrosstone has been making gravestones since 1988. The company is known for its high-quality and expert stone masons who have mastered the art of carving intricate designs into the stone. The company's skilled workers are experienced at creating custom monuments that meet your needs exactly.
---
Quality of products or components
The quality of Petrosstone's products is second-to-none because they only use top-notch materials for their production process, which ensures that each gravestone will be durable enough to withstand harsh weather conditions such as rainstorms or snowfall without showing signs of wear or tear.
---
Confidentiality
Petrosstone is the best gravestone supplier because it has a strict confidentiality policy. They understand that this is a necessary purchase and that customers want to be assured that their information will be safe.
---
Quality management systems and certifications
Petrosstone has implemented several quality management systems and certifications to ensure that its products are always safe and effective. These include:
ISO 9001:2015, which ensures that all operations are performed following the highest standards
AS/NZS ISO 9001:2015, which ensures that the highest standards perform all functions
AS/NZS ISO 14001:2004, which ensures that the highest standards perform all operations
ISO/IEC 27001:2013, which ensures that all procedures are performed by the highest standards
ISO 13485:2003, which ensures that all operations are performed by the highest standards.
---
Total Costs
Petrosstone is also good because it offers high quality Granite, Quartz and Marble at low prices. The company's products are affordable and suitable for every budget.
---
Production Flexibility
With Petrosstone, you can choose between ready-made products or customized solutions designed specifically for your project or business needs, so there are no barriers to getting precisely what you want out of your gravestones!
---
Best Gravestone And Tombstone Manufacturer in India | Description, Price, Product Range
We are created this list of India's best gravestone and Tombstone manufacturers. You'll find information on each company's services, prices, locations, and more here.
Petros Stone LLP
Oswal Granite
Bharat Abrasives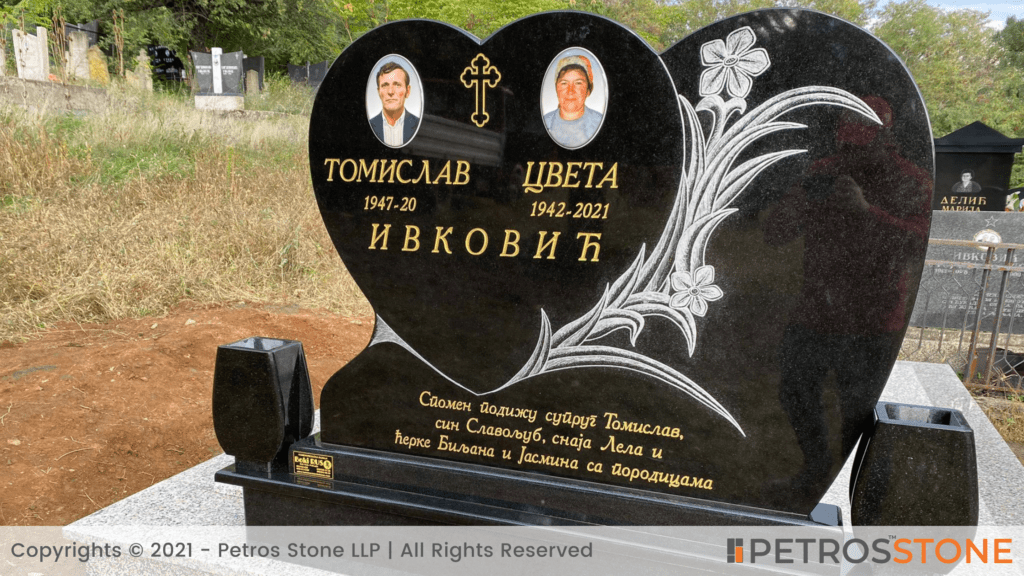 Petrosstone is a company that specializes in creating personalized gravestones. their goal is to ensure every customer gets the desired headstone, and their put a lot of effort into ensuring that all the products are as environmentally friendly, sustainable, and beautiful as possible.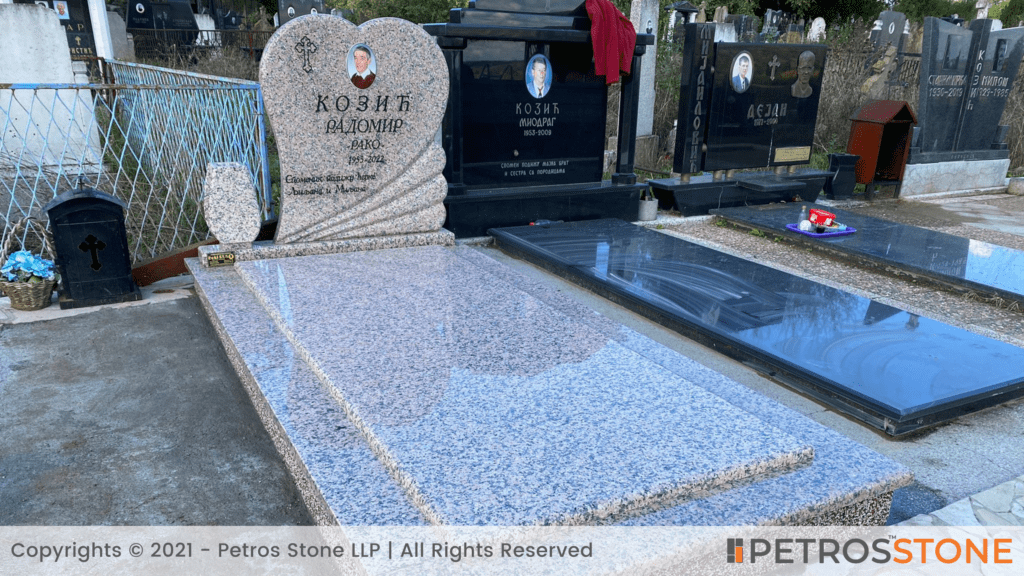 Their products are made from the best materials (including quartz, granite, and marble), which means their sustainable and have a lower carbon footprint than traditional grave markers. The company also uses recycled paper for its products' packaging which means you can be sure your memorial will be beautiful and environmentally friendly for years.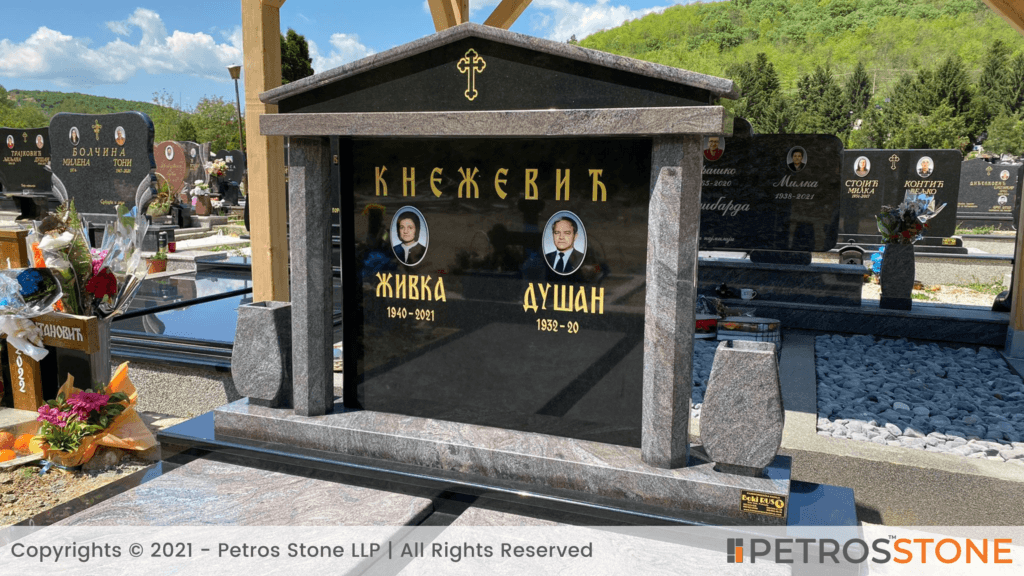 Petrosstone's team is composed of talented artists who create beautiful memorials from scratch based on customer preferences. They work with you to create a design that reflects what matters most to you: whether that's a traditional image or something more abstract.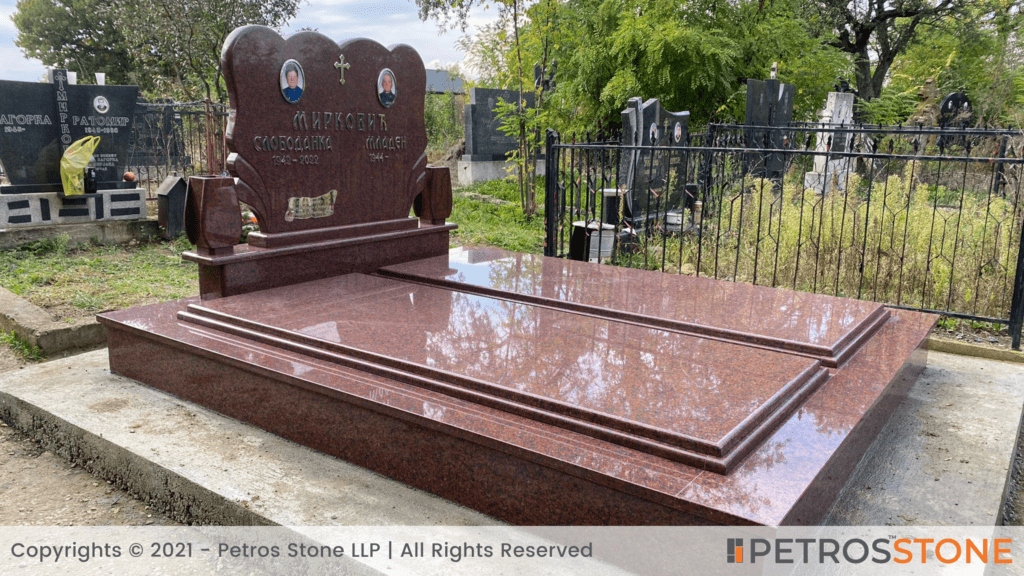 The design phase is where we take all of our customer's needs and wants into account while ensuring that they stay within their budget. We do this by using our computer-aided design (CAD) software to create a digital model of what their gravestone will look like. This allows us to adjust without starting over from scratch if something fits right.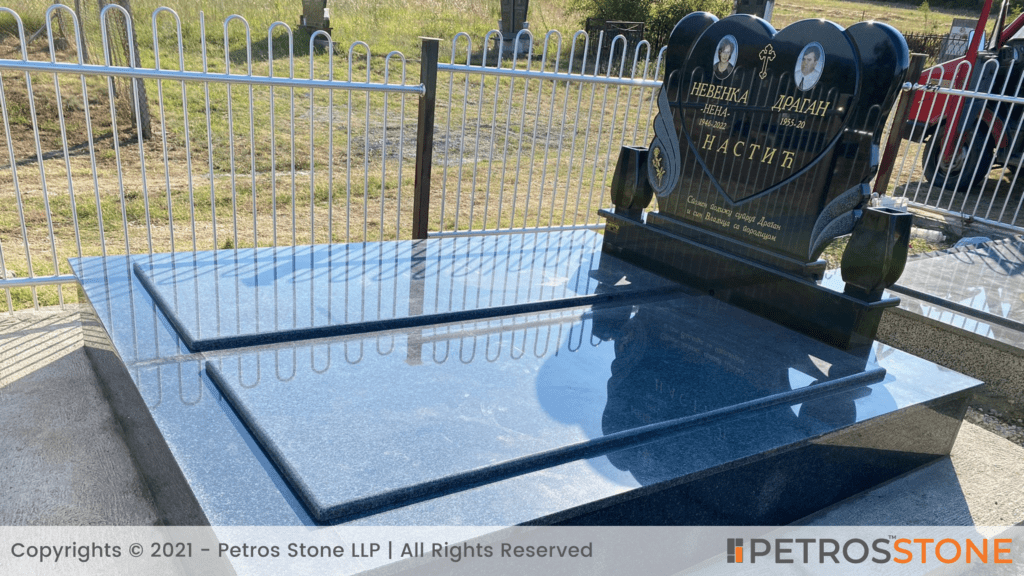 Once their completed this process, we send it off for final approval by our clients before proceeding with production. Once approved, it is time for fabrication!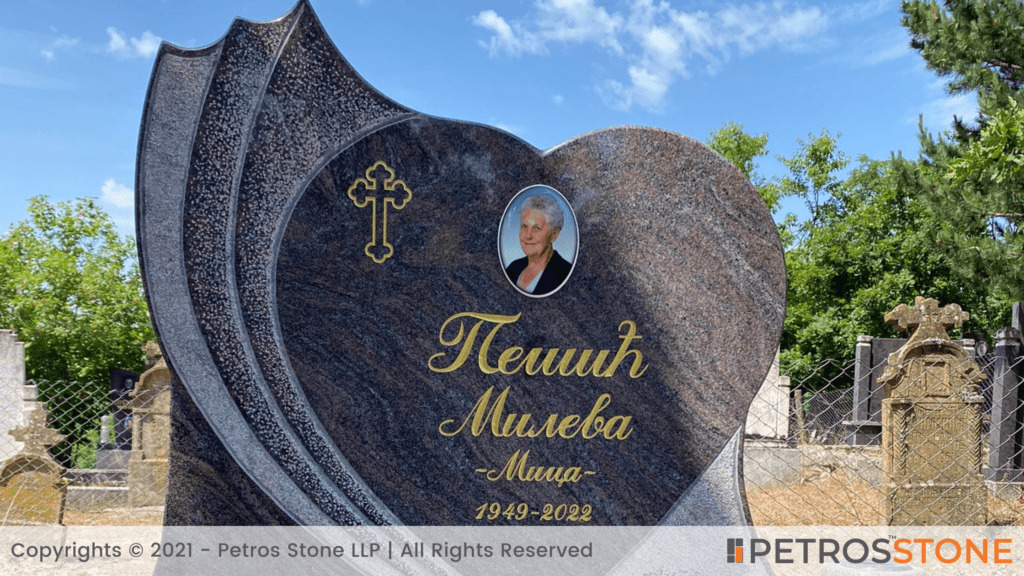 ---
Petros Stone Price Range of Gravestone
Grave Stone Granite Color
3cm one side polish Granite Gravestone
3cm two side polish Granite Gravestone
6 cm one side  polish Granite Gravestone
6cm two side polish Granite Gravestone
Pink/white Granite Grave Stone  
$18/sqm – 34$/sqm
$20.2/sqm – 36.2$/sqm
$44/sqm – 66.5$/sqm
$46.4/sqm – $62.4/sqm
Pink/white Granite Grave Stone
(standard size)
85-99cm x 240cm+ 10-15%
$14/sqm – $30/sqm
$16.2/sqm – 32.2$/sqm
$38/sqm – 54$/sqm
$40.4/sqm – 56$/sqm
Paradiso Granite Grave Stone
(standard size)
85-99cm x 240cm+ 10-15%
$18.5/sqm – $34.5/sqm
$20.7/sqm – 36.7$/sqm
$45/sqm – 61$/sqm
$48.4/sqm – $64.4/sqm
Bengal Black Granite Grave Stone  
$46.4/sqm – $62.4/sqm
$50.5/sqm – 66.5$/sqm
$72/sqm – 88$/sqm
$76.5/sqm – $92.5/sqm
Absolute Black Granite Grave Stone  
$46.4/sqm – $62.4/sqm
$50.5/sqm – 66.5$/sqm
$95.4/sqm – 111.4$/sqm
$98.4/sqm – $112.5/sqm
.
---
Oswal Granite has been a part of the Indian granite industry for over half a century and is one of India's leading granite and marble manufacturers.
They are committed to creating the best gravestones by using high-quality materials and adhering to strict safety standards. Our clients know that they can trust us to provide them with quality products at affordable prices and outstanding customer service.
Oswal Granite is ISO certified, which means we follow stringent quality control measures to ensure that our products meet international quality control standards.
They have state-of-the-art equipment, including an automated production line allowing us to promptly produce high-quality stones without sacrificing efficiency or quality control.
---
Bharat Abrasives is a company that manufactures and supplies a diverse range of abrasive products. These include sandpaper, grinding wheels, polishing discs, and other products used in industrial and construction equipment production.
The company has been in operation since 2007 in Hyderabad and has grown into one of India's largest suppliers of abrasives. The company has customers worldwide who rely on its high-quality products to get the job done right.
Their goal is always customer satisfaction, so they will do whatever they can within reason to meet deadlines while still maintaining quality standards at all times (even when things get busy).
---
Types of Gravestone Manufactured in India
You'll want to know your options when you're in the market for a gravestone. That's why They are created this listicle of the different types of gravestones available to you.
Granite Gravestone ( Most Recommended )
Granite is also strong enough to withstand being carved into an image or text at any point in its life cycle—a feature many other gravestones do not have. This means you can use granite gravestones for multiple generations without worrying about them falling apart or becoming illegible.
Marble Gravestone
Marble gravestones are a common sight in cemeteries across the world. These monuments, often carved with an inscription or simple design, have been used since ancient times to mark the graves of the dead. Their durability and permanence are part of what makes them a popular choice for memorials.
Slate Gravestone
Slate gravestones are considered highly durable, making them suitable for use in cemeteries where there may be a lot of foot traffic or extreme weather conditions. They do not need to be treated with sealants or other chemicals to protect them from the elements.
---
Best Granites for Gravestone or Tombstone
Gravestones are an essential part of our history. They're also a source of beauty and inspiration, so choosing the right color is critical when designing your own.
Here are some of the best colors for gravestone and Tombstone:
Petros® Black Granite is a dark, almost black-looking granite with a lot of variation in its coloring, from light to dark. It's perfect for creating a dramatic gravestone or Tombstone with a lot of texture and dimension.
---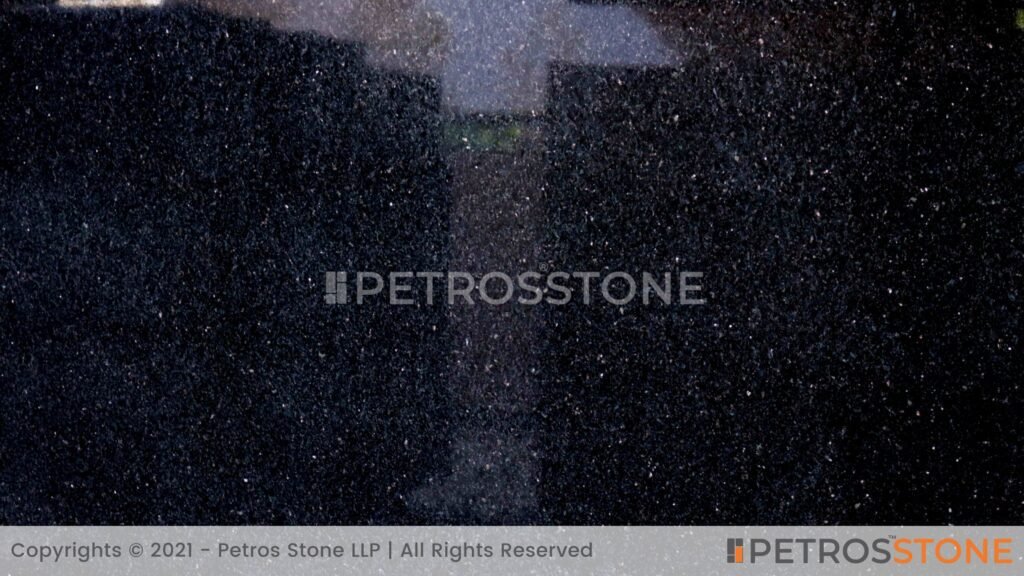 This color is a dark charcoal gray with hints of blue and purple. It's perfect for gravestones or Tombstones that want to convey an air of mystery without being too dark.
---
Petros Black Granite – Ziano Finish
The Petros Black Granite – Ziano Finish color is the way to go for those who want a more contemporary look. It's a dark shade of gray with a slight hint of blue. The slight blue hue makes it look like it has been polished, making it ideal for gravestones or Tombstones that want to appear modern and sleek but not too dark or overpowering.
---
Telephone Black Granite is exactly absolute black! This color is excellent for gravestones or Tombstones with a very old-fashioned feel or design aesthetic—it gives off an old-world vibe that can be paired well with many different architectural styles and structures.
---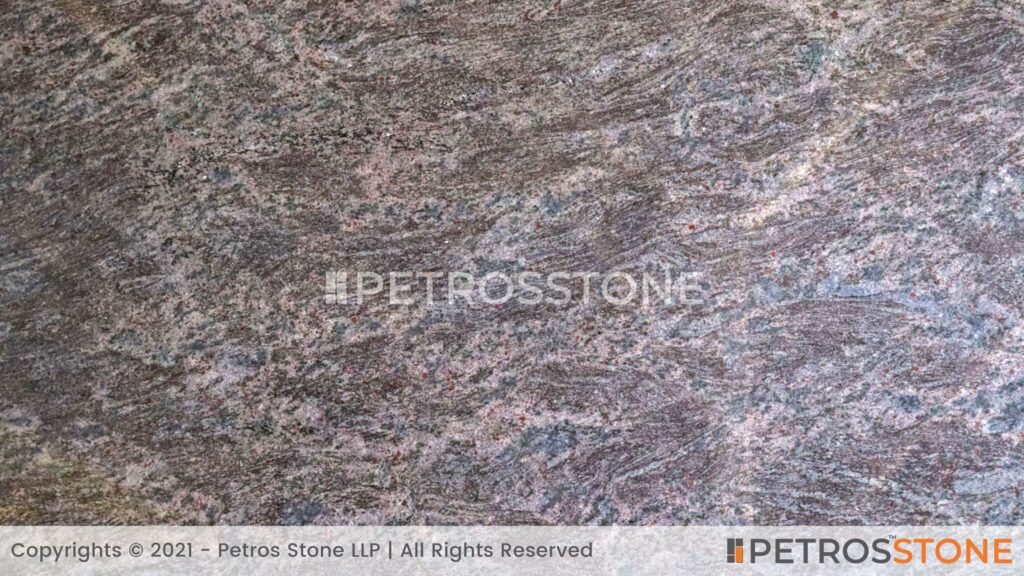 Vizag blue is a shade of blue used in the design of gravestones, tombstones, and memorial markers since the early 1900s. It is a deep and rich shade of blue with hints of violet, making it an excellent choice for gravestones meant to stand out. The color has a classic feel, but it's also modern enough to look great on any gravestone or memorial marker.
---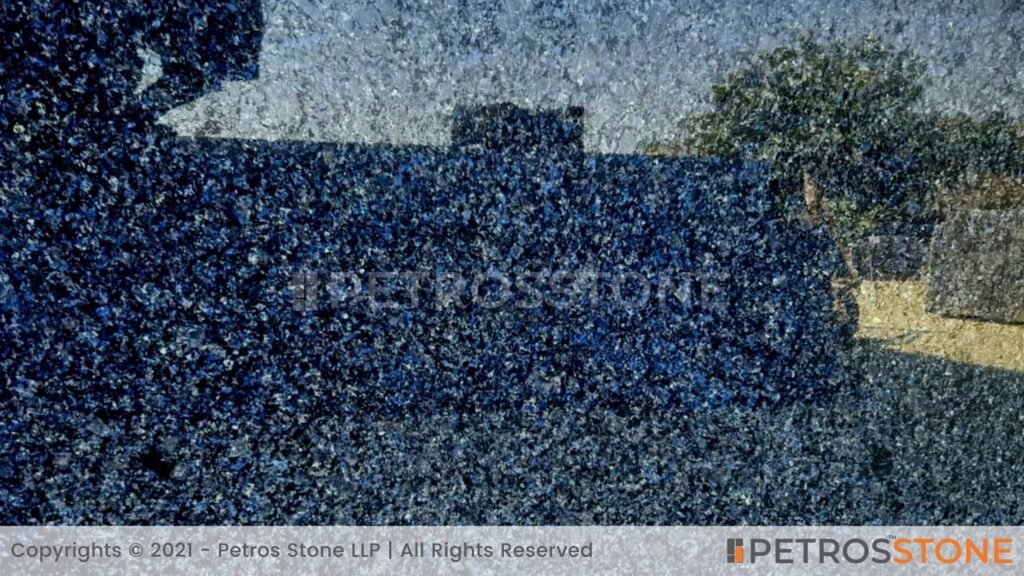 Sapphire blue is another shade of blue used on gravestones, Tombstones, and memorial markers since the early 1900s. It's a bright and vibrant color that can help make your gravestone stand out from others in the area. This is especially true if you're looking for something that will show up against lighter-colored stones or grassy areas around where the stone stands.
---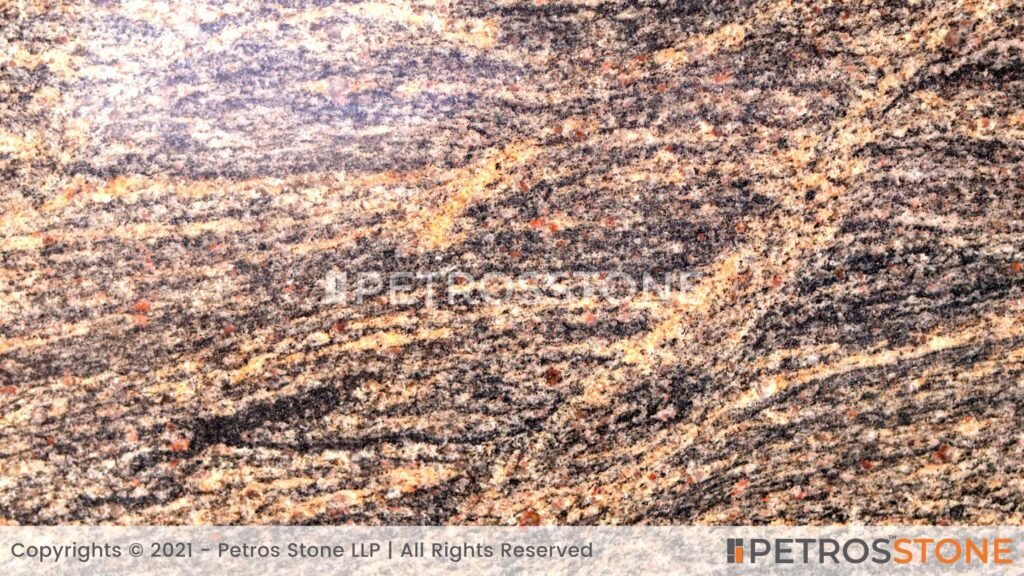 Himalayan blue is one of the most popular colors for gravestones because it's so distinctive and eye-catching—it's hard to miss! Many people choose this color because they want their loved ones' gravestones to be easily identifiable from afar so that visitors can find them easily when visiting their grave sites.
---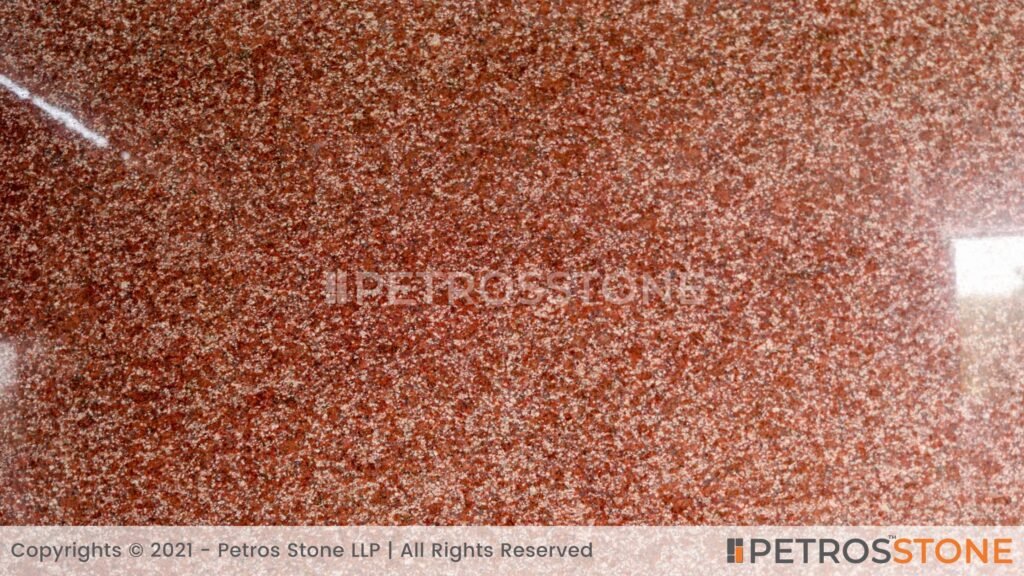 Red is a bold color that will make a statement. It's perfect for gravestones and Tombstones because of its vibrancy and intensity. You can choose between a brick red or a vibrant scarlet red. Red will do the trick if you're looking for something that stands out!
---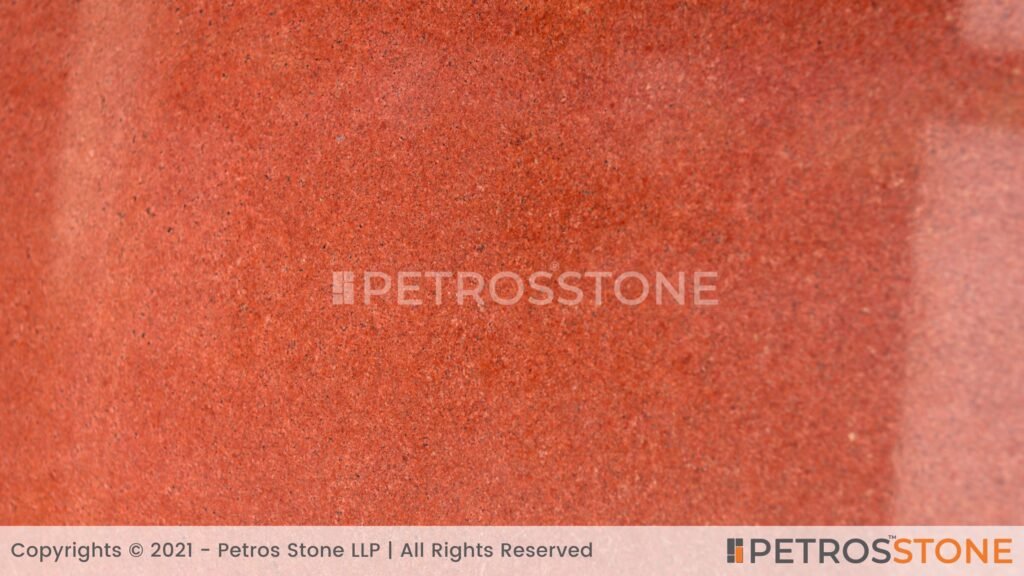 Lakha Red is a deep burgundy that won't be too bright or too dark—it's just right! This color is great if you want to pay tribute to someone who has passed while still keeping things tasteful and elegant.
---
This deep red white hue is another excellent choice if you're looking for something with some flair but want to stay moderate on brightness and darkness. The texture of this color makes it perfect for gravestones that will last for years and years to come!
---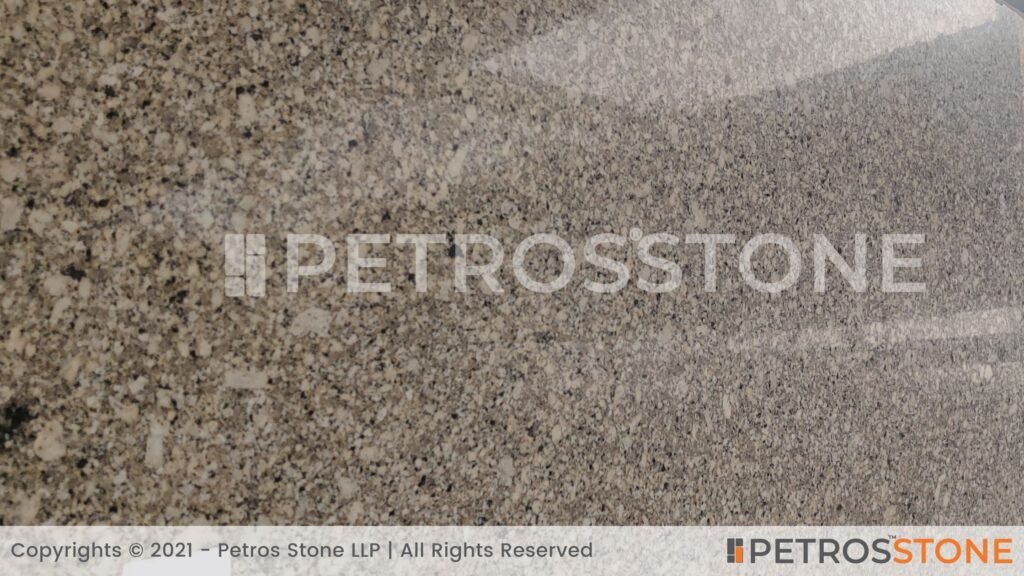 Grey is a color that has been used in many cultures for centuries because of its ability to represent both death and life. It also has an inherent connection with the earth and the natural world, making it a particularly fitting choice for gravestones.
White is another color used for centuries in funerary settings because of its association with purity and innocence. White is also associated with light, making it an ideal choice for those who wish to honor their loved ones' memories by creating something beautiful that will last forever.
---
Unique Design Patterns for A Gravestone
In the past, cemeteries were often designed with uniform rows of graves. But today, people are looking for gravestones with more personality and individuality.
You can find a variety of different styles to choose from when designing your headstone, including:
A slate gravestone features a cross that is carved into the stone. The cross may be small, or it may be large and take up most of the stone. The size of the cross is determined by its location on the gravestone and by how much space there is for a carving.
---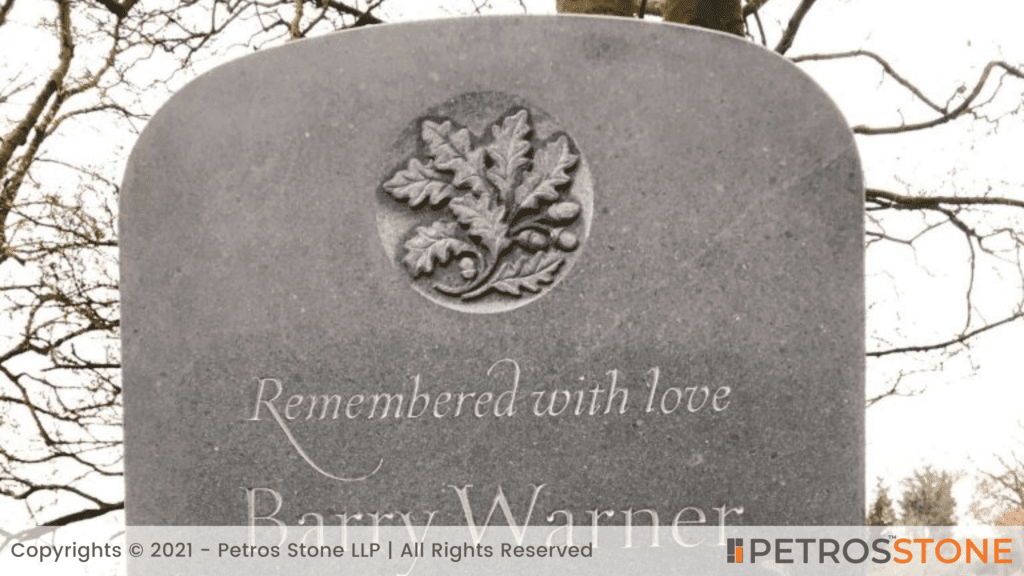 Oak leaf carvings are often used with other symbols, such as an anchor or a star. These can be found anywhere on a gravestone and often represent themes like faith, love, and hope.
---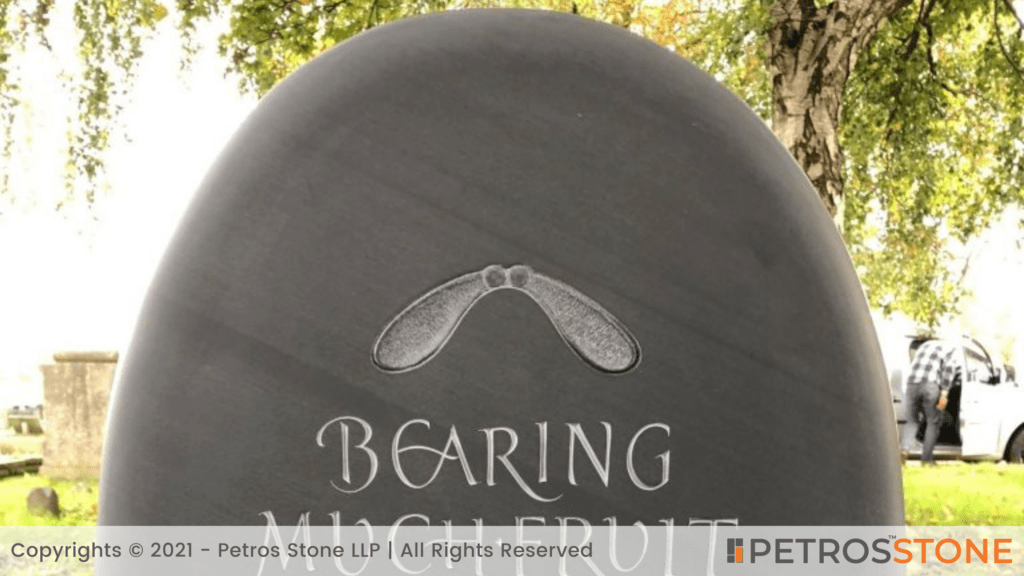 Epitaphs are written statements inscribed onto a stone to commemorate someone who has passed away. They often contain information about how they lived their life; their accomplishments; their family; etc.
---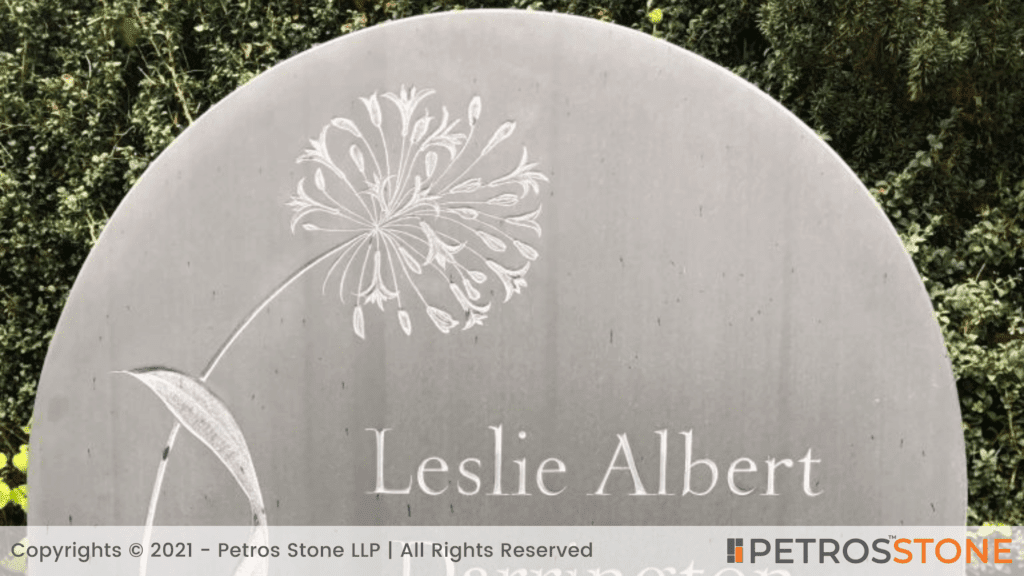 The agapanthus flower is a symbol of eternal life and everlasting beauty. This flower can represent the deceased's love for flowers and nature or their connection to their homeland. A gravestone featuring agapanthus can also be used as a memorial marker for someone who lived in a sunny climate or enjoyed gardening.
---
Gilded and Painted Snowdrop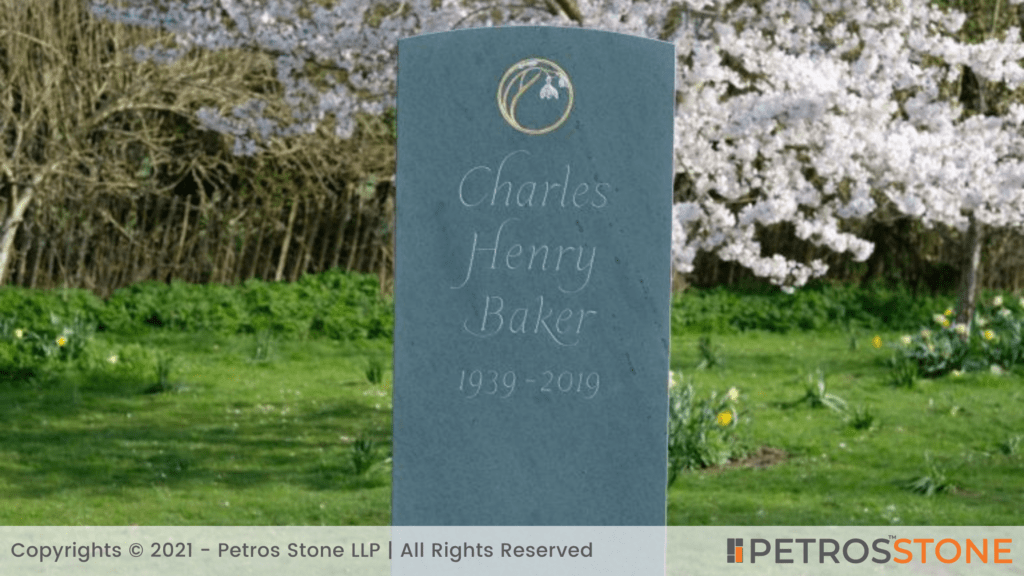 Snowdrops are often used as a winter or early spring symbol in floral designs, but they can also represent death and the afterlife. This grave design uses the snowdrop as a symbol of winter and death by gilding it and painting it in reds and purples to represent blood and flowers.
---
Flower Carving in Sunken Relief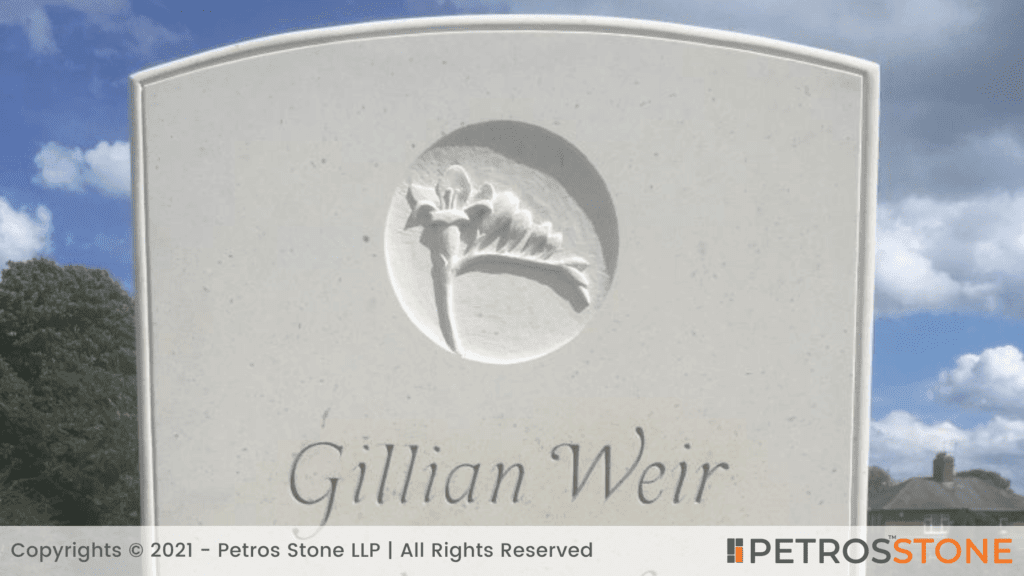 This fun design depicts an intricate flower carving in sunken relief, making it look like it is growing out of the ground itself!
---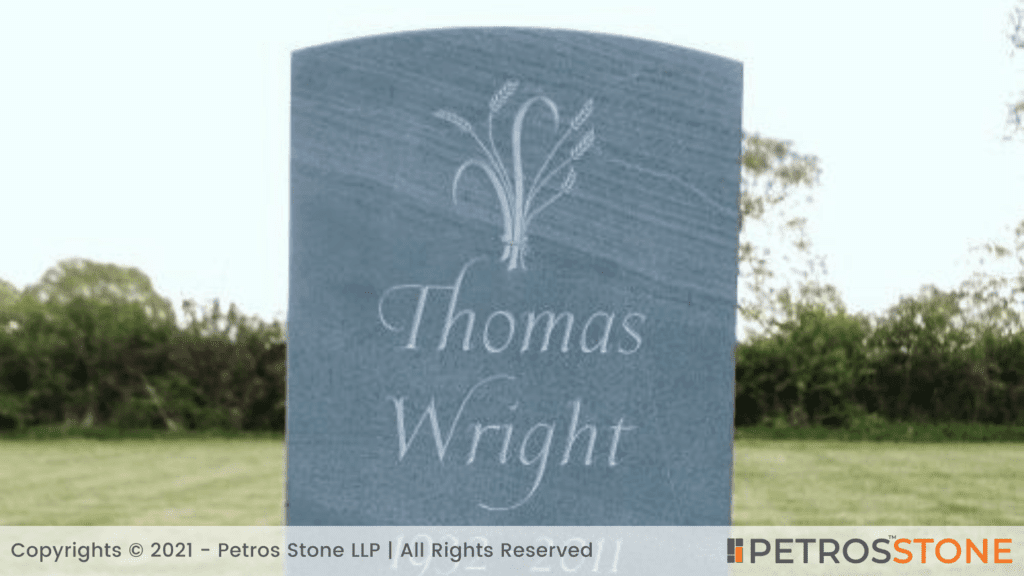 This design is trendy in the United States and Canada. It symbolizes the deceased person's love for agriculture and nature. Wheat is an essential part of the food chain and is often associated with fertility, abundance, prosperity, and spiritual renewal.
---
Aurisina limestone with organic lettering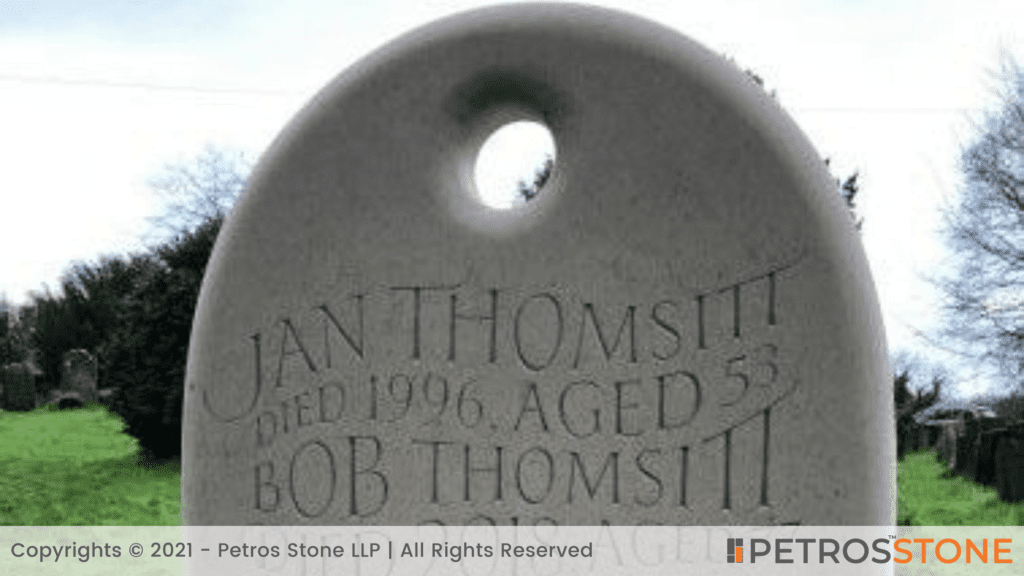 Aurisina limestone is a type of limestone that has been used in gravestones for thousands of years. It is an excellent material for engraving because it is easy to work with and has a beautiful appearance. Organic lettering refers to letters carved into the stone rather than painted on it. This type of lettering gives gravestones an earthy feel that's perfect for nature lovers!
---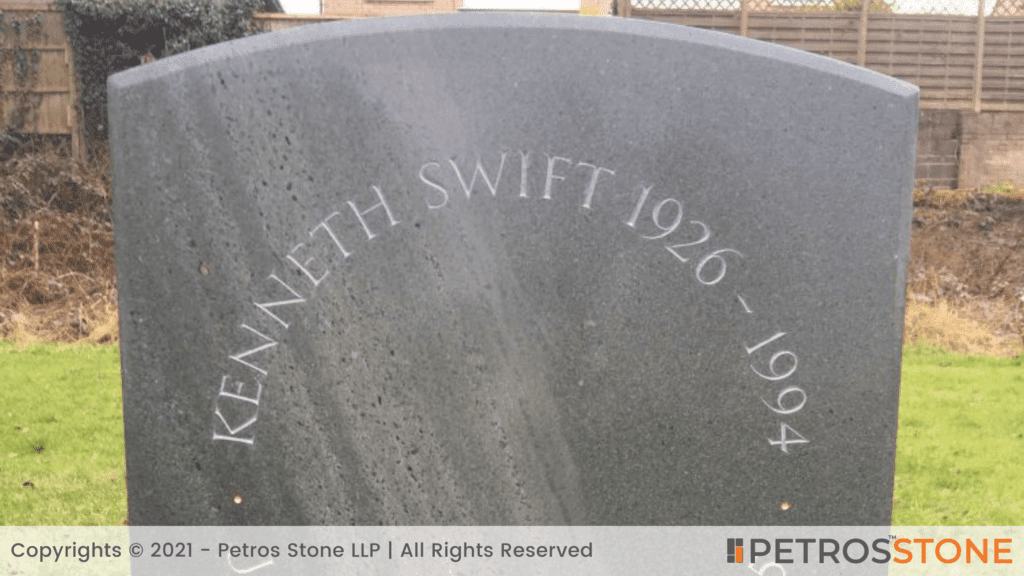 Circle lettering is another popular design choice for gravestones. It can be done using either carved letters or painted ones—both options look equally good when they're done right! Circle lettering works well with other unique designs like cutting wheat or organic lettering because it combines different elements into one cohesive piece of art!
---
Tips to Remember While Ordering A Gravestone
Here are the tips to remember while ordering a gravestone:
Mention The Artwork According To Tradition
The artwork on your headstone should reflect your family's traditions and culture. For example, if you come from a religious background, consider including symbols or phrases that are important within that religion to honor loved ones who have passed away.
Gravestones come in various styles, and it's essential to be familiar with the available inscriptions. You can choose from engraving options like lettering or carving and more unusual options like etching or mosaic work.
The shape of your headstone will depend on your budget and personal preferences. Many prefer a simple rectangular design, while others opt for more elaborate shapes like hearts or circles. There are also many different materials from which you can choose, including granite and marble.
Are Any Sculptures To Be Built?
If you have a sculpture to be built, discussing it with the manufacturer is essential. If you are ordering a headstone or a footstone, the manufacturer can include this in the design for no extra charge. However, if you want something on top of your grave marker, like an angel or other sculpture, this will cost extra and may take longer to create.
---
How can I contact Petrosstone to get a quote for a gravestone or Tombstone? What are the steps involved?
The first step is to send us an email at [email protected] or contact us at +91-8446360361. Visit contact page – here

Please include: An outline of the project you're looking to get a quote for, including dimensions, the number of materials needed and any other details that would be helpful to us in providing you with a quote.

Your contact information so we can reach out to you when we have the quote ready.

We will review your request and provide you with a quote as soon as possible, within 24 hours of receiving your request.
---