Why is Choosing the Floor for Schools Important?
Flooring materials not only have a profound impact on the physical comfortability of the space but also affect the overall ambience and mental environment in an institution. Apart from the direct benefits of a suitable flooring material, the right flooring can add to the architectural design and value of the institution. The right, practical building materials ensure durability and low maintenance costs in the educational institution. Further, the right flooring can also appraise the value of the property.
Hence, we are listing the 15 Best flooring options for schools/colleges/institutions in India:
Sr.No
Flooring
Price
1.
Natural Quartz
₹100-₹180/sq. ft
2.
Limestone/Kota
₹30-₹75/sq. ft
3.
Granite Flooring
₹70-₹120/sq. ft
4.
Slate
₹30-₹60/sq. ft
5.
Sandstone
₹40-₹80/sq. ft
6.
GVT
₹30-₹75/sq. ft
7.
Porcelain
₹20-₹75/sq. ft
8.
Concrete
₹25-₹35/sq. ft
9.
Bamboo
Highly Variable
10.
Hardwood
Highly Variable
11.
PVC
₹15-₹150/sq. ft
12.
VCT
₹50-₹80/sq. ft
13.
Travertine
₹140-₹210/sq. ft.
14.
Teracotta
₹40-₹120/sq. ft.
15.
Cork
₹140-₹210/sq. ft.
Best Flooring for Schools/Educational Institutions in India
---
---
15 Best Flooring For School/College in India
1. Natural Quartz
Quartz is a natural stone. It was compressed in the earth's crust and heated into a metamorphic rock and is almost as hard as diamond. It provides strength and durability. Quartz is available in a wide range of colours, patterns, and textures. It is a non-porous material. It does not need to be resealed regularly. This makes it one of the best flooring materials for schools and colleges.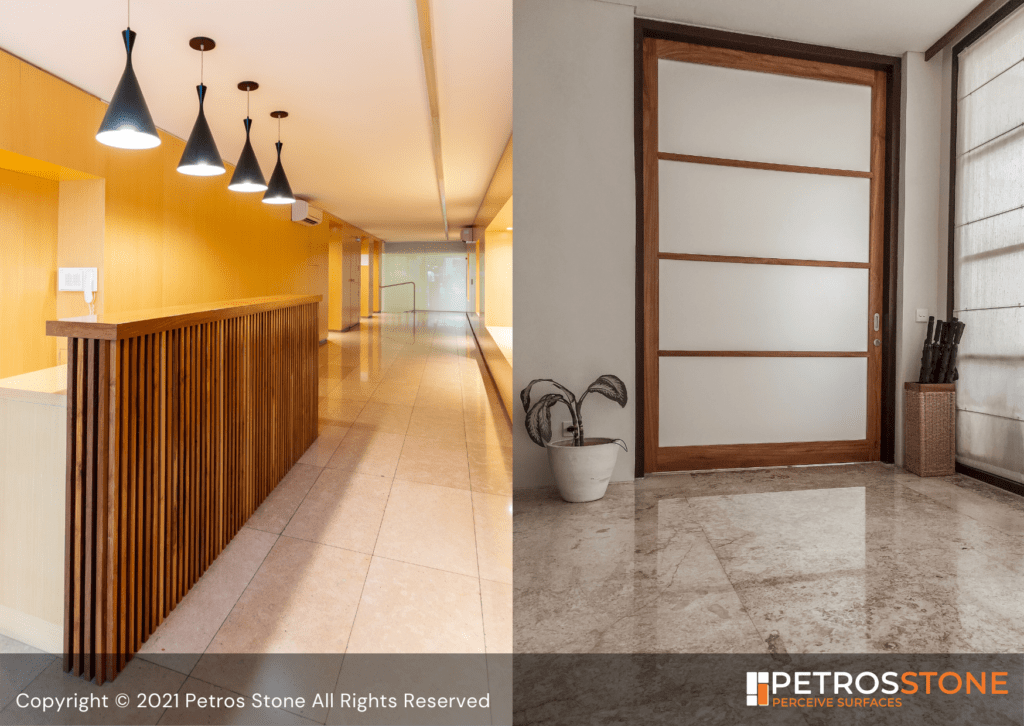 ---
Major Advantages of Natural Quartz
It is stain resistant and non-porous making it extremely hygienic.
Natural Quartz stone slabs regulate temperature, keeping the room warm in the winter and cool in the summer.
Major Drawback of Natural Quartz
Relatively more expensive than other options. However, cost may be justified by its maintainence free attributes.
---
2. Limestone/Kota
Limestone is a natural stone mined from sedimentary rocks. They can be a very durable flooring option for high- traffic areas. It is available in a multitude of surface finishes. The colour range, however, is limited to earthy tones.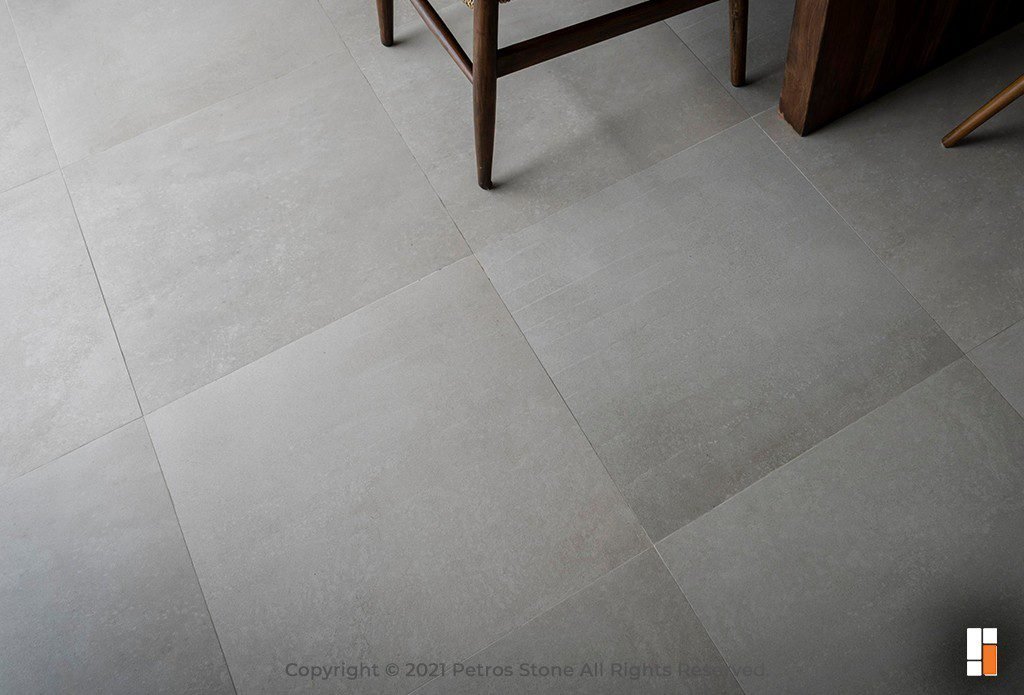 ---
Major Advantages of Limestone
Limestone is long-lasting.
Extremely comfortable underneath the feet.
Limestone flooring can look elegant under the right aesthetic combinations.
It is cost-effective.
Major Drawbacks of Limestone
Limestone/Kota is relatively porous and may absord water, dirt and stains over time.
These floorings require re-polishing or sealing to maintian their shine.
---
3. Granite Flooring
Granite is the ultimate flooring option for schools/colleges and institutions. It is a stronger, more durable natural stone. One of the most widely used flooring material. It can be used on school grounds because it is long-lasting and low-maintenance. Granite is available in an endless variety of colours and textures. It can be anything from pure white to the most exotic colours.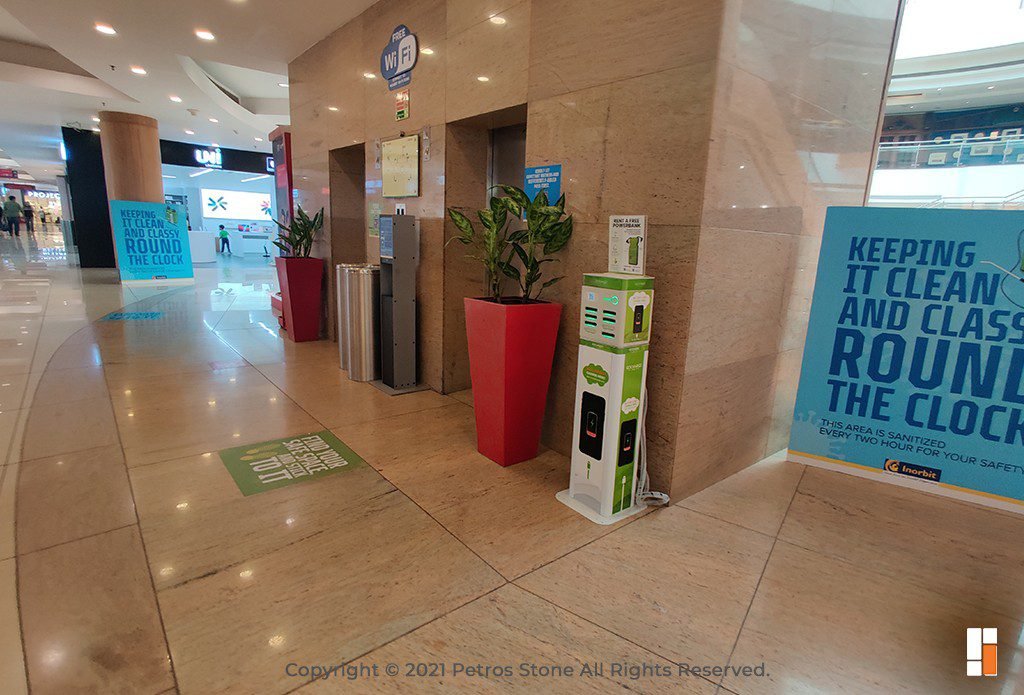 ---
Major Advantages of Granite
Granite is a long-lasting material. It has the potential to last hundreds of years.
Granite is a low-maintenance floor.
Granite floors are beautiful and appealing, a the same time one of the easiest to maintain.
Though granite is affordable, some high-quality granites can be expensive.
Granite is also weather regulating – it maintains a cold floor in warm areas and vice-versa.
Major Drawbacks of Granite
Granite installation must be carried out by trained professionals.
---
4. Slate Flooring
Slate is a natural dark grey and black stone. It is made from metamorphic rocks. As a result, it has a rustic appearance. Slate tiles are available in a variety of textures.
Slatestone is naturally anti-skid and one of the most historically used natural stone for flooring in schools and colleges.
Slate flooring is a very durable, beautiful, high-end flooring material. Slate floorings, especially in schools have a unique look. The subtle, elegant stem pattern always draws attention. It is easy to cut to create interesting shapes and designs. It comes in various vibrant shades of color, including gold, red, green, purple, blue, golden.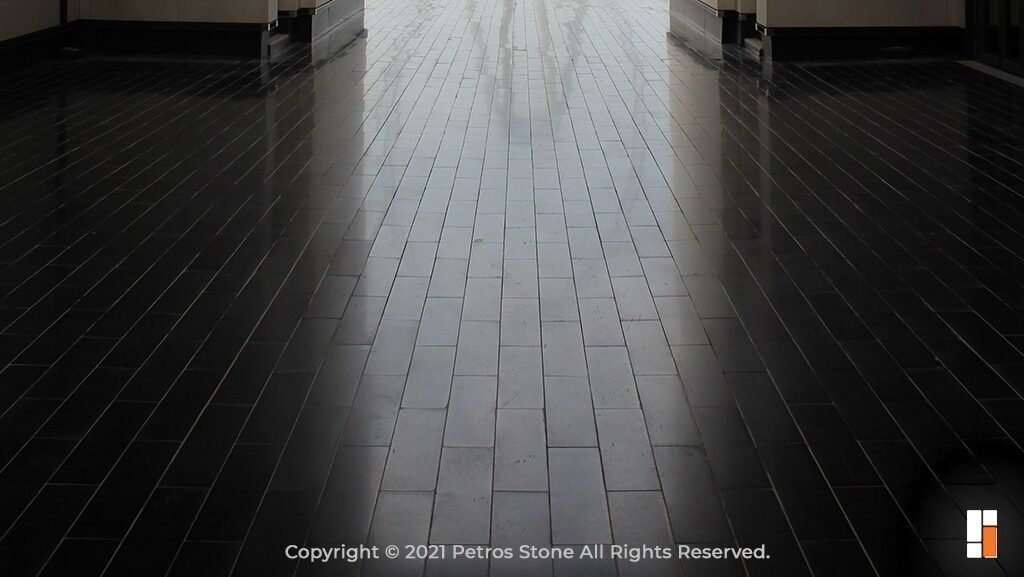 ---
Major Advantages of Slate Flooring
Slate flooring is unique and appealing. It gives a natural, authentic touch to the flooring.
It is very long-lasting with minimum maintenance.
Slate is naturally resistant to stains, cracks, scratches, breaks, and chips
It is anti-skid without being too rough, it is the perfect non-slippery material.
It is very suitable for heavy traffic areas.
Major Drawbacks of Slate Flooring
Slate stone remains cold in all weather conditions.
Must be installed professionally.
---
5. Sandstone Flooring
Sandstone's surface has subtle texture and layering, making it a distinctively tactile, naturally textured stone flooring. Sandstone has a lovely smooth texture and a pale colour. Although sandstone is more porous than other natural stones, it is a popular tile for indoors and outdoors, providing warmth to any room or outdoor environment.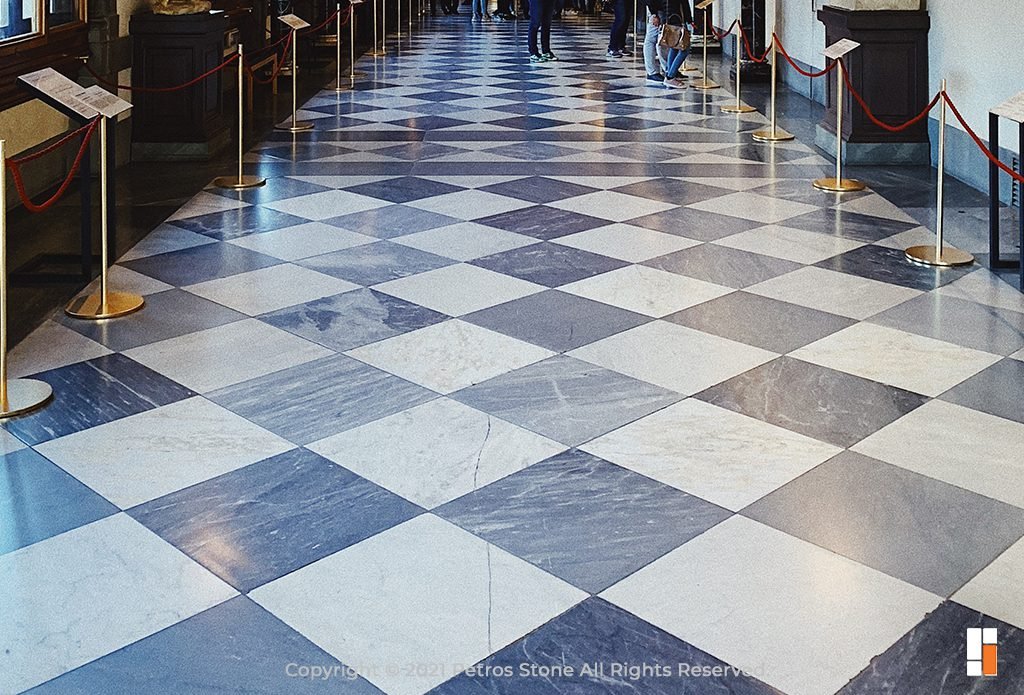 ---
Major Advantages of Sandstone Flooring
It is suited for all climates.
Easily accessible and economical.
It's long-lasting and can survive for decades if cared for properly.
Major Drawbacks of Sandstone Flooring
Sandstone is a porous material. It's more prone to staining, mould damage, and bacterial absorption.
Sandstone may be a little rough if not processed/polished.
---
6. GVT Tile
Glazed Vitrified Tiles are Vitrified tiles made using digital technology. It has a glazed surface. It is non-porous hence it provides water-resistant flooring. GVT tiles are made by a digital printing machine using an inkjet printing technique.
It is available in various designs and surface textures like wood, bamboo, slate, granite, natural river stone. Their range of tiles is available in a matte finish, polished glazed, rustic finish, and glossy finish that can make any setting look luxurious.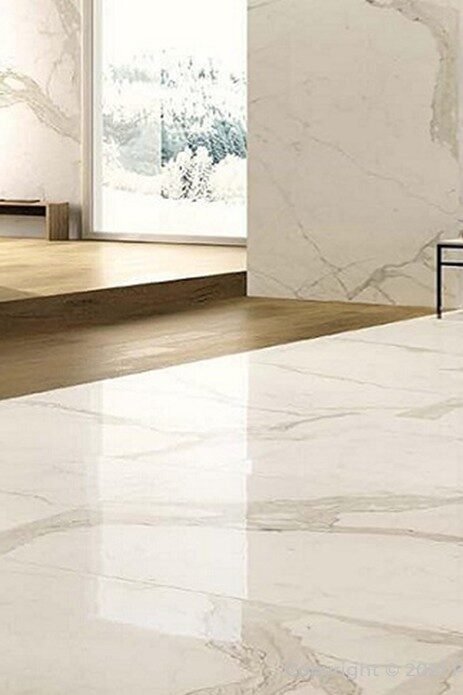 ---
Major Advantages of Glazed Vitrified Tiles
GVT tiles are non-porous; hence dust does not stick to tiles. It keeps bacteria out of the cracks between the tiles.
GVT Glazed Vitrified Tiles have a reputation for being extremely durable.
Wide range of variety in colour operations.
It is resistant to stain, water, heat, moisture, scratches.
Simple to clean and maintain. The vitrification technique extends the life of these tiles.
Major Drawbacks Of Glazed Vitrified Tiles
Glazed vitrified tiles are relatively expensive.
It is not good for heavy traffic areas as the glaze may face over time.
---
7. Porcelain Tile
Porcelain tiles are made of denser clay. It is tougher than terracotta tiles and less porous, which makes it a bit costly. It can be used everywhere as it has a hard-wearing nature. The porcelain tile comes in a variety of patterns and designs, as well as glazed and unglazed options.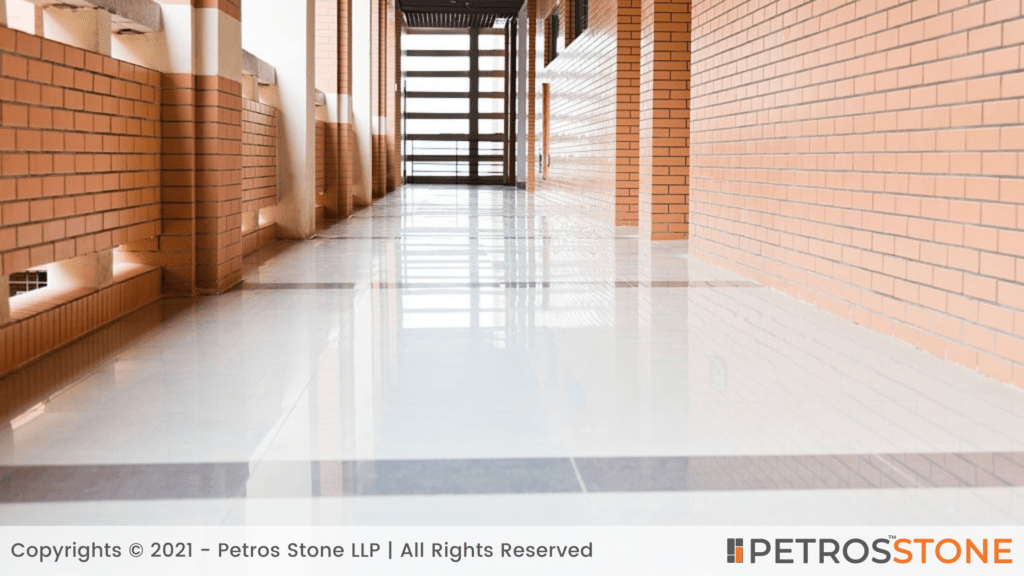 ---
Major Advantage of Porcelain Tile
Porcelain tiles, though not as strong as vitrified tiles are much more affordable.
They are comparatively non-porous and slip-resistan, especially when compared to bamboo and hardwood floors..
Major Drawbacks of Porcelain
Porcelain tiles are not as strong and are prone to cracking and fading over time.
---
8. Concrete Tiles
Concrete tiles are made of a mixer of sand, cement, stone, and water. It is long-lasting, and it can be made in any possible desired design.
Concrete tiles have been testing the time for centuries withstanding wear and tear of heavy traffic areas. Coat the sealant on tiles to maximise longevity. Sealing makes its surface much smoother, and easy to clean the stains by using damp clothes.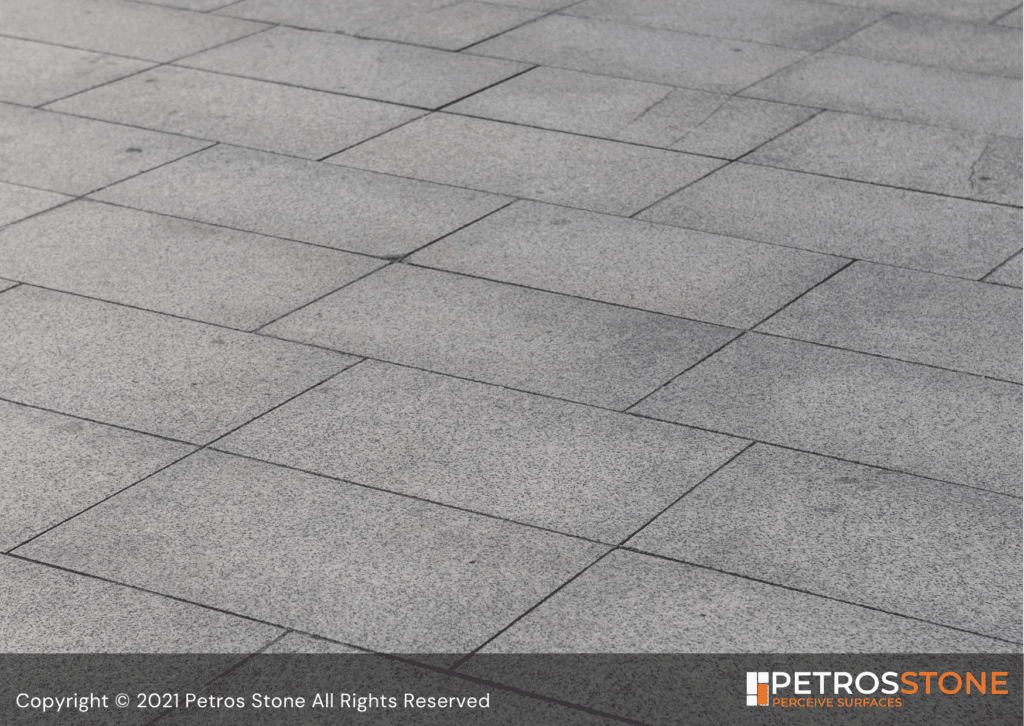 ---
Major advantages of Concrete Tiles
Concrete tiles are easy to maintain.
Concrete tiles are made of natural pigments and colours, using an energy-efficient process.
They are eco-friendly.
It is easy to refinish damaged discoloured tiles by re-polishing the surface. You would get a fresh layer of revived colours.
Major Drawbacks of Concrete Tiles
The appearance of tiles would not remain the same. It may get cracks, or discolouration can damage it.
Concrete tiles are highly porous. It can stain even after getting sealant.
A penetrating sealant is mandatory for any space with excessive moisture, and it will need to be reapplied frequently.
Concrete tiles are hard and cold. Not suitable for preschool kids.
It is not ideal for open areas as due to rapid climate change, it may get cracks.
Only skilled specialists should install the concrete tile.
---
9. Bamboo flooring
Bamboo flooring is not a very common flooring for schools/colleges but is a beautiful addition to certain areas of the school/institution. It is an attractive natural material that adds the beauty of nature to the school without any major environmental repercussions . Bamboo is a fast-growing grass – hard as hardwoods and it is cost-effective natural, a renewable resource available in many colours.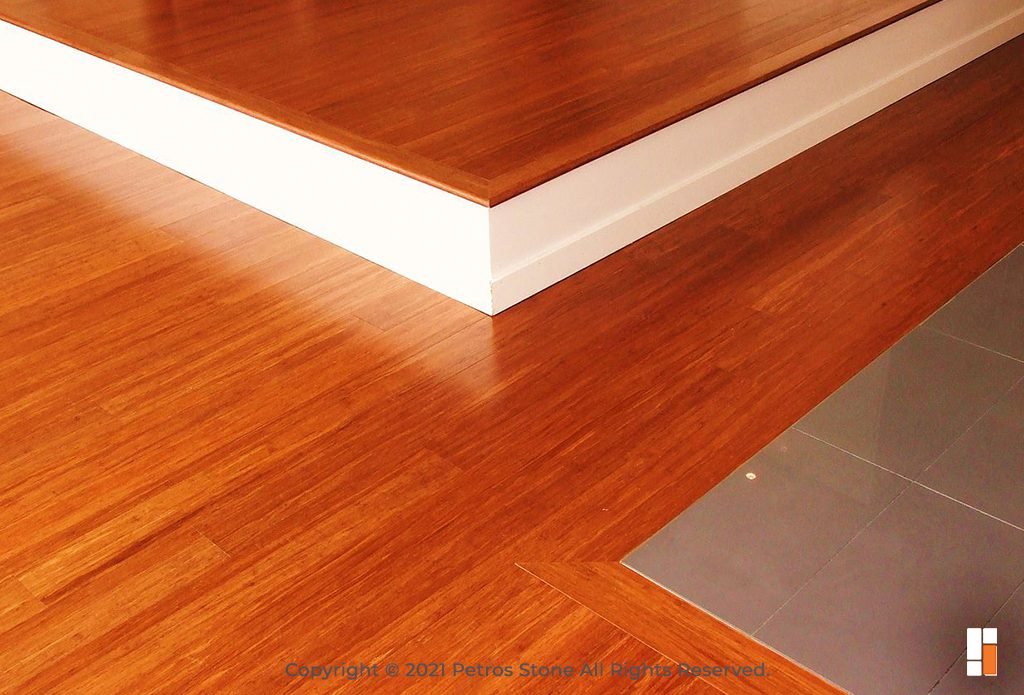 ---
Major Advantages of Bamboo Flooring
It is a renewable material – very eco-friendly flooring for schools and colleges.
Bamboo floorings can turn out to be very cost-effective depending on the location of the institution.
Major Drawbacks of Bamboo Flooring
Bamboo floorings can be porous and may absorb water.
Bamboo can be easily scratched and discoloured.
Humidity scwings can cause cracks.
---
10. Hardwood
The grain pattern on hardwood floors is distinctive. It's a healthy, long-lasting flooring alternative. Hardwood flooring gives a completely different look. It adds warmth to a room. It has a pretty neutral colour option to design a space.
Hardwood is naturally anti-allergenic. It's easier to clean. It's also less expensive to replace if something goes wrong.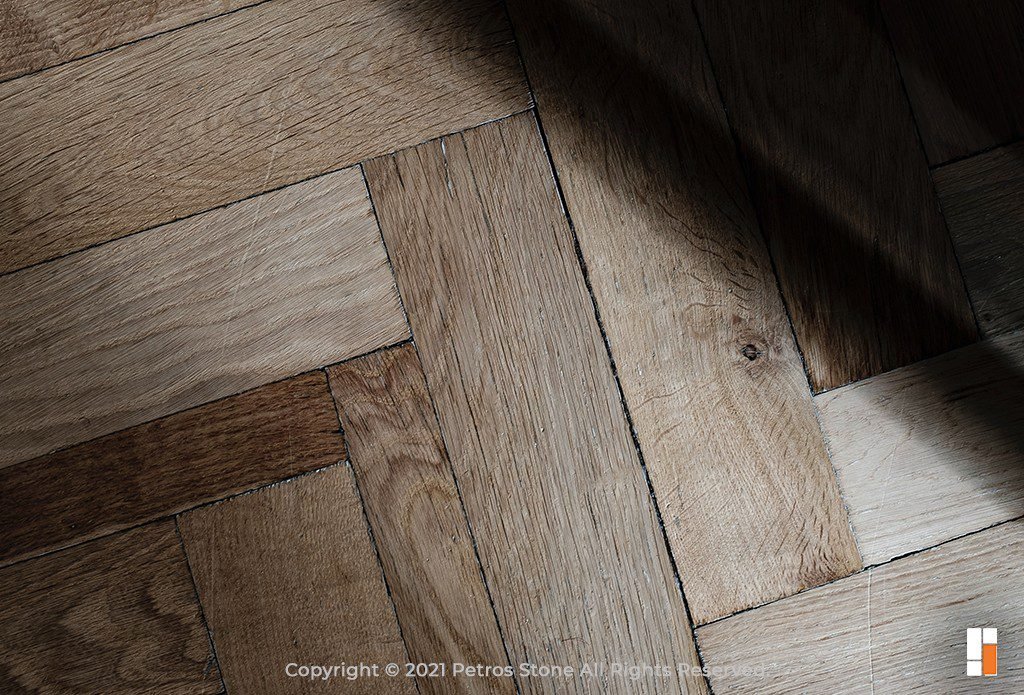 ---
Major Advantages of Hardwood.
Hardwood flooring is eco-firendly, anti-allergic and highly durable.
Major Drawbacks of Hardwood Flooring
It makes a creaking sound.
Not suitable for all locations.
---
11. PVC Flooring
PVC flooring is made up of several layers of polyvinyl chloride. It comes in the shape of tiles, planks, or sheets. PVC or vinyl flooring is available in various patterns and designs, including wood, carpet, etc. It's best used in low-traffic settings.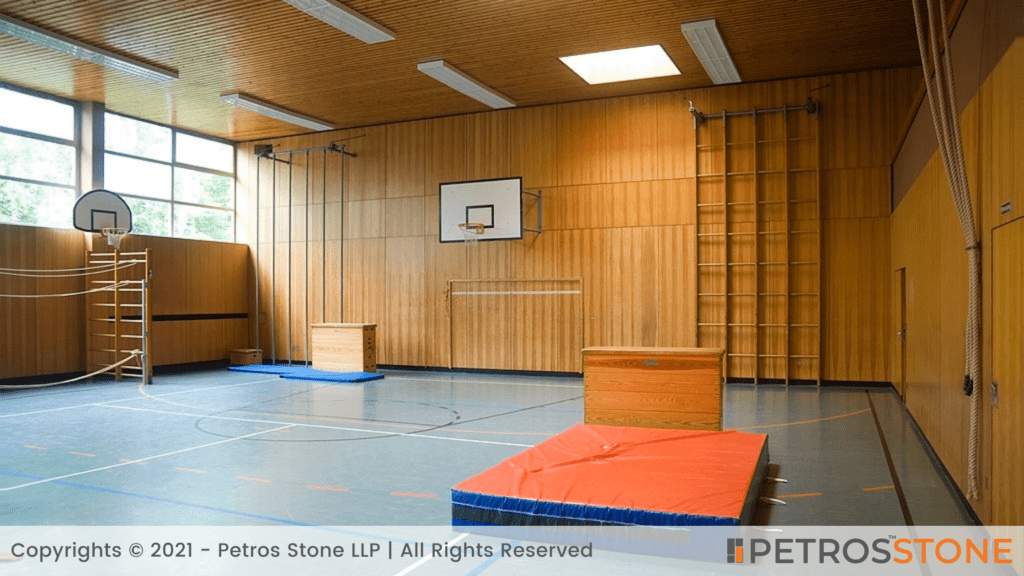 ---
Types of PVC Flooring
(a) PVC Tiles
PVC Tiles offers the aesthetic look of the stone floor and ceramic floors.
(b) PVC Sheet Flooring
Vinyl sheet flooring is sheet based flooring. Cut the rolls in the desired size and paste them on the floor. It's simple to cut and paste, and it's absolutely DIY flooring on a budget.
(c) PVC Planks Flooring
Vinyl planks flooring is simple to install, and it gives the impression of hardwood.
Major Advantages of PVC Flooring
Some PVC floors are water-resistant, making them easy to clean and maintain.
PVC floors are light weight and very cheap to install.
Major Drawbacks of PVC Flooring
PVC flooring can suffer colour fading due to direct sunlight.
It can only be installed on a flat surface. Therefore a perfectly levelled, clean floor is required for the installation of vinyl flooring. Otherwise, it does not stick effectively, and it might come off shortly.
The soft material makes it prone to scratches, tears and even degradation.
It has a short lifespan as compared to other flooring options. Vinyl flooring produces a lot of volatile organic compounds (VOC), which is bad for health.
---
12. VCT Floor Tiles
Vinyl Composition Tile
Vinyl composition tile (VCT) is a finished flooring vinyl floor tiles, and sheet flooring is composed of coloured polyvinyl chloride (PVC) chips formed into solid sheets by heat and pressure, then cut into a square shape further. Manufacturers create tiles in a wide range of colours, patterns similar to wood, stone and concrete design.
VCT tile flooring can be used in high traffic areas such as schools and colleges. It is long-lasting and provides a timeless aesthetic appeal at an affordable price.
Major advantages of VCT Flooring
It is appropriate for high-traffic locations.
Budget-friendly flooring with a long lasting value.
If it is damaged, it can easily be replaced.
Maintenance is quick and easy.
Major Drawbacks of VCT Flooring
It can suffer colour fading in sunlight.
It can only be installed on a flat surface. Undulations in surface can completely ruin the flooring causing it come off.
It is highly prone to scratches, tears and even degradation.
It has a short lifespan.
---
13. Travertine
Travertine is a sedimentary rock formed by calcium carbonate minerals from water sources. It is a magnificent form of limestone. It comes in a solid tile form and is widely used for building materials because of its marble-like texture and earth tone colours such as rust and tans hues.
It has been used in architecture and artwork to make historical buildings. Trave adds a sense of prestige to the building. It creates a natural work of earth art, with mild hues of colours.
Travertine flooring can be installed easily. A layer of cement is applied over the subfloor and then laid the tiles. But you may need a helping hand as Travertine is a very hard stone, and ordinary tile-cutting tools are not sufficient to cut it.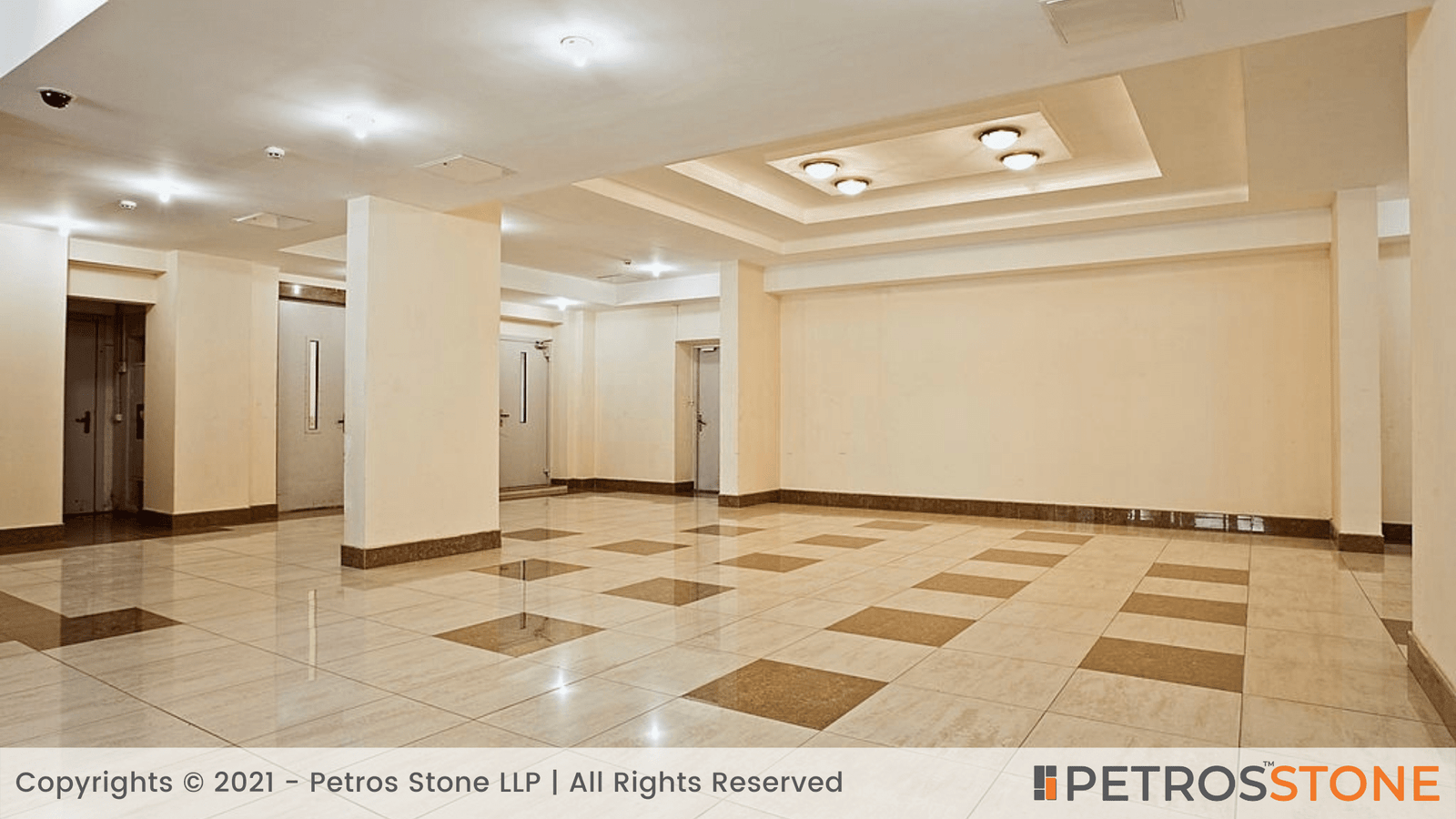 ---
Major Advantages of Travertine
Travertine is durable and long-lasting.
It adds value to the property, enhacning the architecture and design.
It is extremely strong and resilient to any type of traffic.
Major Drawbacks of Travertine
Travertine is quite expesive.
It is porous and may require sealing from time to time.
Travertine may not be suitable for all weather conditions as it can remain cold for long time.
---
14.Terracotta Tiles

Terracotta tiles are purely made of clay. It gets heated at a low temperature to give an aesthetic rusty brown shade. These tiles provide the vibe of a sustainable building, connecting the students to mother nature. At an inexpensive price, it adds authentic natural value to the property. Terracotta is non-toxic, and it is beneficial for health. Like other tiles, it comes in various sizes, textures, designs, and glossy and matte finish.
---
Major Advantages of Terracotta Tiles
Terracotta tiles are resistant to any damage like stains, scratches.
It is durable and does not require any sealing or regular maintenance.
It is perfect for high-traffic areas.
Cheaper as compared to other tiles.
Major Drawbacks of Terracotta Tiles
Teracotta tiles are porous and have a higher water absorption rate.
They have limited colour options.
---
15. Cork
Cork is one more natural renewal option that can be obtained without harming the trees. It is a soft material and the best choice of natural flooring for preschool children. It is comfortable to walk on. It is safe for children to play on the floor. However, it has a short lifespan. It is ideal for low-key traffic areas – making it one of the best flooring options for pre-schools.
Cork is a non-allergenic and environmentally friendly flooring option.
---
Major Advantages of Cork Flooring
Cork is a green building material. Hence it is eco-friendly.
It is very soft and comfortable to walk on. A very good choice for pre-schools.
Cork is naturally antifungal.
Major Drawbacks of Cork Flooring.
Cork is prone to scratching and damaging easily.
Cork requires regular resealing
If it difficult to install and may turn out to be rather expensive.
---
What are the factors affecting the selection of flooring for schools/educational institutions?
1. Stain resistance
A stain-resistant floors are not only easy to maintain but also exceptionally hygienic. Non-porous floors are usually germ resistant making them very safe especially in pre-schools where children can get exposed to lot of harmful bacteria and viruses.
2. Slip resistance
Young children are very active. They spend a huge part of their day at the school. Anti-slip floors ensure safety of the students, especially in hallways, staircases and large open areas where students are likely to actively run around. Anti-skid surfaces can prevent lot of accidents and injuries.
3. Budget-friendly
Generally, schools have large areas and floors to be surfaced with. Cost-effective flooring solutions fit in appropriately in the entire budget. This allows more spending towards avenues directly beneficial to the students. However, that said, a well-defined and well-researched budget towards the construction and maintenance of school floors is imperative.
4. Durability
A school is a very high traffic area. The flooring should be durable and easy to sustain a healthy and positive learning environment without involving excessive care and maintenance. Schools do not take over frequent renovation projects. Floors should stand the test of time even under very high traffic and rough use.
5. Colours
Colour of the floor, though not the most important, but can hugely impact the environment and ambience of the school. The right colour can add value to the architecture and construction appraising the aesthetic of the entire school.
---
Which Flooring is the Ultimate Best for Schools – Expert's Opinion
Natural Quartz surfaces or Granite (Surface Treated) turn out to be the most apt flooring materials for schools, or any educational institute for that matter. These surfaces are naturally anti-slip. They are non-porous and stain resistant making them very easy to maintain. The strength of granite is reliable and that of natural quartz is exceptional. These ensure very high durability of the floors.
Both natural quartz and granite have an enormous options of colours and textures to choose from. This makes design easy and more appealing. Granite and Quartz are readily available in any part of the world making them some of the most versatile and suitable options for flooring in schools.
---