India is one of the largest exporters of black granite in the world. In this article, we list down some of the largest, most reliable, high-quality black granite manufacturers, and exporters in India. Black granite is one of the most versatile and ubiquitous granite, making it a mandatory stone to stock for any dealer/distributor. Hence, we will not only look at exporters of black granite but also look at some of the best black granites found in India.
One of the largest exported black granite is Petros® black granite – exclusively exported by Petrosstone. Galaxy Black, Absolute Black are other highly exported black granites . Let us also look at the largest exporters of black granite and the quality of black granite manufactured by them.
---
---
Petros Stone LLP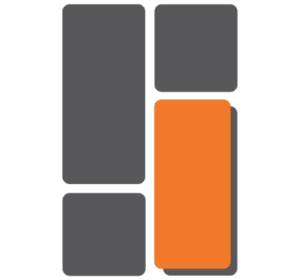 About the Company
When it comes to the best exporters of black granites in India, Petrosstone is at the top of this list. Petrosstone is based in Pune, India and processes over 15 types of black granites, including absolute black, galaxy black, khammam black and more.
Petrosstone is renowned not only for granite, but also marble and quartz stone slabs. Their modern technology ensures that you receive top-quality natural slabs across the world.
Petrosstone has over 100 granite colours, 15+ options in black granite.
Petrosstone has clients across 4 continents and 89 countries and some of the major exports are to the UK, the USA, and South-East Asia.
Some of the major clients of Petrosstone in India are Tata Technologies, Symbiosis International University, and the Osho Ashram. Petrosstone is also the choice of many renowned construction companies, government agencies as well as architects.
---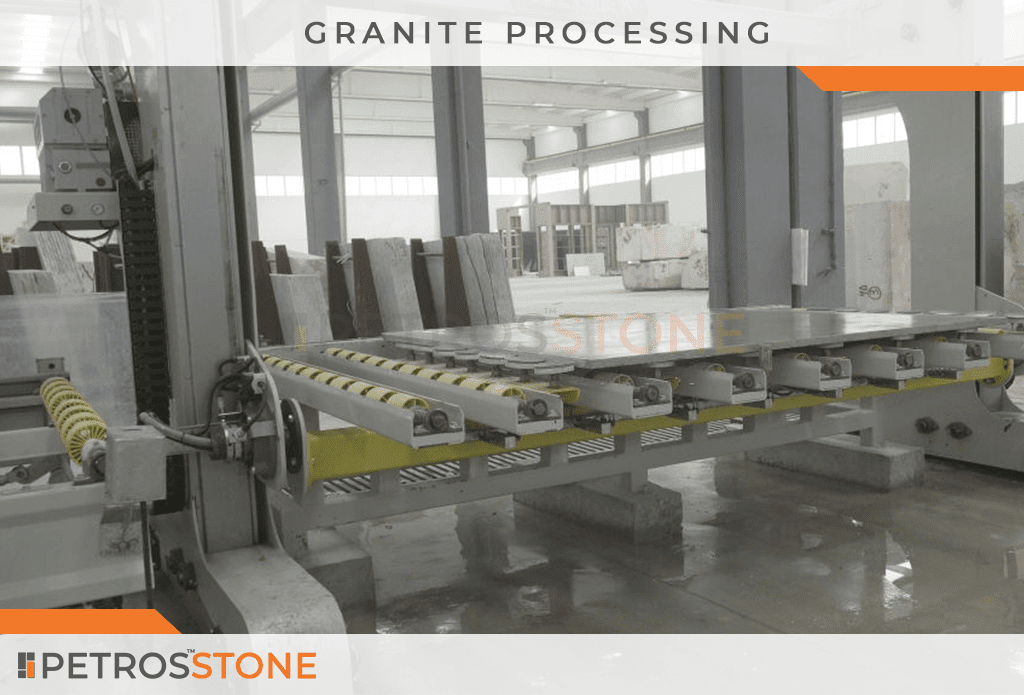 ---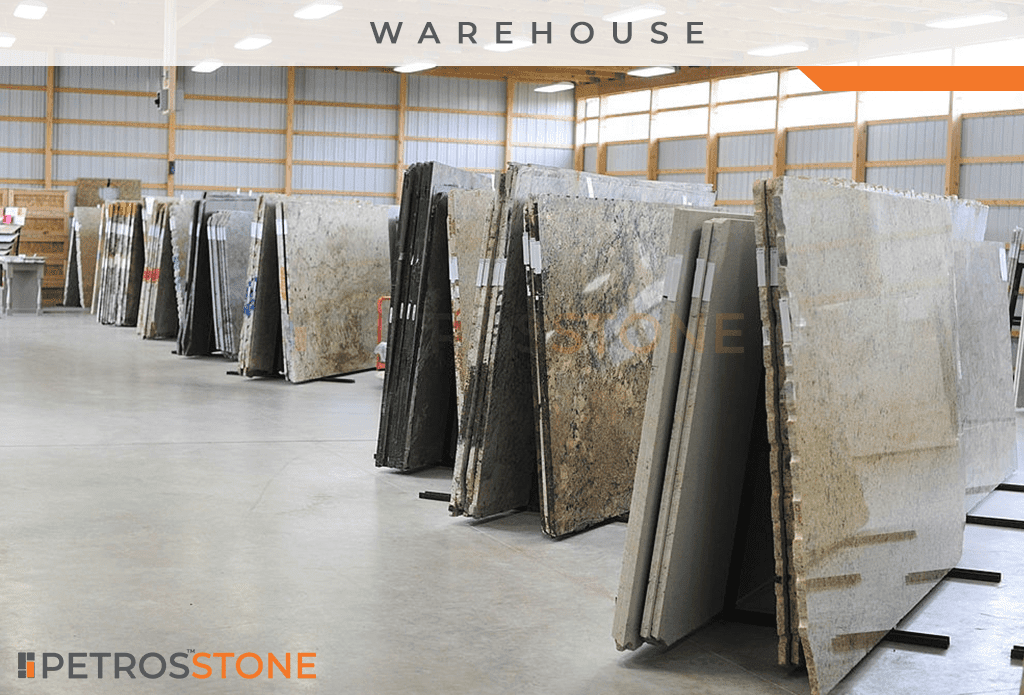 ---
Types of Black Granite Exported
Petros® Black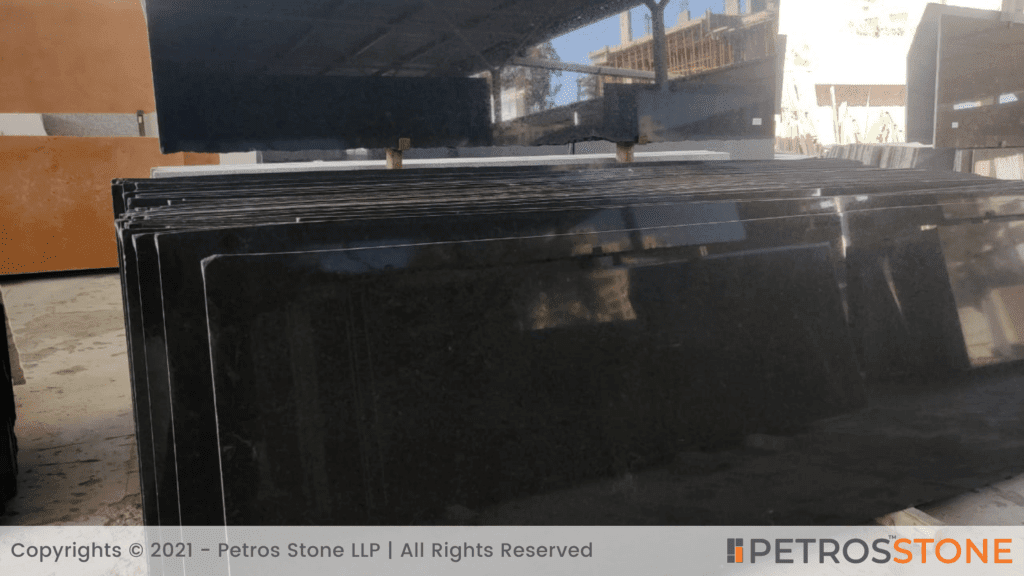 This is a granite that is quarried from various regions of southern India and then processed in the facilities of Petrosstone into one of the pioneer black granites.
The durability and low water absorption of Petros Black granite make it the number one trending black granite exported from India. These can be used for indoor as well as outdoor applications.
Its design is dark grey crystals on a pitch-black background. Petros Black's design is uniform across all slabs and they acquire a well-honed matt or a highly polished finsh.
Petros Black Granite is suitable for kitchen and bathroom countertops, flooring, and wall claddings.
These are cut into slabs using gang-saw cutters.
Petros also provides the service of custom cutting of these gang-saw slabs into thin tiles and claddings before export.
---
Jet Black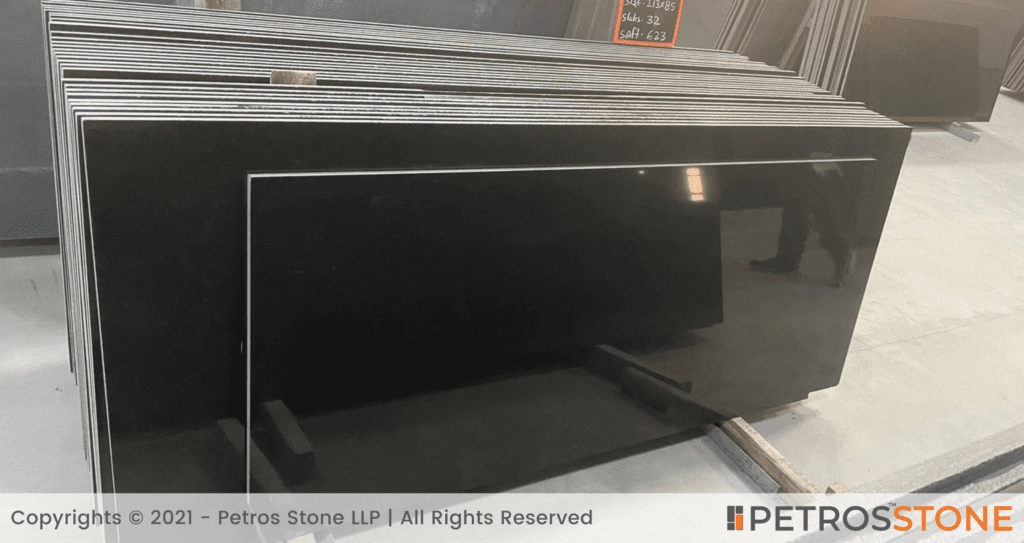 Another granite is extracted from the southern regions of India and then processed at Petrosstone. Jet Black granite, a name suggestive is a black mirror that is polished for a high-quality reflective surface.
Jet Black granite has tiny dark grey crystals in its design. This is hidden from the naked eye but in a decently-lit up ambience, this granite can shimmer. Hence making it an attractive proposition for architects who want to add a surprise element to their designs.
Whether it is kitchen countertops, bathroom countertops, flooring, or wall claddings, Jet Black granite can add substance to your interior designs.
At Petrosstone, these are available in various sizes and types. Jet Black granite is available in slabs, tiles, and custom sizes and thickness.
---
Black Galaxy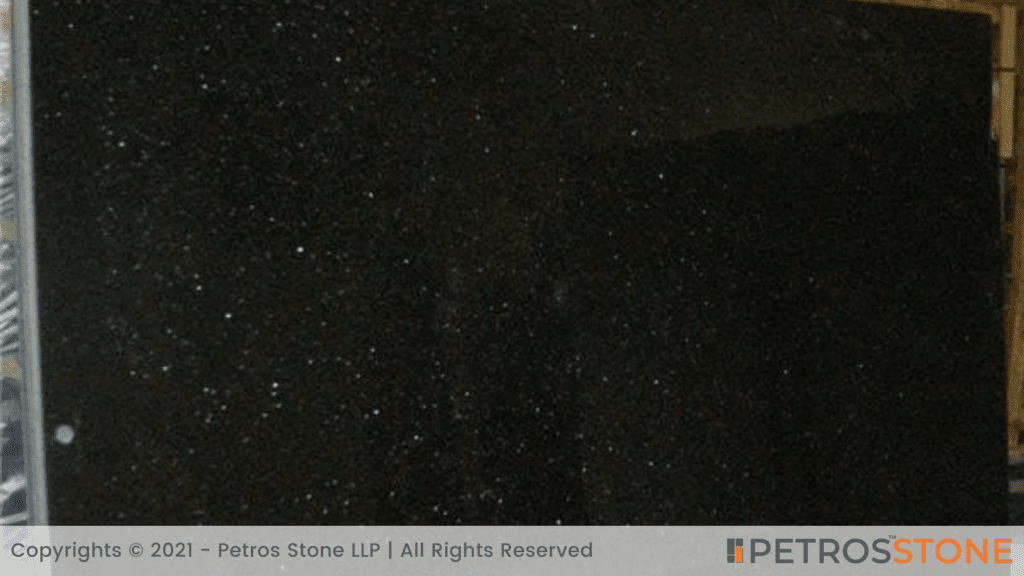 This is one of the most commonly found black granites in India, especially quarried from southern, and south-western India. Black Galaxy granite is quarried, finished, and supplied by many exporters in India. However, Petrosstone has excelled and emerged as a leader in galaxy black.
Black Galaxy granites are strong, heat or scratch-resistant, and are used for both interiors as well as outdoor purposes. It is a pitch-black granite with crystals of gold in it that glitter under good lighting.
At Petrosstone these are polished and honed for a reflective finish and cut into giant slabs. There is a new type of finishing which is being pioneered by Petrosstone called the leather finish. Based upon custom specifications this slab can be leather finished and custom sized as well.
---
Pearl Black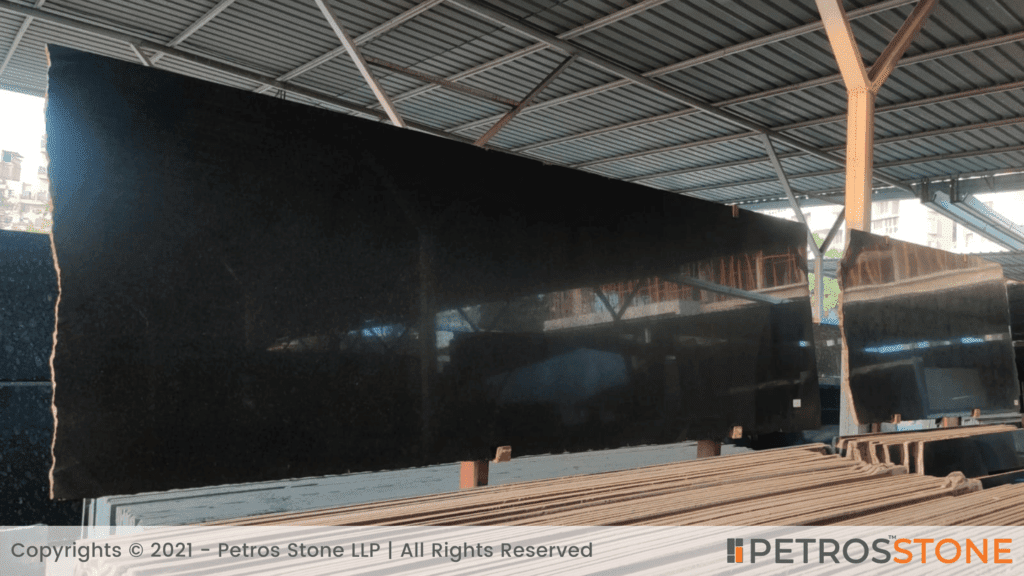 This granite is quarried from the southwestern regions of India. It is then sealed, polished and honed by Petrosstone at its high-tech processing facility in Pune. This granite is also processed and supplied by others and at Petorsstone there is an assurance of high quality.
The design of this granite is either dark grey or black with speckles of gold, white, green, and grey. Pearl Black Granite is suitable for countertops, wall and pillar claddings, as well as stairs.
At Petrosstone, Pearl Black granite is polished for a vibrant finish, bringing out the best of its intricate design as well as colour patterns.
These granites are cut into gangsaw slabs, tiles or even modular based upon the specifications. The average dimension for Pearl Black granite is 20 mm thickness.
---
Oswal Granite
About The Company
A small natural stone trading company that started in 1989 has gone on to become one of India's top black granite exporters in today's time and market.
Over these years Oswal Granite have kept up with the technology of granite processing by adopting the latest machinery and processing lines available in the natural stone industry.
This reinvention and potentness of Oswal Granite's business have led it to cater to more than 200 clients globally and also complete 331 projects during this illustrious tenure.
Oswal Granites is located in Pune, India and is adept at providing diverse as well as a wide range of natural stone products to its customers around the world.
Being an ISO certified company, Oswal Granites has all-time stocked warehouses in Chittorgarh, Madurai, Srikakulam, and Bangalore. Their presence in so many locations is evidence of prosperity amongst its cliental base.
To ensure high-quality and consistent products to its customers, Oswal Granite follows a three-step quality control system before dispatching its products. This three-step quality control consists of shade consistency check, dimensional accuracy measure, and surface finish grade.
The brand name of Oswal Granites is an integral part of projects not only in India but also in countries such as Singapore and the UK. Some of them are JW Marriott Group and Singapore Technologies.
Oswal Granite have over 150 types of granites that are processed in large quantities every year. Most of these are processed, sealed, polished, and cut into standard sizes before being shipped globally.
---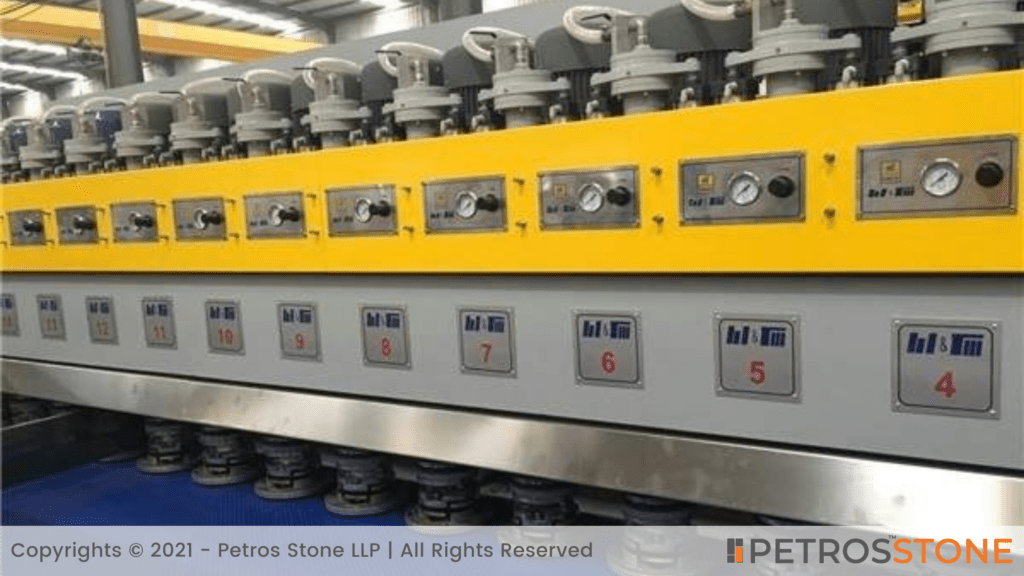 ---
Types Of Black Granite Exported
Black Pearl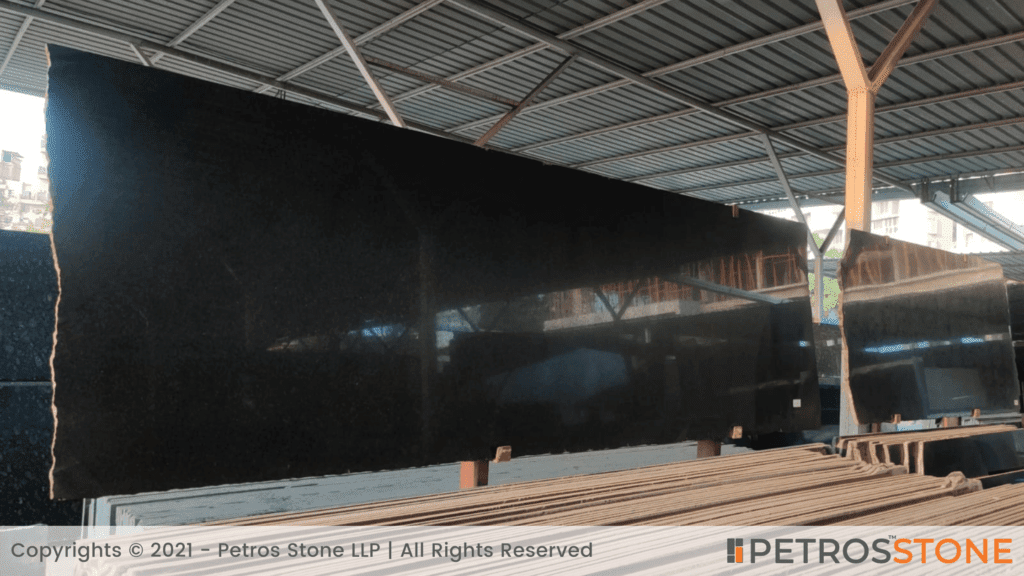 As discussed earlier, Black Pearl granite is a common granite supplied by many natural stones companies under different names, such as the versatility of this popular stone.
At Oswal Granite, this stone is polished as well as honed depending upon the application. Polished for walls, claddings and countertops. Honed for flooring purposes.
Some other finishes that Oswal Granites offers are leathered, flame, and brush finish. Oswal Granites ensure the high consistency of these slabs by extracting them from the same mine.
Oswal Granite uses gangsaw cutters in its processing line to cut out slabs of the various sizes and thicknesses.
---
Black Galaxy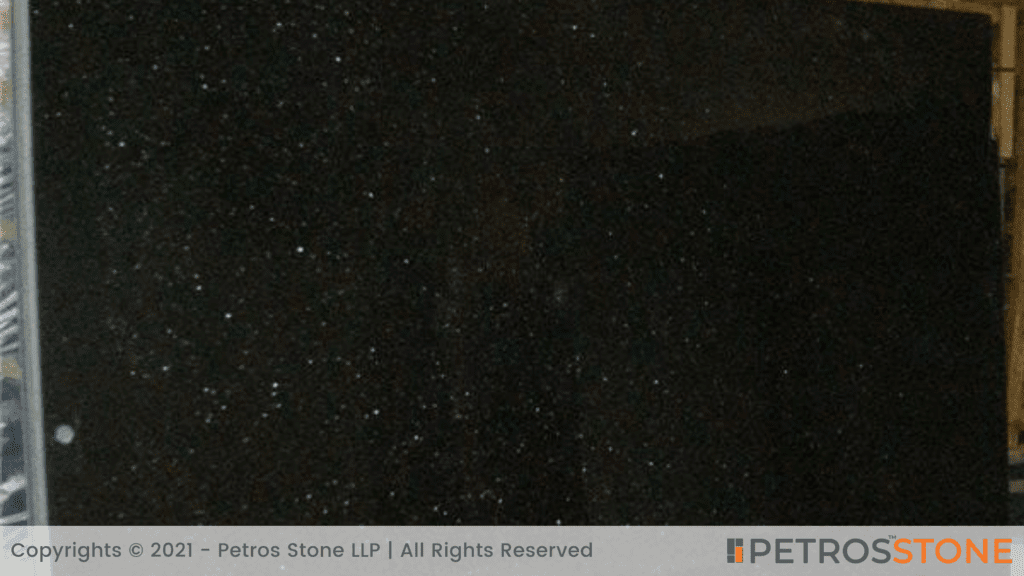 Another popular granite is quarried from the same mine in southern and southwestern India. These granites are processed differently though at Oswal Granite as they use their state of the art technology and machinery to deliver these slabs.
Oswal Granite provides polished, honed, leathered, and flame finishes for Black Galaxy Granites. The fact that they adhere to a strict code of conduct to deliver consistent slabs is the reason for them being one of the topmost exporters of Black Galaxy granite in the world.
---
M Black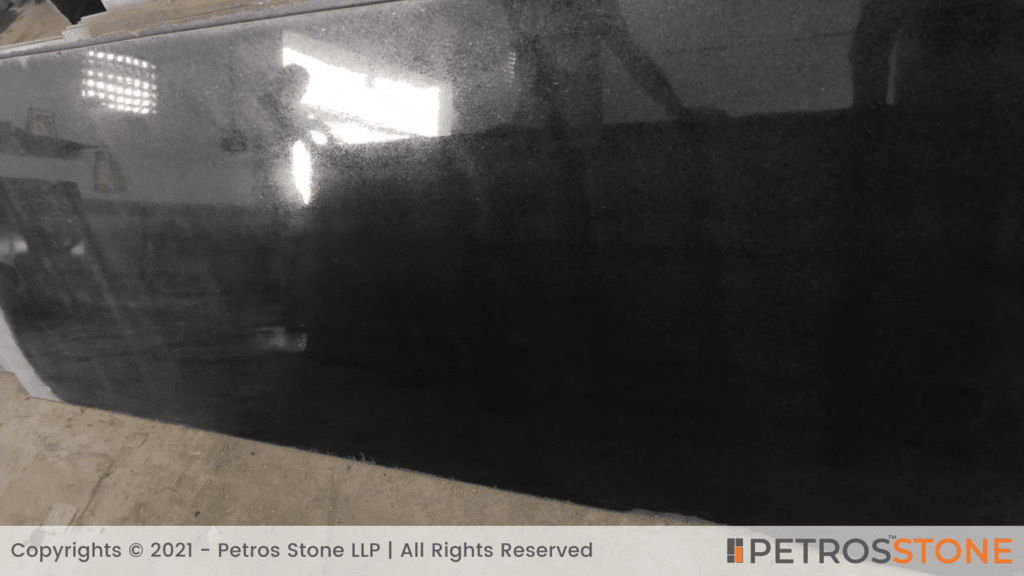 This is one of the pioneer granites of Oswal Granite which is quarried from southern regions of India. M Black is black granite with white, green, golden, and grey speckles. There is a presence of grey veins as well along with these crystals.
Oswal Granite promise 8 types of finishes to their granite slabs and M Black comes with such a luxury. Be wary and specify the type of finish you would require and they will have it delivered to you.
M Black is used for kitchen countertops, wall claddings, and floorings.
---
Ranchan Stones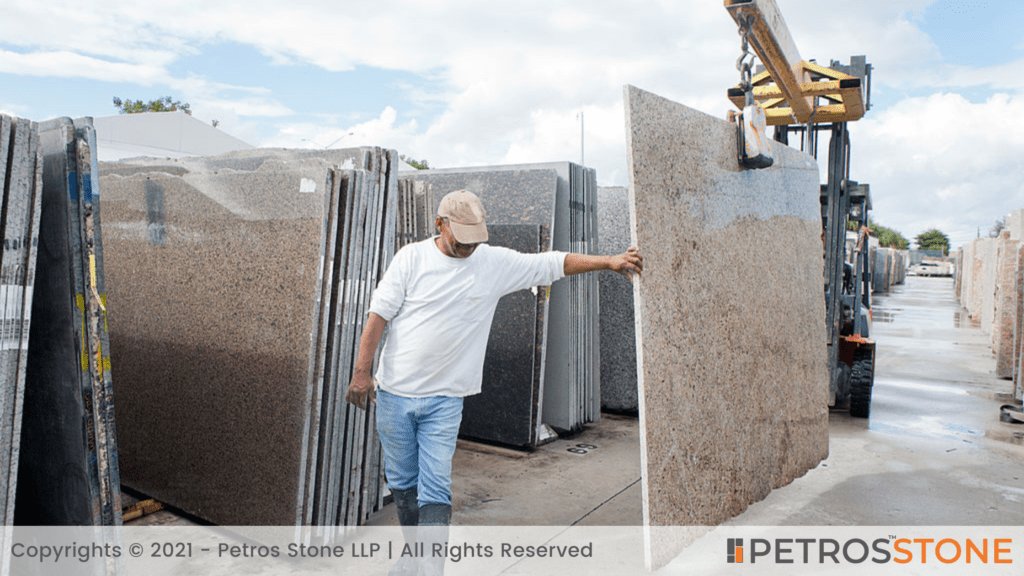 About The Company
When it comes to a brand name for natural stone suppliers in northern India, Ranchan Stones is the biggest of them all. Established in the 1990s in the city of Jaipur, Ranchan Stones has 85 types of high-quality granites to offer to its consumers.
Over two decades, Ranchan Stones has perfected the craft of cutting, polishing and processing natural stones using a state of the art facility.
Ranchan stones have the policy of providing round the clock and excellent support and services to their clients. Their processing plant and storage facilities ensure reliable fulfilment.
They have their supply from some of the best quarries not only in northern India but also in other regions. This ensures that they have a diverse catalogue of granites to offer from. RanchanStones is an illustration of technology meeting dedication and consistency.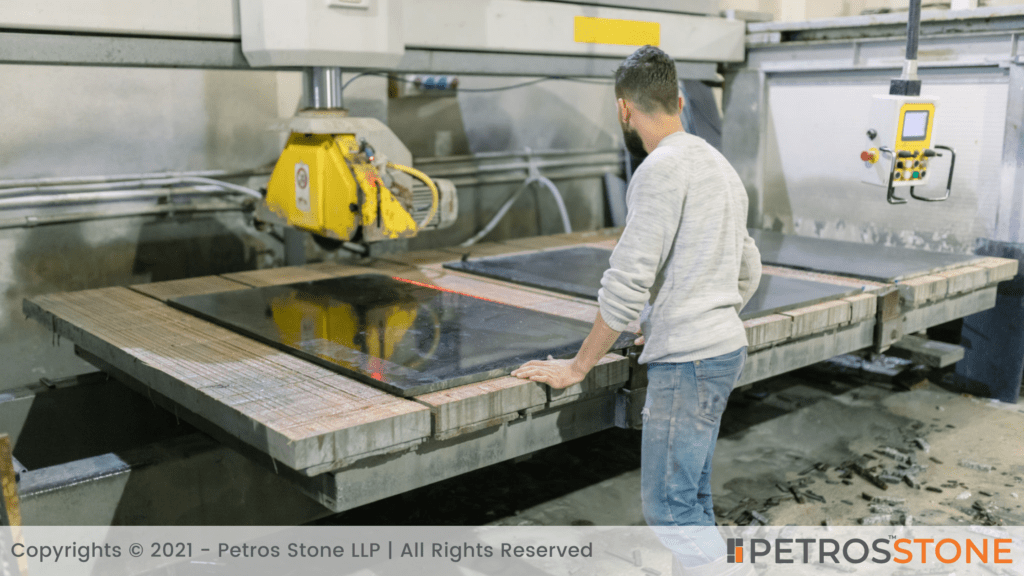 ---
Types of Black Granite Exported
G20 Black
This granite looks very alien due to its unique light green, blue and white crystals on a black background. This granite is great for kitchen countertops and floorings. At Rachana Stones, these granites are either polished or honed to fit the purpose of its usage.
This granite is also finished in the bush or flamed which changes the texture of the granite providing it with a coarser finish. In bush hammered or flamed finish the hidden layers are revealed making it an attractive proposition for floors and stairs.
G20 Black is generally sealed and processed into slabs of 15 mm thickness.
---
Black Forest
This granite is quarried from the southern states of India and supplied to the processing units of Rachana Stones in Jaipur. These are elegant granites with a design pattern of parallel, and in a few places, crisscrossing white veins running across a black granite.
These granites make for great flooring materials and can also be used as wall claddings in the form of tiles. The typical finish that Rachana Stones provides with this is honed or bush hammered as the aforementioned finishes are best for foot grips. Not only that, but it also provides a rustic look that can add great artistic value to your interior designs.
Black Forest granite is packed and exported in large slabs or gangsaw slabs with a thickness of 15 to 18 mm.
---
Raj Black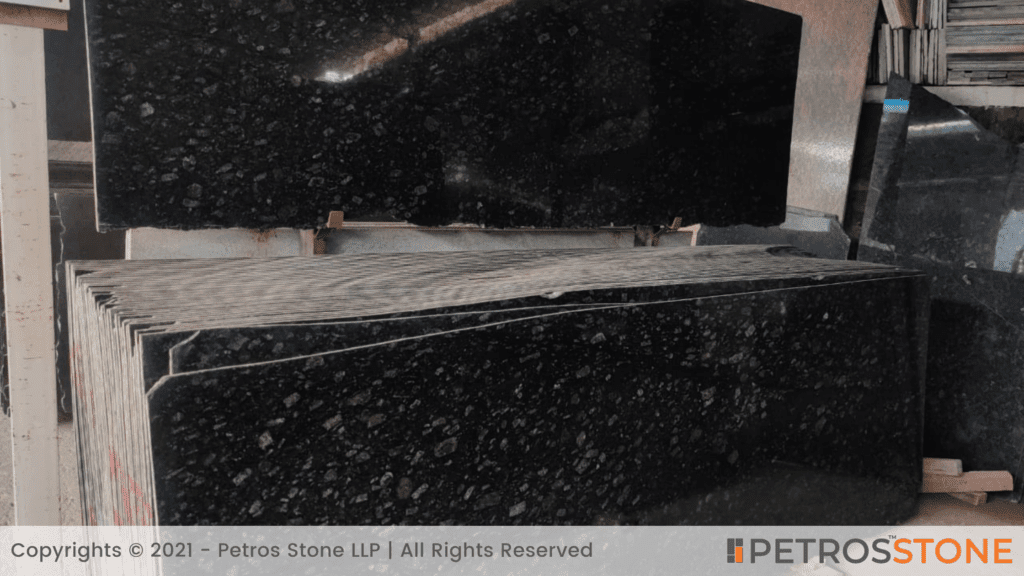 This is a pioneer of Rachana Granites as it has one of the most eclectic designs in the granite ecology. It is known for its grey or black background with flakes of white and silver. These crystal flakes coincidentally form geometric patterns that look tremendously eye-catching when imparted in an interior design.
These are extracted in Rajasthan and crafted with a smooth finish at Rachana Granites. They make great wall claddings and front elevation for grand manors.
These are exported in dimensions of 15-20 mm and are available in gangsaw slabs.
---
Glister Granites
About The Company
Gliser Granites was established in 1990 in Bangalore, India and has gone on to be an award-winning and major granite supplier of India. Gliser granites have their natural stones procured, manufactured and exported to other countries on a large scale basis.
The machinery of Gliser Granites is advanced and is of the latest European technology. This has helped them to consistently enable the fulfilment of orders and create a strong foothold in the international arena. Some of the types of equipment at their facility include multi-head slab polishing lines, gang saws, wire saws, and filter presses.
Since the 1990s, Gliser Granites has gone on to become the name on the minds of thousands of retailers, wholesalers, builders and architects across the globe. Their expertise has led them to establish a manufacturing unit that is meant solely for manufacturing export-oriented natural stones.
Gliser Granites has a catalogue of over 44 different colours of granites, including tile forms and are also into supplying other natural stones such as marbles.
Quality is something that is of the highest priority at Gliser Granites and they ensure this by having each granite slab go through intensive quality checks, not only once but twice before being approved for exporting globally.
The infrastructure of Gliser Granites includes a state of the art manufacturing unit along with a calibration and polishing plant. This allows Gliser Granites to create high-quality granite slabs with great precision that can fit into any project, simple or sophisticated.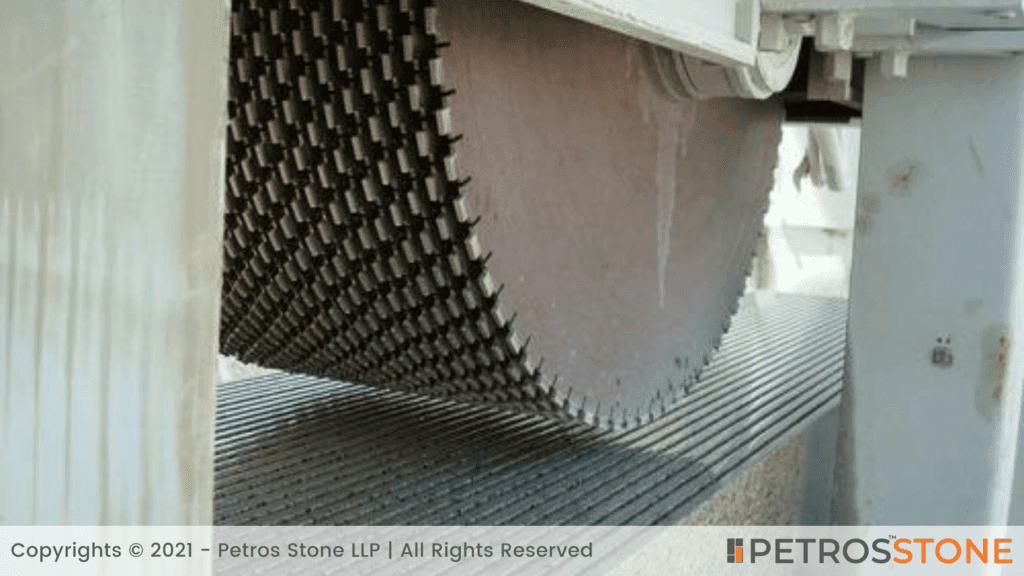 ---
Types Of Black Granite Exported
Black Thunder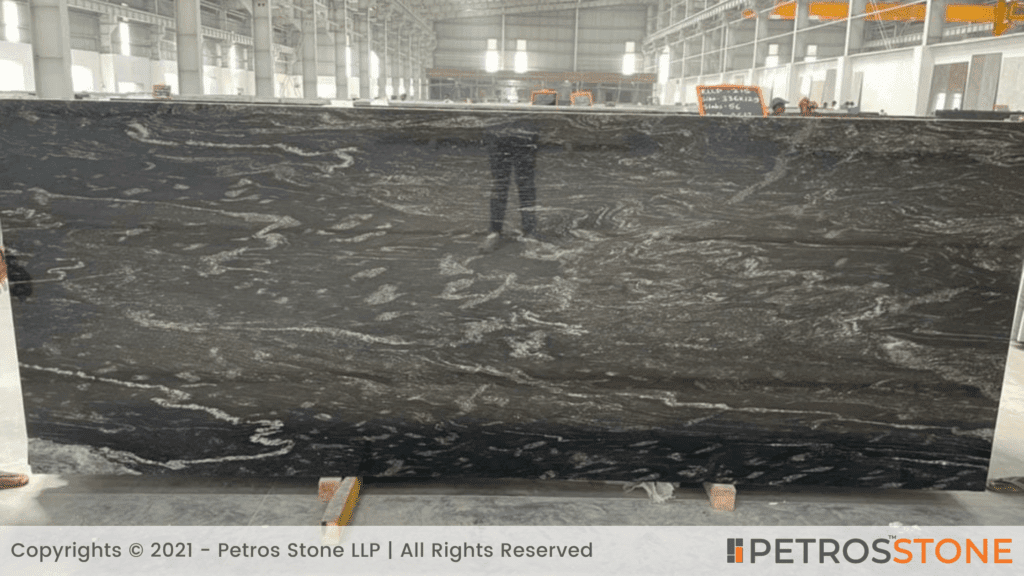 As the name suggests, Black thunder is a granite that has a black background with sparkling white streams of crystalline rock. This provides an electric look to the granite slab and can be used for kitchen countertops, wall claddings, and floors.
This granite is available in the mirror-polish finish at Gliser Granites as it is mostly used for countertops and wall claddings. For flooring purposes, it is available in a honed or leathered finish.
Gliser Granites is renowned for its manual as well as mechanical quality checks and so the quality remains consistent across all slabs of Black Thunder granites. The general thickness of this granite is approximately 15-20 mm.
---
Black Galaxy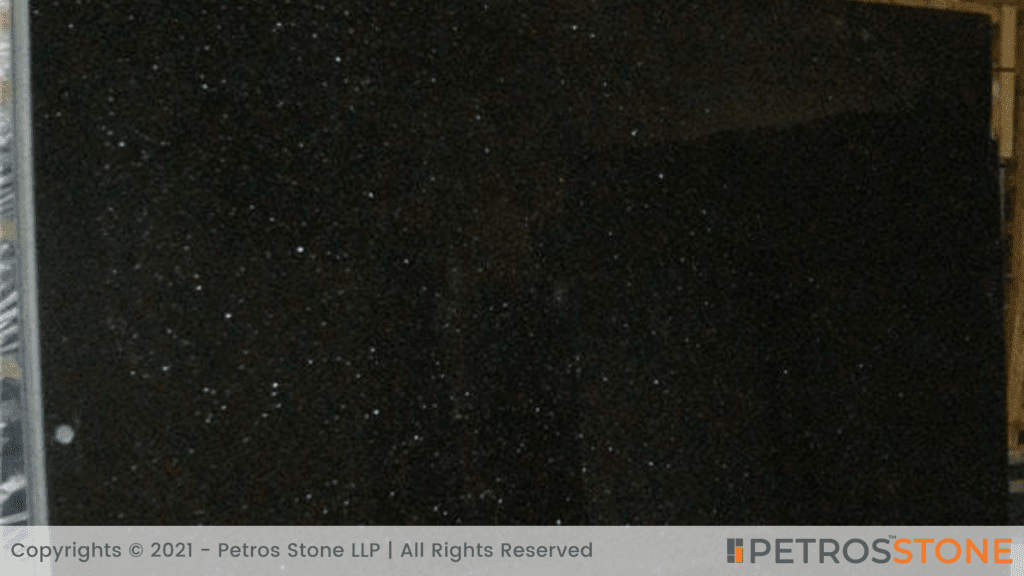 The popularity of this granite in the global market is such that it is a part of every supplier's catalogue. This granite that is quarried from the southern regions of India, doesn't travel far before being processed in the massive facilities of Glittek Granites.
At Glittek Granites, these granites are cut into gangsaw sizes and are available in polished, honed, flamed, leathered and satin finishes. As these are pretty versatile, the finish is application dependant and the importer needs to provide specifications before importing.
These granites are available in thicknesses of around 15-18 mm.
---
Mist Black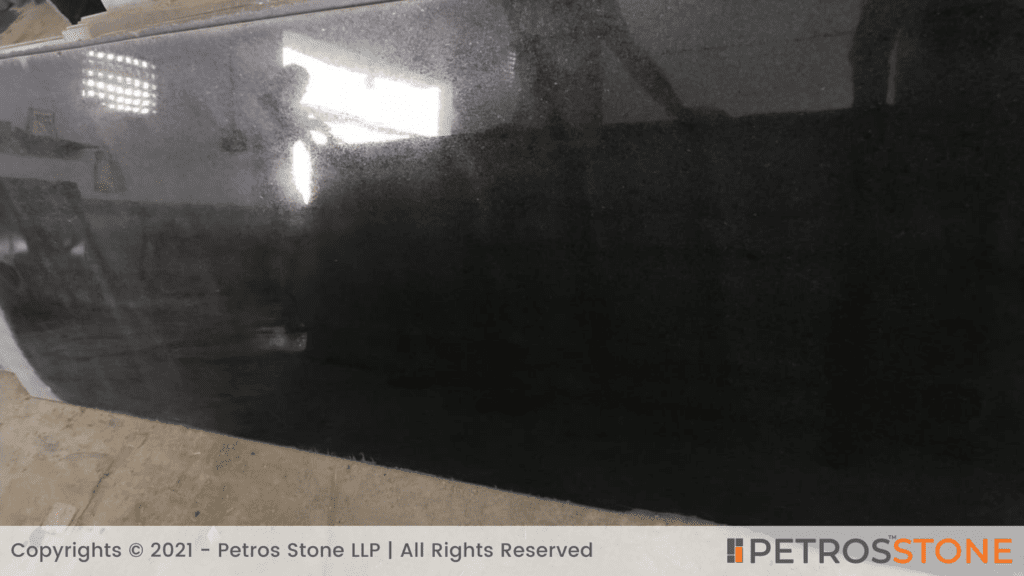 Moving into the pioneer granite of Gliser Granites, the Mist Black granite is black or dark grey with crystals of white and silver spread across in patches that form a snowflake-like pattern. This design provides a very cloudy yet elegant appearance to the granite slab.
This granite is polished as well as honed due to its applicability for both, countertops as well as floorings. At the high calibration and processing units of Gliser Granites, these mist full granite slabs are cut into either gangsaw slabs or tiles.
Gliser Granites invests massively into their workforce which ensures a secondary wall of quality assurance before these slabs are put out for export around the globe. Mist Black granite slabs are available in thickness ranges of 15-20 mm.
---
Black is a highly sophisticated colour and requires sophisticated opinion for the same. As mentioned earlier, there are many suppliers for Black Granite in India. But when it comes to exporting them, you need to keep in mind factors such as logistics, experience in handling large shipments, and of course goodwill of being one of the best suppliers. This is where Petrosstone checks all these aforementioned criteria and provides you with the best natural stone products and services.